Christmas cake decorating ideas to spruce up even the plainest of puds
Divine Christmas cake decorating ideas for every skill level, from the amateur to the adept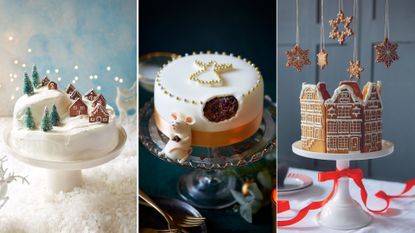 (Image credit: Future)
woman&home newsletter
Sign up to our free daily email for the latest royal and entertainment news, interesting opinion, expert advice on styling and beauty trends, and no-nonsense guides to the health and wellness questions you want answered.
Thank you for signing up to Woman & Home. You will receive a verification email shortly.
There was a problem. Please refresh the page and try again.
With these Christmas cake decorating ideas, creating a show-stopping festive centrepiece has never been easier.
When is comes to Christmas dessert ideas, a traditional Christmas cake is a must-have and the sweet icing combined with a moist, rich fruit cake is usually a crowd-pleaser.
Even the best Christmas cake recipe needs brilliant Christmas cake decorating ideas to finish it off with some suitably festive flair. Our ideas below range from the unbelievably simple, to showstoppers that would have the Great British Bake Off judges impressed.
But, you don't actually need to know how to make Christmas cake to use these Christmas cake decorating ideas. You can cheat and use a shop-bought, ready-made cake if you like and decorate on top - we won't tell!
The best festive Christmas cake decorating ideas
1. Decorate with gingerbread
It's so easy to decorate Christmas cakes with gingerbread - and so effective. Perfect if you have young children visiting at Christmas, all you have to do is make a tray of gingerbread in your desired shape after you've made your Christmas cake and are ready to decorate.
To decorate your cake with gingerbread like in the Christmas cake decorating ideas above, make up some royal icing according to packet instructions, then smooth it over the cake with a spatula, without being too precise - it's a snow effect you're looking for.
Then mix icing sugar with a little water to form a sticky paste. You can then use this to stick the gingerbread shapes to the side of your cake, like in the example above with gingerbread houses. Or, for an even simpler decorating idea, pile your cake high with gingerbread snowflakes - no sugar paste needed.
Etsy do a wonderful range of house-shaped cookie cutters and snowflake cookie cutters to achieve these Christmas cake decorating ideas.
2. Invest in a festive baking tin
When it comes to Christmas cake decorating, it's easy to create a showstopper when you have the right implements. This festive Bundt tin from Nordic Ware will result in an effortless centrepiece with little or no decorating skill involved. Simply dust with caster sugar before serving and your guests will be in awe.
Try our Chocolate Christmas Bundt Cake recipe here and you can view the festive Bundt tin from Nordic Ware here.
3. Introduce some color
Red truly is the official colour of Christmas so it goes without saying that a Christmas cake blanketed in red fondant icing instead of the traditional white will not only turn heads but will also add a festive feel to your cake this season.
You can buy pre-dyed red fondant icing here or dye your own (we like Sugarflair food colouring) to create the exact shade of Christmas that you want to achieve.
4. Let winter woodland scenes inspire your Christmas cake decorating ideas
For a rustic Christmas cake decorating idea, top your iced cake with pine cones or with a ring of rosemary as in the picture above. Finish with a sprinkling of edible glitter to create a pretty winter scene to bring to the table.
If you forage pine cones or holly to add a natural woodland element to your decoration, ensure you clean them carefully first. Tie a ribbon around the base of the cake, secured with a little icing sugar mixed with water to make a glue. All you have to do is set aside the pine cones before you slice into the cake.
5. Embrace your inner child
Christmas cake decorating doesn't always need to be a work of art. A good shake of icing sugar to create a snowy landscape and Santa and his pals will be happy to take centre stage. What's more, the children will love it.
How cute are these mini Christmas ornaments from Paperchase?
6. Create a scene
This Christmas cake decorating idea might look intricate and complicated, but in actual fact it is quite simple to achieve.
You'll need to forgo traditional fondant icing for this decorating idea and use royal icing or a more modern frosting instead. Then, when you spread it over the cake with a palette knife, but don't make it too neat - as this will help create the rippled snow effect.
If you want to create a slope or little hill like we have in the Christmas cake decorating idea above, cut a section out of the top half of the cake and then layer that slither onto another part of the cake. Then just ice over the different layers and smooth out the icing to make it appear as one.
When the icing is still soft, stand up your Christmas tree cake toppers and little houses. You can either bake the gingerbread houses, or buy some - which should be easy to find at most supermarkets at this time of year. Complete the scene with a sprinkle of edible glitter and you could even add this little car driving home for Christmas decoration from Lakeland for a sweet touch.
7. Keep it simple
Sometimes, you want your cake to do the talking and a simple arrangement of candied fruits and nuts will do just that. Dried orange slices, candied figs or cherries interspersed with hazelnuts and walnuts can result in a simple cake decoration that is sublimely seasonal and easy to achieve.
Keep your Christmas cake simple but sophisticated by glazing a plain Christmas cake with apricot jam and arranging rows of Brazil nuts and pecans in stripes across the top, in between rows of dried cranberries. Use a pastry brush to glaze the top with apricot jam for a shiny finish.
8. Stick to tradition
If ever there were a time to stick with tradition, Christmas is it. Pine cones, nuts, sprigs of holly and cranberries will all turn your cake into a festive masterpiece with little or no effort on your behalf.
Serve with the best mince pies for a dessert spread of classic festive fare, or make things a little more modern and serve one of these Christmas cheesecake recipes as an alternative sweet option to your traditional pud.
9. Consider a drip cake
If you want the appearance of a professional cake but are short on time (or skill), a drip cake is an easy way to achieve a polished look when it comes to cake decorating. Simply ice your cake with plain fondant icing and then, using a squeeze bottle filled with chocolate ganache, go around the edges on the top of the cake squeezing to form 'drips' as you go. Decorate the top with an assortment of seasonal foliage and voila, instant wow factor.
10. Get creative with sugar models
If you have a little more time on your hands to really get creative with your Christmas cake decorating ideas this year, why not try re-creating this incredible 'Night Before Christmas' cake?
You'll need to model the mouse out of sugar paste (there are some great step-by-step guides you can buy to teach you how) but the rest of the decoration is quite straight forward and follows the traditional method for decorating Christmas cakes.
11. Bring stars to the table
Skip the icing altogether by making a feature of your marzipan layer. Use a snowflake cutter to stamp out marzipan stars and glue them to your marzipan layer with a little water. Use a cook's blowtorch to pick out the snowflake edges and sprinkle with edible glitter.
Follow our star studded chocolate Christmas cake recipe and this Christmas cake decorating idea couldn't be simpler.
HOW TO DECORATE A CHRISTMAS CAKE
Start by turning your Christmas cake over so the flatter underside is the top - this makes it easier to decorate with a neat finish.
Then, brush your cake with warmed, sieved apricot jam.
On a surface dusted with icing sugar, roll out a layer of marzipan to the thickness of a £1 coin.
Roll up around a rolling pin, then unravel onto the cake. Smooth around the sides with your hands and guide neatly into the edges.
Trim any excess with a sharp knife. If you want to just cover the top of the cake, cut the marzipan to size using a round cutter the same width as the cake.
Still on the surface dusted with icing sugar, roll out fondant icing to between ¼-½cm and either cut to fit the top of the cake or make sure it's wide enough to cover the whole cake.
Roll up around the rolling pin, brush the marzipan layer lightly with water then unravel the icing onto the cake. Smooth and guide into the edges neatly with your hands, then trim to fit with a sharp knife.
To give fondant icing the professional look, use a cake smoother. This simple plastic tool is inexpensive, but will make such a difference to your finished cake.
Or to cover with royal icing for a snow effect, make according to packet instructions then spread over the cake with a palette knife.
Sign up to our free daily email for the latest royal and entertainment news, interesting opinion, expert advice on styling and beauty trends, and no-nonsense guides to the health and wellness questions you want answered.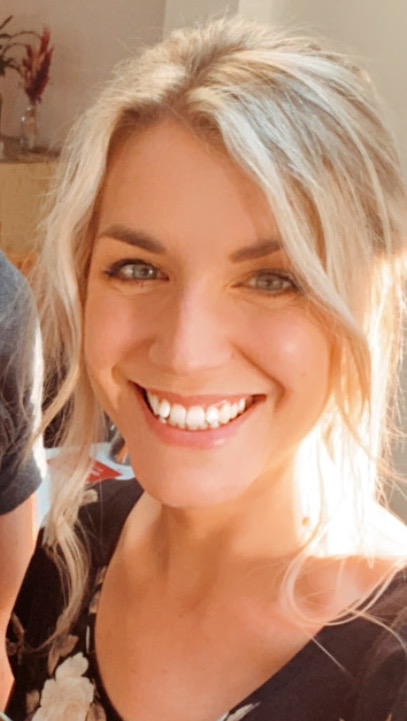 Digital Editor - Woman & Home
An internationally published digital journalist and editor, Rachael has worked as a writer and editor for both news and lifestyle websites in the UK and abroad including Metro UK, Homes & Gardens, Ideal Home, GoodTo.com, honey.nine.com.au and body+soul.
Rachael's published work covers a broad spectrum of topics and she has written about everything from the future of sustainable travel, to the impact of the coronavirus pandemic on the world we live in, to the psychology of colour.