Christmas cheesecake recipes that will have your mouth watering
These Christmas cheesecake recipes are the perfect finish to an indulgent meal...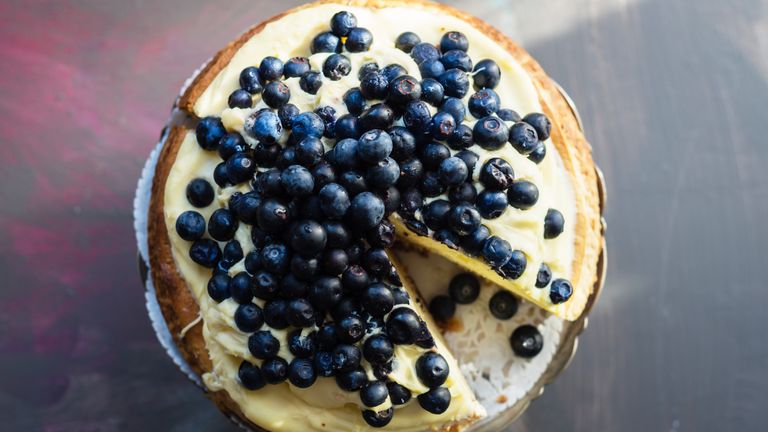 (Image credit: Getty Images)
It's almost Christmas, and for many of us, that means sweet treats and desserts galore - starting with these decadent Christmas cheesecake recipes. 
If you aren't a fan of mince pies or a traditional Christmas pudding, these Christmas cheesecake recipes will make a wonderful alternative Christmas dessert, including a nougat cheesecake and a baked orange and cranberry cheesecake.
Find Christmas cheesecakes to impress your guests as they tend to make a fail-safe festive dessert.
Some people enjoy the texture of a classic no-bake cheesecake while others prefer the slightly lighter texture if it's baked - either way, all these recipes are easy to make and look stunning, leaving your dinner guests wondering how you've had time to put them together!
Many of these Christmas cheesecake recipes feature seasonal fruits like cranberries, nectarines and apples and or go for frozen fruit as a great addition to the traditional cheesecake recipe.
Our pick of Christmas cheesecake recipes features many that can be made a day or so in advance and topped with fruit or nuts right before serving for wow factor, making Christmas prep that little bit easier. Choose from a lighter recipe that melts on the palate to finish off a heavy Christmas lunch, or something a bit richer, darker and sweeter that feels really festive and indulgent.
This black cherry and Kirsch cheesecake (pictured) is so festive. It's perfectly creamy with a wonderfully crumbly base that will really make your Christmas extra special. Many people don't enjoy Christmas pudding, so this makes a fantastic alternative.
You could also customize the recipes and use your favourite biscuits in the base - if you'd like to add an extra bit of richness to your cheesecake, use chocolate biscuits instead of plain, for example. But remember, part of what makes a cheesecake such a wonderful dessert is its simplicity.
Planning for Christmas? Take a look at all our Christmas recipes.
Christmas cheesecake recipes you need yo try
No Bake White Chocolate Cheesecake
This stunning no bake white chocolate cheesecake decorated with chocolate curls and edible gold glitter is a cheesecake worthy of Christmas Day, but it's ready in under 30 minutes. Guests will love its dazzling finish and will have no idea about just how easy it was to whip up.
Nougat Cheesecake
This soft-set nougat cheesecake is not only delicious and makes a stunning Christmas centrepiece. The edible glitter, reindeer and nougat decorations on top make it a show-stopping dessert with a real touch of Christmas magic. Unbelievably, it only takes 20 minutes to prepare so you'll not only wow your guests but you can do it with minimal effort! 
Baileys Cheesecake
This stunning Baileys cheesecake recipe is worth the little extra effort for a seriously light and creamy texture. The Baileys makes it perfect for Christmas and everyone will love the smooth, rich flavour from this classic Irish cream drink. Decorated simply with dark chocolate curls it makes a really sophisticated looking Christmas table dessert centrepiece.
Christmas Cheesecake With Soaked Fruits
The cinnamon, almonds, Calvados and nutmeg in our Christmas cheesecake with soaked fruits carry the unmistakable flavour of the season and is best prepared in advance so with it already waiting in the fridge, you'll have plenty of time to get on with other cooking duties on Christmas Day! You can actually make this up to three days ahead and it will keep beautifully. If you have a cold back porch or utility room then leave it in there if the weather is chilly - it will save you valuable fridge space.
Chocolate and Salted Peanut Cheesecake
Just the perfect balance between sweet and salty, this decadent chocolate and salted peanut cheesecake isn't far off a giant Reese's Peanut Butter Cup. If you prefer other flavours you could try an almond or cashew butter to replace the peanut taste. Topped with chocolate curls this gorgeous pud is perfect for a Christmas table and will leave family and friends feeling very content.
Chocolate, Hazelnut and Amarula Cheesecake
If you prefer Baileys to Amarula, or you don't like either and would prefer to use Frangelico, feel free to use the flavours that you love to finish off this divine chocolate and hazelnut cheesecake. It's really quick and simple to whip up but looks impressive enough to be your main Christmas dessert.
Mascarpone Cheesecake with Bananas and Butterscotch Sauce
The ultimate indulgence, this mascarpone, banana and butterscotch cheesecake is a real crowd pleaser. Perfect for people with a sweet tooth the sticky butterscotch sauce combines beautifully with naturally sweet bananas and smooth Italian cream cheese. To add a bit of festive fun you could top with a little edible glitter.
Chocolate Cheesecake with Armagnac Prunes
With its dark chocolate base, chocolate filling and boozy prunes, you might feel a little guilty indulging in this rich chocolate cheesecake with Armagnac prunes but Christmas is a time for sharing and as it's so delicious we can't imagine there will be much left. We've left the decoration on this one very plain, allowing the smooth chocolate top to be the focal point. If you'd like to make it more sparkly however feel free to pile on chocolate curls, sparkling hundreds and thousands or chocolate sauce.
Seville Orange Cheesecake
You can put that marmalade you have sitting at home to good use with this Seville orange cheesecake. The sharpness of the orange really cuts through the sweetness and it's super light too, which means it's (almost) guilt free! Ideal if you feel like this Christmas is going to be a little over indulgent (again!).
Mocha Rum Cheesecake
If you're not a fan of rum then you can choose your favourite tipple to replace it but beware, this mocha rum cheesecake is a very rich and indulgent, so make sure to serve in small portions. We love ours with a little cream on the side to cut through the chocolate but it's equally as delicious served up on its own.
Baked Rum and Raisin Cheesecake
The boozy raisins in this baked rum and raisin cheesecake add extra depth to its flavour and if you don't happen to have yellow rum, then you can use whatever you've got to hand so it's minimal fuss! this is more of a grown up dessert thanks to the good glugs of booze, so best to keep away from little guests.
Pineapple Cheesecake
Give you guests a taste of something slightly more exotic than they'd expect at this time of year with this pineapple and passionfruit cheesecake. The sweet and sharp flavour of pineapple is perfect after a really rich Christmas dinner and will leave you feeling refreshed rather than too full.
Baked Orange Cheesecake with Caramelised Oranges
This baked orange cheesecake with caramelised oranges is the perfect recipe to make ahead and finish off right before your guests arrive, with the orange topping adding a wonderful colour. Making a baked cheesecake gives a slightly firmer finish which some people prefer. You can make this well ahead of time, so it's ideal for freeing up some last minute prep-time on the big day.
Baked Orange and Cranberry Cheesecake
This simple baked orange and cranberry cheesecake is perfectly complemented by the cranberries that top it as they cut through the richness of the cake. And what's more festive than these little red berries?
Gooseberry Cheesecake
The sharpness from the goosberries in this goosberry cheesecake really cuts through the cake's sweetness. Another great one to be prepared in advance...
Baked Dark Cherry and Almond Cheesecake
The cherries add a wonderful colour to this smooth and rich dark cherry and almond cheesecake and they are perfectly complimented by the nutty almonds. 
Baked Apple Cheesecake
The apple, cinnamon and walnuts in this cheesecake make this the perfect dessert for a cold winter day.
Japanese Cheesecake
The yuzu juice and tofu are unusual ingredients when it comes to cheesecake, but your guests will love the interesting twist. Serving your Japanese cheesecake in individual jars also looks original.  
Maple and Walnut Cheesecake
Expecting a big crowd for Christmas lunch? Not sure sure what dessert to make for so many people? Give this delicious maple and walnut cheesecake a go - it serves up to 20 people so it's ideal for a party, plus it's super easy to make.
Caramel Cheesecake
This is one that should be cut up at the table, as it looks so beautiful and impressive whole. The ginger nut biscuit base on this 
caramel cheesecake
 puts an interesting twist on the classic baked cheesecake recipe. 
Baked Lemon Cheesecake with Forest Fruits
This light baked lemon cheesecake is ideal to make in advance as it can be frozen for up to a month before consuming. After defrosting, all you need to do is prep the fruit and topping on the day and you can have this stunning cheesecake on the table within 10 minutes.  
Vanilla and Raspberry Cheesecake
A bit of a fruity twist on the classic New York recipe, James Martin's raspberry cheesecake has a sponge rather than a biscuit base, which will absorb the maple syrup if you choose to cover it when you serve but the sharpness of the raspberries will ensure there's not too much of a sweetness overload. 
Quick Peach Cheesecake
This recipe will finally give you a reason to use the peach schnapps you have sitting in the back of your liquor cabinet. This quick peach cheesecake is wonderfully rich and creamy and thanks to the booze, one which you won't be able to share with the kids. 
Marbled Fudge Bars
Everyone loves brownies and cheesecake and with these marbled fudge bars you?ll never have to pick between the two again, as they?re halfway between both. Looking for more festive inspiration? Take a look at our Christmas recipe collection.