Christmas dessert ideas to impress your guests with
Christmas dessert ideas to inspire a show-stopper of a pud.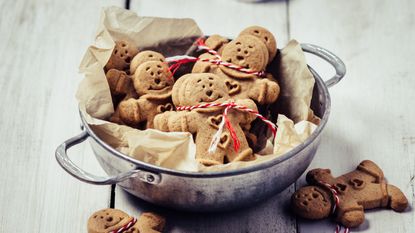 (Image credit: Getty)
Stuck for Christmas dessert ideas? You've landed in the right place.
After a tantalising starter, a show-stopper of a meat or vegetarian Christmas (opens in new tab) main and a smattering of Christmas vegetable sides (opens in new tab), you need a seriously impressive final course.
Lucky for you, that doesn't have to mean hours slaving away in the kitchen. Easy makes like our no bake nougat cheesecake take just 20 minutes to prepare.
Parties might be on pause for this year, but individual servings of panna cotta, syllabub, or parfait feel just as fancy at smaller gatherings. Or you can all tuck into generous slices of a large cake or roulade - cut at the table in front of everything.
Opt for a Christmas dessert filled with festive flavours like rich coffee and chocolate and sweet amaretto and cherry, or keep it light with citrus fruits and Christmas cheesecake recipes (opens in new tab).
Whatever your family fancy, we've got Christmas dessert ideas to please even the fussiest of eaters.
Scroll on and enjoy…
Christmas dessert ideas the whole family will love
Lemon Meringue Arctic Pie
This lemon meringue arctic pie (opens in new tab) is a really modern take on a retro dessert. It's easy to make and really zingy, making it the perfect dessert to enjoy after a heavy meal - especially around Christmas! Not everyone likes a rich fruit cake, so this makes a lovely alternative showstopper that's really elegant and a delight to eat!
Mulled Berry Snowflake Tart
Make the most of seasonal cranberries with this mulled berry snowflake tart, (opens in new tab) which is delicious served with cream.
Chocolate and Chestnut Christmas Log
Make this stunning chocolate and chestnut Christmas log (opens in new tab) (pictured), which has rich festive flavours but also makes a chocolate dessert that everyone will love. It's covered in a light dusting of edible glitter too, which makes it extra-special.
Chocolate, Hazelnut and Salted Caramel Cake
This stunning chocolate, hazelnut and salted caramel cake is a real Christmas showstopper, but it's easier than you think to get that smooth frosting and gorgeous drizzle effect. See the chocolate, hazelnut and salted caramel cake recipe (opens in new tab).
White Chocolate Cheesecake
This stunning white chocolate cheesecake will have everyone in awe, but this no bake recipe is actually very easy to make and is ready in 30 minutes. See the white chocolate cheesecake recipe (opens in new tab).
Salted Caramel Wreath Cake
This stunning salted caramel wreath cake looks so impressive, but is actually very simple to make and ready in one hour. The chocolate and salty-sweet caramel were made to go together. See the salted caramel wreath cake recipe (opens in new tab).
Nougat Cheesecake
This show-stopping nougat cheesecake would make an impressive Christmas dessert and you wont believe it but it only takes 20 minutes to prepare, with no baking required. With a low-fuss dessert like this, you will have plenty of time to get on with the multitude of other tasks you'll have to take care of when making Christmas lunch.
Orange and Grand Marnier Trifle
An impressive boozy orange and Grand Marnier trifle recipe (opens in new tab) with the x-factor, using all butter Madeleine sponges instead of trifle sponges. You can make the trifle the day before, but decorate before serving - it will hold well, decorated, for three hours.
Caramel Cheesecake
We'd happily eat this all year round if it wasn't so decadent. This caramel cheesecake recipe is one of the best.
Pistachio And Raspberry Meringue Cake
Make the meringue ahead, but assemble with pistachios, raspberries and cream just before serving. It's makes a light dessert, but very glam. See the pistachio and raspberry meringue recipe (opens in new tab).
Ginger and Amaretto Panna Cotta
Ginger and amaretto panna cotta (opens in new tab) recipe is spiced with a warming ginger and splash of booze. The combination of the two makes for a lovely Christmas dessert.
Mandarins In Orange And Caramel Syrup
This easy festive dessert uses just 3 ingredients for a no-fuss sweet that's ready in 30 minutes, and lighter than a Christmas pudding or cake. See the mandarins in orange and caramel syrup recipe (opens in new tab).
Mary Berry's Pineapple and Ginger Pavlova
The Queen of Baking herself, Mary Berry, has shared her pineapple and ginger pavlova herself. The winter flavours go so well together and would make a fabulous Christmas dessert. See Mary Berry's pineapple and ginger pavlova recipe. (opens in new tab)
Chocolate And Chestnut Layer Cake
This stunning layer cake brings together two flavours that go so well together and makes a fantastic alternative to Christmas cake, but keeps the festive flavours. See the chocolate and chestnut layer cake recipe (opens in new tab).
Red Velvet Roulade
This gorgeous red velvet roulade takes red velvet car to a whole new level and is the perfect show-stopper for the Christmas table, covered in white chocolate, white chocolate curls and gold edible glitter.
Chocolate Florentine Torte
Show off a stunning chocolate torte (opens in new tab) topped with broken Florentines and dusted with icing sugar - plus, it can be gluten free if you need it to be.
Chocolate Wreath Cake
This easy chocolate wreath cake recipe is a lot easier to make than it looks and it's lighter too, made with pear purée to replace the butter.
Chocolate Mousse and Cherry Trifle
This easy trifle recipe replaces custard with chocolate mousse, brownie bites and black cherries in kirsch for a chocoholic's take on Christmas trifle.
Stollen Parfait
All the classic flavours of the famous German sweet bread in one luscious stollen parfait recipe, just for you!
Chocolate Truffle Torte
Dark and rich chocolate torte is more of a dessert than a cake. It's flourless, so it's like a baked chocolate mousse poured with glossy chocolate ganache and chocolate curls.
Double Decker Tart
We've reinvented the iconic chocolate bar as a smart and glossy dessert with a crispy, sticky base, nougat filling and shiny chocolate top. It's topped with gold leaf for an extra special finish.
Orange and Cranberry Cheesecake
Make a seasonal cheesecake that everyone will love. This orange and cranberry cheesecake is so easy to make and can be prepared two days in advance so you can relax on the day.
Nut Meringue Cake with Baileys Cream
This nut meringue cake with Baileys cream recipe is the ideal dish to follow a big roast dinner. It's light, fluffy and really tasty and makes use of our favourite creamy liqueur in a really smart dessert.
Chocolate, Orange and Hazelnut Torte
A sophisticated Christmas chocolate torte recipe that brings together festive flavours of chocolate, orange and hazelnuts is perfect for the festive period.
Lime Syllabub
Lime syllabub can be made ahead and is so easy to assemble using just a handful of ingredients. It's ready in just 30 minutes. See the lime syllabub recipe (opens in new tab).
Chocolate Orange Cake
Perfect if you've got gluten free or dairy free guests, as this chocolate orange cake is suitable for both! But no one will even know the difference.
See the gluten free and dairy free chocolate orange cake recipe.
Rich Coffee, Chocolate and Mascarpone Torte
A thin slice of this decadent coffee, chocolate and mascarpone torte (opens in new tab) will be enough to round off Christmas dinner.
Raspberry Macaron Trifle
Take your Christmas trifle to the next level using elegant macarons. See the raspberry macaron trifle recipe (opens in new tab).
Vanilla Panna Cotta With Port Jelly
This simple panna cotta gets a Christmas touch with port jelly and is so easy to make. It's ready in 30 minutes! See the vanilla panna cotta with port jelly recipe (opens in new tab).
Cherry Chocolate Mousse Cake
Indulge in double the helping of chocolate with this the cherry chocolate mousse cake recipe (opens in new tab). A more exciting twist on a classic black forest gateaux, this cake is light, fluffy and irresistible.
Meringue Roulade with Orange and Passion Fruit
This impressive meringue roulade with orange and passion fruit has a lovely balance of sweet and sharp, with a mallowy wrap.
Millionaire's Ice Cream
Salted caramel, chocolate and biscuit ice creams come together in this decadent millionaire's ice cream recipe (opens in new tab) that you can make without an ice cream machine.
Sticky Ginger and Treacle Cake with Rum and Pecan Praline
A totally show-off centrepiece that's actually super easy to make and decorate, this sticky ginger and treacle cake with rum and pecan praline recipe will wow your guests.
Intense Chocolate, Caramel and Nut Tart
Rich and nutty, this sophisticated chocolate and caramel tart recipe (opens in new tab) makes a show-off Christmas dessert.
Blackberry Roulade
This squidgy meringue blackberry roulade recipe will bring the whole family together for seconds! Plus it's just as easy to make with frozen berries if you can't find fresh ones at the supermarket.
Boozy Tiramisu
This boozy tiramisu recipe (opens in new tab)has a rich and satisfying hit of coffee, cream and liqueur. This is a real grown-up pud, so if you're feeding kids, make sure you've got something else lined up for them!
Lemon and Marzipan Drizzle Cake
The richness of marzipan and just a touch of amaretto in the zingy lemon drizzle take this lemon and marzipan drizzle cake recipe (opens in new tab) from simple to something really extra special.
Chocolate and Salted Caramel Canapés
This chocolate and salted caramel canapés recipe (opens in new tab) are incredibly moreish - don't say we didn't warn you! A sneaky tip is to use Carnation's caramel-flavoured condensed milk which saves bags of time rather than boiling the cans.
Clementine Meringue
Men love meringues, so we had to include this simple clementine meringue recipe (opens in new tab) idea with Christmas clementines.
Marsala and Mascarpone Syllabub
This surprisingly light marsala and mascarpone syllabub recipe (opens in new tab) is great if you've overdone it during your meal. The smaller portions also help keep an eye on your waistline.
Macadamia Praline and Frangelico Parfait
Looking for something different? This macadamia praline and Frangelico parfait recipe (opens in new tab) is just perfect.
Pecan and Maple Meringue Roulade
Pecan and maple meringue roulade recipe is light as air and the perfect festive dessert.
Peach Panettone Trifle
Peach panettone trifle recipe is a new take on your standard trifle. It has fruity peaches with a rich panettone for a true dessert heaven.
Black Forest Trifle
Our black forest trifle recipe (opens in new tab) includes Greek yoghurt for a twist on a traditional Christmas classic.
Chocolate and Coffee Roulade
An indulgent pudding that doesn't hold back on flavour, but is light enough to enjoy after a heavy Christmas meal. This chocolate and coffee roulade recipe will have everyone asking for seconds.
Spiced Winter Fruit Compote
This is a really flexible spiced winter fruit compote recipe (opens in new tab), great for a holiday brunch or a healthy-ish dessert when you can't face another piece of Christmas cake!
Jess Beech is an experienced fashion and beauty editor, with more than eight years experience in the publishing industry. She has written for woman&home, GoodtoKnow, Now, Woman, Woman's Weekly, Woman's Own and Chat, and is a former Deputy Fashion & Beauty Editor at Future PLC. A beauty obsessive, Jess has tried everything from cryotherapy to chemical peels (minus the Samantha in Sex and The City-worthy redness) and interviewed experts including Jo Malone and Trinny Woodall.