Best Christmas food hampers 2020 for an indulgent festive treat for you or a loved one
Explore our selection of the best Christmas food hampers for friends, family or just as a treat to yourself.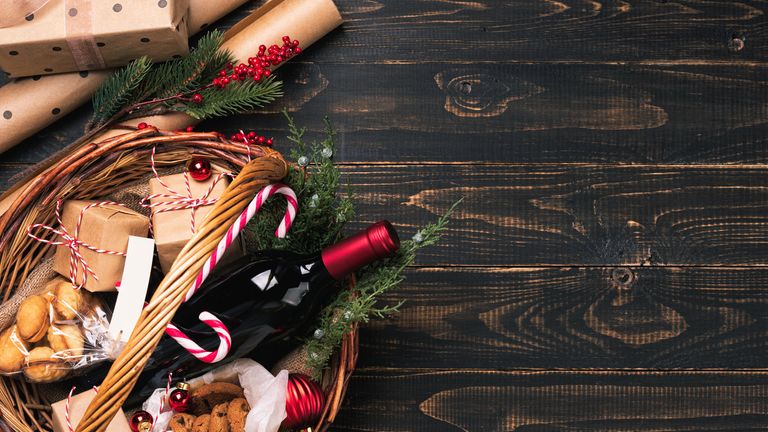 (Image credit: Getty Images)
A Christmas Food Hamper is a wondrous thing, but there are so many to choose from. If you find the right one it can be a treasure trove of delicious food goodies - whether sweet, savoury, boozy or all three. Hampers are also not the cheapest of item so you want to pick the right one.
Hampers have been popular for hundreds of years. Though it is believed that they first became popular in France, they have been used in the UK since the 11th Century. 
We've curated our favourite Christmas food hampers for 2020, just for you. They are all a little different and you are sure to find one that's perfect for every individual, couple, or family in your life.
There are, of course, hampers from those that you would expect - like Fortnum & Mason and John Lewis - but we have also included favourites from lesser-known companies. They all have one thing in common though - we love them!
Borough Box Prosecco and Cheese Gift Hamper
Specifications
Price : £74.99
How many items?: 10
This Christmas hamper is the absolute perfect option for the cheese-lover in your life! It comes complete with just about everything you could ever dream of for a cheese platter - including the all important vintage cheddar, and all the necessary accompaniments - think sourdough crispbreads, pink onion relish, truffle honey - oh, and of course a glass of sparkling Prosecco to wash it all down with. 
Aldi The Luxury Collection Hamper
Specifications
Price : £59.99
How many items?: 14
Get this before it sells out! Aldi's Christmas hampers are notoriously popular, so this is likely the last of the hampers on sale before they're all totally sold out. And what a fantastic choice it is - with a huge 14 items, you can enjoy a Christmas pudding, a bottle of Malbec and Sauvignon Blanc, champagne truffles, a chocolate florentine selection, earl grey tea bags, spelt and sourdough crackers, and so much more - so hurry!
Cartwright and Butler Seasons Greetings Hamper
Specifications
Price: £80
How many items?: 12
Send your loved ones (or enjoy yourself) this luxury hamper full of sweet and savoury treats this Christmas! Including a bottle of Cartwright and Butler's finest Tonada Merlot to pop on Christmas Eve (or Day), the recipient of this wonderful hamper can look forward to crackers, tea, biscuits, shortbread rounds, dark chocolate gingers, lemon sweets and a classic - toffee. Sign us up!
Biscuiteers Winter Wonderland Christmas hamper
Specifications
Price: £150
How many items?: 5
Make someone's Christmas with this beautifully packaged Biscuiteers food hamper, which includes a cheese biscuit tin, a sweet Christmas biscuit tin, some Christmas chocolates, a gingerbread Santa and a bottle of Prosecco (which you can swap or tea if you wish). All coming complete in a beautiful woven hamper, it's the ultimate thoughtful present.
Selfridges Selection Christmas Treats Gift Box
Specifications
Price: £55
How many items?: 5
Where better for luxury foodie treats than Selfridges? And for those with a sweet tooth, we love this gift selection box from them! Including some indulgent hot chocolate, chocolate biscuit trees, festive almonds, white chocolate pistachio thins, and a small gift box, this is sure to put you or a loved one in the most festive of moods.
Fortnum & Mason Christmas Treat Hamper
Specifications
Price: £100
How many items?: 6
There are two things that come to mind when thinking of Fortnums: top-quality food produce and hampers. This combines both. Though there are lots of hampers to choose from, we love this one because it has a little of everything, including Marc de Champagne Truffles, Christmas pudding and even a mini-musical biscuit tin. If you're leaving things to the last minute there is also the option of next-day delivery.
Claridge's Davies Hamper
Specifications
Price: £495
How many items?: 18
Known for its luxury hotel accommodation and as the home to Michelin star chefs, Claridge's also offers beautiful hampers. The Davies Hamper is one of its more luxurious offerings. Including champagne, wine, their annual sell-out Christmas pudding, jams, chutney's, coffee and a Fornasetti candle which is the scent of Claridge's legendary lobby. This really is a gift worth giving.
Sharpham Park's Bakers Hamper
Specifications
Price: £125
How many items?: 10
Perfect for the baker in your life, this hamper from is brought to you by Sharpham Park. The historic park near Glastonbury is famed for its British spelt as well as it's many famous owners. Having been previously inhabited by the Abbots of Glastonbury and the novelist Henry Fielding, it is now owned by the founder of Mulberry, Roger Saul. This hamper is just as classy as a designer handbag and includes everything you need to bake delicious bread. From the flour to the equipment to the cookbook. 
Waitrose & Partners Christmas Celebration Hamper
Specifications
Price: £150
How many items?: 14
A scrumptious selection of festive goodies from the Waitrose team. Anything food-related that you think of at Christmas is included here - truffles, Panettone, biscuits, Christmas pudding and even Christmas crackers! The great thing about Waitrose food is that you know it will be of great quality and that lots of love will have gone into its making. This would be a great gift to a family or to an extra special loved one. 
Hotel Chocolat's Eat, Drink & Be Merry Hamper
Specifications
Price: £150
How many items?: 7
This hamper is the perfect gift for the chocolate lover in your life. Known for their exquisite chocolate products, Hotel Chocolat have not disappointed with this hamper. There's the usual you would expect from a hamper - prosecco and chocolates but also Chocolate Cream Liqueur, Biscuits of the Gods and Chocolate Macarons. This is a truly special gift for anyone, even more so those that just love chocolate.
Harvey Nichols Ultimate Italian Christmas Hamper
Specifications
Price: £275
How many items?: 12
Merry Christmas or should that be Buon Natale! This is the ultimate Christmas hamper for food lovers. Italy, the home of great food is the inspiration for this hamper from Harvey Nichols. The beautiful wicker basket is full of Harvey Nichol's bestselling Italian products and all those you'd expect at Christmas. From panettone to espresso to Chianti and many, many more. We love this hamper because it's slightly different from the traditional kind but still totally festive.
Panzer's Taste of Christmas
Specifications
Price: £30
How many items?: 4
A hamper from Panzer's is always a treat. They scour the world for the finest food products to sell at their deli. Fortunately, they also include some of these in their selection of hampers. This one is a perfect little gift for a friend or family member and is full of all of the Christmas treats that come to mind when you think of the festive season. Christmas cake, mince pies, nuts and chocolate - what more could you want this Christmas!?