The 31 best family Christmas gift ideas to keep all ages happy in 2022
We've found the best family Christmas gifts everyone will love this December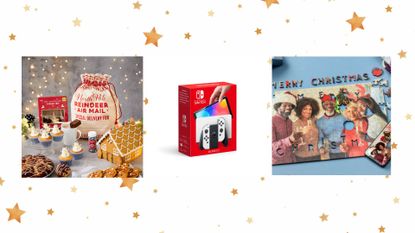 (Image credit: Marks & Spencer, Nintendo, Wentworth Puzzles)
It's not easy choosing family Christmas gifts. But whether you're buying for a couple with toddlers or an extended clan of every age, our pick of the best family Christmas gift ideas will help you find the perfect present for smiles all round this December.
When shopping for family Christmas gifts, try and look for something that will appeal to everyone including teenagers, very young children and frazzled parents. The best Christmas gifts for parents will often include activities the whole household can take part in, from board games to experiences they can enjoy together. At Christmas, food gifts are also a great idea, but you should take care to choose something the whole family will be excited to receive.
From matching Christmas pajamas to unforgettable days out, we've found the best family Christmas gifts for 2022 that are fun, useful and thoughtful.
The 31 best family Christmas gift ideas
These are the best all-ages gifts to buy this Christmas with picks to suit all budgets and sorts of families.
Where to find the best family Christmas gifts in the UK
Best family Christmas gifts in the UK 2022
We hunted down the best family Christmas gift ideas, whether they like cooking, playing or even competing against each other
Where to find the best family Christmas gifts in the US
How to choose gifts that the whole family will love
First, keep the ages of any children in mind when shopping as there's no point buying a complicated board game for a household with toddlers. Look at games and activities they will be able to play together over Christmas when everyone tends to be at home more than usual, or choose ones that will stand the test of time and still be fun and in use by summer.
Most of all, think about what the family like to do together rather than separately—do they love watching movies, getting out and playing sport or planning days out to new places? Try gifting them something that will make their favorite activity even more fun or special, or treat them to something they would never think to do themselves. Buying for a family rather than shopping for smaller presents for each person might also mean you can afford something a little more extravagant than you may expect.
Personalized items will always go down well and show you've thought of the whole family when shopping. However, if in doubt, remember that you will rarely go wrong with a food hamper that will appeal to all ages and can be enjoyed immediately over Christmas.