17 Christmas gifts for kids that'll make their wishes come true
These failsafe Christmas gifts for kids are sure to put a smile on their face.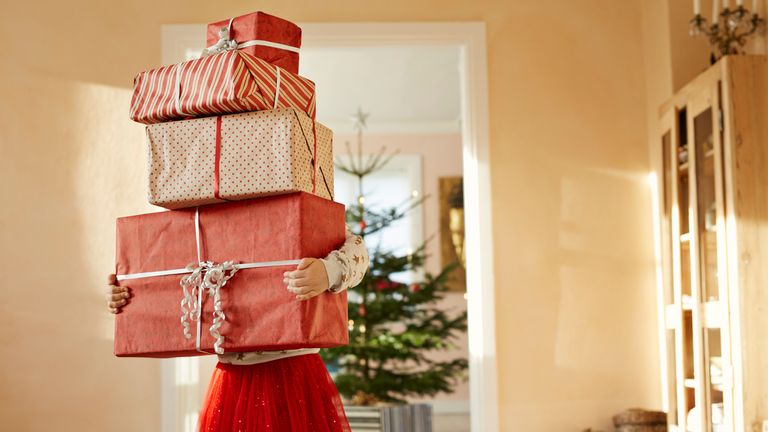 (Image credit: Getty Images)
Our round-up of brilliant Christmas gifts for kids will help put smiles on the face of the most important little people in your life. 
Getting hold of the most popular gifts for kids can be difficult, and with more people expected to shop online this Christmas than ever before, we've also included some unique buys we think they'll love in our gift guide for children too.
What are the most popular Christmas gifts for kids in 2020?
According to Argos, this year kids will be desperate to get their hands on a range of toys. They include Lego (no surprises there), Baby Yoda, Hatchimals, LOL Surprise toys and even their own camera kits.
This year, stores can expect an increase in sales on things like books, as children spend more time at home during the holidays. Games consoles are also set to skyrocket. The new PS5 will be launching in November (although getting your hands on it won't be easy) and new games launching in the run-up to Christmas. 
If you have no clue where to begin when shopping for kids, fear not. We've found some of the very best and most exciting Christmas toys. Tick these off your list today...
Christmas gifts for kids
Age 1-5
Toniebox Starter Set
£69.95
A speaker with a modern twist. Pop a Tonie figure on the top and tune into bedtime stories as well as accessible and enjoyable non fiction content and music. This soft, snuggly box is cosy enough to cuddle to sleep and portable enough to throw in the car for long journeys. We love that you can also upload your own tunes and record your own stories. This means your little one can listen to familiar voices on demand – brilliant for the current testing climate. Beloved family members may have to stay away, but they can be part of cherished story time. View at John Lewis.
Grow & Play Peppa Pig Peppa Pot
RRP £7.99
This grow and play plant allows them to grow their very own cress at home - with the help of Peppa Pig, of course! Designed to encourage children to plant 'easy to grow' seeds, it'll help them understand the fun of caring for something. Maybe they'll even help you water the plants, too! View now at John Lewis & Partners.
Star Wars The Child Animatronic Edition
£59.99
You'd better be quick if you want to get your hands on this animatronic 'The Child', as it's set to be one of the most in-demand toys of 2020. With over 25 sound and motion effects, including including happy and excited, giggles and babbles, tired and sleeping, and Force effects, it'll keep The Mandalorian fans happy for hours. View now at Amazon.
Mitre Zoids Scriball Colouring Mini Football
RRP £9.99
Budding young footballers will definitely appreciate being gifted this mini ball, which comes with five colouring pens so they can decorate it themselves in their team's colours. Suitable for players three years and up, it's a great all-rounder gift. View at Argos. 
Dyson Cordless Vacuum
£19.99
This toy is set to be a bestseller this year, and is perfect for children aged three and up. It's a direct replica of Dyson's DC59 model - and even has working suction. They can be your little helper! View now at Smyths Toys.
Age 6-10
If you know a child lucky enough to have a set of Airpods, getting them a new case isn't a bad idea. We love this unicorn design, but there are plenty of other styles if that doesn't appeal to the child you're shopping for. View at Amazon.
David Walliams Mega-Tastic Challenges Game
RRP £14.99
Children's author David Walliams has created this fun game which can be played by everyone in the family. Players need to go round the board collecting characters from David Walliams' books by successfully completing either a physical feat or mental challenge. We're in! View at Waterstones. 
The Original Den Kit
RRP £40
Every child's favourite pastime is building dens, right? This set encourages kids to get out and about and build from scratch. Containing camouflage tarpaulin, a groundsheet, mallet, mug, rope, tent pegs and even face paints, they'll feel like proper little adventurers. View now at Kidly.
Squeakee 12300 Interactive Balloon Dog
RRP £59.99
This interactive 'balloon dog' has over 60 movements, and can even be trained to learn new tricks such as sit and beg. You can also pop him by putting the pin into its hole, and then inflate him again after. View at Amazon.
Hatchimals Pixies Crystal Flyers
RRP £29
Another favourite toy for this year is the Hatchimals Pixies Crystal Flyers, which come inside the usual egg. Once she's fully charged, her wings will begin to flutter - then when you let go, she'll fly. Her built-in sensor follows the child's moves, so with they lift their hands high she'll go higher. So clever. View now at John Lewis & Partners.
L.O.L. Surprise! O.M.G. Remix 4-in-1 Plane
RRP £92.99
This giant L.O.L Surprise! includes 50 surprises and transforms into a plane, mixing booth, car and recording studio, all featuring working lights and sounds, seatbelts, drinks cart and more. It also comes with accessories, and fits L.O.L Surprise dolls. View now at Amazon.
Poopsie Dancing Unicorn
RRP £50
The Poopsie dancing unicorn is guaranteed to go down a treat with your little darlings. Poopsie has brushable rainbow hair, and moves her feet, shakes her belly, dances in circles and more - inspired by the viral Poopsie music video "My Poops" on YouTube. View now at Argos.
Age 10+
LEGO 42115 Technic Lamborghini Sián FKP 37 Car Model
RRP £349.99
If you really want to push the boat out this year, this incredible Lego car is an incredible representation of the Lamborghini Sián FKP 37 and features 8-speed transmission activated by the movable paddle gearshift, V12 engine with moving pistons, 4-wheel drive, and classic scissor opening doors. An incredible bit of tech. View now at Smyth's Toys.
Minecraft: The Survivor's Personalised Book of Secrets
RRP £19.99
If you know a kid who loves playing Minecraft, this official book of secrets is full of tips and tricks they won't get anywhere else, like winning combos and design ideas. Even better, you can personalise the front with their name to make it extra special. View at In The Book.
Game & Watch: Super Mario Bros.
RRP £49.99
The classic game returns in this recreation of the classic Game & Watch system that includes the original Super Mario Bros., a digital clock and more. Their parents will definitely be tempted to join in with this one! View now at Nintendo.
Spirograph Travel Set
RRP £10
This travel set reminds us of our childhood, and we're sure all children will enjoy it just as much. Based on the original 1965 spirograph, this set contains one studio, six spirograph wheels, a paper pad, two pens and a design guide. View now at Selfridges.
VTech KidiZoom Studio
RRP £59.99
If you've got a YouTube fan to shop for this year, they'll love this incredible studio set, which includes an HD video recorder, a convertible mini tripod/handle and a wrist strap - perfect for any little budding social media stars! View now at Amazon.