Christmas in New York: a guide
Don't leave Christmas in New York on your bucket list; it's a trip of a lifetime you won't regret...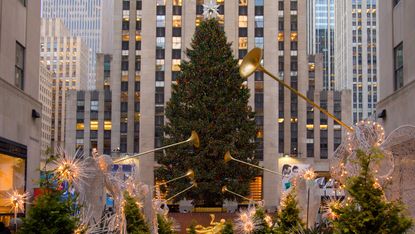 (Image credit: Alamy)
Christmas in New York is an experience unlike any other, and the festive season really is the most wonderful time of the year to visit The Big Apple.
From ice-rinks with breathtaking views to glittering window displays, Broadway shows and (if you're lucky) snow in Central Park, you're guaranteed to have an amazing trip if you visit New York at Christmas time.
For many people, Christmas in New York is on the travel bucket list, along with visiting the best Christmas markets in Europe and seeing the Northern Lights.
If you're planning to spend some of the festive season in The Big Apple, here's our guide to what to do and see for a magical trip. And, while travel is still getting back on its feet, you might find that the city is a bit quieter than usual this year. Silver linings...
Is Christmas a good time to visit New York?
Absolutely, 100% yes! Christmas in New York is the most wonderful time to visit. There's simply no other time like it. There's a chill in the air – but it's before the temperature really drops come January – and the city's streets are decked out in shimmering lights and dazzling displays of the best Christmas decorations, from ornaments to snowflakes and tinsel.
The setting of some of the best Christmas movies on Disney Plus, Netflix and more (we're looking at you, Home Alone 2), Christmas in New York City is a special time and, undoubtedly, your visit will always hold a special place in your memories.
Where to shop during Christmas in New York
If Christmas shopping is at the top of your agenda for a trip to New York, there's no better place to find brilliant Christmas gifts for her, for him and for the whole family.
For department store trips, Midtown does it best. Walk up Fifth Avenue from Saks at 49th Street, to Bergdorf Goodman at 58th, and don't miss outliers like Macy's (34th Street & Broadway) on the way.
If New York is famous for anything around Christmas time, it has to be their impressively ornate holiday window displays. As always, all of these stores join in to show off their holiday spirit and latest merchandise - and window shopping is a festive experience that won't cost you a penny.
While Macy's is an iconic sight, Saks Fifth Avenue strings up enough bulbs to illuminate the entire block after dark. We don't know what this year's theme is going to be just yet, but looking at previous years, we'll be in for a treat.
Last year was a little different because the iconic department store couldn't host a big celebration that attracts hundreds of spectators because of the pandemic. Instead, they hosted 20 smaller lighting ceremonies, that were live-streamed for all to watch from the comfort and safety of their own homes.
For 2019, the department store teamed up with Disney for Frozen 2-themed window displays.
If you're going to take the whole family to New York for Christmas, FAO Schwarz is one of the best toy stores in the city and not only will their displays be the stuff of childhood dreams, but you can't pick a better destination to shop for Christmas gifts for kids either.
If you're after something a little more unique, there are lots of different Christmas markets scattered across the city. The Grand Central Terminal Holiday Fair, which sits in the lavish Vanderbilt Hall, focuses on handmade, unique gifts using locally sourced materials.
Held from late November through to Christmas Eve, it's an unforgettably festive one-stop-shopping experience. You'll find everything from men's and women's clothing and jewellery, to home accessories and holiday ornaments for new Christmas centerpiece ideas.
The market at Bryant Park is more food-oriented, while the one at Union Square is great for quirky, cheap Christmas gifts. It's also home to its own ice rink to round off a fun-filled afternoon.
If outlet shopping is your thing, head to Woodbury Common Premium Outlets. Its 220 stores offer savings of 25-65% off the original price of many US brands including Ralph Lauren, Converse and Calvin Klein. In addition, you'll find that most stores offer flash sales offering extra money off.
Woodbury Common (opens in new tab) is approximately a 1 hour drive from Manhattan, so it will most likely be a day trip.
If you can't give a whole day to shopping the discounts at Woodbury Common, back in the City you will find that most shops have impressive seasonal sales. You're sure to find a bargain just about everywhere you go.
What to do while spending Christmas in New York
Make the most of Christmas in New York with our list of Christmas things to do in the big city, including tree-lightings, impressive shows and mind-blowing views.
Pre-book any attractions ahead of time through AttractionTickets.com (opens in new tab). As well as making savings on tickets, you'll also jump the long queues at the most popular tourist spots.
Make sure to pack comfortable walking shoes, closed toe shoes or boots so you can enjoy your time walking around the city, as well as something a bit more fancy for the nightlife.
1. Rockefeller Center Christmas Tree
Nothing says Christmas in New York more than the Rockefeller Center Christmas Tree. Every winter, thousands travel to the city's brightest landmark; the Rockefeller Christmas Tree, Norway spruce around 75 feet high. There's been a tree at the Rockefeller since 1931, these days boasting around 50,000 LED lights.
Things were a little different last year due to Covid-19 restrictions, however the public could watch the lighting ceremony at home. There were performances from the likes of the Radio City Rockettes, Dolly Parton and Gwen Stefani.
This year, we don't have a date for when the tree will be lit just yet but the unlit Rockefeller Center Christmas tree usually arrives in mid-November. Then, about a week after Thanksgiving and Black Friday, when the department stores unveil their famous window holiday displays, the tree is lit.
If you miss the big switch-on, you can see the real Christmas tree lit up in all its glory until 7 January. For most it's considered a must-see if you're spending Christmas in New York - so plan a visit into your trip.
---
TOP TIP: When visiting the tree, enter Rockefeller Center from 5th Avenue and walk through the horn-blowing Angels toward the tree for an iconic and Insta-worthy view. Entering from the side, 47th or 50th streets is just not the same experience.
---
2. Head up high
Head up to the roof of the 66-storey Rockefeller skyscraper, to the Top of the Rock Observation Deck (opens in new tab), which offers sweeping unobstructed views right across the city, including Central Park. Make your way up and peer down on the streets of New York, lit up with its gorgeous sparkling Christmas lights.
Its location right in the heart of midtown means it's also surrounded by some of the best shopping, dining and entertainment in the city.
For other unforgettable views, the Rock is in competition with nearby Empire State Building (opens in new tab), a 102-storey Art Deco tower in central Manhattan and the One World Observatory (opens in new tab) on the top of the One World Trade Center. It's worth a slightly stomach-dropping lift ride to get to the 102nd floor for the breathtaking 360-degree views of the city's iconic skyline and surrounding waterways.
3. Hit the ice
Do you really need travel insurance?
Winter escapes can be exhilarating, but frigid weather and winter sports could wreak havoc on your holiday and travel insurance can give you peace of mind should the worst happen. Many travel insurance policies will cover things like emergency medical expenses, stolen or damaged possessions and even lost luggage. You can even get tailored cover if you are planning a trip to enjoy some winter sports.
Compare Travel Insurance Quotes at GoCompare (opens in new tab)
Christmas in New York just isn't Christmas without ice-skating. Most of us can probably name two or three rinks off the top of our heads but you might be surprised to find there are 15 different venues across the city.
The best known is without a doubt the Rink at Rockefeller Center (opens in new tab), where tracing figure eights under the watchful gaze of Rock Center's Prometheus statue is the quintessential NYC skating experience—but plenty of other options exist.
Bryant Park is a holiday haven. It morphs into a winter wonderland that includes a free admission ice skating rink, cute market stalls and a bar.
There's also the Wollman Ice Skating Rink (opens in new tab) in Central Park, where you'll enjoy the stunning backdrop of the New York Skyline, Christmas music and, if you're lucky, you might even catch a glimpse of Santa Claus.
Wrap up, because although average temperatures in December are around 7°C it's not uncommon for temperatures to plummet below zero. Don't forget your gloves, hats and scarfs to keep you warm.
4. See a show
Show business is part of New York's DNA and Broadway is the home of musical theatre. It's also the home of the annual Radio City Christmas Spectacular.
A yearly tradition since 1933, this classic Christmas spectacle offers tap dancers, a flying Santa Claus and, of course, the world-famous synchronised high-kicking Rockettes.
Now that Broadway has returned following its pandemic closure, the Rockettes are performing as usual this year between 5 November 2021 and 2 January 2022.
You can book tickets for the 2021-22 Radio City Christmas Spectacular here (opens in new tab).
Meanwhile, family shows on Broadway include Frozen and Wicked, with perennial favourites including The Lion King, School of Rock – The Musical and Aladdin. Book tickets ahead here (opens in new tab) for cheaper deals and to ensure you get a seat!
5. Visit award-winning New York museums
If the weather app says rain all day, why not head over to one of New York's many museums. Whether your interest is in art, science or history, there's something for everyone in just about every neighbourhood. Pick from The Metropolitan Museum of Art, MoMA, Solomon R. Guggenheim Museum, American Museum of Natural History, Whitney Museum of American Art or Museum of the City of New York.
6. Hop on a bus - with a difference
Experience the magic of New York during the holidays with a special sightseeing tour that celebrates the spirit of the season. THE RIDE's (opens in new tab) Christmas Edition is a limited-engagement sensation that uses original music, videos, and a dazzling collection of sights to show you the Big Apple's festive side.
You'll hop on a bus fitted with side-facing seats, state-of-the-art audiovisual equipment, and hilarious, engaging hosts to create the lively mood. Relax for the unique performance as you're carried out on a 4-mile journey through the sparkling city. We won't spoil it for you by saying what you see, but it's a must for the festive season.
Reservations for November 12, 2021 through to December 31, 2021 are now available and ticket prices start at $35 (opens in new tab).
7. Dyker Heights
There's decorating your home for Christmas and then there's decorating your home for Christmas the Dyker Heights way...
Head out to Brooklyn and see the residents of this neighbourhood take getting into the festive spirit to new heights year after year.
Think inflatable snowmen, carols blasting from loudspeakers and enough Christmas lights to put Manhattan to shame. The lights at the houses usually stay on from 5pm to 9pm. The nearest subway station is the 86th Street/4th Avenue station on the R line and the area is about a 20-minute walk away.
Christmas in New York: Where to eat
You'll find a foodie hotspot on every corner, but some of our favourites for on-the-go food include Jack Wife's Freda for brunch, Peking Duck House for Chinese, Rubirosa for Italian and dessert from Magnolia Bakery - made famous after featuring in Sex and the City. There's usually a big line but it's worth the wait.
The portions across the city are impressive so don't be scared to ask for a doggy bag. Don't waste any of that good food!
For something extra special during Christmas in New York, head to MO Lounge at the Mandarin Oriental (opens in new tab), which has the most exquisite views across Manhattan.
You can head there at any time of day and enjoy an all-day menu of the most delicious (elevated) comfort food and well-crafted cocktails with a stunning view overlooking Central Park and the ever-impressive Manhattan skyline.
To wash all of that down, head to 230 Fifth Rooftop (opens in new tab) for a hot cider, boozy hot chocolate or Irish hot cream coffee in a cosy igloo. Heated (thankfully) and transparent, they offer a spectacular view of the city.
New York is busier than usual in the run-up to Christmas, so book ahead for dinner and drinks and prepare for some queues.
Where to stay if you visit New York at Christmas
If you're going to be in The Big Apple for a few days, make the most out of your Christmas in New York and stay centrally. Within minutes from Broadway and major Midtown attractions – think Rockefeller Center, Empire State Building and Madison Square Gardens – The Westin New York at Times Square (opens in new tab) is the perfect base for a New York stay.
With over 800 rooms, from a standard double to a one bedroom suite, there's something for everyone's needs. By New York standards, the rooms are large and they come with Westin's famous 'Heavenly Bed', flat-screen TVs, and rainfall showerheads. If you're lucky, you might even get a view of the Empire State Building.
Family Rooms come with two queen beds, microwaves and refrigerators. Other rooms can easily fit a rollaway bed for an extra per night fee. Cribs are free.
Most commendable, though, is the hotel's commitment to energy conservation and all-around sustainability. There's recyclable carpet on the walls, non-toxic paint on the walls, and low-flush toilets and faucets in all bathrooms. Even the room keys are 100-percent recycled and biodegradable.
For a casual meal or a quick cocktail before heading out, go to the Foundry Kitchen & Bar. Steal a seat by the window and watch life happen on Eighth Avenue while sipping a Manhattan.
Rooms start from around $463 USD per night, mid-week, in early December.
Is New York expensive at Christmas?
Just like any major city, New York is expensive in general, but especially so at Christmas. Hotel prices and airfares are high, as this is peak travel time and visitors flood to the most popular attractions.
Book your flights and accommodation in advance for the best prices. Midtown and Times Square are the most popular choices for accommodation, but there are plenty of other options, especially in Brooklyn with convenient transport options to Manhattan attractions.
However, Christmas in New York doesn't have to be more expensive when you're there. In fact, if you're heading to the Big Apple to shop, you'll save money compared to other times of year thanks to the city's impressive holiday sales.
Save money on admission to New York's best attractions and skip main-entrance ticket lines at attractions including Top of the Rock with a CityPASS (opens in new tab). Valid for nine consecutive days, beginning with the first day of use, it costs $132 for adults and $108 for ages 6-17.
How much spending money will I need for a week in New York at Christmas?
How much money you need will depend entirely on where you stay and what you get up to while you're there. If you've paid for your hotel in advance, we suggest a minimum of $675/£500 for a four-night stay to see you through meals, shopping and attractions.
Christmas in New York 2021: What you need to know before you go
Travel within and to the US has been restricted this year thanks to the ongoing pandemic, but travel restrictions are due to relax come early November - just in time to spend Christmas in New York.
Nearly all pandemic travel restrictions were lifted in June in New York state, however, on 17 August, in response to the Delta variant surge, you are now required to show proof of vaccination when entering the city's indoor dining, fitness and entertainment venues including concert halls, museums, movie theatres, bowling alleys and arcades. Masks are endorsed however there is currency not a mask mandate in place.
If you test positive while in the state, you will be required to quarantine in a private area, either a hotel or private residence.
No travel is currently risk-free. Countries may further restrict travel or bring in new rules at short notice, for example due to a new COVID-19 variant.
The latest news from the New York State Travel Advisory can be found here (opens in new tab), and advice from the CDC (opens in new tab) for International travellers wishing to enter the US can be found here (opens in new tab).
Helena is the Travel Editor for Woman & Home, Woman's Weekly, Woman, Woman's Own and Chat. As a journalist with 8 years' experience, she has also worked for titles including Stylist, The Evening Standard and Heat.

She is a keen traveller who loves nothing more than exploring a new country. Her dream trip is a safari. A fierce animal lover, she dreams of seeing some of the big five out in the wild. Her wish-list also includes India – to explore her husband's heritage more – as well as exploring more of America's stunning national parks.