22 of the best Christmas markets in Europe and the UK
Get into the spirit of the season by visiting one of the best Christmas markets in Europe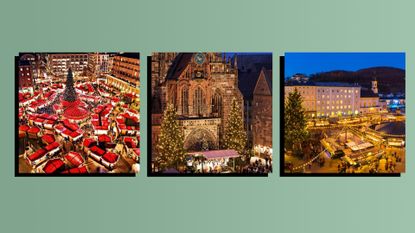 (Image credit: Future | Getty)
With wooden chalets selling delicious local delicacies, impressive light shows and handmade decorations aplenty, these are the best Christmas markets in Europe and the UK.
What could be more magical and festive than visiting one of Europe's best Christmas markets, with all the sights, sounds and smells that make this the most wonderful time of the year? After all the turbulence of the past 18 months, it's no surprise that people want to pull out all the stops this Christmas.
The best Christmas markets in Europe make shopping a joy. Set in some of continent's most vibrant and historic towns and cities, everything is decorated to the max, with garlanded Christmas trees, quaint wooden chalets and mouth-watering hot food and drink. The emphasis is on unique gifts, artisan wares and gourmet treats that you won't find anywhere else.
There are travel options for all budgets, whether you hop on a plane, train or self-drive via a ferry or Le Shuttle to Europe. Package deals are often excellent value, though check whether departure airports are convenient for you.
Will there be Christmas markets in Europe in 2021?
This year the majority of Christmas markets are back and ready to welcome visitors from late November through to December. A few, like Edinburgh, overlap with New Year, so you can keep the festivities rolling on and welcome the New Year in style. As with all travel, Covid restrictions mean that events can change at the last minute, so check dates regularly.
Best Christmas markets in Europe 2021
Christmas markets originated in Germany and several of the best are still held here. But now there's stiff competition from the rest of Europe. In fact, when European Best Destinations asked travellers to vote for their favourite Christmas Markets in 2021, Basel in Switzerland was the clear favourite. Other contenders that have taken top slot for best Christmas markets in Europe in previous years include Strasbourg, Zagreb, Tallinn and Budapest.
1. Prague,Czech Republic
Running from the start of Advent, the Christmas Markets in Old Town Square and nearby Wenceslas Square are a great way to experience Czech food and culture. With beautifully lit Christmas trees glowing against the city's Gothic skyline, you'll find local carol-singing children dressed in folk costume, charming nativity scenes and a petting zoo in Wenceslas Square.
Load up on regional handicrafts—wooden toys, hand-blown glass, embroidery and lace—and indulge in slices of spit-roasted ham, pancakes and spicy gingerbread, washed down with Czech beer, honey wine or hot chocolate.
Runs from: 27 November 2021 to 2 January 2022; pragueexperience.com (opens in new tab)
2. Cologne, Germany
A quick Eurostar connection in Brussels takes you to the heart of Cologne, where you can indulge in a traditional pretzel while exploring one of the seven Christmas markets on offer. Spanning the River Rhine, Cologne has seven Christmas Markets that together make up an enchanting festive experience. The most impressive fills the square in front of the twin-spired cathedral and boasts a ginormous fir tree and entertainment stage.
There are over 160 quaint cabins offering quality crafts, including tree decorations and toys, spiced glühwein, cinnamon stars, and baked apples. An unmissable treat for little ones is Santa Claus Village at Rudolfplatz, home of the man in red himself.
Runs from: 22 November to 23 December 2021; cologne-tourism.com (opens in new tab)
Double the festive fun with a trip to Cologne and Dusseldorf Christmas Markets. A 4-day trip by coach with four-star hotel accommodation costs from £349 per person, with Leger Holidays.
3. Winchester Cathedral Christmas Market, Hampshire, UK
A relative newcomer (it started in 2006), Winchester's historic and atmospheric location puts it firmly in the top 10 best Christmas markets in Europe to visit. Around 125 alpine-style chalets line the inner close of Winchester Cathedral, with a glistening ice rink at the center.
Championing independent British producers, designers and makers, there's plenty to tempt: textiles, fashion accessories, jewelry, homewares, local cheeses, cakes, beers and spirits. There's more comfort and joy on tap with a program of music, events and activities, plus a lantern procession on Friday 26 November.
Runs from: 19 November to 22 December 2021; christmas.winchester-cathedral.org.uk (opens in new tab)
---
You might also like
Want to make Christmas extra special this year with amazing decorations? See our reviews of the best artificial Christmas trees to decorate your home
---
4. Reims, France
In the heart of France's Champagne region, Reims has a unique festive claim to fame—the first French Christmas celebrations occurred here in AD 496, when King Clovis and his 3000 warriors were baptized on Christmas Day.
Fast forward to the present-day to see 125 rustic chalets laid out in front of the majestic Gothic cathedral and surrounding streets. As well as the usual gifts and gourmet treats, small champagne producers offer their sparkling wares at very affordable prices.
It would be a crime not to visit some of the esteemed Champagne Houses, as well as exploring the smaller producers, where you are able to purchase a bottle of Grand Cru Champagne for as little as €15 a bottle - the perfect opportunity to stock up for the festivities!
Runs from: 22 November to 24 December; en.reims-tourisme.com (opens in new tab)
Reims is less than 4 hours drive from Folkestone. Prices on Le Shuttle start at £95 one-way in December; eurotunnel.com/uk/tickets-and-fares (opens in new tab).
5. Zagreb, Croatia
The beauty of Christmas in the Croatian capital is that it stretches throughout the town, with individual markets popping up in picturesque squares, alongside ice-rinks and illuminated buildings like the Croatian National Theatre.
There is a packed cultural program, such as the live nativity next to the Cathedral stage in Zrinjevac Park and outdoor concerts featuring folk dancing, choirs, jazz and rock bands. Pretty wooden cabins sell handicrafts and Croatian specialties—bowls of goulash, cabbage rolls stuffed with mincemeat (sarma), fried apples and baked pastries.
Runs from: 29 November to 2 January 2022; adventzagreb.hr (opens in new tab)
---
You might also like
Need gift ideas? Browse our edit of the best women's Christmas PJs
---
6. Lincoln Christmas Market, Lincolnshire, UK
Fast-becoming one of Britain's biggest Christmas fares, Lincoln city center is transformed every December into a chocolate box winter wonderland scene for a weekend, with over 200 stalls take over the city's cultural quarter, between the iconic landmarks of the Norman castle and Gothic Cathedral.
The market has a strong German presence (Lincoln is twinned with Neustadt), and you'll find goods from all over Europe, as well as local sellers, offering everything from art, toys and games to hand-painted glass and the finest produce from Lincolnshire's larder.
Runs from: 2-5 December 2021; lincoln-christmasmarket.co.uk (opens in new tab)
7. Bruges, Belgium
The festive season sees the medieval streets of Bruges transformed by thousands of glowing lights that ripple and reflect in the canal waters. In the main square is a picture-perfect ice-rink, where families can swirl around in the crisp air before tucking into chocolate-drizzled waffles, a cool Belgian beer or local gin (jenever).
For gift buying, browse the cozy stalls in the nearby cobbled lanes, or watch the dazzling light installations, part of the Winter Glow festival. Indulge in traditional Belgian beer, Flemish cuisine, and sugar-sprinkled waffles!
Tired feet? Hop on a horse-drawn carriage to see the city at its most sparkling. Alternatively, work off the waffles by climbing the 366 steps to the top of the Belfry in the square. It's worth the slog for the toytown view of the market twinkling below.
Runs from: 26 November 2021 to 9 January 2022; visitbruges.be/en (opens in new tab)
Bruges is an easy 3 ½ hour trip from London, changing at Brussels. Prices from London to Brussels, traveling in December, start at £93 each way; eurostar.com (opens in new tab)
8. Copenhagen, Denmark
For a snowy yuletide break with lashings of "hygge"—that blend of coziness and conviviality that the Danes do best—head to wonderful Copenhagen. The capital offers several markets that ooze wintry charm, with log cabins piled high with artisan gifts (fine glass, Scandi knitwear, toys), plus reindeers, pixies and Santa himself.
The largest market is at Kongens Nytorv, which boasts two palaces and a statue of King Christian V. Keep cozy with a cup of hot choc with whipped cream or glühwein laced with cinnamon, cardamom and citrus peel. A trip to Tivoli Gardens is pure enchantment, with glittering rides, Ferris wheel and skating rink.
Runs from: 12 November to 22 December; visitcopenhagen.com (opens in new tab)
9. Nuremberg Christkindlmarkt, Germany
One of the most famous Christmas markets in Germany and the world, it's one of the most popular Christmas markets in Europe with visitors from all over the globe traveling to Nuremberg Christkindelsmarkt each year for the month-long spectacular.
Nuremberg opens on the Friday before the first Advent. Originally a hub for trading routes, it's credited with inventing spiced gingerbread (Lebkuchen) and Bratwurst sausages, traditionally served with sauerkraut, potato salad or stuffed in a bun (a Weggla).
Handmade goods abound, including the curious 'prune men'—quirky wire figurines made from dried figs and prunes—and gold-foil angels (Rauschgoldenge), the symbol of the Christmas Market.
Runs from: 26 November to 24 December; christkindlesmarkt.de/en (opens in new tab)
10. Basel, Switzerland
Switzerland's largest city hosts a magical market, spread across two fairy-tale squares in the old town. Around 180 beautifully decorated rustic chalets fill Barfüsserplatz and Münsterplatz, offering traditional crafts, such as hand-painted baubles, and cosy eats, from waffles to raclette and sizzling sausages.
Don't forget to sample the delicious rum and sugarloaf punch (Feuerzangenbowle) prepared in copper bowls. For amazing views, climb the tower of Basel Cathedral, overlooking Münsterplatz, and write your Advent wishes in the Basel Wish Book.
Runs from: 25 November to 23 December 2021; basel.com/en/events/christmas/christmas-market (opens in new tab)
11. Edinburgh, Scotland
This grand city plays host to a cornucopia of Christmas markets and entertainment and is one of the most beautiful places in Scotland during the festive season. You'll find Santa Land in Princes Street Gardens, with a children's toy market, funfair rides and Santa's grotto; a European market in the Mound Precinct, and a Scottish Market on George Street.
Burn off the haggis, mulled Irn-Bru or whisky toddy with a blast around the ice rink in St Andrew Square, or enjoy a bird's eye view of the festive happenings with a ride on the illuminated Big Wheel.
Runs from: 12 November 2021 to 5 January 2022; visitscotland.com (opens in new tab)
---
You might also like
Want to venture further abroad? Read our guide to Christmas in New York for the ultimate festive getaway
---
12. Berlin, Germany
Pre-Covid, Germany's coolest city boasted around 60 different Christmas markets to explore. This year, there are fewer on offer, but there's still plenty to justify its appearance on our best Christmas markets in Europe list, and tempt visitors, whether traditional, trendy or niche (how about 'Sirius', a market just for dogs?).
In the south, Domäne Dahlem, a 450-year-old manor, offers a rural-style market on four Advent weekends, championing local, organic produce, like handmade nougat and marzipan. There's plenty for kids, too, from bauble painting, candle-making, and pony rides.
Another favorite, Alt-Rixdrof, promises a lantern-lit stroll through a Bohemian Village, with singing and entertainment. Stalls from over 50 charitable organizations sell crafts from toys to jewelry and candles, while foodie offerings include BBQ meats, soups and waffles.
Runs from: 27 November to 19 December 2021; visitberlin.de/en (opens in new tab)
Immerse yourself in the festivities with a 7 day tour from Berlin to Vienna (or vice-versa), taking in 5 cities and the Christmas markets at Berlin, Salzburg and Vienna. Prices from £1149 with G Adventures; gadventures.com (opens in new tab).
13. Salzburg, Austria
With its roots in the 15th century, this long-standing Christmas Market opens on the Thursday before the first Sunday in Advent and runs till 26 December. Cathedral Square and adjacent streets throng with around 100 market stalls, with strings of overhead lights twinkling like stars.
Add in the peel of church bells, carol singing (there's a singalong choir every Tuesday, 6-8pm) and the smell of hot chestnuts and you have an unforgettable atmosphere. Gifts wise, the city's trademarks are wooden toys and 'Krampus', the 'Christmas Devil' made out of dried fruit.
Runs from: 18 November to 26 December 2021; christkindlmarkt.co.at (opens in new tab)
14. Hyde Park Winter Wonderland, London, UK
An event with something for everyone—from children's rides and Santa's grotto in Santa Land, to cozy chalet bars and DJ sets in the Bavarian village. For a wintry feel, head to the Magical Ice Kingdom, complete with ice and snow sculptures and snow-themed rides, then check out what's on offer at the Street Food quarter.
For shopping, there are 100 traditional wooden huts to browse, making this the UK's largest outdoor market.
Runs from: 18 November 2021 to 3 January 2022; hydeparkwinterwonderland.com (opens in new tab)
15. Budapest, Hungary
Visit Vörösmarty Square in front of the famous Gerbeaud Coffee House to pick up handicrafts (carved wood toys and ceramics are popular) and sample Hungarian delights such as grilled paprika sausages, roast goose, honey biscuits and chimney cake—a hollow, charcoal-baked pastry dusted in cinnamon.
A smaller, atmospheric market takes place in the square in front of St Stephen's Basilica, where you can try your moves on the ice-skating rink and watch the laser show projected on the cathedral's façade.
Runs from: 19 November to 31 December 2021; adventbazilika.hu/en (opens in new tab)
16. Strasbourg, France
One of the largest Christmas markets in Europe, Strasbourg sparkles with warmth and light. Find over 300 stalls across 12 locations, including Place Kléber, where France's tallest Christmas tree takes pride of place.
Look out for the food and drink market at Place d'Austerlitz, and a guest market from a chosen country (which changes every year). The lights and decorations that adorn the half-timbered shops and houses are gorgeous and a program of music, shows and exhibitions will ramp up the festive feels.
Runs from: Dates not currently confirmed; noel.strasbourg.eu/en (opens in new tab)
---
You might also like
Thinking about indulging in something delicious for Christmas? Devour our guide to best Christmas hampers for 2021 first
---
17. Vienna, Austria
This romantic capital bustles with a slew of Christmas markets, each with a different character and atmosphere. Biggest and best known is Christkindlmarkt, in front of the imposing Rathaus or city hall, where 150 stalls cluster around a towering Christmas tree, ablaze with 2,000 lights.
Expect brass bands, choirs and children's craft activities. Gift-wise, take your pick from hand-made nativity sets, glass baubles, soap and candles. The Christmas magic continues in the adjacent park, with an illuminated skating trail, Ferris wheel and other attractions. Food options are hearty and delicious, from strudel to baked potatoes and hot punch.
Runs from: 17 November to 24 December; visitingvienna.com (opens in new tab)
18. Cardiff, Wales, UK
With its focus on artists, craftspeople and artisan food and drink producers, the Cardiff Christmas Market is a must-visit for all things handcrafted and high quality. The market's programme of exhibitors evolves every year to include the best that Wales has to offer, though there will no doubt be regular favourites, too.
Enjoy browsing a unique array of stalls offering everything from Christmas decorations to ceramics, jewellery and textiles, and finding those perfect presents for your loved ones. And when you need a break from gift-hunting, you can sample gastronomic treats from Welsh producers—and further afield.
Runs from: 11 November to 23 December; cardiffchristmasmarket.com (opens in new tab)
19. Seville, Spain
There may not be a chill in the air, but that doesn't stop Seville from pulling out all the festive stops.
The artisan market outside the Town Hall in Plaza Nueva has 80 cute chalets specializing in Andalusian crafts, such as ceramics and jewelry, or head to Feria de Belén for intricate ornaments and figurines for Christmas trees and nativity scenes.
Runs from:
Feria de Artesania Creative runs from 17 December to 5 January 2022; artesaniasevillana.org (opens in new tab)
Feria de Belén runs from 18 November 2021 to 23 December 2022; christmasmarketsineurope.com (opens in new tab)
20. Gothenburg, Sweden
The city truly shines in the festive season, with buildings and bridges decked in lights. The big draw here is Liseberg amusement park, where you can enjoy winter fairground rides, over 80 shops and restaurants, a designer market and a medieval market.
There are also light shows, ice ballets and Santa's workshop. Fill up on Swedish delicacies from gravadlax and meatballs with lashings of glögg (mulled wine).
Runs from: 19 November to 23 December; liseberg.se/jul-pa-liseberg (opens in new tab)
21. Vilnius, Lithuania
Small and beautiful, this Christmas market is ideal if you want a more authentic and less hectic experience. Held in the Cathedral Square, over 50 traditional wooden stalls and modern glass igloos tempt visitors with local foods and crafts, including candles, pottery and jewellery.
Load up with scrumptious snacks, from roasted almonds and chestnuts to cheeses and chocolates, or regional specialities, like Christmas tree cake (Salestis). There's also a showstopping themed Christmas tree, draped in lights, and a cute toy train to whisk you around the best light displays.
Runs from: 27 November 2021 to 7 January 2022; vilnius-events.lt/en (opens in new tab)
22. Tallinn, Estonia
Voted best Christmas Market in Europe for three years' running, Tallinn's preserved medieval streets lend a storybook air to the festivities—especially when dusted in snow. The charming Town Hall Square features a children's carousel, a fir tree decked out in heart-shaped ornaments, and Santa's grotto, from where the jolly fellow dishes out free sweets.
Challenge your tastebuds with authentic eats, from black pudding to caviar and spiced rum liqueur, Vana Tallinn. Shopping-wise, look for handmade wreaths, hand-knitted mittens and snuggly sheepskin rugs.
Runs from: 19 November to 2 January 2022; visittallinn.ee/eng (opens in new tab)
Where is the largest Christmas market in Europe 2021?
New Christmas markets are popping up all over Europe but one of the oldest and biggest is in Nuremberg in Germany. There has been a Christmas market here since the sixteenth century—no wonder it is known as the Capital of Christmas!
Is December a good time to visit Europe?
December is the perfect time to get into the Christmas spirit at a market. Crisp, cold days will get you into the festive mood and the more northerly destinations could already be sprinkled with snow—so much the better to enjoy warming drinks, from spiced apple juice to mulled wine and rum punch. As Christmas Day approaches, the fairs will become busier, which adds to the atmosphere. However, if you want to avoid crowds, visit soon after the opening date and go midweek rather than at weekends.