9 hidden gems in Europe to visit for a unique, energizing and inspiring vacation
Whether you want to unwind, be immersed in breathtaking scenery, or eat your way through delightful dishes, these hidden gems in Europe provide it all…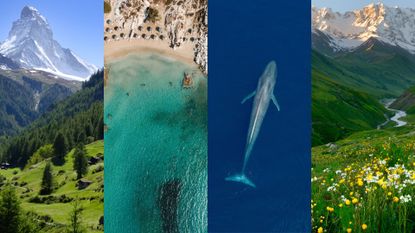 (Image credit: Future/Getty Images )
The best hidden gems in Europe include pretty much everything needed for a well-rounded vacation.
The vast and varied countries of Europe truly offer it all - whether you're after white sand beaches, scenic hikes, remote mountain villages, or the best European islands, chances are you won't have to look far.
And while most of us are well acquainted with where to go for an exciting European city break, the more unique destinations of Europe require a little extra planning, so if you're hankering after a trip that's slightly off-the-beaten-track, these are some of the best hidden gems in Europe for nature, great food, and some of the world's most beautiful hotels.
Hidden gems in Europe to visit for a unique vacation
1. Spain's iconic Camino de Santiago
If you're after a vacation like no other the Camino de Santiago or Way of St James is one of the most spiritual places in the world, and without a doubt a bucket-list trip. The walk, in its entirety, takes in Portugal and France as well as Spain, but the Spanish trails provide the perfect introduction to this monumental trek. What started as a religious pilgrimage now draws nature lovers, adventurers, or anyone who appreciates a good stroll. Historically, devotees would walk to Santiago de Compostela in Northwest Spain from their hometowns. Today, nine routes have become the most popular due to the unique sites along the way. One of the shortest, yet arguably the most rewarding is the Camino Primitivo (the original way). This walk takes roughly two weeks to complete and is ridiculously beautiful with mountain views and quaint villages. Along the way there's an abundance of albergues to rest your head - these converted buildings are basically hostels for pilgrims, and while they aren't the most luxurious of accommodations, they provide a warm and cheap place to sleep at the end of each day.
Where to stay along the route: It's a good idea to book a more luxurious hotel at the start and end of your trip. In Oviedo, Hotel Fruela is a sound option with doubles starting at a bargain $62 (£50) a night on Booking.com, while A Quinta da Auga in Santiago wows with immaculate bedrooms housed in an elegant 18th-century building. Double room rates start at $305 (£248) per night and can be booked directly through the hotel.
Travel tip: The Camino de Santiago is one of the best places to visit in March when the weather starts to improve but the scorching heat of summer is yet to hit.
2. Timișoara, Romania for a foodie break on a budget
Timișoara, the third-largest city in Romania, may not be an obvious vacation destination, but its under-the-radar status means it's authentic and not touristy at all, making it a true hidden gem. As well as practically having the city to yourself, you won't spend a fortune and you'll get to eat the heartiest food that will truly warm your soul. Whether you're after wholesome meat dishes to fill you up after a day of sightseeing, delicious vegetarian or vegan food, or a plate of incredibly good Vietnamese, Timișoara has it all. Casa Bunicii is the place to go for typical Romanian dishes like pork knuckle with rosemary potatoes and homemade lemonade or Restaurant Merlot is perfect if you want something a little bit more upmarket with dishes like wagyu beef and duck breast on the menu. Bio Fresh serves delicious vegetarian and vegan food alongside a large selection of juices and smoothies as well as 'healthy' desserts if you're in need of a sweet fix. If you're after Vietnamese you can have that too, just head to Little Hanoi Bistro for Bun Cha that seriously rivals dishes in actual Vietnam.
Where to stay in Timișoara: Hotel Timișoara has simple but large, clean, and warm (that's important when winter temperatures outside are sub-zero!) rooms. There's a pool with relaxing water jets, a sauna and steam room (both of which always seem to be empty), and a massage room where a 50-minute body massage cost just $37 (£30). Double rooms start at $71 (£58) per night including breakfast with Booking.com
Travel tip: Due to the country's low-cost restaurants and hotels, Romania can make one of the best European family vacations as you get to live a 5-star life on a 3-star budget.
3. The lesser known Greek Islands for blissed out vibes and white sand beaches
Figuring out which of the best Greek Islands to visit is a much-debated topic - there are 227 picturesque inhabited islands after all - which is why it makes sense to combine a few of them for a trip of a lifetime. Upper and lower Koufonisia are two tiny islands that were somewhat of a 'secret' for years meaning they never topped lists of the best places to visit in Greece. Now, they're a bit better known, but the laid-back feel and brilliantly translucent sea that surrounds them still makes Koufonisia a dream destination to get away from it all. And from Koufonisia it's easy to take a boat to the untouched isle of Schinoussa where bright white buildings with blue shutters, simple tavernas, and an easy way of life await. Then lazily head over to Iraklia to visit olive and almond groves before sampling some of the most beautiful Greek food imaginable. There are no cars on Iraklia which only adds to its charm - walk or cycle to see all this underrated diamond-shaped island has to offer.
Where to stay: Sitting on a hill with views out across the Aegean Sea, Schinoza Luxury Suites provide the perfect remedy for anyone wanting to seriously unwind. Rooms come with a private pool or jacuzzi, while the restaurant creates dishes with local virgin olive oil and organic fruits and vegetables. Rooms start from $152 (£124) a night on Booking.com
Travel tip: The Greek Islands provide some of the best places to visit in September when the sea is still warm but visitors start to thin out.
4. Italy's Lombardy region for restaurant offerings that will make you cry with delight
For excellent traditional Italian dishes, the Lombardy region of Italy is one of the absolute best places to visit in Europe. Due to the large volume of rice paddies (42% of Italian rice production is in Lombardy), the trademark dish of the region is risotto, often cooked with mushrooms and sausage. This luxuriously decadent dish should never be rushed - when cooking or eating - and will often be served as a first plate, before meat or fish. Saffron is added to the much-lauded Risotto Alla Milanese, which gives it a gloriously rich yellow color. Order this unmissable dish at Valentino Legend Milano, where the restaurant's version has outstanding reviews with many hailing Valentino's risottos as the best in Italy. Aside from risotto, Lombardy is also known for polenta and hearty meat stews, particularly bruscitti, made with pieces of leftover meat braised in wine and fennel seeds. A good place to sample bruscitti and polenta is Trattoria Parietti in Bergamo.
Where to stay in the region: Owners Lidia and Maximiliano have transformed their family home into Palazzo Albricci Peregrini, an intimate hotel with just six stunning rooms. Location here is paramount as the property sits elegantly on the shores of Lake Como, while rooms feature exposed wooden beams and plush sofas. Doubles start from $400 (£325) per night and can be booked through Mrandmrssmith.com. Elsewhere in the region, Bergamo is a good base with much fewer tourists than say Milan or Como, here you'll find the enchanting Gombit Hotel, a design-led hotel in a renovated medieval building, doubles start from $305 (£248) a night and can be booked on Booking.com
Travel tip: Rent a car to explore the region as public transport can be sometimes unpredictable, especially in the smaller towns and villages.
5. Alpine hikes and Matterhorn views in Zermatt, Switzerland
Anyone who appreciates the spectacle of a good mountain range will be familiar with the awe-inspiring Matterhorn. Famed for its dramatic near-symmetrical pyramid shape the peak has been drawing adventurers, nature lovers, and die-hard climbing fans for centuries, but of course, you don't need to be a climber to fall in love with this epic mountain too.
Matterhorn looms large over the tiny municipality of Zermatt, a car-free alpine village that provides an idyllic escape and the perfect introduction to Switzerland and its Alps. Close to the Italian border, Zermatt is one of the best places to visit in August on account of fewer tourists and less snow, which makes hiking the pretty trails much easier. The Zermatt to Matterhorn Glacier Trail is one of the most impressive day hikes in the area, taking in lakes and of course, the almighty Matterhorn, without having to actually climb. You'll need your best hiking boots for this one though, as although it's not a difficult hike, and only takes a couple of hours, the ground is very rocky.
Where to stay in Zermatt: With indoor and outdoor pools, a Finnish sauna, and flower steam room, The Omnia rivals some of the best spa hotels in London with its tranquil spaces and luxury rooms. Food lovers will also adore the hotel's restaurant which features intriguing vegetarian dishes like battered hispi cabbage with sea buckthorn as well as a good selection of delightful meat and fish-based plates. Rooms start from $397 (£322) on Booking.com
Travel tip: There are just so many good restaurants in Zermatt you'll be spoilt for choice. One unmissable dining experience however has to be Chez Vrony. As well as their numerous accolades from French restaurant guide Gault & Millau and TripAdvisor, the views at this place are just breathtaking - never has a glass of wine tasted (or looked) so good.
6. Portugal's Comporta for ultra-luxe accommodation
The village of Comporta in Portugal has been drawing creative types for years, but since travel has become so much easier post-pandemic the area has gone into overdrive with insanely beautiful hotels, artfully designed Airbnbs, and luxe restaurants popping up in abundance. One such Airbnb is Casa do Pego, a bohemian open concept home that will impress anyone who appreciates good architecture, perfectly curated interiors, and naturally rugged surroundings. This home is pure heaven with three double bedrooms decorated in tones of taupe and beige, a rooftop pool with bright orange daybeds, and dreamy outdoor spaces that are made for long dinners at dusk - it's the ideal place for a group getaway or special occasion. You can even tag on extras like a bartender or chef service, or get fresh groceries delivered to the door for when you arrive. The nightly rate of $1,260 (£1031) sounds high, but split between three couples it actually works out similar in price to most nearby hotels and properties rarely get as impressive as Casa do Pego. Dining options in Comporta won't disappoint either with Cavalariça leading the way with a fascinating selection of sharing plates. The grilled and smoked tomato and pork shoulder croquettes will leave you wanting more. Holiday deals in this area of Portugal are notoriously hard to come by so consider heading to Porto or Lisbon if you're after a vacation that's slightly more budget-friendly.
Travel tip: If Casa do Pego is booked up for your preferred dates, nearby Quinta Da Comporta is a great backup option. Double rooms start from $311 (£254) per night, book your stay through Mrandmrssmith.com
7. Lakeside luxury in Austria for an A-list detox retreat
What do Tracey Emin, Naomi Campbell and Rebel Wilson have in common? The answer… they've all checked into VIVAMAYR - one of the world's leading luxury health retreats - on more than one occasion. This one isn't strictly a hidden gem, but it's definitely a unique choice and not the first destination that springs to mind when you think about where to travel in Austria.
Famed for its no-nonsense approach to shaking up eating habits, extolling the benefits of walking, and a serious detoxification process, this place has a reputation for stale bread dinners and making residents chew, chew, and chew some more (it helps with digestion). Unless you've just won the lottery VIVAMAYR is a once-in-a-lifetime experience because stays here do not come cheap, we're talking $337 (£273) a night - and that's before you start adding on the cost of vitamins, daily treatments and flights. Plus, the recommended stay is a week, minimum.
But according to its celebrity clients, it's more than worth it with Rebel remarking, "if you want to boost your immune system, this is the place to be". Guests at the clinic can take advantage of salt water swimming pools, infrared cabins, and steam baths and try out numerous treatments such as cryotherapy and therapeutic massage. But VIVAMAYR also strongly believes in the healing benefits of nature which is why both their clinics sit on the edge of crystalline lakes with daily walks and swims being highly encouraged.
Where to stay: There are two VIVAMAYR clinics in Austria, Maria Wörth and Altaussee - both can be booked directly through the website.
Travel tip: Switch off your laptop and phone while on retreat, this is a once-in-a-lifetime chance to reset, recharge and really get back to the core of yourself.
8. Whale watching in the Azores
Whales are in abundance in the waters that surround the Azores during spring making it one of the best places to visit in April for a seriously life-affirming trip. To combine whale spotting trips with a hefty dose of culture, ancient architecture, and great food the island of São Miguel (Ilha Verde) is a pretty place to start with the north coast being a particularly good area to spot blue whales. Book a boat trip with one of the many companies dotted across the island to ensure getting that elusive tail fin shot, Picos De Aventura is a reputable company to book with.
Notable buildings to look out for on São Miguel include the intricately tiled Portas da Cidade and symmetrical chapel Nossa Senhora da Paz, but there are also volcanic peaks and turquoise lakes to explore when you're ready to get back to nature.
Where to stay in the Azores: The suites and villas at White combine natural fabrics, muted tones, and unique artwork. There are just 11 rooms providing an intimate and exclusive feel, while the pool with views out to sea really wows. Double rooms start from $284 (£232) and can be booked through Booking.com
Travel tip: Azores cuisine is hearty and rich, look out for cozido, a type of slow-cooked meat and vegetable stew.
9. Recharge and reset in the remote mountain villages of Georgia
While it's debated whether Georgia actually sits in Europe or Asia, most travelers and experts agree that this unique and fascinating country is at least partly European due to being a member of the UN and the Council of Europe. Georgia's mountain views are not too dissimilar to some of England's peaks, so if you love UK walking holidays add this glorious country to the top of your vacation list.
Remote Ushguli is made up of a collection of five villages and one of the highest continuously inhabited settlements in Europe, sitting at an altitude of 2,100 meters. It's here you'll find snow-covered mountains, 12th-century chapels, and beautifully preserved tower houses that helped grant the villages UNESCO World heritage status in 1996. Getting to Ushguli requires careful planning, however, so if you're after a trip to Georgia that is slightly easier to navigate and you don't have access to a 4x4 the Kakheti region's villages might be a better option. Kakheti is the main winemaking region and is easy to visit on a day trip from Tbilisi, Georgia's capital city. Standout villages in the region include Velistsikhe for its nearby wine cellars and impressive architectural monuments and Tsinandali for the stunning grounds and House Museum of poet Alexander Chavchavadze.
Where to stay in Georgia: Within the Kakheti region, Equisse Hotel not only has an amazing swimming pool but also impresses with its own wine cellar and some exquisitely decorated bedrooms that include highly patterned handmade throws and cushions. Rooms start at a very reasonable $119 (£98) per night through Booking.com
Travel tip: Eating out in Georgia is relatively inexpensive so always consider leaving a tip where possible.
Lydia is woman&home's Lifestyle News Editor and a freelance travel writer. Day-to-day she manages an international team of nine news writers and oversees all news content on woman&home.com. Her travel writing has been published in BBC Good Food, Oh magazine, Harper's Bazaar, Town&Country, ELLE, MailOnline, Woman, and woman&home.