Best places to visit in Greece - the destinations loved by experts, locals and tourists
Whether you're looking for a relaxed beach holiday, foodie extravaganza or a history-soaked city break, these are some of the best places to visit in Greece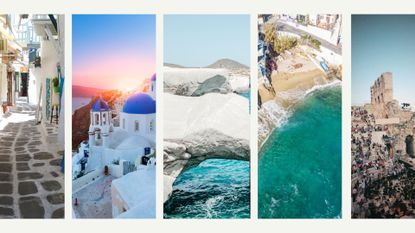 (Image credit: Future / Getty)
Choosing the best places to visit in Greece is an almost impossible task. Home to hundreds of islands, buzzing metropolitan cities steeped in history and culture, and a coastline that spans almost 16,000km, the country truly has something for everyone.
If you're looking for one of the best European city breaks, you could start with Athens, the birthplace of Western civilization. Nowadays it's a city of contrasts where you'll find archaeological sites nestled next to lively coffee shops, market stalls and cocktail bars. Or you could head to the best Greek islands, all possessing their own unique charm, cuisine, and exquisite scenery. Then there's everything in-between: the mountainous landscapes, towering cliffs, and endless beaches that you'll find across the country.
As someone who's traveled around Greece for the last decade, with a short stint of living in it, I like to think I have my finger on the pulse of the best places to visit. But just to be sure, I've also enlisted the help of my Greek friends and family members to cover a mixture of destinations - from some of the best islands in Europe, to accessible areas of the mainland. Whether you're looking for sun, sea, sand, culture, or a buzzing culinary experience, as one of the best places to visit in Europe, Greece can satiate all these desires.
The best places to visit in Greece
1. Athens
No trip to Greece would be complete without a trip to its capital, Athens. A sprawling, modern metropolis overlooked by the Acropolis, a citadel that's sat on top of a rocky outcrop since 5th century BC. Even if you're not interested in history, it's hard not to marvel at the ancient Greek monumental complex, which can be seen from virtually every corner of the city. In the summer months, you can also attend concerts, opera and theatre performances at Odeon Herodes Atticus, the ancient theatre perched on the Acropolis. It's a true bucket list experience. Once you've scaled the heights of the Acropolis, head down to check out the museum which details the history of the site and the city as a whole.
Next, head down to the heart of Athens, starting with Monisteraki and its buzzing street stalls and tavernas. If you're after street food, head to Kosta's Souvlaki where you can grab a pitta filled with pork, beef or chicken with onion, tomato and Kostas 'secret' tomato sauce. If you want to sit down with the locals for a meal (or just impress your friends with your insider knowledge), head to Avli, a rustic taverna that you can access via an unmarked door at Agiou Dimitriou 12. Once you find the door - which admittedly can be hard - you'll find a lively yard packed with small tables, delicious meals, jugs of local wine and live music.
For fine dining, head to Hytra, a Michelin star restaurant in Koukaki - a creative neighborhood, located in the shadow of the Acropolis. Enjoy the 11-course tasting menu which takes reimagines traditional Greek recipes, re-creating them with freshly sourced raw materials. If the food wasn't enough to convince you, the panoramic view of the Acropolis will be. Head there at sunset for some truly breathtaking views.
Then there are the bars and coffee shops, of which Athens has many. Go to Minu in Psyrri, a minimalistic haven where you can buy mood-boosting plants and handcrafted homeware, or simply sip your coffee and take in the urban oasis. Stay in Psyrri which is packed with cocktail bars (we recommend Juan Rodriguez but you have plenty to choose from).
Top tip: Download 'Beat' - Greece's answer to Uber. Most of the city's yellow taxis operate with the app but prices are far lower (and language barriers kept to a minimum).
2. Milos
Eschew some of the more popular islands and head to Milos for a truly romantic holiday. Accessible via a short flight from Athens or a ferry ride from the popular islands of Santorini, Paros or and Mykonos, this unique island is worth adding to any travel-hopping itinerary.
The volcanic island in the Aegean sea has been growing in popularity over recent years but it still remains unblemished by swelling tourism. Brimming with beautiful beaches and crystal clear waters, it offers everything you'd expect from a Greek Island. But the truly unique thing about Milos is its spell-binding lunar landscapes. Its chalk-white cliffs overlooking the azure-blue ocean feel (quite literally) other-worldly. Sarakiniko Beach boasts white rock formations which have smoothed and shaped over time, giving you the sensation you're walking on the moon. For a truly unique experience, head to the beach before 8am and immerse yourself in the vast, chalky landscape. Drink in the view of the white-bone moonscapes, then jump into the azure sea below. The beach doesn't offer much natural shade so if you want to avoid the hottest time of the day, plan to go to the beach for the sunset. We recommend traveling in May or early June - making it one of the best places to visit in June. August is hot - and windy, which makes swimming difficult.
There is no public transport operating to the beach, so think about renting a car, scooter, or ATV. The beach is around 10 minutes from Adamas and Plaka so taxis are also reasonable.
Top tip: There are no restaurants or bars at Sarakiniko beach, so come ready with water and food. It's not far from nearby towns but you will have to hop in the car to get there. Be braced: there are also no public toilets.
3. Zakynthos
Zakynthos island is known for its wild nightlife, but don't be deterred by its party reputation, as the island offers so much more. Its airport is small but extremely well-served, meaning you can often take advantage of the best holiday deals on offer. Even during the summer, you can get flights from the UK mainland for under £40.
Once again, renting a car is advisable to really scale the island and experience its breathtaking views in their full glory. But if you can't, consider staying in Zante Town - the island's capital, where the central bus station is located. Full of picturesque Venetian-style houses and buildings, the town is the cultural hub of the island. But to really immerse yourself in the island culture, head to Vasilikos, the village and community which is located around 15 kilometers south of the town. This part of the island is decidedly sleepy, making it one of the best European vacations for families but solo travelers or couples would enjoy it just as much. While away the day on Gerakas Beach, a long, golden beach on the southern tip of the peninsula, home to the famous Loggerhead Turtles who nest in protected areas of the beaches. Banana beach, the biggest beach on the island is also located nearby. A long, wide beach with sparkling and shallow waters, you can also take part in an array of watersports here.
If you have a car, take a 15-minute ride to Porto Mela, a taverna perched on Dafni beach that serves up all the favorites plus a selection of fresh seafood. If you're feeling adventurous, try rabbit in red sauce (kouneli stifado) - one of the island's signature dishes. Like most Greek cuisine, it's delicious, messy, and entirely unpretentious. Most restaurants will have different stifado options with other meats on offer too. Wash it down with a carafe of local wine - the island is home to many large vineyards and it's common for families to produce their own.
The summer is long in Zante, with high temperatures running from May to early October, making it one of the best places to visit in October - if you go at the start of the month.
Top tip: While the south is rich with nature, beaches, and cuisine, don't leave Zante before visiting the north end of the island where the famous Navagia beach is located. Otherwise known as shipwreck beach, the remains of the MV Panagiotis ship have been planted on the white sand since the ship sunk in 1982. It's accessible only by boat, but avoid booking a boat to specifically go there - instead find an itinerary that includes Navagia beach as part of an island tour. In most cases, you'll pay the same price but see multiple destinations.
4. Kalamata
You might know the name thanks to Kalamata's famous olives, but the capital of Messinia offers plenty more than just that. A pit stop for some of the best cruises and served by many major airlines, Kalamata is a seriously underrated holiday destination. Located 2.5 hours away from the capital, it's a popular hotspot for Athenians and other Greek tourists but it's still completely unspoiled by the swarms of international tourists. Make no mistake though - this is a city built for tourism, with luxury resorts, fine cuisine, and endless beaches. By summer, the beachfront is the place to be, lined with restaurants and beach bars that stay open until the early hours. In winter, the picturesque old town livens up. You can visit the castle or the archaeological museum but the best thing to do in Kalamata is just to do nothing at all and spend days wandering between beach bars, tavernas and dipping in the crystal blue water. There are endless sandy and pebbled beaches along the coastline which progressively get quieter and quieter as you edge away from the main marina.
You're spoilt for choices when it comes to cuisine, but pay a visit to the taverna of Kosta Vassiliadis (Stou Kosta). Regularly featured in top restaurant guides, everything is local and everything is fresh - from the meat, to fish to the verdant salads. The taverna is relatively hard to find unless you have a GPS but that doesn't deter the crowds: it's always packed - and for a reason. Expect to see Kostas floating from table to table chatting to everyone and introducing the food. As all the best tavernas do, they offer their own twist on the classics. The moussaka here is made with finely sliced veal instead of minced meat, layered on top of sliced aubergines and finished with a bechamel sauce. To sample the best local wares though, let your server choose your dishes for you. It goes without saying, too, that you need to sample the local olives when you're there.
The pace of life is slow in Kalamata but it has a lively nightlife. In the center, enjoy a perfectly mixed cocktail in Luna Loungeor local favorite, Bistroteca. The city can be enjoyed by all ages, making it one of best vacations for over 60s and families alike.
Top tip: Take a day trip to the village of Kardamylli, under one hour away from Kalamata. The sleepy village sits below the Taygetos Mountains so is ripe for hiking, but you'll get equal pleasure just taking in the charm of the settings. The drive through the narrow, sloping mountains is picturesque and relatively short but is admittedly quite terrifying if you're not used to Greek roads. During the summer season, buses run approximately three times a day.
5. Santorini
No list of the best places to visit in Greece would be complete without mentioning Santorini. Probably the most famous Greek island, Santorini is one of the top summer destinations worldwide and home to some of the best luxury hotels in the world. The island gets extremely busy during the peak summer months, making it one of the best places to visit in September or between March and April when it's marginally quieter.
The windswept volcanic island is known for its whitewashed cubiform houses and mesmerizing sunsets. For the best viewpoint, close your day in the picturesque village of Oia (which is unsurprisingly one of the top 10 places to get engaged worldwide). As one of the most photographed islands, you might feel as though you've already seen the Santorini blue domed churches, and volcanic coves - but experiencing it firsthand is an entirely different experience. As with everywhere in Greece, you're spoilt for choice when it comes to food. Try domatokeftedhes - tomato fritters made with sun-blushed Santorini tomatoes. Wash them down with a glass of Assyrtiko wine from one of the island's 20+ wineries. The microclimate of the island provides a fertile environment for the rare, high-acidity grape.
Top tip: Consider finding a private tour guide - not only can they give you insider tips but they can help you navigate the island's winding vistas. More crucially, they'll know the best routes to avoid crowds.
6. Ikaria
One of the best off-the-beaten-track islands in the Eastern Aegean, Ikaria is an unpretentious and relaxed island, nestled between Mykonos and Samos. It got its name from Icarus, the son of Daedalus, who against his father's command, flew too close to the sun and fell into the sea near the island. With its beautiful beaches, endlessly friendly locals, brilliant local fare and healing thermal waters, it's not the worst place to land.
Despite its laid-back vibes, it's an energetic and vibrant island with a lively nightlife and feasts and all-ages parties that wage on until the early hours. As well as these parties, often thrown to mark religious celebrations (of which there are many), the island is also home to an international music festival, Ikaria festival as well as an annual international chess festival. Then of course there are its beaches; Seychelles Beach easily rivals the beauty of the beaches in its namesake, while Therma beach boasts mineral-rich hot springs. It's no wonder the locals are reportedly famous for their long and healthy lifespans. Speaking of which, don't leave the island without trying pefkomelo, the local pine honey.
Top tip: Look out for a Panigiri while you're there, or try to plan around one. These are traditional feast days and celebrations that start in the afternoon and last until the morning, marking Saint's name days or other religious holidays. People travel from around the country to attend these and the celebrations can be large-scale with hundreds (or even thousands) of people. Expect lots of food, dancing and general joviality.
7. Mykonos
A popular stop on the best mini cruises, Mykonos is known for its dry and windy climate, windmills, white streets, beautiful beaches - and of course, its nightlife. Despite its party reputation, however, the island caters to all interests and ages. Packed with luxury villas, hotels and premium restaurants, it's undoubtedly the best island for celebrity spotting and real VIP treatment. Start your day people-watching in the old town of Chora with a coffee. Your order, regardless of where you are in Greece should be a fredde espresso: a potent iced black coffee that comes with or without sugar. We recommend getting breakfast in Gioras Bakery, the oldest working bakery on the island which has belonged to the same family for over two centuries. Pick up a spanakopita, a filo pastry with layers of spinach, feta and crunchy, golden pastry. For a luxury dining experience, check out NOA which offers a modern taverna menu, with a big focus on farm-to-table dining.
You're spoilt for choice when it comes to beaches, but our favorite is Agios Sostis beach. Unspoiled, compact, and remote, there are no beach bars (or shelter) at this tranquil beach, so do bring your own towels - and lots of sun lotion. The island is windy, but don't let that fool you into thinking the sun isn't blazing hot. Next to the beach is Kiki's taverna, a haunt favored by locals, and for good reason. Open daily until the sun goes down, the restaurant offers stunning fresh food at reasonable prices.
Consider taking a ferry to Syros, a neighboring island just 30 minutes away from Mykonos which has its own distinct personality. Cosmopolitan and Cycladic, the main town is built amphitheatrically on two hills, making for a unique landscape. It's definitely quieter than Mykonos but it's by no means sleepy and is packed with buzzing coffee shops, restaurants and live music venues.
Top tip: Expensive doesn't equate to good quality, so plan your meals before you head out. It's easy to be coaxed into sitting somewhere with a nice sea view, particularly in the center of Chora and the beaches of Platis Gialos, but prices can be exorbitant and the quality of the food can be comparatively low. The island is brimming with unforgettable eateries, many of which are very reasonable, so plan before you head out. Similarly, research beach bars and restaurants before you visit them - some venues at Platis Gialos charge $50 for sub-par cocktails, while neighboring ones will offer drastically lower prices for the same setting and quality.
8. Hydra
Hydra, or Ydra as it's known in Greece is a quaint, bohemian island which is accessible via a two-hour ferry ride from Athens. It's completely car-free, meaning the only mode of transport is on a donkey, water taxi or on foot - which is how we explored it. It was a famous hotspot in the 1960s and 1970s for artists and musicians, perhaps most famously, Leonard Cohen, who lived on the island on and off for years (his house used to be marked by a plaque and street sign but in recent years, renovation works have made it harder to find). To this day, it has an artistic feel and is still a hotspot for international artists and writers. Spend your days getting lost in the backstreets and climbing the island's bastions before cooling off for a dip in its waters. While the island has some pleasant beaches, they're generally not super accessible by foot - so if that's how you're exploring the island, we'd recommend instead finding a good bathing spot, like Hydronetta - a bar carved into the coastline which serves soft drinks, snacks and cocktails from dusk 'til dawn. Here, you can access the sparkling (but often choppy) seas via a small ladder. There are pleasant beaches in the island but if you're looking for some of the best beaches in Greece, there are plenty of other islands you can go to. For us, Hydra's charm lies in the blissful lack of cars, its narrow streets and craggy coastline and its bohemian vibes. By night, there are scores of lively tavernas and fun bars that stay open until the last customer decides to leave.
Top tip: We'd recommend visiting off-season, in May or October time. At this time of year, accommodation is substantially cheaper, as are the prices in local tavernas and bars.
9. Thessaloniki
Greece's vibrant second city, Thessaloniki offers culture, history, food and adventure, yet for some reason, it often gets overlooked as a city break destination. As far as Greek cities go, Athens can sometimes be overwhelming, but Thessaloniki is decidedly less dizzying - not to mention, much milder, meaning that summers are less sticky and humid. Although it's still throbbing with personality and has a buzzing arts, foodie and music scene, the pace is distinctly slower than the capital.
Start the day with the city's famous bougatsa, a breakfast pastry with custard encased in delicious flakey filo pastry. Walk along the seafront (the city is best explored by foot, so bring your best walking shoes). Marvel at the Walls of Thessaloniki, the churches, monasteries and Byzantine baths, all included in the UNESCO list of World Heritage Sites (the city has 15 on the list in total). Visit the White Tower, a monument and museum at the waterfront of the city, built in the 15th century after the fall of Thessaloniki to the Ottomans. Next go to Aristotelous Square, the central square and beating heart of the city. By this point, you'll be hungry, so it's time to talk about food once again. Although there's a gentle rivalry between Athens and Thessaloniki, the country's second city is where you'll find the best cuisine.
For meat-eaters, Opsopoion Maganeiai, which translates as 'magical cooking' delivers on its promise, serving up plates of exquisitely seasoned steak cuts with a small but well-curated menu of starters. It's fairly small, so book ahead. For vegetarian choices, head to rOOTS Vegetarian & Vegan Place, a metropolitan eatery with an expansive and creative menu. Although it's easy to find vegetarian appetizers everywhere in Greece, finding a dedicated vegetarian restaurant is tricky as a lot of the cuisine is centered around meat. Beyond those places, look out for little 'ouzeries' - small venues that serve glasses of strong local liquors of tsipouro or ouzo accompanied by meze dishes. Meanwhile, the gyros in Thessaloniki are unrivaled: pitas packed with meat, tomato, onion, fries and tzatziki (once again, vegetarian options are easy to come by too, which is unusual in Greece).
Although you could easily spend a full week or so in the city, it's worth escaping to Halkidiki which is accessible via car or bus within one hour. The intoxicating blue-green landscape combines rugged mountainous cliffs, exotic beaches, and green pine forests. The best nature holidays in the UK offer impressive scenery, but Halkidiki's ethereal landscape is other-wordly.
Top tip: As per the rest of the country, the hottest months are in summer so the best times to catch the good weather are between July to September. However, in early November the city hosts the International Thessaloniki Film Festival making it one of the best places to visit in November if you're looking for a cultural fix. As it's an international festival, most films will have both English and Greek subtitles.
10. Aeropoli / Limeni
Perhaps one of the best hidden gems in Europe, Aeropoli is a popular destination for Greek holiday-makers but less popular with international tourists. The largest town in Mani, Aeropoli is packed with tavernas, buzzing coffee shops and vibrant bars. It's also 3km away from the picturesque village of Limeni.
Aeropoli is perhaps the best vantage point for exploring the region thanks to its countless hotels and rustic guest houses. It's really only accessible by car, but if you do have your own transport, Gytheio and Sparta are easily accessible for daytrips. Kalamata is less than two hours away, so we recommend combining a trip to both if you're planning a trip to the region. It's also close to the Caves of Diros, a large underground network of fantastical rock formations, located just 11km south of the town.
If you visit Aeropoli, don't leave without spending a day in Limeni though, a beautiful port town with sparkling emerald water and rocky cliffs. What makes the landscape particularly impressive, however, is the imposing stone towers which look more like forts or watchtowers, build high against the rugged rocks and roads, with few windows. A local told us that they were intentionally built to look menacing; with each family trying to build above the one next to them to show their seniority and power. The result is a rugged, impressive landscape that contrasts with the sparkling seas below.
Top tip: Don't visit off-season. Unlike more touristy destinations on the list, many businesses close their shutters during the winter months, and driving conditions can become difficult too.
11. Pelion
Packed with quaint villages, towering mountains and exotic beaches, Pelion is a mountainous peninsula in Thessaly, the central part of the country. It's close to the major city of Volos, but there are strong transport links from Athens and Thessaloniki too. As with many parts of Greece, it's best explored by car so you can visit as many of its villages as you can, each with their own unique charm. Despite its central mainland location, Pelion feels decidedly off-grid, with its deserted beaches, sleepy villages and rich vegetation.
In winter, head to the ski resort of Agriolefkes in Mount Pelion for an unforgettable winter snow holiday, and in summer, retreat from the world in the village of Makrinitsa, a quaint village with cobblestone streets and grand houses, or Portaria - a lush, green mountainous village. And let's not forget the beaches, Mylopotamos beach is probably the most famous and picturesque, divided into two parts by a dramatic rock formation. Whether you're looking for a beach holiday, hike, or just to wander around the villages, the unique landscape of Pelion accommodates all types of holidaymakers.
Top tip: Think about what type of holiday you want and book accordingly. If you're hoping to ski, it's one of the best places to visit in January but if you want a hiking holiday, consider traveling in springtime when the temperatures are dry but cool. The busiest time for tourists is June, so, much like traveling to the rest of Greece, if you want to get the best flight deals, travel in May or September.
Anna is an editor and journalist, specializing in SEO and digital content production. First carving her career in communications and advertising agencies in Berlin and Barcelona, Anna's former life saw her work for film studios and inside a fashion house, before she moved to Metro.co.uk where her career highlights include heading up the SEO desk during the Covid-19 pandemic. Anna's published work ranges from culture and films to human interest features and live news coverage.

In her spare time, she enjoys watching movies, discovering the next big thing in music, traveling, online shopping, and poring over poetry and magazines. When she's not consuming those things, she's probably writing about them.

Originally from Glasgow, Anna has lived in Berlin, Barcelona, and London, not to mention stints in Guernsey and Athens. When she's not struggling to navigate a new language, she's always chasing the next hot trend and perfect black dress (you can never have too many).