The 13 best places to visit in January in the USA, Europe and beyond
These are the best places to visit in January for winter sun, New Year celebrations and more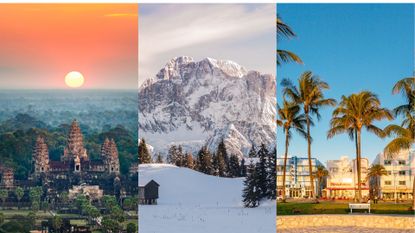 (Image credit: Getty)
The best places to visit in January offer an inspiring mix of cosmopolitan cities, beach towns, and mountain resorts.
Whether you're seeking winter sun or you want to experience dreamy, snowy landscapes on a winter snow holiday, there are many benefits to taking a vacation in January. Fewer crowds, the opportunity to get the best holiday deals and of course, the chance to rest and relax after the busy holiday season.
Our guide highlights some of the best places to visit in Europe, including stunning European city breaks, as well as far-flung destinations with scorching temperatures, azure seas and golden beaches.
Best places to visit in January in the USA
Oahu, Hawaii
Best January holiday for: Golden sands, shimmering waters, and tropical island vibes
Average temperature in January: 25°C
This Hawaiian island is home to the state capital of Honolulu, where most accommodation options are concentrated. With a warm and sunny climate even in January, visitors are invited to participate in a variety of outdoor activities to experience the enchanting landscape of this tropical paradise.
Snorkel at Hanauma Bay, where you can swim among 400 species of fish, like trumpet fish and angelfish, and see green sea turtles up close. Hike the short 2.5 KM roundtrip trail to the summit of Diamond Head, an ancient volcanic cone, and marvel at breathtaking views of Waikiki and the Pacific Ocean. For water sports enthusiasts, explore Kailua Bay on a stand-up paddleboard, and head to Chun's Reef for surf lessons.
To soak in the languid island pace, explore the vibrant arts scene of Haleʻiwa on the North Shore, and slurp on colorful shaved ice.
Top tip: Rent a car and drive along the coast of Oahu. You can get away with taking the bus, but it's one of the slowest forms of transportation on the island.
See the latest official tourism travel advice for Hawaii here. (opens in new tab)
Breckenridge, Colorado
Best January holiday for: Playing in fresh powder
Average temperature in January: -1°C
While in the summertime this mountain town sees an influx of avid hikers and mountain bikers, wintertime welcomes skiers and snowboarders of all skill levels. 'Breck', as it's affectionately nicknamed by locals, began as a mining town in the late 1800s, and is now considered one of Colorado's best destinations for winter sports.
Five majestic peaks make up Breckenridge Ski Resort, and with an average snowfall of more than 50cm in January, this is when most runs are expected to be open–although it's also one of the best places to visit in February if you want to ski, too.
After a day out on the slopes, meander down Main Street, which is home to an eclectic mix of kitsch souvenir shops, locally owned studios and galleries, as well as touristy restaurants, masked by Victorian facades. With views of the dramatic Tenmile Range from anywhere in town, a walk through Breck's historic downtown is always a scenic one. Just bring your best winter hat and your warmest leggings.
Top tip: Breckenridge sits at a lofty 2,900m above sea level, so take any necessary high altitude precautions before arriving.
See the latest official tourism travel advice for Colorado here. (opens in new tab)
New York City, New York
Best January holiday for: Big city experience and holiday feels
Average temperature in January: 4°C
Christmas in New York is a magical time, but January is an equally good time to visit, because all the holiday crowds have gone but the festive spirit remains. There are always plenty of things to do in New York City and it is the place to be if you're after a wintry and romantic cosmopolitan experience.
Experience the beauty of Central Park when it'll likely still be covered in snow, the city's most treasured green oasis. Sip on hot cocoa as you stop to admire the glittery Manhattan skyline and engage with talented street performers. Strap on a pair of skates and glide across the ice at Wollman Rink, or grab a sled and whiz down the slopes of Pilgrim and Cedar Hills. For a more slow-paced activity, build a snowman on one of Central Park's large lawns, or ride the vintage wood-carved carousel at the south end of the park, which dates back to 1908.
Nicole Lawson, Destination Manager at British Airways (opens in new tab) also recommends New York in January, "it's a brilliant time to visit the city due to typically cheaper price points and a chance to avoid the crowds," she says, adding that NYC restaurant week takes place in January - meaning you can score discounts to dine in selected restaurants. Although it's advertised as a 'week,' the event actually stretches across the month with hundreds of restaurants across the city offering prix-fixe menus starting from $30.
Top tip: With gridlocked traffic and a well-developed subway system, New York City is best navigated by public transport.
See the latest official tourism travel advice for New York City here. (opens in new tab)
Miami
Best January holiday for: Vibrant nightlife and winter sun
Average temperature in January: 25°C
With its endless beaches, vibrant bars, trendy galleries and fun nightlife, Miami is a perfect place to chase away those January blues. Soak up the Florida sun and go celebrity spotting at the iconic Miami Beach, lined with world-famous restaurants, bars and art galleries as well as an array of luxury hotels.
Olivia Moss, Senior Destination Manager (Americas) at British Airways (opens in new tab)says January is the best time to visit the cosmopolitan coastal city. "Miami is hot and trendy, boasting the sun, beach, great dining options, nightlife, chic hotels - and some great people watching," she tells us.
There's also lots to explore if you're looking for culture. "Explore the biggest Art Deco district in the world, or inspect the quality of contemporary art galleries, from the Wolfsonian to the Bass," adds Olivia. Shop in reinvigorated Lincoln Road, or the achingly upmarket Bal Harbour."
Top tip: Allow a few hours to explore The Bass, Miami Beach's contemporary art gallery which boasts a diverse and eclectic collection of artwork, installations, media and more.
See the latest official tourism travel advice for Miami here. (opens in new tab)
Best places to visit in January in Europe
Budapest, Hungary
Best January holiday for: A city break steeped in culture and history
Average temperature in January: 3°C
January is undeniably Hungary's coldest and dreariest month, but those willing to embrace the bitter weather will be rewarded with an enchanting experience.
Bundle up in your best winter coat and dedicate a few chilly hours to exploring the sights of the Hungarian capital. Marvel at the Parliament Building, an opulent neo-Gothic structure poised along the River Danube, then cross the 19th-century Chain Bridge that connects the districts of Buda with Pest. This stone bridge is particularly striking when it's lit up at night. For a winter activity, go ice skating at City Park Ice Rink, Europe's largest skating rink, and one of the oldest, having opened in 1870.
Warm up your winter vacation with a soak at Széchenyi Baths. Budapest's largest thermal bath complex is housed in a canary yellow neo-Baroque palace that was built in 1913 and boasts 18 pools altogether with water temperatures that go up to 40°C.
Top tip: Though Hungary joined the European Union in 2004, they haven't yet adopted the Euro, so you'll need to swap your dollars for Hungarian Forints.
See the latest official tourism travel advice for Hungary here. (opens in new tab)
Lucerne, Switzerland
Best January holiday for: Embracing the snow
Average temperature in January: 7°C
Surrounded by the picturesque Swiss Alps, Lucerne is conveniently situated between dozens of ski resorts, on the north end of Lake Lucerne. The city of Lucerne offers a host of winter experiences, whether or not you're a winter sports enthusiast.
Skiers and snowboarders will enjoy easy access via train and bus to the multiple resorts around, where you can take part in snowshoeing, cross-country skiing, snowboarding and more.
And if you're not a skier, then there are plenty of historic and cultural sights to soak in. But no matter which camp you fall under, budget enough time to cross the wooden Chapel Bridge that spans the Reuss River, and go on ferry rides on Lake Lucerne, which is a fun way to explore the many ancient sites dotted along the 38km long lake. Choose from short hour-long cruises on a steamboat, or three-hour ones on a motor vessel and sail past looming mountain peaks and forested hillsides. Hop on and off at a number of historic monuments along the way.
Top tip: For the best panoramic views of Lucerne, head to the Musegg Wall.
See the latest official tourism travel advice for Switzerland here. (opens in new tab)
Copenhagen, Denmark
Best January holiday for: Cute cafes, cozy feels and delicious pastries
Average temperature in January: 3°C
The cute cafes and intimate bars of Denmark's stylish capital ooze with Hygge, a wildly popular Danish concept of coziness and contentment associated with a warm atmosphere and enjoying life's simple things, like a warm cup of gløgg.
January is the time to cash in on those post-holiday deals on Strøget, one of the major shopping streets in Copenhagen. Head to Nyhavn for canal views and brightly coloured buildings that date back to the 17th and 18th centuries.
Come to the Danish capital hungry and explore its innovative culinary scene, which boasts 26 Michelin-starred restaurants, many of which focus on locally grown and organic produce. While you're here, cafe hop, and travel on foot on the small side streets as you dip in and out of these establishments, sampling an array of Danish pastries along the way.
Top tip The Danes are well attuned to the benefits of cold water swimming. Join them, in Copenhagen's new "dipping zone" - a mobile, architect-designed swimming circle that is currently located by Kalvebod Bølge.
See the latest official tourism travel advice for Denmark here. (opens in new tab)
Dolomites, Italy
Best January holiday for: New and seasoned skiers
Average temperature in January: -2.5°C
The Dolomites boasts powdery slopes and a dramatic landscape with towering peaks and world-famous views. The mountain range in the Italian alps is slightly quieter in January, too, meaning you can have an unforgettable winter snow holiday - without the crowds. Michelle Tolle, travel expert at vacation rental search engine Blue Pillow (opens in new tab) describes it as one of their favorite January destinations that comes "without a hefty price tag."
"The Dolomites in the northern Italian Alps boast some of the most beautiful and diverse mountain landscapes and are perfect for the beginner and seasoned skier. The ski resorts are naturally less crowded in January, especially in comparison to December, which allows you to make the most of the slopes. In addition, after 6th January costs are much lower and many hotels offer out-of-season deals too," Michelle explai
"Because of this, the Dolomites in January is a particularly good idea if you have never skied before, as you can learn at your own pace but without spending as much money as if you visited a month earlier. If skiing or winter sports aren't your type of thing then no fear, the Dolomites boast numerous other activities to keep you busy or help you relax while on holiday. Many spas in the area have wellness at their core making it the perfect way to start a new year."
Top tip: Although it's quieter, January is still a relatively busy time so book your accommodation ahead of time. Choose your base carefully too - for hiking, Alta Badia is ideal while Cortina D'Ampezzo is a good base for skiing. Merna might be best if you want to stay in a larger town. Plan your itinerary and then choose your base accordingly.
Barcelona
Best January holiday for: Marvelling at the architecture
Average temperature in January: 15°C
Barcelona is a city made for strolling and 'looking up' - which is exactly what you can do in January when the city isn't swarming with tourists. During the summer months, the city can get hot and very busy meaning you can't really drink in the architectural feats of the city - of which there are many. The most obvious ones are Gaudi's iconic Sagrada Familia and Park Güell, but it's also worth checking out his other gems in the city, such as Casa Mila and Casa Batlló - all of which feature his same characteristic style of organic, curved lines and mixed materials. Spend the day exploring the city (which is best done by foot, although there is a vast and well-connected Metro network). Drink coffee in the Gotico area and take the cable car to Montjuic hill to see the sunset. End the day devouring tapas at Bar Canete in the rough-and-ready area of Raval.
Top tip: Although it's generally a safe city, pickpocketing is rife in Barcelona so always be mindful of your bags. Many of the city's thieves are opportunistic, rather than posing an active threat - so don't make it easy for them.
Best places to visit in January across the rest of the world
Cambodia
Best January holiday for: Multi-generational holidays and magnificent ruins
Average temperature in January: 32°C
Cambodia might not be an obvious choice, but the affordable luxury holiday destination is a strong contender for one of the best places to visit in January. It's also an ideal multi-generational holiday destination if you're traveling with extended family. This suggestion comes courtesy of Sam Clarke, co-founder of luxury holiday company, Experience Travel Group (opens in new tab).
"Since the world reopened, here at Experience Travel Group we noticed a sharp increase in inquiries from multi-generational families looking to escape together," he shares. "Perhaps this was due to extended times apart from loved ones during lockdown perhaps or people seeing the value of holidays together from what they missed.
"We're going out on a limb and suggesting overlooked Cambodia as an ideal destination for such a holiday. Not the first place you'd think of, but where else can you find some of the ancient world's most magnificent ruins, gorgeous islands, and an immersive vibrant, welcoming culture, in such a small area? It's perfect for travel in December and January, with blue skies, everywhere a vibrant green still and relatively low humidity."
Top tip: For a truly luxury experience, book into the ethical luxury resort on Song Saa Private Island. One of the world's most beautiful hotels, the resort is nestled on a private island in Cambodia's Koh Rong Archipelago and offers spa packages, a private beach and Prices start from $890 a night.
See the latest tourism advice for Cambodia here (opens in new tab)
7. Monteverde, Costa Rica
Best January holiday for: Thrilling adventures in nature
Average temperature in January: 28°C
Adventurers and thrill-seekers will find January an ideal time to explore Costa Rica, as it marks the peak season for its dry and sunny conditions.
Visit the Monteverde Cloud Forest Reserve, which spreads over 26,000 acres. Listen to the piercing squawk of a scarlet macaw and the sharp squeaks of white-faced capuchin monkeys as you whiz across the cloud forest on a canopy zip line. The lush Costa Rican rainforest is also home to shy little spotted cats, lazy sloths, and some 400 species of birds, making it one of the country's most popular destinations despite its remote location.
Explore nature trails on a guided tour of the cloud forest, cross suspension bridges among the dense forest canopy, or go horseback riding on the periphery of the reserve for a different way to see wildlife in this region.
"Costa Rica has been described frequently as, simply, "paradise" and for good reason. Boasting lush rainforests, white sand beaches and a host of diverse wildlife, Costa Rica is a beautiful country that has something for everyone," adds Michelle.
"Costa Rica is a wonderfully inexpensive place to holiday, especially as many restaurants, tours and excursion operators are locals. Not only does this mean there's less mark-up on prices but you can also guarantee that your experience is authentically Costa Rican.
"January is Costa Rica's dry season, which means there's little to no rain, bright sunshine and minimal humidity making it the perfect time to visit. Although this is also peak tourist season, Costa Rica is a sustainable country to visit as it's full of nature and biodiversity that is available to be explored."
Top tip: Set out into the cloud forest between 6am and 9am, or late at night for your best chance to see wildlife.
See the latest official tourism travel advice for Costa Rica here. (opens in new tab)
Bangkok, Thailand
Best January holiday for: History, culture, and luxury on a shoestring
Average temperature in January: 32°C
January is Bangkok's coldest month of the year, which makes visiting this Thai capital any other time almost unbearable.
Thailand is of those rare affordable luxury vacation destinations. Book a plush hotel in Bangkok for a bargain price for the night, and explore the city's street markets and ornate shrines by day.
Motor along the Chao Phraya on a long-tail boat and see the extravagant Grand Palace and its ornate Wat Phra Kaew Temple from the waterways.
Shop the 15,000 stalls at Chatuchak Weekend Market, known as JJ Market to locals. As one of the world's largest markets, you can buy anything from plants and ceramics to knock-off North Face jackets.
There's no doubt that Bangkok is a destination for street food lovers, and the city's night markets serve up flavorful dishes of som tam (papaya salad), khao pad (fried rice), and the beloved pad Thai. For those who want to take home a taste of Bangkok, enroll in one of the city's those ever-popular cooking classes.
Top tip: Barter at the street markets, and knock anywhere from 10% to 40% off the asking price.
See the latest official tourism travel advice for Thailand here. (opens in new tab)
Buenos Aires, Argentina
Best January holiday for: Roaming like a local - and penguin watching
Average temperature in January: 29°C
Home to one of the world's most amazing gardens, Jardin Botánico Carlos Thays, Buenos Aires enjoys high temperatures in January and the sparser crowds mean you can get a chance to properly enjoy the vibrancy of the city like a local.
"If you've always wanted to visit Argentina but fancy doing so in the warm weather, January is a fantastic time to visit as this is when the summer season starts," advises Jeremy Clubb, Founder of Rainforest Cruises (opens in new tab). "Buenos Aires, for example, has daytime temperatures of around 29°C and the sunshine makes the vibrancy of the capital city seem, well, even more vibrant!
"Schools are closed during January too, and many porteños (Buenos Aires residents) take time off work to head to the beach so the city is generally quieter. Take advantage and explore fascinating museums, cool neighborhoods and local restaurants. I also recommend trying to watch a performance at Teatro Colon, one of South America's premier opera houses.
"Thanks to the longer, warmer days, these months are also considered the best time for hiking in Patagonia, not to mention seeing penguins and their fluffy chicks along the coast."
Top tip: The high water levels during this month mean it's arguably the best time to see Iguazu Falls at its most impressive. "Unsurprisingly though, the summer months draw the biggest international crowds so make sure that you book in advance!" advises Jeremy.
Best places to visit during every other month of the year
Vivian is a Vancouver-based freelance writer who has worked for Culture Trip and Fodor's Travel as well as Woman&Home. She covers a wide range of topics, ranging from travel and outdoor adventure, to food and mental health and wellness. She's a curious wanderer with a thirst for adventure, and when she's not writing, can likely be found lazing by a lake, hiking the forested trails of beautiful British Columbia, or on a mission for the next best donut.