9 of the best places to visit in January 2020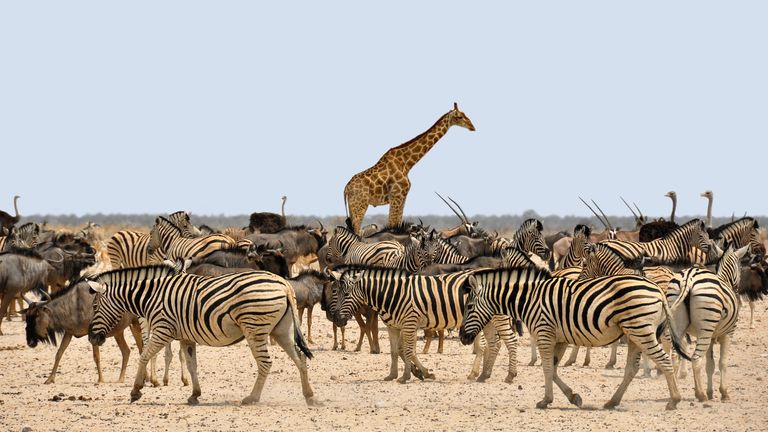 Wondering where to go in January for a good dose of winter sun? Or perhaps you just want a wintry adventure? These holidays offer the perfect post-Christmas pick-me-up in hot destinations and beautiful wintry wonderlands...
There's only one way to avoid the post-Christmas blues: a holiday, of course. If you want to get away at this dreary time of year, these are the best places to visit in January. We've got hot destinations in southern Africa and winter wonderlands for prolonging that festive spirit, so read on for the best January travel inspiration.
1. New Orleans, USA
Best January holiday for... A sunny city break
Want to stay warm, or at least mild, in January? Head to New Orleans, where the buzz of jazz and heat of Creole cooking will keep you toasty – and the highs of 18ºC, of course. This city is a real thriller, with the pretty balconies hovering above the French Quarter, and the wild nights out on Bourbon Street.
The best way to experience New Orleans is on this Newmarket Holidays cruise, taking in the singing city, plus Memphis, Nashville – another music hub – and then onto the Caribbean to explore Jamaica, Grand Cayman and Mexico. Start the year as you mean to go on: with plenty of soul and serious fun.
2. Namibia
Best January holiday for... Big Five spotting & sizzling sunshine
Made famous last year as the destination for the hottest royal couple around, the Duke and Duchess of Sussex, Namibia is a fantastic choice for winter sun and some sensational wildlife spotting.
The most sparsely-populated country in Africa is the ultimate place to get away from it all. Home to a record-breaking desert – it's the oldest on Earth and has the world's tallest sand dunes – Namibia is a beguiling place, and it's surprisingly easy to plan your own break.
More like this: The 8 trips every woman should take in her sixties
Beyond the dry, Martian landscapes is a bounty of wildlife. Etosha National Park is the place to go. Make for the first watering hole you can find, then sit back, relax and wait for the wildlife – think lions, elephants, gazelles and elegant oryx – to come to you.
Come evening, retire to one of the many luxury camps across the country – we love Dolomite Camp inside the national park – for the most spectacular sunset you've ever witnessed.
Book it:Traverse these epic landscapes with Riviera Travel's 14-day Namibia safari
3. Costa Rica
Best January holiday for... Wild adventures
Where to holiday in January for unforgettable wildlife encounters? It's dry season in Costa Rica – home of sunbathing iguanas, colourful toucans and sleepy sloths lazing in the treetops.
This little slice of Central America is covered in wildlife rich rainforest, which is best explored on two feet, two wheels, or (for the super adventurous) via its many ziplines and rope bridges. If you're travelling with teens in tow, Costa Rica is a friendly and fascinating spot for January holidays.
Book it: you'll love Riviera Travel's 13-day Costa Rica adventure
4. Antarctica
Best January holiday for... A true winter wonderland
Not everyone wants winter sun, and the desolate but mesmerising landscapes of Antarctica are best-visited in January. This polar continent is seriously special, home to penguins, seals and whales in its waters and on its icebergs.
A cruise here is an unforgettable experience, as you'll live aboard a specially-designed icebreaker ship and make Zodiac landings at penguin rookeries, scientific research stations and see all manner of seabirds and wildlife from the deck.
Book it: Take a voyage to Antarctica with Riviera Travel's two week adventure departing January 2019
5. Norway
Best January holiday for... Seeing the northern lights
Watching the aurora borealis light up the night sky is an unforgettable experience – and January is the ideal time to see them on a cruise in Norway's fjords.
See the Aurora Borealis light up the night sky (Alamy)
Hop on one of the many cruise liners that sail the fjord between Trondheim and Tromso and you'll be richly rewarded. By day, you'll watch snow-clad mountains pass by and at night the elusive northern lights might just make an appearance. There's nothing quite like watching the green hues dance across the sky as you sip a hot chocolate in the icy Norwegian air.
More like this:How to take your hobby on holiday
6. Los Angeles, USA
Best January holiday for... Sunny sightseeing
With more of Europe's budget airlines expanding their network to the US (look to Norwegian Airlines and Wow Air for starters), it's never been cheaper to cross the pond. But while New York and Washington freeze over in January, the temperatures in Los Angeles are similar to spring/summertime Britain.
Now's a great time to tick off Hollywood Boulevard, Muscle Beach, Rodeo Drive and more – or take a trip out to Disneyland or Universal Studios.
More like this: Stunning hotels worth planning a trip around
7. Abu Dhabi, The UAE
Best January holiday for... Serious winter sun
Where to holiday in January for a blow-out city break? While Dubai hogs the limelight, neighbouring Abu Dhabi gets bigger and better every year – and in winter it enjoys warm and sunny weather.
Abu Dhabi has an ever-growing crop of lavish hotels (our favourite is the St Regis on Saadiyat Island, for its gorgeous beach and spa), but this is much more than a fly-and-flop destination. Fill your days with artistic endeavours in the very new Louvre gallery, watch the polo at Ghantoot, and lose an afternoon in the souk-style stalls of Central Market.
More like this: 9 great European city breaks just two hours from the UK
8. Marrakesh, Morocco
Best January holiday for... Shopping in the sunshine
While temperatures are moderate at this time of year (hovering around 15C), Marrakesh enjoys some very long sunny days – perfect for exploring its markets and medinas in comfort (read our Marrakesh guide here). If you've ever visited in summer, you'll know how sweaty and crowded Marrakech can get – but for January holidays, it's a real treat.
What to do on a long weekend break? Feast your eyes on the botanical riches of Jardin Majorelle (the former home of Eves Saint Laurent), haggle for treasures in Jemaa el-Fnaa (there are some divine leather handbags to be found), and head to the hammam for a scrub-and-soak that'll leave your skin feeling squeaky clean. Now that's our kind of January detox.
Book it: Riviera's Marrakesh & Atlas Mountains adventure is irresistible
9. Tobago
Best January holiday for... Sunshine and rum
With its great weather, beautiful scenery and abundance of rum, Tobago is perfect for sunny January holidays. For dazzling white sand and water the colour of a Bombay Sapphire bottle, head to the beach at Pigeon Point – where you'll also find watersports rentals and buzzing beach cafes.
Inland, you'll find walking trails through the heart of the rainforest – where waterfalls roar and hummingbirds flutter. Welcome to the wild and wonderful Caribbean.