9 of the best places to visit in March in the USA, Europe and beyond
The best places to visit in March provide opportunities to laze on golden beaches, participate in springtime skiing or take part in local festivities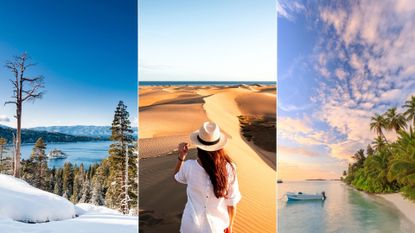 (Image credit: Getty)
The best places to visit in March range from exciting and dynamic capital cities, to tiny islands and unexpected ski destinations, but all of them provide the opportunity to either embrace or escape the last frigid days of winter.
With warmer weather, longer days and smaller crowds, traveling in March has many perks and these destinations cater to every type of traveler. Whether you're after active outdoor adventurers or planning a relaxing beach break, our list of vacation ideas for March include some of the best places to visit in Europe, island escapes home to a collection of the world's most beautiful hotels and winter snow holidays that will make the most of the cold weather in the Northern Hemisphere.
Travel restrictions can change without notice during these uncertain times, so remember to stay on top of guidelines before you embark on your trip.
Best places to visit in March in the USA
1. New Orleans, Louisiana
Fondly nicknamed the Big Easy, New Orleans is rife with colourful parades, lively costume parties, and elaborate floats every March for Mardi Gras. Falling on Tuesday March 1 this year, expect partygoers to descend upon Bourbon Street to embrace the festive spirit, and those in the know to dress in purple, green, and gold, and tout a large bag with them to carry all the beads they collect from the festivities.
Even if you visit New Orleans outside of Mardi Gras you'll still be able to enjoy the city's round-the-clock nightlife, vibrant live music scene, and dynamic culinary landscape, which seamlessly blends flavours from French, African, and American cultures.
For some much-needed rest and relaxation, head to City Park, the city's beloved green space, and peruse the exhibits at the New Orleans Museum of Art. Stroll the park's manicured lawns, or cozy up for a coffee at one of its cafes. Then join a swamp tour and search for gators in the wild on a flat-bottomed boat outside the city.
Top tip: Don't miss out on the fine dining restaurants, eclectic boutiques, and casual cafes on Magazine Street in the charming Garden District.
See the latest official tourism advice for the USA here (opens in new tab).
2. Savannah, Georgia
March is the perfect time to visit Georgia's oldest city, as it's a time that's ripe with festivals. Aside from the Savannah Music Festival, St. Patrick's Day is one of Savannah's biggest events, and its celebrations often spill into the days before and after St. Patrick's, which falls on March 17 every year.
This coastal Georgian city also comes to life in March by way of its colourful azalea blooms, which can be admired at the city's favourite green space of Forsyth Park. The pleasant March temperatures make this an ideal time for strolls beneath the park's shady oak trees, and for enjoying picnics at the city's other manicured parks.
The horse-drawn carriages that regularly make their way around Savannah and the antebellum architecture give this destination its southern charm.
Top tip: Savannah is a pedestrian-friendly city. With 22 squares and parks, be sure to pack you best walking shoes.
See the latest official tourism advice for the USA here (opens in new tab).
3. Lake Tahoe, California
While most other ski resorts in the northern hemisphere are closing for the season, Lake Tahoe is still eagerly welcoming skiers and snowboarders in March.
Over a dozen ski resorts are scattered across the area, and this is when locals and frequent visitors hope for Miracle March, a month usually known for its record levels of snowfall in Lake Tahoe.
With fresh powder, longer days, and the highest amount of open terrain, Lake Tahoe presents optimal spring skiing conditions. Plus, with the absence of winter crowds, this is the time to visit if you want more space for yourself.
Top tip: If you're uncomfortable with the idea of driving in the snow, take advantage of the region's network of public transport and shuttles, which will take you to the most popular resorts around.
See the latest official tourism advice for the USA here (opens in new tab).
Best places to visit in March in Europe
4. Dublin, Ireland
The Republic of Ireland capital Dublin is buzzing with energy in March, as locals and visitors gear up to celebrate St. Patrick's Day in honour of the country's patron saint.
Throughout Dublin, there are a plethora of parties and pub crawls, and colourful floats glide down the main streets of the city in a massive parade. The rhythmic tunes of fiddles and flutes can be heard throughout, as traditional folk music permeates the air.
For more low key celebrations, head to the outskirts of the city and make time to see the verdant countryside and its natural wonders. The iconic Cliffs of Moher are a must for your itinerary.
Top tip: St. Patrick's Day is a national holiday, so plan accordingly for closures of shops and supermarkets and make sure to book your accommodation in advance.
See the latest official tourism advice for Ireland here (opens in new tab).
5. The Canary Islands
Seven golden islands make up the Spanish archipelago of the Canary Islands off the coast of North Africa in the Atlantic Ocean. Warm temperatures throughout the year make this destination one of the best places to visit in January and February as well as March. However, March brings longer and sunnier days without the roving peak season tourists, making this a prime time to come here if you're after beaches with fewer crowds.
A trip to the Canary Islands is just as much about the long, wide beaches and verdant golf courses on Gran Canaria, Tenerife and Lanzarote as it is about outdoor exploration. The Canary Islands boast four National Parks across the seven islands, and outdoor adventurers can hike the world's third-largest volcano on Tenerife or enjoy camel rides across the volcanic landscape at Timanfaya National Park on Lanzarote.
Other than devoted sunbathers, these islands also attract avid surfers, wind-surfers and kite surfers who take advantage of the good wind conditions at this time of year.
Top tip: Go wine tasting on Lanzarote, where the region's grapes are grown in black volcanic ash.
See the latest official tourism advice for the Canary Islands here (opens in new tab).
6. Antwerp, Belgium
Often overlooked in favour of the fairytale towns of Ghent and Bruges, Antwerp deserves a place on your list of places to visit in March. This port city on the River Scheldt is easily explored on foot and makes for a great destination for chocolate lovers in March when the city celebrates Chocolate Week every year.
Grab a Chocolate Pass from any of the city's participating chocolatiers or the tourist office and set out on a delicious walking route, stopping in at shops to sample their creations along the way.
In between tasty treats, see the sights of this easily walkable city. Stroll by 17th-century Rubens House, enjoy live jazzy beats at Café De Muze and admire the Flemish Renaissance architecture of Grote Markt, Antwerp's charming central square.
Top tip: With over 1,800 jewelry stores, Antwerp is regarded as one of the diamond capitals of the world and a popular destination to purchase engagement rings.
See the latest official tourism travel advice for Belgium here (opens in new tab).
Best places to visit in March across the rest of the world
7. Galápagos Islands
This volcanic archipelago in the Pacific Ocean is comprised of 127 isolated islands and islets, characterized by untamed terrain, shimmering blue waters, and fine white sand beaches. Situated some 1000 km west of mainland Ecuador, the Galápagos are rife with wildlife viewing opportunities and attract those looking for wild encounters throughout the year.
But time your visit for March and you may be lucky enough to witness marine iguanas nesting on Fernandina Island, and waved albatrosses returning to Española Island after their months-long winter migration.
Island hop between Santa Cruz, San Cristóbal, and Isabela Islands, and observe giant tortoises, waddling short-feathered penguins, and splashing baby sea lions play along the beaches as you follow in the footsteps of Charles Darwin.
Top tip: March falls under the wet season, so bring appropriate clothing. For a dryer time to visit, the Galápagos are hot in November and also one of the best places to visit in December, too.
See the latest official tourism advice for Ecuador here (opens in new tab).
8. Kathmandu, Nepal
Nestled in a valley surrounded by the lofty Himalayan peaks, Nepal's capital welcomes devout Hindus and festival-goers to the city in the month of March to celebrate Holi, the Festival of Colours.
Holi generally lasts for a week, but the main festivities occur during the first three days, with the third being an explosion of colour. Holi honours the arrival of spring, and observers roam the streets pelting coloured powder and water at each other. Head to Kathmandu's Durbar Square, where the celebrations are most lively.
One of the best places to travel in 2022, Nepal is a Mecca for keen hikers with the famous Everest Base Camp and Annapurna treks both accessible at this time of year. Kathmandu is the city where everyone starts and finishes their journey, with the country's main international airport located here.
Outside of Holi, there is still lots to see in the city itself while you plan which trek to undertake. Wander the old city's mazelike alleys, bargain for pashmina and singing bowls in Thamel, and bask in serenity at the Garden of Dreams.
Top tip: Because the cow is considered a sacred animal by Hindus, many eat buffalo instead, which appears as "buff" on many menus across Nepal.
See the latest official tourism advice for Nepal here (opens in new tab).
9. Maldives
An archipelagic nation comprised of 1,190 dreamy islands and islets in the turquoise Indian Ocean, the Maldives are a great place to escape the last of the frigid winter days. With balmy 30º C days and clear blue skies, this is a blissful time to lounge in a private beach cabana or relax by one of the many luxury resort's amazing swimming pools. Plus, visibility for underwater pursuits is exceptional and March is an ideal time to spot manta rays and sharks.
Though tempting to spend your time lounging at the resorts, the Maldives has lots to offer away from the pool too, with dolphin watching and island hopping tours on offer, as well as night-snorkeling and underwater walking.
Top tip: March is nearing the end of the best time to visit the Maldives, when the weather is dry and warm but the winter sun crowds have thinned. The islands are also one of the best places to visit in April, as prices are lower and you'll get a better deal on your holiday.
See the latest official tourism advice for the Maldives here (opens in new tab).
Vivian is a Vancouver-based freelance writer who has worked for Culture Trip and Fodor's Travel as well as Woman&Home. She covers a wide range of topics, ranging from travel and outdoor adventure, to food and mental health and wellness. She's a curious wanderer with a thirst for adventure, and when she's not writing, can likely be found lazing by a lake, hiking the forested trails of beautiful British Columbia, or on a mission for the next best donut.