Where is hot in May? Best vacation destinations to visit
Get ready for a sun-soaked trip in the spring and discover where is hot in May for a warm and well-deserved vacation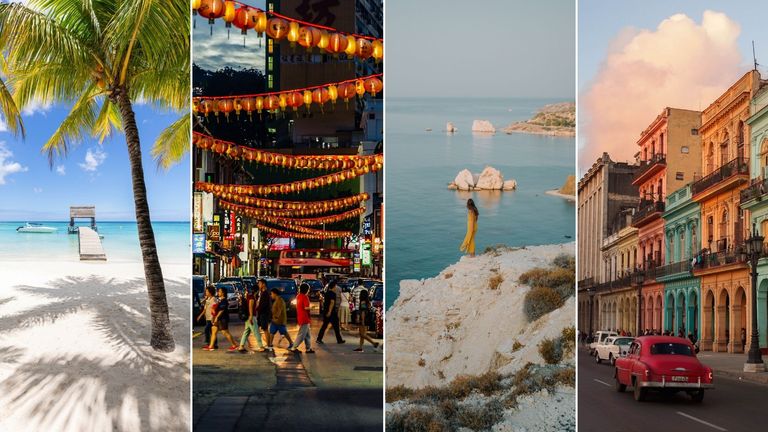 (Image credit: Getty)
Discover where is hot in May for a sun-drenched trip with our pick of the best destinations for a memorable vacation in the spring.
Ready for a change of scene? It's a great time to start thinking about a spring break, and booking now could ensure you snag some of the best holiday deals available. Fast forward through the cold days of winter and get a vacation to look forward to booked in your travel diary, whether that's visiting one of the best Greek islands or hopping between the best theme parks in Orlando on a trip to Florida.
Just remember that pre- and post-travel Covid testing will likely be required for your trip, and rules and restrictions can change suddenly, so always make sure you're up-to-date on the latest travel advice for your destination.
Where is hot in May?
Discover where is hot in May for a vacation where sunbathing and sightseeing can be rolled into one...
Lanzarote, The Canary Islands
Average high temperature in May: 24°C
Those lucky inhabitants of the Canary Islands enjoy hot temperatures all the way through winter, making spring a deliciously warm and balmy time to visit. Head to Lanzarote to soak up the stunning scenery that the island is famed for, and feast your eyes on miles of ancient volcanoes and Mars-like terrain with a trip to the Timanfaya National Park.
Once you've had your fill of amazing scenery, you can stretch out on one of the beautiful sandy beaches—head to Papagayo beach in the south for sunbathing or the windy Famara beach in the northwest for surfing.
Top tip: Sample a glass (or a bottle) of the unique Vino de La Geria, a wine made in an area covered in black volcanic ash.
See the latest official tourism travel advice for Spain here.
Cyprus
Average high temperature in May: 24°C
If you're looking for sunshine, Cyprus will rarely disappoint, with the island enjoying over 300 days of sun every year. May is a brilliant time to visit, when things start to really heat up and temperatures reach around 24°C in Paphos.
Spend a day relaxing on the famed Nissi Beach and venture out to its off-shore island, or embrace your inner child with a trip to Ayia Napa's WaterWorld.
Top tip: The best time to enjoy a visit to the ancient ruins of Kourion is first thing in the morning, before the crowds arrive—if you can handle setting an alarm on holiday, that is!
See the latest official travel advice for tourists to Cyprus here.
Mauritius
Average high temperature in May: 27°C
May might be the start of winter in Mauritius, but the average high temperature is still a glorious 27°C, with the sea heating up to around 26°C during the day. Famed for its desktop-image-worthy stretches of sandy beaches and bright blue waters, Mauritius is a destination worth adding to your wish list for a warm and relaxing break.
Visiting in May means you avoid the school holiday crowds and the peak prices, making this a much more affordable luxury vacation destination compared to later in the year.
Scuba diving fans will be spoilt for choice here, with the crystal clear water offering chances to dive to mysterious caves and wrecks. But, if swimming in the sea isn't your thing, the island is also home to some of the world's best luxury hotels, each equipped with amazing swimming pools.
Top tip: Treat yourself to a catamaran cruise to take in the sights from the sea and, if you're lucky, spot a dolphin or two.
See the latest official advice for travel to Mauritius here.
Cuba
Average high temperature in May: 31°C
Sunseekers should make a beeline to Cuba, with an average of eight hours of sunshine per day making this the sunniest month to visit the island.
Home to not one, not two, but nine UNESCO World Heritage Sites, you'll be spoilt for choice when it comes to getting your culture fix on this holiday. We recommend a trip to visit Old Havana where cobbled streets, colourful buildings and stalls selling locally-made handicrafts make for a memorable day out.
Top tip: While the temperatures are toasty in May, this month also signals the start of the wet season in Cuba, so be sure to pack a waterproof mac or poncho in your suitcase, in case of sudden downpours.
See the latest official advice for travel to Cuba here.
Las Vegas
Average high temperature in May: 32°C
Not only is Las Vegas a fun holiday destination to visit all year round, it also boasts an average 12.5 hours of sunshine a day in May.
Of course, you might not need to pack much suncream if you're planning to spend most of the trip in one of the numerous, glitzy casinos, restaurants or bars, but you'll need your bathing suit for the many luxury hotel pools there is to choose from.
Don't forget that Las Vegas sits in the middle of the Mojave Desert, a unique terrain that makes the perfect break from the bright lights of the Las Vegas Strip.
Vegas is also a great base for taking a day trip out to the Grand Canyon West Rim. Join a bus tour, hire a car and drive yourself or splash out on a once-in-a-lifetime helicopter ride to see the vast National Park from above.
Top tip: Why not try something different on your Vegas trip, with an ATV tour through the stunning sands of the desert?
See the latest official tourism travel advice for USA here.
Phuket
Average high temperature in May: 33°C
Phuket shot to fame back in 2000 as the location for the film The Beach, which was shot in a small cove called Maya Bay on the island of Koh Phi Phi. If you haven't seen it, picture perfectly white sand and shimmering blue water, fringed by tall palm trees that provide the perfect amount of shade.
Retrace Leonardo DiCaprio's footsteps by staying in Phuket's bustling Old Town, and enjoy a boat trip over to the Phi Phi Islands, which form a marine national park.
Top tip: The water in the taps here isn't safe for drinking, so make sure you always have bottled water to hand.
See the latest official tourism travel advice for Thailand here.
Singapore
Average high temperature in May: 32°C
You're almost guaranteed sun with a trip to Singapore, and with temperatures in the low 30s throughout May, it's a great time to plan your visit.
Singapore is one of the smallest countries in the world, but that doesn't mean there's nothing to do. Browse fancy boutiques in Orchard Road, stroll through the stunning botanic gardens or enjoy the vibrant nightlife.
No trip to Singapore would be complete without visiting the famous Hawker Stalls selling delicious local food and delicacies. Factor in at least a couple of visits during your trip so you have time to taste as many foods as possible - you won't be disappointed.
Top tip: As well as being warm, Singapore is also incredibly humid, so be sure to take regular breaks inside if you're out and about all day.
See the latest official tourism travel advice for Singapore here.
Orlando, Florida
Average high temperature in May: 31°C
Florida is a popular choice for families holidaying in the USA and as it's known as the 'Sunshine State', you can guarantee you're going to get that heat you're looking for during your vacation.
If you're looking for a family holiday in Florida that will keep you busy, Orlando ticks all the boxes. It's home to an enticing selection of the world's favourite theme parks, including Disney's Animal Kingdom and EPCOT.
It also has a mind-boggling amount of shopping outlets and numerous buffet restaurants for that all-you-can-eat fix.
Top tip: Save money by buying your theme park tickets in advance, with many websites offering discounts.
See the latest official tourism travel advice for USA here.
Barbados
Average high temperature in May: 31°C
At only 15 miles wide, Barbados is a veritable haven for those looking for a peaceful beach holiday. And who wouldn't want to relax on both white and pink sandy beaches, while listening to the sounds of the waves and the rustle of the leaves of the coconut trees?
This Caribbean island offers a tempting nine hours of sunshine a day, which should give you plenty of time to read a few chapters of your book, paddle in the sea and sip on a fresh fruit cocktail or two. We recommend a visit to the famous pink Crane Beach and a day trip to the fascinating Harrison's Cave Eco-Adventure Park.
Top tip: Head to the harbour at Bridgetown to enjoy the sounds of live reggae.
See the latest official tourism travel advice for Barbados here.