9 tips for the perfect New York city break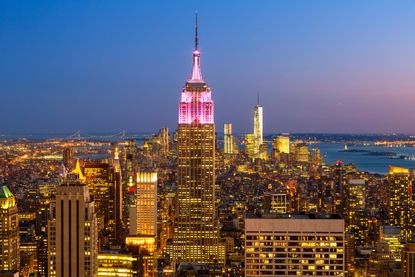 Heading to the Big Apple but not sure where to start? Don't panic! These are our favourite things to do in New York City – and how to plan the perfect mini break to squeeze them all in...
1. Food or sightseeing? Pick a team
If this is your first time in the Big Apple, you'll be overwhelmed with ideas. Yes, you'll want to tick off all of those main sights – and there are plenty to choose from! – but expect to hear plenty of *helpful* recommendations from well-meaning friends too, most of which will be food-themed.
There are some fantastic restaurants in NYC, from tourist-packed movie locations (our tip? Katz's Deli– pictured below –from that scene in When Harry Met Sally) and hipster food-fads (cronuts at Dominique Ansel - delicious!) to fabulous five-star joints where the waiting list is as long as the Hudson River.
BUT, do yourself a favour and choose a specific focus each day: food or sightseeing? Otherwise you'll find yourself running all over the city, trying to pack in too much, and unable to focus properly on each experience.
2. Stay central
When you're booking a hotel or Airbnb, it's worth paying a few extra bucks to stay somewhere central, rather than keeping it cheap on the edge of town.
Where do you reckon you'll spend most of your days? Book a place as close to your main must-sees as possible, to avoid hefty cab fares and long Subway journeys – and to give you plenty of time to really immerse yourself in the district.
3. Catch a game
It's a real treat to catch a West End show (for the best on-the-day ticket prices, head to the TKTS booth in Times Square) – but try catching a sports game too, such as the Knicks playing basketball at Madison Square Garden or the Yankees at their eponymous baseball stadium in the Bronx. The atmosphere is always great, and it's a fun way to relax after a busy day's sightseeing.
4. Save money by buying a pass
Planning on doing some serious sightseeing? You can save some big money with a New York Pass (opens in new tab)– and get fast-track entry to some of the top attractions too. The Pass includes access to the city's biggest draws, including the Statue of Liberty (ferry ticket and site entry), Top of the Rock Observatory, Empire State Building, 9/11 Memorial, Madame Tussauds, Museum of Modern Art… and 100+ more!
It's quite a pricey outlay ($273/£201 per adult for a three-day New York Pass), but on average you'll start making savings once you go to your fifth attraction – and with the flexibility to visit unlimited attractions in whichever order you want, at any time of day, you'll be able to chop-and-change your itinerary easily too. The passes are available for durations of one to ten days.
There are lots of hidden gems too: you can use the Pass to see gospel choirs in Harlem, join a Catacombs by Candlelight tour of St. Patrick's Old Cathedral, or get free bike hire on Governor's Island. You'll also get a booklet explaining the attractions and where to find them, to help you get the most from that golden ticket.
5. Look out for local festivals
Dig into NYC-focus blogs and listings websites before you go: NYCGO is a great place to start. They'll keep you up-to-date with the city's upcoming festivals, events, and one-off entertainment, so you can give your trip a fun local spin.
6. The best spot for sunset is…
...Top of the Rock – without question. You'll have a cracking view of the Empire State Building, Manhattan, and as far as the Brooklyn Bridge and Statue of Liberty. The observatory is on multiple levels, indoor and out: head to the very top, outside, for a front-row spot without any glass or barriers between you and this view:
You'll need to pay a little extra (and book early) for sunset access, but the price hike doesn't apply if you've got a New York Pass (opens in new tab).
7. Start early for the Statue of Liberty
The crowds back up quickly, so you'll be glad you arrived at Battery Park Ferry Terminal at 9am, to catch the boat out to Liberty Island. Bring snacks, water and an umbrella/sunshade – and don't forget your sense of humour.
Can't stand waiting? You can upgrade to a queue-jump ticket for a few extra dollars, but be warned: even the ticket booth can have big lines.
8. Eat out for breakfast
Why linger in your hotel when you can hit the road early with on-the-go bagels, or feast on omelettes and coffee in one of NYC's many excellent diners? The city has so many brilliant places to eat, and this is a great way to squeeze in some extra sightseeing before the crowds arrive.
9. You *will* run out of time
The sooner you accept this, the better. You can't see it all: not even a two-week trip would be long enough to really get under NYC's skin. But hey, you'll never need an excuse to return. After all, New York is a city for life – not just the weekend.