I spent a week at VIVAMAYR's Maria Wörth on one of the hardest detox programs in the world and here's what I learnt about The Mayr Method, my health and the 'potato secret'
Travel writer Lydia Swinscoe spent seven days at VIVAMAYR's Maria Wörth medical resort in Austria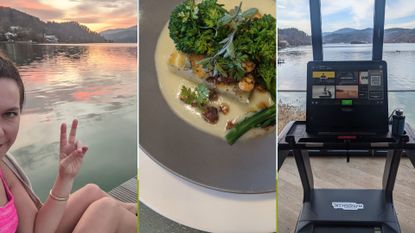 (Image credit: Lydia Swinscoe)
woman&home newsletter
Sign up to our free daily email for the latest royal and entertainment news, interesting opinion, expert advice on styling and beauty trends, and no-nonsense guides to the health and wellness questions you want answered.
Thank you for signing up to . You will receive a verification email shortly.
There was a problem. Please refresh the page and try again.
The day of my journey to Vivamayr Maria Wörth I left home in the dark at 4.30am. It had been raining for something like 13 days in a row and the day before I'd eaten prawn gyoza from the freezer for breakfast, (it was the only food I had in the flat).
Later that day I drank two coffees (against the advice of cutting down on caffeine before my visit), ate a cinnamon bun, drank two white wine spritz's in a pub opposite the British Museum, and finished the day with a Shake Shake burger.
It was safe to say I was underprepared for my stay at one of the hardest detox programs in the world and the place known for radically transforming countless celebrities, including kickstarting Rebel Wilson's 36kg weight loss, and getting Liz Hurley's mojo back.
As impressed as I was with Rebel's year of health, weight loss wasn't the reason I was so desperate to visit this A-list loved retreat. I was heading to Vivamayr to slow down. Petering on the edge of burnout from work, I was exhausted and stressed out from early morning train, bus and tube commutes, work pressures, and trying to navigate family health issues. My diet had also gone slightly rogue - although it is usually much better than gyoza breakfasts and burgers. London's miserable grey skies and relentless rain had ground me down, I felt like I was hanging on by a thread and was hoping that Vivamayr might be able to put me back together, strand by frayed strand.
I first heard about Vivamayr, not through celebrity Instagram accounts (Naomi Campbell, Rita Ora, Melanie Griffith, Terri Hatcher, Mischa Barton, and Nicole Scherzinger are all fans of Maria Wörth), but through an art exhibition at The White Cube in 2019. In a glass case at Tracey Emin's A Fortnight of Tears exhibition was one of her trademark sketches on Vivamayr's headed notepaper. I took a photo and googled the place standing on Bermondsey street as soon as I left the gallery. It sounded wonderful - the perfect blend of medical expertise and holistic practices - I'd been desperate to visit ever since.
Finally arriving at VIVAMAYR's Maria Wörth
During the drive past the snow-dusted mountains that loomed large on either side of the road from Salzburg to Maria Wörth, I imagined the clinic to be a wacky amalgamation of The White Lotus and Nine Perfect Strangers: kooky, luxurious, and filled with fascinating characters. I actually wasn't too far off the mark, aside from the lack of psilocybin and tropical cocktails. But it quickly became apparent that at Vivamayr, psychedelics or any kind of stimulants or sedatives aren't needed, the beauty of the clinic's surroundings have the power to humble and relax the most frazzled of souls - and even more so after a week on the regime known as The Mayr Method.
I arrived at the health clinic at lunchtime on a Sunday, and while waiting to check into my room I was offered lunch in the restaurant, giving me my first impression of Vivamayr. The brightly lit restaurant looks out over an ethereally beautiful lake but is unlike any restaurant I've ever visited, there's no music playing, just two options on the menu, and everyone sits alone - all you can hear is the clink of spoons against soup bowls and the scrape, scrape, scrape of knives and forks against plates, ensuring every last bit of the precious food is devoured. Some people chat in hushed whispers and it kind of feels like an intense institution, but by the end of my week-long stay, I viewed the restaurant entirely differently and so looked forward to eating there each day, having formed bonds with fellow guests and really embracing the slow-eating movement.
What is the Vivamayr Mayr Method?
Vivamayr has three outposts in Austria; two retreats and one day clinic. My intensive program was held at the medical resort set on the lakeside of Maria Wörth, not too far from the borders of neighboring countries Slovenia and Italy. The Mayr Method is at the heart of everything the clinics do, centering around the importance of a healthy digestive system.
The program aims to give the digestive system a break which is enabled by cutting out all raw food (it's hard to digest), eating smaller meals towards the end of the day, and detoxing the body of alcohol, sugar, wheat, and caffeine. I was also encouraged to eat meals slowly, chewing each mouthful to appreciate the taste and texture of the food but also to allow the stomach to produce enough acid to enable the full breakdown of food in the gut. I guess it's nothing more than mindful eating, something that many of us rarely do in an overstimulated world of screens and distractions. I enjoyed the slowed-down eating process and for me personally - as each guest's stay is totally different and tailored to them depending on their needs - my meals were (mostly) pretty delicious.
Here's what my daily menu looked like...
Breakfast at VIVAMAYR's Maria Wörth
Most days for breakfast I had - and thoroughly enjoyed - almond milk porridge with cinnamon and cacao nibs. But if I tired of porridge I was allowed to eat a spelt or buckwheat roll (also known as a chewing trainer, to encourage you to chew each mouthful around 30 times) with a choice of two sides, these included things like a boiled egg, smoked salmon, avocado mousse, hummus or goat cheese. The bread is definitely an acquired taste and I overheard another guest complaining about its hard texture, but for the first few days at least, it didn't offend me.
Lunch at VIVAMAYR's Maria Wörth
This is the biggest meal of the day and one I looked forward to most. A totally new menu appeared each day mostly revolving around vegetables and occasionally meat, with a different vegetable soup to begin. One miraculous day, myself and fellow diners were amazed to see roast beef on the menu, a small daily win that we all enjoyed immensely. Other dishes included turkey meatballs with roasted vegetables and Asian-style vegetable dumplings - each plate carefully constructed with fresh herbs and nuts and presented to perfection.
Dinner at VIVAMAYR's Maria Wörth
Tiny dinners are the way at Vivamayr, and eating early between 6-7pm is recommended. I was only allowed vegetable broth and the aforementioned roll for dinner until about three days in when I uncovered the 'potato secret'. Some diners had discovered that instead of the hated bread roll, you could order a bowl of boiled potatoes to accompany the watery broth. I mean it when I say I've never enjoyed boiled potatoes so much, I literally looked forward to them each and every evening.
What is a week at Vivamayr actually like?
Monday is the preferred start date of each Vivamayr program and mine began with a trip to the doctor - this is mandatory at the very beginning and very end of each stay, but you're welcome to see your doctor more if required. After the initial consultation, a weekly schedule was delivered to my room alongside glass bottles of water, herbal teas, oil for swirling around my mouth each morning to aid detox (also known as oil pulling), slippers and robe, and an informative book on the Mayr Method.
My doctor immediately picked up on my stress and extreme tiredness, noting my small intestine was also stressed (from actual stress) and revealed from my breathing analysis that I had a usually large amount of free radicals in my body, also caused by stress and if not addressed can lead to disease and illness, yikes!
He prescribed me daily abdominal massages, basepowder 5 (an alkaline-based powder to be mixed with water and drunk three times a day to neutralize acid), magnesium citrate, and selenium supplements, and explained the dietary principles of the clinic.
When my medical treatment plan was delivered I discovered most days were packed with treatments and medical appointments but this only amplified my excitement for the week ahead - I couldn't wait to be looked after. On the afternoon of the first day, I also had an introduction to Mayr therapy, a mineral analysis test, and a 25-minute back and shoulder massage before my metabolic measurements were taken and I finished the day with a medical lecture on the topic of DNA.
With the lack of sugar and caffeine, I was told headaches and lack of energy might present during the first couple of days. On some days I did feel sleepier than usual, but otherwise I had no other side effects and actually felt increasingly better as the week progressed.
The joy of not having to think about anything, to completely switch off and have everything done for me, was overwhelmingly delightful. I was swept up in the beauty of the Austrian countryside, taking hour-long walks in the forest behind the clinic, swimming in the pool, and going for daily runs on the futuristic treadmill overlooking the lake. It sounds wacky and cliched but tapping into nature and being fully present made me really feel alive.
While Vivamayr might be known as one of the hardest detox programs in the world, there's a reason why clients return year after year. Many guests I spoke to told me they attend the clinic yearly without fail and have been doing so for the past ten years, or longer. Everyone had a different reason to visit, one was getting over serious illness, others had been recently widowed, and some were attending to quit an addiction or learn how to better cope with anxiety. One guest even mused that after his yearly three-week stays, his cholesterol levels and blood pressure would remain consistently low for up to six months after his detox. This to me was the truly fascinating part.
The rest of my stay was made up of a series of appointments that included health and fitness checks, personal training and seminars, as well as a very interesting food intolerance test that proved I had none.
Some days I had massages and electrolysis footbaths (Tracey Emin is a big fan), others I did nasal reflex therapy and my personal new favorite pastime - standing in a -110 degree box - otherwise known as cryotherapy. Once I got over the claustrophobic nature of standing in a freezing box almost naked I became obsessed with the therapy that's known to help reduce depression, prevent dementia, treat headaches and ease muscle pain. The feeling of euphoria I experienced each time I emerged from the cabin after three, long, frozen minutes was truly wild and seriously addictive.
On afternoons where appointments were sparse, I loved paddle-boarding on the mirrored surface of the lake, watching the sun as it set, turning the sky into the most intense trippy shades of tangerine and rose. And every evening, without fail I'd heat up in one of the two saunas before plunging into the lake for another icy high ahead of dinner.
On my last day, I attended one of the most magical meditations of my entire life, a guided elemental session where the visuals in my mind were so clear and cinematic I thought I was dreaming.
On my last day, utterly devastated I was leaving, I flicked through the guestbook amazed at the positivity beaming out from the many written words of gratitude alongside messages from people like Rita Ora, Kate Middleton's favorite fashion designer Jenny Packham and of course, Tracey Emin who mused, "I feel so well and happy, losing the 3kg is just an added bonus".
Personally, I lost 1.7kgs during my seven days at Vivamayr and since returning to the UK have stayed off caffeine and have cut snacking in between meals completely. I've also radically reduced my alcohol intake and honestly feel better than ever. Each morning for two weeks after returning home I woke up at least an hour before my work alarm went off, rising out of bed with an incredible amount of energy I haven't had for years. The pre-Vivamayr me would have snoozed up until the very last second possible, but something about the detox reset my energy levels.
I'm not going to lie and say my hair was glossier and my skin more luminous - the remark used repeatedly in detox-type reviews - but I will say that I didn't have a breakout until I started eating sugar again, which I found to be intriguing. However, my week at Vivamayr (as was the case for many of the guests I spoke to) was never about outward appearance.
Internal wellness along with a healthy mind and body is the true pinnacle for me. Without those we have nothing. And in helping people with that goal, I seriously applaud Vivamayr and the Mayr Method, as outlandish as the diet regime may sound.
How much is a week at Vivamayr?
Rooms at Vivamayr Maria Wörth start from $302 (£250) a night. I'd recommend taking a lake-view room and these start at $406 (£336) per night. All appointments, tests, treatments, and supplements are charged extra, and a minimum week-long stay is recommended.
A week-long stay starts from approximately $4,157 (£3,491) per person. This would include a standard category room, two medical appointments, and a treatment or two each day of the week-long stay. Each program is tailored specifically to each guest, so costs can vary greatly.
For more information and to book, inquire directly at Vivamayr.com (opens in new tab)
Lydia is woman&home's Lifestyle News Editor and a freelance travel writer. Day-to-day she manages an international team of nine news writers and oversees all news content on woman&home.com. Her travel writing has been published in BBC Good Food, Oh magazine, Harper's Bazaar, Town&Country, ELLE, MailOnline, Woman, and woman&home.