Rebel Wilson on the 'unexpected benefit' of losing weight
In a new interview, Rebel Wilson reveals that her acting has benefited from her weight loss journey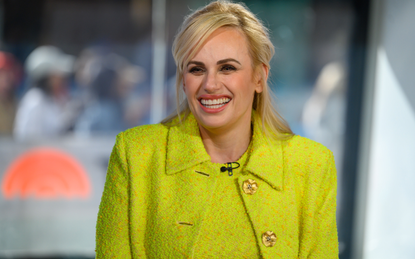 (Image credit: NBC / Contributor)
Turns out that looking and feeling great aren't the only benefits to losing weight, according to Rebel Wilson. In a new interview, the actor reveals that she believes her acting to have gotten better as a result of her health-conscious ways.
"When I was heavier, it was kind of like a barrier. In some ways, that barrier protected me from things, but now that it's gone, I'm much rawer as a person," Rebel, who previously revealed the reason she lost weight after her iconic "Fat Amy" role, said to Yahoo Life (opens in new tab). "It's had an unexpected benefit of helping my acting, because I've not got anything protecting me, I'm raw. I've got two movies coming out this year, the Netflix comedy Senior Year and the serious drama The Almond and the Seahorse, and I feel like, between those two movies, it's the best work I've done yet. I'm just weirdly a much better actress, and I never thought that would be a side benefit."
This isn't the first time that the 42-year-old actor has shared details about her 'year of health.' She has previously revealed that she lost "unwanted body fat" with this low-impact exercise and, just last week, she confirmed that, after going on a date a week for a year, she has finally found love and is now "happily in a relationship."
As mentioned in her interview, Rebel is currently starring in the Netflix comedy Senior Year, in which she takes on the role of Stephanie Conway, a high-school cheerleader who suffers a head injury and falls into a coma before her senior prom. She wakes up 20 years later as a 37-year-old woman who decides to head back to high school to finish her term. Rebel plays the older Stephanie, who is portrayed by Angourie Rice as a teenager.
Outside of her career, the actor is currently undergoing fertility treatments. As discussed back in 2021, Rebel suffers from polycystic ovarian syndrome (PCOS), which makes the ability to start a family a little tougher.
"I just know I still have eggs, so I can still try, and still have chances, but it's a real emotional rollercoaster, where you think you might be successful and it doesn't turn out that way," she said to Yahoo Life. "Having a family would be great if I'm blessed with that. I'll have to see. Unfortunately, I don't know where it's going to go, but I have been trying for the past few years. I just really sympathize with anyone going through it."
Her advice to other women? "I would say to any young women out there, even though you might be a career woman, like me - I just totally didn't think I would want kids - if you have the ability to freeze your eggs it just gives you a lot more options."
Anna Rahmanan is a New York-based writer and editor who covers culture, entertainment, food, fashion and travel news. Anna's words have appeared on Time Out New York, the Huffington Post, Fortune, Forbes, Us Weekly, Bon Appetit and Brooklyn Magazine, among other outlets.