Rebel Wilson stuns in pink swimsuit as she gets candid about weight gain, 'I've lost all self control'
Rebel Wilson gives insight into her weight loss journey, this time following her romantic vacation with partner Ramona Agruma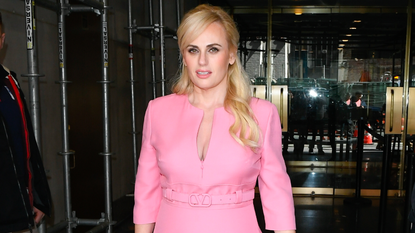 (Image credit: Raymond Hall / Contributor)
Rebel Wilson is no stranger to honesty on social media, whether for the good or the bad.
Rebel, who recently came out publicly after learning she was to be "outed" by an Australian publication, took to Instagram to discuss her weight loss journey, this time chronicling her weight gain following her European getaway with partner Ramona Agruma.
"I just noticed I put on 3 kg's on my holiday 🙈 I'm at an amazing all-inclusive resort…I've lost all self control 😜," Rebel wrote in the caption of a photo of herself wearing a bathing suit and looking amazing. "But you know what? I can get up tomorrow and go to the gym, and hydrate and eat healthy and love myself. It doesn't help to be hard on yourself but I know what it's like to feel guilty and not great after eating too much. But if you're like me just know YOU are more than just your weight, your weight doesn't define you, just try your best to be healthy and don't be so hard on yourself 💗 Be the best version of you 💗"
Her followers, used to hearing the 42-year-old actor share similar thoughts both on and off social media, took the comments section to express their support for Rebel's journey.
Melanie Griffith simply commented, "Beauty 💜." Fashion journalist Laura Brown, a fellow Australian, wrote, "What do they say, happiness is the best look of all? 😊❤️"
Ramona even chimed in, specifically saying, "You are the best baby and the most beautiful girl ❤️ I love you 💕."
Rebel's decision to lose weight after her iconic "Fat Amy" role has been the topic of conversation for months after the actor looked almost unrecognizable at the premiere of her then-new Netflix movie Senior Year.
Her obvious physical transformation led many to wonder about her diet and exercise routine.
"The doctor said to me, 'Rebel, the best way for you to lose unwanted body fat is just simply walking,'" the actor said in the interview where she revealed how she lost "unwanted body fat." "'Doesn't have to be high-intensity, doesn't have to be uphill, just moderate walking an hour a day.'"
Rebel even mused on the "unexpected benefit" of losing weight: becoming a better actor as a result of her health-conscious ways.
Which is all to say: health and wellness are a constantly evolving journey. Just ask Rebel Wilson.
Anna Rahmanan is a New York-based writer and editor who covers culture, entertainment, food, fashion and travel news. Anna's words have appeared on Time Out New York, the Huffington Post, Fortune, Forbes, Us Weekly, Bon Appetit and Brooklyn Magazine, among other outlets.