7 Of The Best Places To See The Northern Lights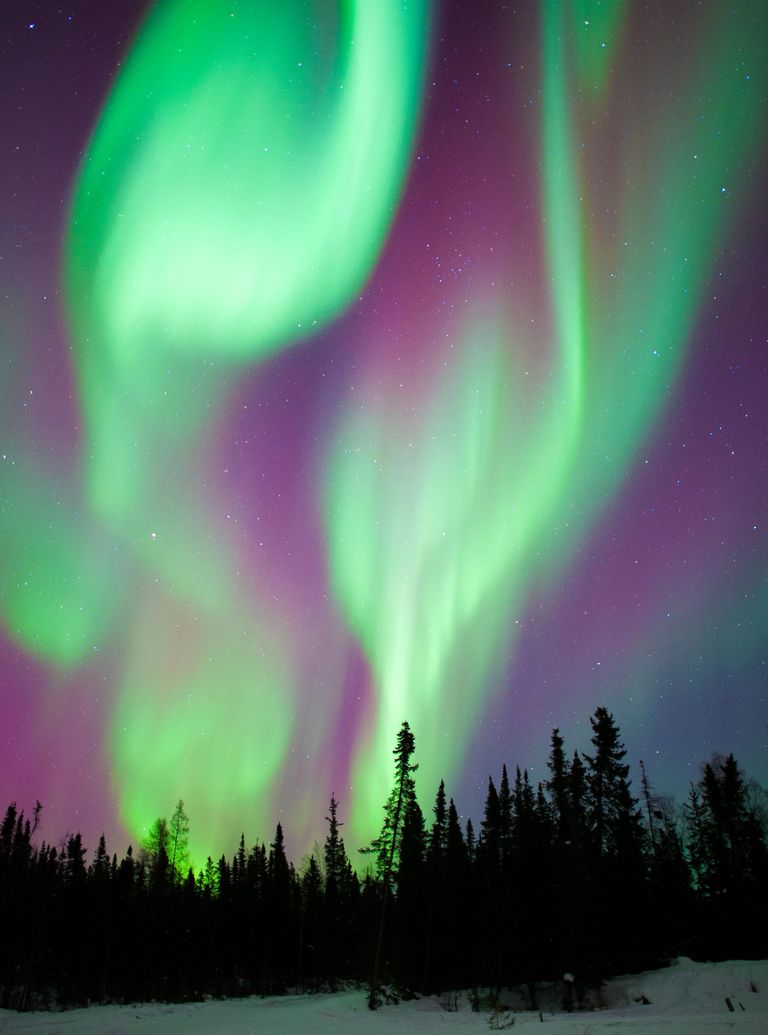 (Image credit: Alamy Stock Photo)
1. In a hot tub in Iceland
Watching the Northern Lights can be a chilly business, but not when you're sitting in a steaming outdoor hot tub, with a glass of bubbly in hand. Hotel Ranga, a gorgeous four-star property, has three toasty pools filled with mineral-rich volcanic water - by far the best place to see the Northern Lights in southern Iceland.
During daylight hours, there's lots to see too: you're a stone's throw from whale watching tours, glacier Jeep tours, and the impressive waterfalls and geysers of the Golden Circle.
2. On a cruise around Norway
Cruises are an amazing way to see the Northern Lights: you're far from the light pollution of the mainland, and your views are completely uninterrupted. That's why we've designed a Northern Lights cruise especially for w&h readers, which includes Aurora Borealis watching, a reindeer and sea eagle safari, and a tour of Nordkapp - the heartland of the indigenous Sámi people.
Northern Lights over Norway (Alamy)
You'll also be joined by Stargazing Live presenter and Northern Lights enthusiast Dallas Campbell: he'll reveal the science behind the Northern Lights in a fascinating on-board presentation, alongside a mystical perspective from our fantastic astrologer Penny Thornton. Plus, if the Lights don't show during your 12-day cruise, you'll receive another trip completely for free - so views of this incredible phenomena are guaranteed. See the details
3. From Sweden's famous Icehotel
Every year, artists from around the world are invited to Sweden to design a new hotel made entirely from ice. The blocks are chiselled into Icehotel's incredible rooms and suites, with vast ice sculptures and stunning lighting effects. It's like staying inside your very own intricate igloo.
Keep your fingers crossed that the Lights show (Icehotel)
The best place to see the Northern Lights? Try a snowmobile safari, or a night-time photography workshop guided by an expert. Our new four-day Icehotel holiday includes a talk from Northern Lights expert Dr Melanie Woodridge - and a chance to meet the designers of the Icehotel's legendary rooms. See the details
More like this: Inside the Icehotel: What it's really like to stay inside Lapland's igloo hotel
4. In a glass-roofed igloo, Finland
See the Northern Lights from the comfort of your bed at Kakslauttanen Arctic Resort, whose glass igloo rooms offer amazing sky views. Simply stretch out in your very own glass-roofed pod and let the Lights entertain you: it's by far the cosiest to see this incredible natural phenomenon.
A room with a view (Kakslauttanen Arctic Resort)
If you feel like braving the cold, the hotel offers the chance to see the Lights after-dark on quad bikes, by horseback, or cuddled up under blankets on a romantic horse-drawn carriage ride.
5. At 40,000ft above the British Isles
The inflight entertainment on Aurora Flights isn't your average dinner-and-a-movie: these one-night flights take you high above northern Scotland for uninterrupted views of the Northern Lights, with commentary by expert astronomers on board.
You won't want to fall asleep on this flight... (Aurora Flights) An aeroplane could well be the best place to see the Northern Lights: up here, you feel closer to them than you do on the ground. The flights depart from airports all around Britain, and run from autumn to spring. This is a night you certainly won't forget - and you'll get some fantastic photos to prove it.
6. On a minibreak with a difference, Iceland
It's little wonder that Reykjavik, the capital of Iceland, is a booming weekend break destination. With the famous Blue Lagoon spa on its doorstep, quirky shopping (think woolly chic), and lots of great nightlife and restaurants, there's always a fun buzz around the city - and, if you're lucky, you'll encounter the Northern Lights too.
Northern Lights over Reykjavik (Alamy)
Of course, the city's light pollution can interrupt your Aurora views, but there are plenty of Lights-watching excursions that depart from Reykjavik nightly. They'll whisk you into rural Iceland, where the night sky is open and clear, so wrap up warm and await your evening's entertainment.
7. With polar bears in Canada
Tundra Buggy Lodge in Churchill boasts two amazing experiences in one: it's located right in the middle of polar bear viewing territory, and has fantastic views of the Northern Lights too. The cosy lodge is actually a converted all-terrain vehicle, which means it's tough (and warm) enough to withstand one of the harshest landscapes on earth.
Polar bears in Churchill (Alamy)
The huge windows allow for up-close encounters with the polar bears by day or night, and daily excursions will whisk you into the wild for more bear watching, husky sledding, and even picnics on the ice. This is a really isolated spot so light pollution is minimal - meaning unforgettable Aurora views aplenty.