The best cheap Christmas gifts actually look really expensive – 30+ bargain present ideas that look designer
Choosing cheap Christmas gifts that are big on meaning yet low on price isn't the easiest challenge. Our brilliant selection of gift ideas will do the hard work for you...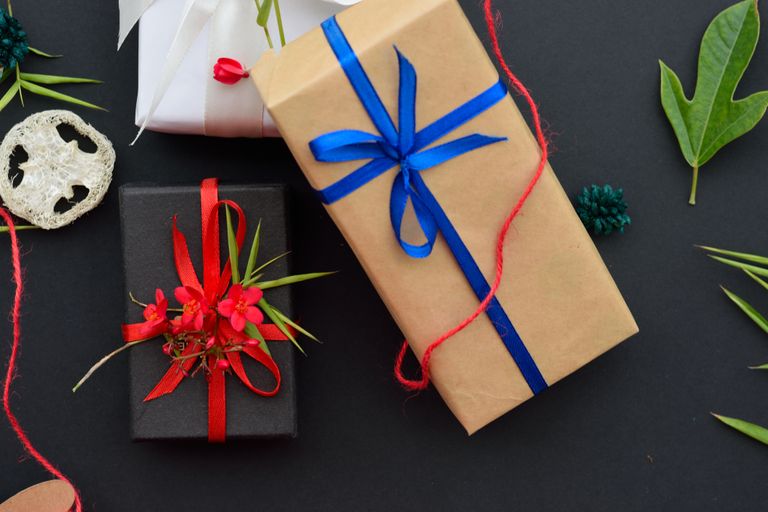 (Image credit: Getty)
Cheap Christmas gift ideas are on everyone's list. It might be you need to choose gifts for a big extended family, for lots of friends, or for work colleagues. Or simply that you'd like to give gorgeous gifts but keep within a reasonable budget (that's most of us, right?)
Whether you're looking for that one thing that sums up what a special person means to you, or a little something for everyone, there's no need to let a tight budget get in the way of festive gifting plans. 
Featuring everything from mini gifts for men and kids to the latest on-trend beauty products for your mom, wife, sister or friends, we've found an amazing range to suit everyone you love - and your pocket.
Cheap fashion gifts
Jewellery roll
RRP £14.95, Graham & Green
Stocking fillers are even better when they're handy items you wouldn't usually think of. This jewellery wrap is the go-to for keeping all your favourite jewels safe in one place without tangling together – it's also perfect for those who love to travel, too.
Faux leather gloves
RRP £20
For a stylish alternative to woollen gloves, this sleek leather pair from Accessorize is the £20 pair everyone will want to wear on repeat. Add these to any coat to add instant style points. Note: they also come in a glossy green shade.
Alphabet velvet make up bag
RRP £5
The chicest make-up bag going is just £5 – yes, really. For Secret Santa or stocking fillers, we recommend getting one of these M&S alphabet bags for a personal touch with minimal effort. In four gorgeous hues, you'll want to get these for all your family and friends.
Tiger yellow phone case
RRP £21/ $25
Suitable for most iPhones, this punchy tiger print case in bright yellow is a stunner. Get it for the person who always manages to lose their phone in the house, they'll never be able to not see this statement style.
3-D cube unisex socks
RRP £12
If your partner always steals your socks or you just want to treat all the family to matching pairs, this unisex 3-D cube style from Anthropologie are the ideal stocking filler. Designed by Catherine Tough and handmade, these have a special touch compared to the average socks.
Unisex Beanie
RRP £12.95/ $17
An easy to throw on beanie hat is perfect for all the family. This simple, effortless style will keep heads warm with its soft knit and it's available in twelve colours so you're bound to find one to suit everyone – we bet they'll want to pop it on for the wintery Christmas day walk.
Cheap beauty gifts
Sanctuary Spa Night Time Sleep Mist
RRP £6
Give the gift of sleep with this scientifically proven formula, which will help you fall asleep faster and for longer. Spritz over body, face and pillow and let the mood enhancing fragrance blend of jasmine, patchouli and frankincense work it's magic.
The Body Shop Handpicked British Rose Duo
RRP £6
Just the gift for winter weary souls to come up smelling of roses. The nourishing shower gel and body butter evoke a summer garden, which is what we all need in the depths of winter. Perfect for the gym bag or overnight case, this little pampering treat is perfect for flower lovers.
M&S Apothecary Uplift Scented Candle
RRP £7.50
A scented candle is the ultimate indulgence and no-one would ever know you haven't spent a fortune on this luxe-looking number. Made from a blend of lemon, eucalyptus, lavender and rosemary oils, all recognised in aromatherapy for their revitalising and uplifting properties, this is the perfect scent for bringing some cheer and positivity into someone's day.
Q+A Hyaluronic Acid Facial Serum Cracker
RRP £6.50
A hyaluronic acid serum should be in every beauty kit for those days where skin needs plumping up with moisture. This is the perfect introduction to this British vegan and cruelty free brand. For lovers of sustainability the packaging is 100% recyclable too.
Emma Hardie Merrily Moringa
RRP $14
Every woman should try this cult cleansing balm and this mini set is the perfect way to test it out. The ultra nourishing and purifying balm will cleanse skin, removing every trace of grime and make-up leaving it looking radiant. Plus the mini dual action cleansing cloth will transform dull skin in a moment.
Lush Snowman Dreaming Bath Bomb
RRP $5.95
Super cute for kids and grown-ups alike, this festive treat will add some cheer to bath-time. Fill up the tub and then throw him in and watch as the water turns rainbow coloured. While the scent of cedarwood and lavender oils will melt away all the festive stress.
Space NK Travel Bag
RRP $26
The perfect cosmetics case for holding all essentials in one handy place - and thanks to the transparent lid you can see what you need at a glance. Super-hygienic, the wipeable fabric means you can keep germs at bay too. Whether used for overnight essentials or everyday make-up, this is the ideal size for storing in handbags or weekend holdalls.
Kristin Ess Translucence One Women's Fragrance
RRP $20 for 1 fl oz
A sultry and seductive blend that mixes notes of sheer blonde wood with crisp amber. This is a fragrance that smells different, but wonderful, on every person's skin as it blends with your own personal pheromones.
Cheap gardening gifts
DIY Terrarium kar Kit 'Newport'
RRP $14.99
Here's a lovely indoor gardening idea. Great for budding junior – and senior – gardeners , especially if the weather's not great for growing outdoors. The jar comes complete with mosses, stone, potting soil and twine, plus you can make it unique with your own additions, such as succulents or miniature ferns.
Fallen Fruits Garden Tool Belt
RRP £11.99
Super-stylish and practical, this canvas tool belt looks far more expensive than its price tag and will delight any gardener. It has storage compartments for hand tools like a trowel and secateurs, plus there's space for twine, scissors, plant tags and pens (even your phone!).
Cheap book gifts
Sweet Sorrow by David Nicholls
RRP £7.49/$17.94
What better way to spend a winter's evening than with a good book. From the author who made us all cry with his love story One Day, comes a tragicomedy following Charlie Lewis' turbulent path to adulthood. At a time when he is dealing with his Mum leaving and caring for his Dad, Fran Fisher enters his life and Charlie is smitten. Only problem is, he must join a theatre company to gain her attention – and they're doing Shakespeare. Cue much hilarity as Charlie navigates his way through lines he doesn't even understand. A sweet depiction of fist love and a young man making his way in the world.
The Guest List by Lucy Foley
RRP £7.49/$16.79
As friends arrive on a remote island off the coast of Ireland for a wedding to celebrate the nuptials of a rising TV star and his stylish magazine publisher wife, past grudges and hidden jealousies begin to surface amongst the guests. And as the lavish celebrations begin to take hold, it isn't long before a body turns up. In true Agatha Christie-style, this dark tale told from multiple people is a classic whodunit. Ot seems there may be more than a few people with a motive as the pasts of the guests and their secrets are revealed. An atmospheric and wild setting only adds to the tension. It's another winner from Lucy Foley - and the perfect escape this Christmas..
Cheap toys and novelty gifts
Spider-Man Mech LEGO
RRP £8.99/ $9.99
If your kid spends most of their time in the Marvel-Verse, they're probably already excited about next year's release of Spider-Man 3. In the meantime, this budget-friendly Spidey LEGO set is sure to keep them entertained.
Oh! My GIF 1-bit pack
RRP £4.99/ $4.99
See GIFs come to life with these collectible tiny toys, activated by pushing, pulling, twisting or turning to reveal a surprise movement and message. The real fun of collectibles is unwrapping to reveal what's inside, so you might want to buy a multi-pack instead if you're not on a budget.
Getaway eye mask
RRP £16/ $18
You're not likely to be jetting anywhere exotic this Christmas, so you might be asking yourself, who would want one of those for Christmas? But if snoozing is the object of your affection or you have troubled sleep, an eye mask could be the perfect gift. This embroidered mask looks stylish whilst being comfortable with an adjustable strap. 
Mulan warrior Funko Pop! Vinyl figure
RRP $14.99
Disney fans are sure to have seen the latest live-action remake of Mulan released on Disney+ in September 2020. And for those who remember heading to the cinema to see the 1998 animated original, this gift could be the hit of nostalgia they needed this Christmas. Start them off with the Mulan warrior Pop! Vinyl before expanding their collection to include other Disney character favourites. 
Pink donut pop socket
RRP £11.99/ $10
The handy accessory that gives you a better grip on your smartphone, allowing for one-handed texting and better selfies. It also reduces the likelihood of dropping your phone. If a bright pink doughnut is too teen for your taste, there are plenty of bold options to choose from.  
Cry Babies Magic Tears Winged House
RRP £9.99
Little ones will love this collectible series of 12 surprise dolls, all with their own unique design, accessories and winged house. Feed the doll with the magic bottle, squeeze her belly and she'll cry coloured tears. It's a great stocking filler to keep the kids entertained on Christmas day. 
Cheap fitness & wellbeing gifts
You're Amazing, Summersdale Publishing
RRP £9.99, US $13.99
An inspirational book jam-packed with affirmations and advice to boost your self esteem and mental wellbeing. All the pages are illustrated by vibrant feel-good artwork, and it's a best buy for those about to embark on a new journey but needing the confidence to make a change. Our favourite quote: "Difficult roads often lead to beautiful destinations." With this book you can avoid becoming roadkill!
Lily & Loaf soy wax candle
RRP £13.71, US$17.76
Burn away stress, boost your mood and give your body an aromatherapy treat with these toxin-free, eco-friendly candles. They're made of soy wax - an all-natural alternative to traditional paraffin-wax candles. They burn cleaner, releasing less toxins into the air, and melt at a lower temperature, meaning they're more effective at carrying fragrance. Choose from more than 10 different aromas, from relaxing Lavender & Geranium to revitalising Lemongrass & Lime. Packed in a beautiful presentation box, each candle has a 40-hour burn time.
Meglio Yoga Mat
RRP £14.99, US$19.20
From yoga and meditation to Pilates and gym routines, this exercise mat is up to the job for any at-home workout. The non-slip, textured surface gives great grip, and its 10mm thickness offers added cushioning and shock absorption to reduce impact. Plus it comes with a handy carry strap so it's good for on-the-go too. Available in a range of bold, funky colours.
Pukka Night Time Berry tea
RRP £2.99 for 20 bags
A great stocking filler, this is expertly blended by Pukka's Master Herbsmith, Sebastian Pole. It's fruity and delicious thanks to organic blackcurrant, echinacea and elderberry, combined with nature's finest night-time herbs; lavender, chamomile, and valerian. Sustainability is key here and this tea is made with 100% organic and ethically sourced fruits and herbs; it's comforting and rejuvenating and will send your loved one into a peaceful slumber whilst promoting immune support. 
Pukka Relax Tea Gift Box
RRP £13.99, Amazon and supermarkets
Give the gift of relaxation this Christmas with a box of calming Pukka herbal teas. Expertly blended by herbalists, this selection of 45 teabag-sachets uses delicious organic herbs, flowers and spices for the making of a calming brew - from chamomile and rose petals to lavender and vanilla pod. It's a great gift for taking it easy and it's easy on the planet too because the teas are blended from 100% organically grown and ethically sourced ingredients and the packaging is made from renewable sources.
Anti-blister low-rise running socks
RRP £14
Christmas wouldn't be Christmas without a present of socks, right? And these are perfect for fitness fanatics because they're made with two layers of fabric to reduce friction and prevent blisters. They also have a lycra arch support, mid-foot grip and a reinforced heel and toe to give runners extra support and comfort where they really need it. They're made from breathable, moisture-wicking fabric so no more sweaty feet.
Bike phone holder
RRP £12, Oliver Bonas
No more getting lost on bike rides with this little gadget. The adjustable phone holder for your bike by Kikkerland offers safe access to maps on a smartphone while out and about on two wheels. It has a 360 degree rotation to set a phone horizontally or vertically, and the non-slip grip fits most phone types. Easy to install and remove.
Emma is Senior Lifestyle Writer for Goodto.com, womanandhome.com and Myimperfectlife.com and she loves sharing the latest lifestyle, royal, celebrity and entertainment news. Before joining Future, previously TI Media, Emma was a Freelance Editor and before that a Publisher for an independent digital publisher. When she's not writing about the next big lifestyle trend, she enjoys cooking, long walks and watching as many crime dramas as she can!