36 cheap Christmas gifts 2022: Best inexpensive ideas under $20
From a pair of cozy socks to a personalized music plaque, here are 36 cheap Christmas gifts that will impress everyone on your list.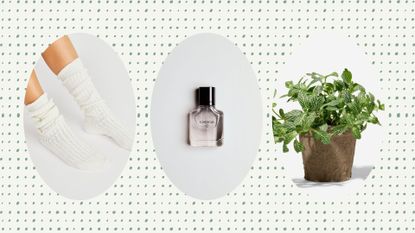 (Image credit: Free People/ Zara/ Public Goods)
Discover the best cheap Christmas gifts to buy in 2022, whether you're shopping for friends, coworkers, or family members.
The holidays are just around the corner, and although it's a joyous time of year, it can become quite expensive with holiday gifting. Luckily, a thoughtful and impressive gift doesn't have to break the bank or be stressful.
Not sure where to start? No worries. We've put together a list of cheap yet high-quality gifts your giftee will love and cherish forever. From an essential oil diffuser that'll leave their home smelling amazing to a houseplant for the plant-lover in your life, here are 36 Christmas gifts with a price tag under $20. From thoughtful Christmas gift ideas for coworkers to great Christmas gifts for friends, our guide covers every type of giftee.
Best Cheap Christmas Gifts Under $20
Why you can trust Woman & Home Our expert reviewers spend hours testing and comparing products and services so you can choose the best for you. Find out more about how we test.
Best Cheap Christmas Gifts Under $15
Best Cheap Christmas Gifts Under $10
Ikea HOLMVI Throw Blanket
RRP: $7.99 | Delivery: Shipping days vary depending on location
You can never have too many throw blankets. Whether it's for decor or to snuggle in, they'll enjoy adding this neutral-color cozy blanket to their home. For only $7.99, you'll add warmth and joy to their Christmas.
(opens in new tab)
RRP: $6.98 | Delivery: 2-6 day shipping
Nothing screams relaxation more than a scalp massager that's able to get to the roots. Hair wash days can be long and tiresome, but with this manual hair scalp massager, those exhausting wash days will turn into stress-free and self-care days. This soft bristle brush works for all hair types and makes the perfect pampering gift.
RRP: $8.25 | Delivery: 2-8 day shipping
Spice up bath time with a colorful and minty bath bomb. Whether it's a Christmas gift for someone you just befriended or your spouse of 25 years, everyone can use a relaxing bath filled with fun colors and essential oils. The Lush Intergalactic Bath Bomb is made of peppermint, grapefruit, and cedarwood oil that has relaxing and stimulating benefits.
(opens in new tab)
RRP: $9.99 | Delivery: 5-8 day shipping
This ceramic trinket box is a simple yet thoughtful gift for the person in your life who loves everything astrology-related. They'll not only love having a small storage box to hold their small knick-knacks but its subdued colors and cute design will look great on any dresser. Along with the zodiac sign exterior, inside are sweet adjectives that describe their sign. One of the best zodiac gift ideas we've come across within this price range.
(opens in new tab)
Stainless Steel Reusable Straws
RRP: $6.99 | Delivery: 2-6 day shipping
A perfect gift for an eco-conscious friend who enjoys making iced coffees or smoothies at home, this pack of stainless steel metal straws includes straight and bent straws and two long cleaning brushes. The pack also comes with a cute portable bag to store the metal straws in for whenever they're on the go.
(opens in new tab)
Twinkle Star LED Photo Clip String Lights
RRP: $9.99 | Delivery: 2-6 day shipping
From the Christmas tree to the bedroom, they can add lights to their wall with these LED clip string lights. These sweet lights will add warmth and coziness to any room while showcasing their memorable pictures. If you're wondering what to get a teenager for Christmas, you can't really go wrong with this fun string of lights.
3.5 Mini Cast Iron Skillet
RRP: $8.95 | Delivery: 3-5 day shipping
Whether they just moved into a new place or added cookware to their Christmas list, the Lodge Mini Cast Iron Skillet is an $8 durable skillet they'll have for years. This skillet may be small, but it's not too small to make frittatas and individual desserts.
(opens in new tab)
RRP: $8.47 | Delivery: 5-12 day shipping
Pets are like members of the family, and gifting one of these engraved pet keyrings to the dog or cat-obsessed owner will lighten up their Christmas. You can customize the wooden keyring with an engraved picture of their fur baby's cute face on one side and add a personalized message on the other for less than a dollar. A fantastic budget Christmas gift for dog lovers.
(opens in new tab)
RRP: $8.49 | Delivery: 3-5 day shipping
Bundle up with cute accessories this holiday season with a winter hat. A nice quality beanie is a staple that should be in everyone's winter wardrobe. Whether they're having a bad hair day or want to add a stylish touch to their outfit, this H&M cotton beanie pairs well with most outfits with its neutral color and will be a part of their wardrobe for many winters.
(opens in new tab)
Gold Statement Drop Earrings
RRP: $9.98 | Delivery: 2-6 day shipping
These gold drop earrings will be the statement piece for all their outfits. Whether it's the pop they need for a casual and simple outfit or the addition to their glamorous look, these earrings will definitely turn heads. The dangling earrings come in two shapes and colors. There's a time and place for real gold jewelry, but some of the best jewelry gifts can be cheap and cheerful.
(opens in new tab)
Morphe 9Q Love Matters Artistry Palette
RRP: $9.10 | Delivery: 5-7 day shipping
There's nothing wrong with a little color, and this Morphe palette has just that. With seven solid pigmented shades and one tie-dye shade, this mini-palette is perfect for a bold and fun eye look. According to Morphe, when gifting the 9Q Love Matters Artistry Palette, you'll also be gifting to The Trevor Project, where 100% of the net proceeds goes to providing crisis intervention and suicide prevention for LGBTQ+ young people under 25.
(opens in new tab)
Sideways Gold Initial Necklace
RRP: $8.99 | Delivery: 2-6 day shipping
A simple and dainty initial necklace is the perfect personalized gift for someone who loves jewelry and lightweight pieces. The Momol pendant is a personal favorite of mine. With many accidental wears in the shower and wearing it almost every day, the necklace has yet to turn colors. Whether it's your initial or theirs, they'll love wearing this necklace with any outfit.
What are some cheap but thoughtful gift ideas?
Christmas is about spreading holiday cheer and making new special memories with those closest to you. But shopping for gifts they'll actually enjoy, or don't already have, can be tough. Although a gift card to their favorite store is easy and safe, a sentimental gift representing an inside joke, their personal interest, and their needs will go far further.
Thoughtful gifts allow you to show your giftee just how much you know them. Whether it's a $10 pack of dill pickle chapsticks (opens in new tab) to represent their love for pickles or a $13 magnetic matching bracelet (opens in new tab) to symbolize your love no matter the distance, thoughtful gifts don't have to break the bank. They'll appreciate your meaningful gifts and cherish them forever.