11 entertaining Christmas party games for the whole family
Plan your Christmas party games to keep the whole family entertained this festive season with our pick of the very best to play in December 2021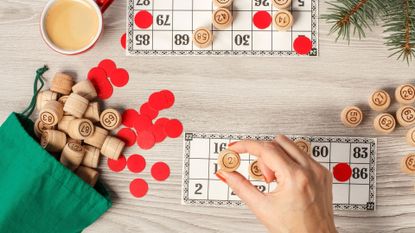 (Image credit: Getty Images)
Playing Christmas party games to close out a day of festivities is somewhat of a tradition for many people during the holidays.
Whether it's classic party games like charades, a Christmas quiz, or one of the best family board games like Monopoly to spark some friendly competition, games are a great way for the whole family to bond.
When it comes to how to host a Christmas party, planning some games and post-dinner entertainment is a must - especially if you're hoping that people will stay awake until midnight at the end of the year.
Use the Christmas party games and ideas below to get some inspiration for your festive entertainment this year - from tried and tested classics, to more modern games that will intrigue and delight. The best bit? You won't need to buy any board games to try these fun ideas - most can be played using things you already have around the house.
The best Christmas party games for December 2021
1. Christmas Heads Up
A classic party game, but with a holiday twist. Write the name of a Christmas character on sticky notes, then have each player stick one to their forehead without looking at what it says. Then, everyone has to help each other guess whose name is on their heads by answering yes or no questions. This is a fun Christmas party game to play between courses if you're hosting a festive dinner.
2. Oven Mitts Game
Quite simply, the oven mitts game requires you to open your Christmas presents whilst wearing a pair of oven gloves. Not only will it make for lots of laughs, but it'll make you savour the gift opening process. Don't want to ruin the moment of watching someone open your carefully chosen Christmas gifts for her or him with the game? Why not wrap some objects up specially for the game? The harder you wrap them (and with the more tape), the better!
3. Gingerbread house competition
Take this tasty treat to the next level and host a gingerbread house competition. Grab your favorite sweets, split into teams and get constructing your festive masterpiece! For an added competition element, you could give everyone a set time to complete their gingerbread creation and then the best house at the end of the allotted time wins!
4. The Maltesers challenge
To play this game you will need a bag (or box) of Maltesers, a tape measure and at least two willing participants. The aim of the game is to roll a Malteser down the length of the tape measure and into someone's mouth. The length of the tape measure it up to you - although obviously the longer the tape, the bigger the challenge. The winning team of two is the pair who are able to roll the Malteser down the longest length of tape without it falling on the floor before it reaches their mouth.
See a demonstration of how to play here:
5. Christmas wrapping race
If you have leftover wrapping paper, create a game out of it. Find some awkwardly shaped items (we love a pineapple for this) and split your group into teams. Get one person from each team to go head-to-head, trying to wrap their objects against the clock. Whoever wraps their present the fastest (and the best), wins. To make the game more difficult if playing with older children or adults, add extra obstacles - like blindfolding the competitors or only letting them use one hand.
6. After Eight Challenge
A classic Christmas party game that's guaranteed to leave everyone in stitches is the After Eight challenge. The rules are simple: take a chocolate mint out of its packaging, place it on your forehead, and get it into your mouth without using your hands. Have napkins to hand to protect your Christmas party dress if things go awry!
7. Christmas carol charades
Add a holiday season spin on your game of charades. Simply think of a list of song titles, write them on separate pieces of paper and place in a bowl, and then take turns picking one out before acting it out for the group to guess.
8. Cheeseboard music game
One for the foodies among us, HelloFresh (opens in new tab) has released an online game that lists all the popular songs that will affect the taste of various cheeses and chutneys. The Verve's "Bittersweet Symphony" brings out a salty taste, while The Spice Girls' "Wannabe" will make your chutney taste sweeter.
To play, gather your guests around the table after you've served the cheeses and chutneys. Get them to try the cheeses alongside the tunes in the list and then guess whether the songs make the food taste sweeter or more salty.
9. Christmas bingo
Enjoy a holiday-themed round of bingo as you wait for Christmas dinner to cook. Try wrapping up a stocking filler or two for prizes, and get the whole family involved. Make your own bingo cards or this Christmas bingo set from Amazon (opens in new tab) is suitable for up to 20 players, and there are even certificates for the winners.
10. Guess the Christmas Smell
You will need to gather a tray of festive food and decor items for this game such a cinnamon sticks, pine cones, dried orange peel and candy canes. Get your guests to take turns in donning a blindfold and then guessing the range of festive scents.
11.Scattergories
Although you can buy the Scattergories Game from Amazon (opens in new tab), you can also play this fast-thinking game at home without purchasing it. Simply come up with a list of 12 random categories (for example: School subjects, countries, animals, and so on) and then use this free online tool to generate a random letter (opens in new tab) for each round.
The aim of the game is to fill in as many categories as possible within a set timeframe- with all the answers having to begin with the same randomly generated letter.
After watching 13 Going on 30 one too many times, Emma decided that she wanted to be a journalist and studied Multimedia Journalism at the University of Salford. She started her career as a fashion copywriter before delving into the world of digital journalism and her published work can be found in the likes of woman&home, Cosmopolitan, Metro, i-D and Apartment Therapy. Emma writes about interior design, travel, film and television, celebrities, and internet culture.