Best Christmas food and drink 2021: The Tried & Tasted award winners
Our expert panel rated these the very best Christmas food and drink products on offer this year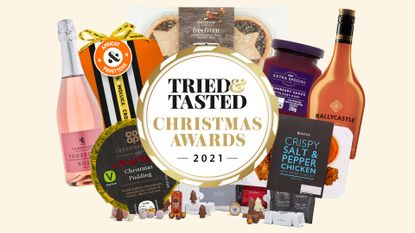 (Image credit: Future)
Welcome to woman&home's Tried & Tasted Christmas Awards. Our expert food team have blind-tasted an array of products submitted by both independent producers and supermarkets to help ensure you buy the very best Christmas food and drink this year.
The Tried & Tasted Christmas Awards were judged by the expert members of the Future food team: Food Editor Samuel Goldsmith, Deputy Food Editor Rose Fooks, Senior Food Writer Jessica Ransom, Food Writer Keiron George and Freelance Food Writer Rosie Bensberg.
The team taste thousands of food and drink products throughout the year and are well practised in spotting the very best products in a variety of categories. For the wine tasting, the team were joined by wine experts Alex Layton and Shivani Tomar from Decanter (opens in new tab) who have over a decade's experience in the wine industry.
Organising the taste tests is a huge logistical operation. The samples are delivered to the test kitchen where they are prepared and blind-tasted by the panel who make a unanimous decision of the winners in each category. They take into account the taste, look and feel of each product. This year for the first time sustainability was an additional category of which the judges chose one very special winner.
This roundup of the best Christmas food and drink includes the runners up in each category too that also received high scores. We're so happy to share our best festive food suggestions with you, and hope they make your Christmas extra special.
Best Christmas cake
No.1 Rich Fruit Cake
The very best Christmas Cake 2021
Specifications
Stocklist: Waitrose & Partners
Weight: 1.3kg
Price: £16
This cake is a stand out winner that tastes just as great as it looks. Cut through the icing and marzipan to reveal a nut and fruit-filled cake with a fantastic texture that is moist and rich and holds together well. We also enjoyed the rich marzipan which has a lovely almond flavour.
The Best Iced Christmas Cake
The best value Christmas cake
Specifications
Stocklist: Morrisons
Weight: 900g
Price: £9
Morrisons' festive bakes never fail to impress, and this delicious cake was no exception. By the time you enjoy this cake, it will have been maturing for a minimum three months, allowing the flavours to intensify. The flavour is very boozy, which we love, with a subtle hint of nutmeg and spice. It looks less impressive than some of the other entries, but the design is simple and classy. Exceptional quality for a supermarket cake and at under £10 it's a real bargain.
Biscuiteers Christmas Greenery Christmas Cake
Best decorated Christmas cake
Specifications
Stocklist: Biscuiteers
Weight: 1.5kg
Price: £58.00
This cake won us over with the charming hand-iced design. It tasted homemade with every slice packed with ginger, figs and chunky pieces of cherry. It's quite heavily spiced giving it an extra festive feel.
Best Mince Pies
Biscuiteers Handmade Mince Pies
Best overall mince pies
Specifications
Stocklist: Biscuiteers
Weight: 600g
Price: £15
This exceptional pie has a real artisanal feel and the textures and flavours are very well balanced. The pastry is buttery and flaky and the mincemeat filling is rich without being overly sweet. Each pie has a frangipane top that adds a crisp nuttiness to round them off. The judges agreed that these luxury pies have the Christmas wow factor.
Waitrose Gluten-Free Mince Pies
Best gluten-free mince pies
Specifications
Stocklist: Waitrose & Partners
Weight: 160g
Price: £2.50
Pack size: 2
These mince pies stood out because they were larger than the other entries which could make them perfect for sharing - although we'd understand if you'd prefer not to! Topped with a crisp and delicious pastry with an elegant design, these pies are filled with a mincemeat bursting with flavour thanks to the chunky, coarse fruits.
Riverford Organic Vegan Mince Pies
Best vegan mince pies
Specifications
Stocklist: Riverford
Pack size: 6 pack
Price: £5.25
These were the best vegan mince pies that we tried, they're from Riverford, so you know they are going to contain the best quality organic ingredients. Despite containing no dairy they still have a rich decadent flavour. When tasting we did find the pastry a little crumbly, but the perfectly spiced filling more than compensated.
Best Party Food
Mini New Yorker Style Pastrami Toasties
Best overall party food
Specifications
Stocklist: Waitrose & Partners
Pack size: Pack of 9
Price: £5
Miniature sarnies filled with oozy cheese, pastrami, mustard and pickles. It doesn't get much better than that. With a great balance of flavours, these are guaranteed to be a real crowd-pleaser. Our judges commended the mustard and enjoyed that they were something a little different from the norm. They are a little on the greasy side, which we kind of love about them. But if you don't want your guests to get greasy fingers why not pierce them with a cocktail stick and perhaps add a cornichon for good measure.
Clementina Cakes Great British Brownies
Best sweet party food
Specifications
Stocklist: Clementina Cakes
Pack size: 12 pack
Price: £19.99
Pure chocolate indulgence, the brownies were a hit with our judges who couldn't stop sneaking bites of these beauties. The brownies have blue cornflowers petals scattered on top, so would look pretty at a buffet, or if you're hosting a canapé party you could cut each brownie into four pieces to make a delicious bite-sized nibble.
Booths Salt and Pepper Chicken
The best chicken canapé
Specifications
Stocklist: E H Booth & CO Ltd
Pack size: 8 bites in the pack
Price: £7.50 each or 3 for 2
Chunky chicken pieces encased in a crunchy peppery crumb, with a spicy dip—our judges were impressed with the punchy flavour. These tasty bites are sure to be a hit at a party and would complement a glass of white wine or light beer.
Irresistible Sea Salt & Chardonnay Fish Rosti Stackers
Best fish party food
Specifications
Stocklist: Co-op
Weight: 308g (pack of 9)
Price: £5
These Fish Rosti Stackers are sure to be a hit at parties this festive season. They have the flavour of the seaside in every bite and will add a nostalgic charm to your soiree. The judges adored the addition of mushy peas for a little fun, and the zingy salt and vinegar powder.
M&S Beef Burger Spring Rolls
Best party food with a twist
Specifications
Stocklist: M&S
Weight: 240g (pack of 10)
Price: £5
Beef burger spring rolls? Yes, you heard us right. The judges were big fans of this unorthodox combination and if you're a fast food fan you will likely love these. Bite through the crispy crunchy exterior and these unassuming rolls have all the components of a burger—the addition of pickles was an inspired move!
Best Advent Calendar
Hotel Chocolat The Grand Advent Calendar
The best chocolate advent calendar
Specifications
Stocklist: Hotel Chocolat
Price: £68
This supersized calendar contains an amazing array of gifts to enjoy in the lead-up to the big day. From chocolates to lip balm to gin, this calendar has a real variety of treats to give each day an extra special surprise.
Lakrids By Bülow Christmas Calendar
Best alternative advent calendar
Specifications
Stocklist: Lakrids By Bülow
Price: £45
Have you discovered Lakrids By Bülow yet? They are a Danish liquorice brand that specialises in making remarkably delicious chocolate coated liquorice balls—and they come in an enchanting array of flavours from mango to salted caramel. In this calendar each door hides a packet of two with an extra special treat for the 24th.
Best panettone
Morrisons The Best Panettone
The best Christmas panettone
Specifications
Stocklist: Morrisons
Weight: 750g
Price: £7
A great tasting classic with a well-balanced flavour and springy texture, this panettone is bursting with juicy candied peel and raisins and has a lovely golden colour. Morrisons has become our go-to destination for great quality Christmas panettone.
Crosta & Mollica Hand-wrapped Apricot Panettone
The best panettone to give as a gift
Specifications
Stocklist: Ocado
Weight: 500g
Price: £11
This apricot panettone was a joy to eat. The judges praised the vanilla buttery flavour and sturdy texture. It was less fruit-heavy than some others in this category so would be a good option for breakfast. In Italy, the home of the panettone, it's customary to take a panettone to people you visit around Christmas and this one comes wrapped up in pretty orange paper, so would make a lovely gift.
Best Turkey
Parson's Nose turkey
Best turkey
Specifications
Stocklist: Parson's Nose
Price: from £90 for a 4-5kg bird.
A stand out winner. This bird really impressed the judges with its exceptional flavour and magnificent looks. The skin was deliciously crispy and the meat incredibly succulent. The cooking time was a little inaccurate, but it helpfully comes with a popper to signal when it's ready to come out.
Co-op Irresistible Organic Pembrokeshire Turkey
Best supermarket turkey
Specifications
Stocklist: Co-op
Weight: 4-5.5kg
Price: £45
This turkey has a lovely crispy golden skin while the meat inside stays perfectly moist—and the jus would make for a spectacular gravy.
Aldi Specially Selected Ultimate Turkey Stuffed Crown and Bacon Wrapped Thigh
Best turkey crown
Specifications
Stocklist: Aldi
Weight: 3.124Kg
This stuffed crown and bacon-wrapped thighs are easy to cook as they come in a tray ready to pop straight into the oven. Tucked inside the crown is a tasty fruity stuffing that keeps the meat incredibly succulent and moist.
Best Christmas Main
Co-op Irresistible Beef Picanha Joint with Porcini Butter
Best alternative Christmas main
Specifications
Stocklist: Co-op
Weight: 965g
Price: £17.50
If you prefer beef for Christmas then this is the one for you. All the judges were enamoured with this flavourful and succulent joint from Co-op and the porcini butter is a lovely addition that really enhances the flavour. Any leftovers would be lovely served as part of a cold spread on Boxing Day.
Dukeshill St. George's Wiltshire Ham
Best Christmas ham
Specifications
Stocklist: Dukeshill
Weight: 4.5kg
Price: £106
A lovely spiced orange glaze adds a subtle sweetness to this remarkable ham which has a mild flavour and is lovely and tender. It would be a great centrepiece at the buffet or if you're planning a Christmas dinner with lots of guests you could serve alongside a turkey.
M&S Frozen Collection British Beef Bourguinon & Daupinoise Pie
Best Christmas pie
Specifications
Stocklist: M&S
Weight: 1kg
Price: £10
Depending on your preference this might not quite be the centrepiece for Christmas day, but don't miss the opportunity to taste this insanely good pie. It is super easy to pop in the oven and would be great around the holiday season. The rich flavour combination makes a real hearty treat with a somewhat luxurious feel. Extra points for a sensationally buttery pastry.
Best Vegetarian & Vegan Christmas Main
Waitrose Mushroom, Cavolo Nero & Mascarpone Parcels
Best vegetarian Christmas main
Specifications
Stocklist: Waitrose & Partners
Weight: 300g
Price: £6.99
These perfect parcels from Waitrose were a stand out winner. Inside they have a creamy mascarpone filling and nice chunky pieces of mushroom and cavolo nero. They have a well balanced delicate flavour that received high praise from the judges, although they suggested adding a pinch extra of salt.