Where to find the best Le Creuset Cyber Monday deals 2022 with discounts of up to 50% off their bestselling cookware
Le Creuset Cyber Monday deals are some of the most hotly anticipated discounts of the sale period with up to 50% off while stocks last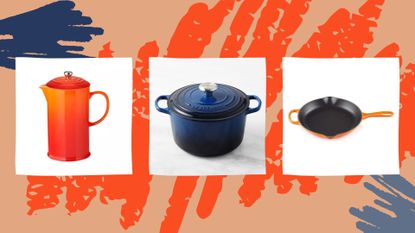 (Image credit: Le Creuset)
woman&home newsletter
Sign up to our free daily email for the latest royal and entertainment news, interesting opinion, expert advice on styling and beauty trends, and no-nonsense guides to the health and wellness questions you want answered.
Thank you for signing up to . You will receive a verification email shortly.
There was a problem. Please refresh the page and try again.
Le Creuset Cyber Monday deals are the most sought-after every year when it comes to kitchenware, as they give fans of the brand the unique chance to pick up amazing discounts on premium cast iron cookware - including casserole dishes and roasters - alongside stainless steel pans, mugs, bakeware, and so much more.
With Black Friday in distant memory, Cyber Monday's deals are officially live from the retailer themselves on both the UK store (opens in new tab) and US store (opens in new tab), as well as stockists like Amazon, Williams Sonoma, John Lewis, and eCookshop. This means we've seen plenty of deals over the weekend, with some now offering 50% off its bestsellers.
Le Creuset's array of top-quality items are undoubtedly some of the best around, making for some of the best Christmas gifts for friends and loved ones, but they're also some of the most expensive and discounts tend to be few and far between during other times of the year. This makes snapping up a good discount in 2022 all the more important if you're looking to buy, so we've been searching the internet for the past month to find the very best savings on offer. Here are the best Le Creuset Cyber Monday deals available today...
Where to find the best Le Creuset Cyber Monday deals 2022 in the US
Best Le Creuset Cyber Monday deals available today in the US
Where to find the best Le Creuset Cyber Monday deals 2022 in the UK
Best Le Creuset Cyber Monday deals available today in the UK
Will the Le Creuset Cyber Monday deals be the same or better than Black Friday?
As we predicted, now it's officially Cyber Monday, some brands have released a final round of deals on Le Creuset cookware. In the US, you can save up to 50% at Williams Sonoma (opens in new tab) on deep dutch ovens in multiple colorways and the retailer themselves (opens in new tab) are still offering a good 40% off across the range with free shipping. While in the UK, you'll find the best savings on stockists like QVC who are offering 50% off a set of stainless steel deep pans (opens in new tab) and the John Lewis Black Friday sale still has 40% off bestsellers (opens in new tab).
Across both regions, however, you'll find that some retailers have either scrapped deals entirely (Target and Selfridges) or are offering significantly reduced savings compared to Black Friday. Our collection of deals highlights the very best on offer, so if you see something that suits you, this is really the last chance to shop - as most of these final discounts also end tonight.
Where is the best place to get a Le Creuset casserole dish for cheap?
The Le Creuset casserole dish (or dutch ovens, as they are called in the US) is a cookware icon thanks to its long-wearing, keep-forever cast iron construction, and wide range of vibrant colors. Suitable for stews, roasts, soups, casseroles and baking, this one-stop cooking wonder retains heat for even cooking and browning, and keeps meals warmer at the table for longer.
The only downside to Le Creuset's casserole dishes is their price, with the largest size normally retailing at $685/£405, which is why the Le Creuset Cyber Monday deals are so great.
The least expensive Le Creuset casserole dishes to buy during the Cyber Weekend sale are normally on the Le Creuset website itself – and as you can see above, there are already some great deals on the items available.
Other retailers you can rely on to deliver great Le Creuset deals on casserole dishes throughout the year include Amazon and Selfridges, both of which offered some seriously good Black Friday and Cyber Monday discounts last year.
Why is Le Creuset usually so expensive?
Le Creuset cookware is enduringly popular, but it is undeniably pricey. That is why, when you can get their products for less during sales such as Black Friday, you should probably snap it up – especially if you've had your eye on something specific, such as one of their best cast-iron skillets for a while.
But why are they so expensive? As a premium cookware brand, Le Creuset charge premium prices for the products, and for good reason. They are truly built to last, meaning you get what you pay for. Most of the brand's cast iron, 3-ply stainless steel, toughened nonstick and bakeware products come with Le Creuset's lifetime policy. So if they ever break or you discover a fault, the brand will repair or replace your item, no matter how long you've owned it. In the case of Le Creuset stoneware products, the brand also offers a 10-year guarantee.
The items are said to be delicately and diligently made and checked, which is one reason for their high quality and resulting cost. It's even reported that, at the Le Creuset factories, each product is checked by at least 15 employees before it is approved for sale.
Many of Le Creuset's products are made to be passed down through generations – you might even own a Le Creuset given to you by a much-loved family member. In short, they are usually a worthwhile investment, that will likely last you far longer than cheaper cookware.
Is Le Creuset worth it?
In short, yes. Investing in high quality cookware means it will endure for years to come, and will mean you won't need to re-buy items after a short time. It may be more expensive initially, but a sturdy stoneware dish or pot like the ones offered from Le Creuset should last for years (if not decades), without breaking or chipping. Plus, there's no denying they look chic, and are utterly timeless.
And while we all know that Le Creuset products make for great Christmas gifts for mom or Christmas gifts for your mother-in-law, for example, it's also worthwhile considering investing in one for yourself – especially if you enjoy cooking and often work between the stovetop and the oven (most of Le Creuset's cookware can transfer between both).
Plus, as an added bonus, Le Creuset pots and dishes can often become collector's items, especially if they are particularly hard to find. So your item could actually increase in value - though we make no promises on this.
What time of year does Le Creuset go on sale?
Le Creuset deals tend to float around during different times of the year. For example, the brand often run out-of-season clearance sales, selling their last season items at a discount to make way for new collections.
Often, Le Creuset items will also be discounted during major shopping sale periods, such as the current Black Friday and Cyber Monday sale. You'll likely also find discounts at the end of the summer, in January (post-Christmas), and during Amazon Prime Day.
But it's likely that you'll see some of the biggest and widest-ranging discounts during the Cyber Weekend; from Black Friday until Cyber Monday. This is because a wide range of retailers that stock Le Creuset, such as Amazon and Wayfair, all take part in this shopping event too – so you'll have your pick of products to buy at a bargain price. And based on our experience, Cyber Weekend is when Le Creuset items get some of their largest price cuts, too.
What Le Creuset products were in the Black Friday sale last year?
Last year there were discounts on most products from Le Creuset's wide range, though some of the biggest deals were to be found on their cookware items.
Stateside, their Classic Oval Dutch Oven was reduced from $350 to $210, down by a huge $140. Their Classic Saucier in an elegant gray color also saw a big discount of $96, on sale for $144 down from $240.
Le Creuset cookware sets also saw big discounts during Black Friday last year – their 11-Piece Ultimate Cast Iron Set was reduced by an enormous $650, while their Toughened Nonstick PRO 6-Piece Set also saw a $205 saving.
Over in the UK, the Le Creuset 3 Piece Set saw gradual reductions over the weekend, eventually being sold for £161 off at Potter's Cookshop. The brand's best non-stick saucepan & Lid Set with three pieces included also saw a great discount at John Lewis. It was originally on sale for £345.60, but was reduced to £288.
Plenty of kitchen accessories saw brilliant Le Creuset Black Friday deals in the UK too, so we're hopeful for the same for 2022 – after all, they make for great Christmas gifts for parents who love cooking. For example, the Le Creuset Gourmand cast iron fondue set saw a £47 reduction, going from £235 to £188 last year. The brand's Tagine with Cast Iron Base and Stoneware Funnel Lid also went from £249 to £174.10; a saving of £74.90.
In general, most items saw a discount of up to 40% in last year's Le Creuset Black Friday sale – which is similar to what we're seeing this year.