Best Christmas turkey 2021: The woman&home supermarket turkey taste test
Discover our winners from the best Christmas turkey taste test 2021, as judged by woman&home's expert panellists and food editors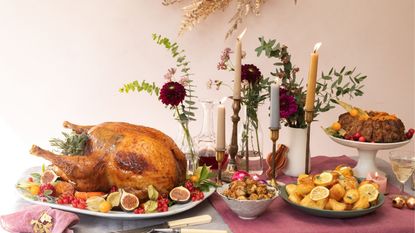 (Image credit: Future/John Hersey)
Ensure you buy the best Christmas turkey this year with our carefully selected and rigorously tested picks of the best birds of 2021.
At the taste tests our panel tried all the turkeys on the market this year, from both supermarkets and independent sellers, to discover which is very best Christmas food you can buy for your dinner table in December.
Whether you're looking to buy a whole turkey to feed a large family or favour a smaller turkey size or a crown for a more intimate gathering, these are the very best birds on the market.
How did we test the best Christmas turkeys and decide on our winners?

Every year we gather together a panel of food experts to test all the Christmas products that are on the market, from turkeys to the best Christmas cakes and best mince pies.
Samples of each product are delivered to our test kitchen where they are prepared and then blind tasted by the panel, to ensure impartial results.
The taste, look and feel of each product are taken into account as well as how clear and accurate the preparation and cooking instructions are, then the panel must come to an unanimous decision to crown the winner in each category.
When judging the turkeys the panel looks out for a number of factors including: moist and flavourful meat, a well coloured and crisp skin after cooking and a plump and tender texture.
To ensure that the testing process was fair we do not add any other ingredients of flavourings to the turkey and cook them each according to the packet instructions that are provided.
Best Christmas turkey winners for 2021
Best supermarket turkey
Co-op irresistible organic Pembrokeshire turkey
Best supermarket turkey
Specifications
Stockist: Co-op
Weight: 4-5.5kg
Price : £45
Feeds: 8-10 people
This turkey from the Co-op was a real hit with the judges - the perfect balance of having a lovely golden and crisp skin whilst the meat retained an incredible amount of moisture and a wonderful tender texture after cooking. The accompanying jus and resting juices would make a spectacular gravy to enjoy with the turkey and your Christmas vegetable dishes.
Co-op is yet to confirm when their 2021 turkeys will be ready for pre order, but expect to see them in store from late November.
Best supermarket turkey crown
Aldi specially selected ultimate turkey stuffed crown and bacon wrapped thigh
Best supermarket turkey crown
Specifications
Stockist : Aldi
Weight: 4-5.5kg
Price: £34.99
Feeds: 6-8 people
If you do not want to have the fuss of a large bird at Christmas, buying a crown is always a great option. This crown from Aldi was a particularly impressive product as the crown itself is stuffed with a delicious moist filling and it also comes with bacon wrapped thighs so you don't miss out on the brown meat. The cooking instructions were easy and accurate and ensured succulent meat.
All Aldi turkeys will be available to pre-order from 19th December onwards.
Best turkey for smaller families
(opens in new tab)
The Best of Both : Free Range Bronze Turkey Crown with Thighs
Best turkey for smaller families
Specifications
Stockist: Waitrose
Weight: 2.9kg
Price: £65
Feeds: 6 people
Enjoy the lack of fuss you get from cooking a crown along with the great flavour from turkey thighs. This turkey comes in a cookable bag so the meat stays incredibly moist. The bacon on top gives a smokey depth to the breast and the sage stuffing has a great textural contrast.
Waitrose turkeys are available to order now, with delivery options from 20th-24th December 2021.
Best no fuss turkey
The Perfect British Oakham Stuffed Turkey Joint
The best no fuss turkey
Specifications
Stockist: M&S
Weight: 1.8kg
Price: 32
Feeds: 4 people
This turkey had exceptionally well seasoned meat and a wonderful texture. The stuffing was rich and tangy which helps to lift the flavour, as turkey is a relatively mild meat.
The best Christmas turkeys from M&S are selling out fast, so if the one you want isn't available, be sure to check out the full selection of M&S turkeys for 2021 here (opens in new tab).
All M&S Christmas food (including turkeys) is available to pre0order now for delivery between 22nd-24th December 2021.
Best turkey for big families
Tesco Finest Narragansett Turkey
Best turkey for a big familiy
Specifications
Stockist: Tesco
Weight: TBC
Price: TBC
A magnificent turkey with a deep gold, almost bronzed skin, that would make an impressive centrepiece to your festive table. The meat was particularly succulent which gave it a gorgeous texture.
Tesco turkeys will be available to pre-order from 16th November 2021.
The best Christmas turkey from an independent butcher 2021
Parson's nose turkey
The best non supermarket turkey
Specifications
Stockist : Parson's nose
Weight: 4-5kg
Price: £90
Feeds: 8-10 people
Parson's Nose is a family-run business with three stores in London, but luckily for those of us living elsewhere they have an online shop too.
Their bird really impressed the judges due to its stand out flavour and appearance. The skin was perfectly crispy and the meat was very tender and had a real depth of flavour to it.
It is worth noting that the cooking time was a little inaccurate, but it did come with a popper to signal when it is ready, which is very helpful. The turkey also comes with a book of leftover recipes which the judges thought was a great idea to cut down on food waste over the festive period.
Parson's Nose turkeys are available to order now for delivery from late Nov onwards.
The best free range turkey
Free Range Bronze Whole Turkey
Best free range turkey
Specifications
Stockist: Copas
Weight: 4kg
Price: £73
Feeds: 6-8 people
This was a gorgeous bird that took on a fantastic golden colour while cooking. The flavour was one of the best we tasted this year. The cooking method is unusual as the cooking begins upside down, which is meant to ensure succulent meat through all the juices dripping into the breast. The cooking time seemed a little long, but it did also come with a pop up timer to avoid a dried out bird.
All Christmas turkeys available to order now, with delivery on 22nd December 2021.
Food writer and food stylist
Rosie Bensberg is a food writer, recipe tester, recipe developer, and food stylist/food stylist assistant based in London.
Having gained The Cordon Bleu Diploma at Tante Marie Cookery School she has gone on to work freelance on a number of editorial projects.
As well as multiple TV appearances, her work has featured in woman&home, Feel Good Food, Woman's Weekly, Waitrose and Partners Food Magazine, Vegetarian & Vegan Food Guide, and Green Living Made Easy.