Best Christmas movies on Hulu 2022 to watch now
It's time to get in the holiday spirit with the best Christmas movies on Hulu including family classics, rom coms, and brand new movies too!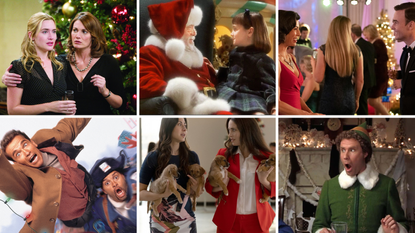 (Image credit: Future/Hulu)
There's nothing more festive than tuning in to the best Christmas movies on Hulu to get you into the holiday mood. Whether you opt for a family feel-good film or feed the hopeless romantic in you with a holiday romance, there's something for everyone.
Thanks to streaming services, it's never been easier to watch your favorite holiday movies, any time of the year. Whether that's the best Christmas movies on Netflix as you bake your traditional holiday cookies or browsing the best Christmas movies on Disney Plus while you put up the decorations. Either way, it's almost impossible to run out of holiday movies to binge this season.
Thankfully, Hulu also offers a range of new and classic Christmas movies to view over the holiday season. To help take the pressure off choosing which one to watch, here are our top picks of the best Christmas movies on Hulu.
Best Christmas movies on Hulu 2022
1. Love Actually
The ultimate holiday rom-com, when Love Actually starts streaming, it's basically an indication of the start of the festive season... which is why we re-watch the film every single year.
Telling the tales of eight different couples in London the month before Christmas, the movie stars a top-notch cast that includes Hugh Grant, Colin Firth, Liam Neeson, Keira Knightley, Emma Thompson and Bill Nighy, among others.
2. Holly's Holiday
If you want to be reminded that appearances can be misleading, catch Claire Coffee as Holly Maddox, an advertising executive in New York who dreams of the perfect man. Spoiler alert: although Holly thinks she's found Mr. Right... she soon realizes that she might have to adjust her expectations.
3. Christmas Crush
This one's convoluted but fun: Addie makes a Christmas wish for her neighbor Sam to fall in love with her. Pete, her other neighbor, ends up the recipient of the spell. As a result, Addie finds the need to recruit Sam to stop Pete from his overly dramatic displays of love. You can guess what happens next.
4. A Christmas Solo
Kelli Williams and Jonathan Scarfe star as two single parents who are just about to fall in love right around Christmas until they find out that their respective daughters are actually arch nemesis in school. You'll spend the entire movie praying for a peaceful holiday season.
5. Happiest Season
One of Hulu's first original Christmas movies brings a modern take on romance in this romantic comedy. Starring Kristen Stewart, the movie follows a young girl as she makes plans to propose to her girlfriend.
The surprise proposal is meant to take place during her girlfriend's annual family Christmas party...that is until she learns her girlfriend still hasn't come out to her parents yet. Get ready to laugh, cry, and smile as you watch the romance unfold during this hilarious holiday movie.
6. 12 Pups of Christmas
If you're looking for a feel-good Christmas movie that's similar to those on Hallmark's Christmas movie schedule, add this to your watchlist.
Erin is a canine therapist who is looking forward to a fresh start, until her boss, Martin, asks her to help him find homes for 12 puppies that were left behind after a photoshop. We're sure we're not spoiling much by revealing that the two characters will get to know each throughout the course of the movie and, of course, find many things in common.
8. The Man Who Invented Christmas
Most of us know A Christmas Carol, but how did the famous story come about? In this film, watch as Charles Dickens (played by Dan Stevens) finds himself in financial trouble after his failure to succeed with three different novels.
As he becomes desperate for a hit book, he decides to draw inspiration from his own real-life events and vivid imagination. From there Ebeneezer Scrooge and Tiny Tim are created, along with a story that will last generations to come.
9. Angels in the Snow
There's just something about a Christmas getaway that tugs at the heartstrings, right? That's the premise of Angels in the Snow, a 2015 movie about the Montgomery family, a clan of folks that works through familiar issues to find the strength to love each other again.
10. The Family Stone
In 2005, Sarah Jessica Parker took on the role of Meredith Morton in this now classic holiday movie. Meredith, an uptight business woman, is gearing up to meet her boyfriend Everett Stone's (Dermot Mulroney) parents (played by Diane Keaton and Craig T. Nelson) for Christmas in Connecticut. She asks her sister Julie (Claire Danes) to tag along for moral support, a turn of events that makes the entire comedy that much more funny.
11. The Best Man Holiday
A sequel to the just-as-entertaining The Best Man, this movie casts Taye Diggs, Regina Hall, Terrence Howard and others in their original roles. The plot is pretty straightforward: a group of college friends reunites after 15 years over the Christmas holiday and, in no time, they realize that, although plenty of things have changed throughout the years, most haven't.
12. Into The Dark: A Nasty Piece of Work
If you're looking for classic feel-good Christmas movies, you may want to avoid this one. The Hulu original puts a horror twist on a season known for cheer and giving. This movie will have you questioning how far you would go for that Christmas bonus.
When a corporate employee gets invited to his bosses' house for a Christmas party, he soon discovers it's not just any party. Instead of dinner and drinks, he's pitted against his work rival in a violent competition where the winner will receive the ultimate prize: a promotion.
13. The Truth About Christmas
Talk about holiday magic: after a confrontation with a Santa in a toy store, Jillian, a political consultant, can't seem to stop telling the truth. That might sound great except for the fact that Jillian is gearing up to work on her boyfriend's mayoral campaign while meeting his family for the first time.
14. Naughty & Nice
A classic Hallmark Christmas movie, Naughty & Nice chronicles the love story between radio host Pepper Sterling and psychologist Sandy Love, who quite literally fall for each other on the air. Bonus points: their radio show becomes a hit.
15. A Christmas Hero
A disillusioned war vet comes home from Afghanistan with a pessimistic view of life. His world is about to change though when his guardian angel gives him a visit to show him all the good he's done.
Now, he must make the choice to accept love and support from those he cares about or continue facing his inner demons alone.
16. A Cinderella Christmas
In a modern-day adaptation of the classic fairytale, Angie is an overworked events planner that runs her uncle's business with her cousin Candace, who takes all the credit for the company. Angie takes a night off to attend a Christmasquerade Ball, meets wealthy bachelor Nicholas but has to run away before he finds out who she really is.
17. Christmas on Holly Lane
Three childhood friends unite for the holidays, but when one friend, Sarah, is at-risk of losing her home, the three work together to save her house. As the three friends face different crossroads in life, they come together to not only support one another but come to appreciate the holidays and time spent with one another.
18. Fred Claus
Get to know Santa Claus' older brother in this Christmas comedy. Starring Vince Vaughn, watch as his character heads to the North Pole looking for a handout from his brother—Santa Claus. What ensues afterward is mischief and adventure that will bring laughs for the whole family.
19. Dear Santa
Every year Santa Claus receives thousands of letters from children around the world. This documentary puts a spotlight on the 100-year-old Operation Santa program run by the United States Postal Office.
The program decides which letters are "adopted" and helps make certain children's wishes come true. Tune into this film to see the magic of Christmas come to life.
20. A Christmas Movie Christmas
When two sisters wish their lives were like that of a cheesy Christmas movie, they're surprised when it actually comes true. As the main characters of their own movie they begin to wonder if their wish is truly everything they hoped for.
Our selection of the best Christmas movies on Hulu is the perfect way to see in the festive season, and if you get started now, you might be in with a chance of seeing them all before the big day!
Rylee is a U.S. news writer who previously worked for woman&home and My Imperfect Life covering lifestyle, celebrity, and fashion news. Before joining woman&home and My Imperfect Life, Rylee studied journalism at Hofstra University where she explored her interests in world politics and magazine writing. From there, she dabbled in freelance writing covering fashion and beauty e-commerce for outlets such as the TODAY show, American Spa Magazine, First for Women, and Woman's World.