The best way to store Christmas lights to make decorating easy next year
Learn the best way to store Christmas lights so that you never have to spend hours untangling them ever again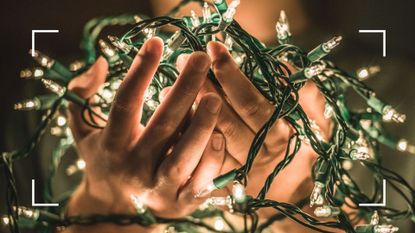 (Image credit: Getty Images)
Knowing the best way to store Christmas lights after taking down your festive decor is key to avoiding tangles and unnecessary damage to your lights.
While the best artificial Christmas trees can be stored in bags, it can be difficult to know how to store lights to prevent them from getting knotted. But it's important to keep yours tangle-free, in order to make decorating next December quick and easy, and to make it less likely for your LED bulbs to break off or go missing.
For quick and easy solutions to the problem there are a couple of simple methods you can try and they all involve using items you likely already have at home. This will not only improve your light maintenance but also make getting the Christmas lights out so much easier next year.
Best ways to store Christmas lights
Before you begin to pack away your lights, Christmas tree stylist Debi Storan advises: "if you have any decorations with batteries, remove them before storage. Battery acid can leak and will destroy the contacts, and your decoration may no longer work. This applies not only to light sets, but lit Christmas wreaths, garlands and festive table decorations too."
It's also worth checking your lights before decorating again next year too, as damaged batteries can be especially dangerous if used with real Christmas trees.
You'll notice that the common theme across the methods below is that most of them involve wrapping your lights to store them (as opposed to bunching them). This is the main technique to any method of storing Christmas lights that well help avoid tangles in the future.
1. Use a clothes hanger
If you need to put your lights away quickly, you can use a clothing hanger. Ideally, hangers with indents on either side will be most beneficial for grip, helping to avoid the wires sliding off.
How to store your Christmas lights this way:
Start by wrapping the lights around one side of the hanger.
Secure one end of the lighting wire with some tape (duct tape is especially strong and not likely to come off) and keep wrapping around to the other side of the hanger until you get to the plug.
Safely secure the other side with more tape.
When you're done, you can simply store them in a cupboard or on any spare rail in your home
2. Wrap lights around a cable winder
Using a cable winder (or a reel) is a very easy way to keep your lights neat and tidy. All you need to do is wind your lights as neatly as possible around the device, for an ultra-neat storage solution. This will help you avoid tangles—and best of all, it's a compact option too, as they can then easily be tucked away on a shelf.
If you don't already have a cable winder to hand, we'd advise getting one with grips on either side, to keep your Christmas lights in place as much as possible. And, it's worth noting that some of the best Christmas tree storage bags also come with winders, if you're looking to make a 2-in-1 purchase.
3. Use cardboard pieces
In case you were about to discard any cardboard packaging that came with your recently received presents or Christmas hampers, you may want to reconsider.
Cardboard can be a great way to store lights, while allowing you to repurpose and recycle the box itself. And if you don't have any typical cardboard delivery boxes, Becky Tasker, PR Manager at Lights4fun, points out that even a cereal box can be helpful.
Here's how to do it:
Take a square or rectangular piece of cardboard—you only need one flat side.
Cut small incisions on either side of the piece of cardboard. Alternatively, depending on the length of lights, your cardboard can be cut into an 'H' shape.
Grab one end of your lights and begin slowly wrapping it around the cardboard. If you have opted for smaller cuts either side, make sure your light is secure within the slots before you start wrapping.
If you want extra protection for your lights, you could always put bubble wrap or tissue paper on top of your finished wrapped cardboard too, as an extra precaution.
4. Try using cling film
It may not have been your first thought, but cling film can be used to wrap away your festive lights too.
First, roll out your cling film, and then proceed to spread your lights out on top. Loosely group them together in the center of the film, and start rolling your film horizontally until the lights are all wrapped up. The tight cling film will keep your lights secure, and will also provide padding to protect the lights from damage while they are stored away.
5. Store them in a container
One of the best ways to store Christmas lights safely for next year is to place them in a container. However, you will still need to wind them around something before putting them away - remember, never bunch!
While you can use a woven or cotton basket to store Christmas lights, we recommend putting your lights in a waterproof box with a sealed lid. This way they are protected from damp, water damage, dust and other hazards that can cause your lights to deteriorate over time.
We'd advise storing them somewhere that's easy to get to, so you're ready to decorate a Christmas tree like a professional next year.
Where is the best place to store Christmas lights?
In order to make the most of your lights for years to come, there are a number of things to bear in mind when you consider the best way to store Christmas lights.
You should first make sure to put them somewhere dry, in an area that doesn't regularly experience damp. "Ideal places to store all holiday decorations including lights would be climate-controlled rooms. Storage facilities that have year-round climate control are also perfect," comments Storan.
Another good tip is to store them in a place where they won't be regularly disturbed. Storan advises: "try to place all holiday items someplace where they won't be moved multiple times. The less they are handled, the fewer opportunities there will be for anything to get damaged."
Is it okay to store Christmas lights in the garage?
With the correct storage solutions in place, Christmas lights can absolutely be stored in the garage. The best way to store Christmas lights is to put them somewhere safe and dry.
"To best protect your lights in the garage, an airtight container is the ideal storage solution," says Storan. "You don't want to attract moisture from basements or garages getting into containers, creating mildew."
If storing your lights in a garage, you should be mindful of what it is next to, or generally around—as a substance such as mildew can cause the paint to come off your lights, for example.
Can you recycle Christmas lights?
Although you might know the best way to store Christmas lights to keep yours in good condition, there comes a point when it's time to say goodbye to the set you've had for years if the cable begins to deteriorate or the lights break.
Instead of simply throwing them in the trash, it's worth noting that you can recycle Christmas lights. Recycling them is simple—all you need to do is take them to your local household waste recycling center, and make sure you put them in the appropriate section (usually this is the small electricals section).
If your still love your festive lights but they appear to have broken over the last few months, it's worth learning how to fix Christmas lights first before throwing them out.
---
With thanks to Debi Storan, Partner at Dr Christmas (opens in new tab), a festive tree styling business, and Becky Tasker, PR Manager at Lights4fun (opens in new tab), for sharing their expertise and time for this piece.
Tallulah Rushaya writes is an interior and homes features writer—in addition to sometimes covering topics around culture and history. She has always had an appreciation for the Arts, which was further developed while reading History of Art at the University of York. Having started her publishing journey as part of The Lady magazine's editorial team, she has since written for a variety of interiors titles including Homes & Antiques, Real Homes, Period Living, Your Home and more.