Best Christmas tree storage bags to help you stow away your tree for another year
The best Christmas tree storage bags will help you neatly pack away your artificial tree and keep it in perfect condition for next year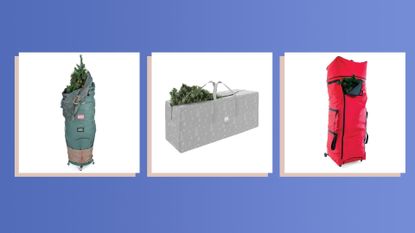 (Image credit: Future)
The best Christmas tree storage bags will keep your artificial tree looking fresh and neat until it's time to roll it out again next December.
Now that the festive period is well and truly over, it's time to stash away the decorations for another year. When it comes to stowing away your best artificial Christmas tree, Christmas tree storage bags make a practical and convenient alternative to using the cardboard box it came in.
In fact, using the box—or other options such as a plastic container—can actually cause damage to your tree over time, twisting it out of shape, or leaving it susceptible to issues such as dampness. Proper storage bags, like all good ornament storage containers, can mitigate these risks and will leave your tree in the best condition possible, to ensure it can be reused for many years to come.
In order to help you choose the best Christmas tree storage bag for you, our interiors expert has hand-picked options from a range of retailers, with options for all budgets. There are plenty of choices, whether you prefer to leave your tree assembled or disassembled. She has highlighted the pros of each product, detailing what size tree it can hold, and whether it offers good value-for-money.
Best Christmas tree storage bags
Best Christmas tree storage bags in the US
1. Target Rolling Duffle Holiday Decoration Storage Bag for 9ft Christmas Tree
Specifications
RRP: $39.99
Dimensions: 60 x 20 x 25.5 inches
Fits trees: Up to 9ft
Reasons to buy
+
Tear-proof
+
Mobile with wheels for easy movement
Reasons to avoid
-
Not as suitable for larger, fuller trees
This zipped tote-style duffle bag can store any tree up to 9ft, if dismantled. Sturdy on three wheels, this bag will slot right into place in almost any size cupboard, or your attic if you have one. If you have a smaller tree, you could even fit some ornaments in the bag too, given how roomy it is. As it's made from ultra-durable 600D Polyester, it means it is flexible and tough, and won't experience any scratches or tears from your tree branches. Another big pro of this option is the fact that it's incredibly affordable at under $40—leaving you plenty of room in the budget to plan more exciting Christmas decorating ideas for next year.
2. Lowes Red Rolling Upright Christmas Tree Storage Bag
Specifications
RRP: $149.99
Dimensions: 25 x 72 inches
Fits trees: Up to 12ft tall
Reasons to buy
+
Vertical meaning it can fit the whole tree whilst assembled
+
Can fit the largest artificial trees
Reasons to avoid
-
High-end price tag means it's a big initial investment
If you dread the thought of taking apart your tree, a vertical bag will save you the stress and allow you to keep your entire tree intact whilst it is stowed away. While this storage bag has capacity for a 12ft tree in theory, it's helpful to note that if your tree is that size, you may need to dismantle parts of it to fit it all in. Anything under 12ft should fit nicely. This four-quadrant wheeled bag moves around like a dolly and can be stored either vertically or horizontally—with a sturdy steel frame, it can handle the weight. The expandable bag also means that you may be able to keep your Christmas tree skirts inside too, depending on the size of your tree.
3. Amazon 9 ft Christmas Tree Storage Bag
Specifications
RRP: $29.99 for 7.5ft and $34.99 for 9ft
Dimensions: 50 x 16 x 20 inches
Fits trees: Up to 9ft
Reasons to buy
+
Comes in a stylish gray color
+
Made from premium material
Reasons to avoid
-
Not suitable for smaller trees under 5ft
With a choice of gray or more festive green or red, this bag made with 900D Oxford canvas material is highly durable and tear-proof (as all of the best Christmas tree storage options should be), which is essential when storing an artificial tree which can have spikey branches. Reinforced handles also add extra security and support when loading your tree into the attic or basement. The bag also comes with extra storage for decorations, which is very handy if you need to keep everything together, or want to create extra space for new ornaments. After all, it's never too early to start planning your Christmas tree decorating ideas for next year!
4. Honey Can Do Christmas Tree Storage Bag with Wheels Very Merry Plaid
Specifications
RRP: $39.99
Dimensions: 63 x 26 W x 21 inches
Fits trees: Up to 10ft
Reasons to buy
+
Fun and unique pattern
+
Backed with PVC to protect your tree
Reasons to avoid
-
Needs a large storage space to store
The colorful and cheerful plaid pattern on this storage bag makes it is hard to miss—which is helpful if you often struggle to find your tree again after it has been stored away for months on end. Its roomy interior means it's ideal if you're looking to store one of your best Christmas wreaths alongside your tree, too. Backed with PVC, there is also no need to worry about ripping or tearing, or moisture seeping through if you're storing your tree in a colder area. Easy to transport, the handled durable bag has rolling wheels and is able to slide under a bed too, mimicking a suitcase,
5. Amazon Christmas Tree Storage Bag
Specifications
RRP: From $15.99
Dimensions: 48 x 15 x 20 inches
Fits tree: Up to 7.5ft
Reasons to buy
+
Chic minimalist pattern
+
Comes with dust protection
Reasons to avoid
-
Not suited to trees with fuller branches
The best Christmas tree storage should be chic as well as practical. Designed with a charming but stylishly minimalist village-inspired print, this affordable Christmas tree storage bag is ideal if you love labeling items as part of your organization process—whether you're organizing a kitchen or generally decluttering your home. It has a clear square window, so everyone knows what is in the bag. This might be an especially helpful option if you have multiple trees and in varying sizes, in order to quickly identify them come December. It's not the roomiest bag on this list, but if you have a thinner, pencil-shaped tree, you could easily maximize the space and depth of the bag, to allow for other items to be stored alongside it.
6. Target Medium Upright Tree Storage Bag with Rolling Tree Stand
Specifications
RRP: $149.99
Dimensions: 30 x 89 x 30 inches
Fits tree: Up to 7.5ft
Reasons to buy
+
Allows you to store your tree upright
+
Has a handy rolling stand
Reasons to avoid
-
Limited storage options due to upright design
The best Christmas tree storage options needn't be horizontal. This pricier storage bag, which comes in a dark sage green color, enables you to keep your tree upright and assembled, which will be a huge draw for those who dread the disassembly of the tree come January. If you're worried about an upright bag taking up too much space, this option has interior compression straps, which make it easier for the tree to be neatly and compactly slotted away. The storage bag fabric is also able to be wiped clean for easy care throughout the year. Time-efficient, having a storage bag that is upright, can cut your setup time too—next December, simply undo the bag in your chosen spot and your tree should be good to go.
Best Christmas tree storage bags in the UK UK
1. Balsam Hill Rolling Christmas Tree Storage Bag
Specifications
RRP: From £229
Dimensions: Slim: 98 x 30'', Standard: 95 x 33'', Extra Large: 108 x 40'
Fits trees: Up to 9ft
Reasons to buy
+
Comes in three different sizes
+
Allows for easy tree assembly and disassembly
Reasons to avoid
-
Limited storage options due to upright design
With this upright Christmas tree storage bag you can zip up your tree upright without the need to take it apart first. Easy to transport (it has wheels!), and with three sizes to choose from—slim size suiting narrow trees up to 7ft, standard and extra large for trees up to 9ft tall—it's a great option for most artificial trees. This bag makes taking down your tree simple and easy, and with handles either side of the bag, you can manoeuvre it with ease too. The only downside is you'll need the right kind of storage space at home to store your tree like this–as it won't slide under a bed or fit in a loft with a slanted roof.
2. The White Company Tree Storage Bag
Specifications
RRP: £45
Dimensions: 50 x 50 x120cm
Fits trees: Up to 7.5ft
Reasons to buy
+
Zip locked design
+
Sturdy handles
Reasons to avoid
-
Tree needs to be disassembled to store
This storage bag offering from The White Company is zip-locked, meaning your tree will be tightly packed away and shouldn't be susceptible to any outside damage such as damp. It's pretty roomy, meaning there might even be room to store your best Christmas decorations in there too. The minimalist look will also appeal to those who like even their storage to look chic—and it'll fit in seamlessly if you like Scandi themed Christmas décor. Made from PVC, it's also an easy-care option, as only a spot clean is needed.
3. A Place For Everything Christmas Tree Storage Bag
Specifications
RRP: £42.50
Dimensions: 46 x120 cm
Fits trees: 2.2m high (7ft)
Reasons to buy
+
Comes with a lifetime guarantee
+
Pops up with minimal adjustment
Reasons to avoid
-
Not as suited to fuller Christmas trees
Pop up storage solutions are perfect if space really is limited, and if you need the actual storage solution itself to be as compact as possible. So, this heavy-duty, large pop-up bag is good for those with minimal space, as it can spring up when needed, and can be flattened when the tree is being used. It can be used for trees that are up to 7ft—and you should be able to use this storage bag for many Christmases to come, as it comes with a lifetime guarantee.
4. UK Christmas World Tree Storage Bag
Specifications
RRP: £9.99
Dimensions: 36x 52 x120cm
Fits trees: Up to 4ft
Reasons to buy
+
Good for smaller trees
+
Extra storage space on the side
Reasons to avoid
-
Not suitable for large Christmas trees
For smaller trees, the best Christmas tree storage bags don't need to be massive. This option from UK Christmas world is perfect for mini trees (under 4ft), and it's one of the most affordable options on our list too. You can even tuck away smaller decorations or store Christmas lights in the large side pocket, making it a 2-in-1 storage solution. With sturdy handles, this small but mighty bag can be moved around as much as you need.
5. Wayfair Artificial Tree Christmas Storage Bag
Specifications
RRP: £37.99 without wheels, £42.99 with wheels
Dimensions: 35 x 135 x 55cm
Fits trees: Up to 7.5ft
Reasons to buy
+
Good for narrower trees
+
Can be bought with or without wheels
Keep your tree protected over the coming years with this burgundy-colored storage bag that can come with or without wheels, depending on where you plan to store it. The size of this bag means you will need to pull down your tree branches, but it should be able to hold trees of an average size very neatly and securely. Again, it's a great affordable option and comes in a lovely festive red color. And given its slightly narrower shape, it could also be a good way to storage your Christmas tree alternatives, if you've decided against a traditional tree recently.
What is the best way to store an artificial Christmas tree?
If you plan to use the same artificial tree each Christmas, it's vital to store it in a way that keeps it in great condition for a long time to come.
Using some of the best Christmas tree storage bags are the ultimate way to keep your tree stored in the best condition, as most come with secure fastening to prevent any damage from occurring over the year.
Generally, it is best to store your tree in its bag in a cool, dry place, such as the loft or attic, away from environments prone to humidity and moisture. For a precautionary measure, Christmas tree expert Mac Harman suggests storing the tree with a container of baking soda or unused coffee grounds, to prevent it from acquiring a musty odour while in storage.
What size Christmas tree bag do I need?
The size of your tree determines the size of storage bag it will need. We'd suggest choosing a bag with a capacity that is 1ft taller than your tree—for example, choose a bag which is 10ft if you have a 9ft tree, and so on. This will ensure you have enough space for your tree—and if anything, you could use the extra space to stash decorations in.
It's also worth considering whether you want to keep your tree upright or lying down. Make sure you know your tree's height, circumference, and general dimensions before making a choice.
How do you pack an artificial Christmas tree?
According to the Christmas tree experts at Balsam Hill, there are three steps to follow when it comes to packing up an artificial tree:
Step 1: Remove all decorations—It may seem obvious, but another last sweep to check you've got all the decorations off the tree is vital to avoid any unwanted damage to the tree or ornaments. If your tree is pre-lit, you'll also want to ensure your lights are unplugged.
Step 2: Compress the tree as much as possible—To get your tree looking its best you'll likely have teased out each of the branches for a fuller look; now, you need to do the opposite. Be sure to compress the foliage of each branch, squeezing the branches into the main trunk. This will ensure the tree maintains it shape and can fit wherever you choose to store it. A top tip here is, once flipped, tie up each section using a ribbon so that all the branches are held down together, preventing them from falling open when you're putting it away.
Step 3: Store safely ready for next year—The best Christmas tree storage bags will protect your tree while it's away. Your bag needs to be large enough to comfortably hold your tree and made from durable material so that it can't be torn by protruding branches. For trees that have more than one section, top to tail your sections so that the fuller bottoms are covered by thinner tops. Now, all you need to do is think about your Christmas tree themes for next year—it'll be December again before we know it...
When should you take down your Christmas tree?
There is always a debate about when to take the tree down, whether you have one of the best real Christmas trees or a faux one. While some people prefer to take theirs down in the quiet period between Christmas Day and New Year's Eve, others prefer to prolong the festivities by removing theirs well after the New Year.
Mac Harman, CEO of Balsam Hill notes, "We've found the majority of people like to take their trees down the first week of January, with most taking theirs down on the 12th Day of Christmas (5th January) or the Feast of Epiphany (6th January)—some people believe it is bad luck to leave their tree up past this point but the jury is still out on that one."
And of course, others will take theirs down depending on how well they've been able to keep a Christmas tree alive over the festive period—real trees don't last as long as artificial ones, after all!
Tallulah Rushaya writes is an interior and homes features writer—in addition to sometimes covering topics around culture and history. She has always had an appreciation for the Arts, which was further developed while reading History of Art at the University of York. Having started her publishing journey as part of The Lady magazine's editorial team, she has since written for a variety of interiors titles including Homes & Antiques, Real Homes, Period Living, Your Home and more.