Interior Paint Colour Trends 2024: 9 influential shades set to inspire our homes
The biggest interior paint colour trends to set the tone for all decorating projects in 2024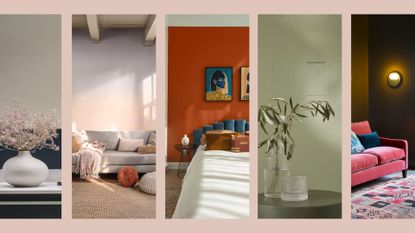 (Image credit: Fenwick & Tilbrook | Dulux | Graham & Brown | Benjamin Moore)
woman&home newsletter
Sign up to our free daily email for the latest royal and entertainment news, interesting opinion, expert advice on styling and beauty trends, and no-nonsense guides to the health and wellness questions you want answered.
Thank you for signing up to Woman & Home. You will receive a verification email shortly.
There was a problem. Please refresh the page and try again.
If you're planning on redecorating any time soon take note of the latest interior paint colour trends 2024 to find a shade that inspires your decorating journey.
To determine colours that offer longevity and relevance in equal measure for the year ahead our team of colour specialists have curated key paint colour trends to inspire the canvas of our homes, from the Dulux's Colour of the Year 'Sweet Embrace' to Benjamin Moore's 'Night Owl' or Valspar's 'Renew Blue'.
Whether the best living room paint colour or a must-have hallway paint shade all the latest paint colour trends are determined by leading experts who explore the psychology of colour and how we use it in our homes to create a harmonious blend of style and comfort.
From rich plums and warm terracottas to soft greens and calming neutrals, discover the paint colours that are set to transform homes throughout the year ahead.
Interior paint colour trends 2024: 9 influential shades
These carefully considered paint shades are all heavily influenced by the must-have interior design trends along with inspiration that filters down from the latest fashion trends to ensure they feel harmonious with every aspect of the world around us.
1. Night Owl by Benjamin Moore
Earthy tones are still set to dominate our homes throughout 2024, no doubt given by an increasing desire to feel at one with nature to better our sense of wellness. Among them is brown, the literal shade of the earth beneath our feet, which has been growing wildly popular in recent months.
"We will continue to see the trend for warm and welcoming rich chestnut colours," says Helen Shaw, director of international marketing at Benjamin Moore.
'Night Owl' by Benjamin Moore is a deeply captivating shade of brown with green undertones that feels like a 2024 alternative to the charcoal greys of former years. There's a richness to a brooding shade of greeny brown that welcomes warmth and depth when decorating with dark paint colours.
"Use these dark brown hues in a gloss finish on the walls of a living room to create a cosy retreat with designer flair – the reflective sheen will constantly shift and evolve as light ebbs and flows during the day and through the seasons to bring a sense of characterful luxury."
2. Sweet Embrace by Dulux
The Dulux Colour of the Year for 2024 is a beautifully soft neutral with a pinch of pink undertones to add warmth and subtle vibrance to any pared-back scheme.
The nuances of pink in 'Sweet Embrace' make it the ideal neutral to use in smaller rooms or those lacking natural light because the warm undertones help to lift the colour and give it more depth.
Dulux's creative director Marianna Shillingford adds: "While being a beautiful standalone colour, Sweet Embrace is a hue that perfectly combines with so many other shades making it a cheerleader in colour form."
"It's the perfect modern neutral that you can use with confidence, knowing it will unite each element from furnishings to artwork whilst creating a gently uplifting atmosphere."
3. Viridis by Graham & Brown
Graham & Brown has also revealed its Colour of the Year 2024...a beautifully muted green called 'Viridis', that feels like a slightly more saturated sage green.
The flexible hue is the shade of 2024 to blur the lines between the inside and outside, a natural and uplifting shade, providing an alternative to the greige interior schemes of recent years.
"When choosing our Colour of the Year 2024, we began looking into colour psychology and the hues that bring calm and peace," explains Maryanne Cartwright, Graham & Brown's head of design.
"Viridis, a soothing mid-green hue reflects harmony and stability, enabling those in its vicinity to relax and revitalise." Making this the ideal paint colour for a bedroom where the nature-inspired hue provides a restful and secure feeling.
4. Smudgewand by Fenwick & Tilbrook
The new neutral that is already cementing its popularity in 2024 is one with pink undertones, such as the beautiful shade of 'Smudgewand'.
"Expect to see a lot more soft and muted pastels being used in interior design," says Anna Hill, brand director and colour consultant, at Fenwick & Tilbrook. "Lavender tones and pinky-neutrals are all set to be popular for the year ahead."
"These colours are perfect for creating a calming and serene atmosphere in the home, whilst bringing in subtle colour. They are all also very versatile, easily pairing with a variety of other colours."
Warming neutrals alongside the best white paints will continue to be the foundation for the 'quiet luxury' decor trend, which shows no signs of going away any time soon.
5. Loving pink by YesColours
Rich and inviting, the gloriously warming shade of plum is set to be huge for home decor next year. "Offering elegance with comfort, the colour damson is poised to be a prominent and captivating hue," agrees Emma Bestley, creative director and co-founder of YesColours.
"With its rich and deep undertones, Damson exudes a sense of sophistication and allure that perfectly complements the seasons' changing landscape."
"Our 'Loving Pink' paint is the perfect match for those seeking a similar hue that falls between the luxurious shades of burgundy and purple. Along with its warming tone, this colour holds the potential to add a touch of opulence and mystery to any aesthetic."
6. Renew Blue by Valspar
Valspar's 2024 Color of the Year has just been announced as 'Renew Blue'. Described by the experts as a 'balanced blue' this soothing shade instantly conjures up images of coastal living and a sense of stillness.
"Renew Blue is an incredibly versatile and all-season shade that anyone can envision in their space," said Sue Kim, Valspar's director of colour marketing. "Inspired by fleeting elements like fog, mist, clouds, and glacier lakes, Renew Blue elevates the everyday mood, encourages self-expression, and evokes a feeling of balance and calm, with a twist of unique spontaneity."
"Blue is a classic shade that has become the new neutral for today's home and can be mixed and matched to fit a variety of design styles and applications." Thanks to the lightness this shade would uplift any room, especially a north-facing room that feels dark and uninviting.
Pale blue is also a great way to use paint to make a room feel bigger because it recedes, as opposed to feeling encroaching on a space.
7. Limitless by Glidden
'Limitless' has just been announced as the 2024 Color of the Year by Glidden paint brand at PPG. More than just a neutral Glidden colour stylists see this shade as a "boujee beige" that works that little bit harder to welcome a depth of tone to walls and woodwork. Similar to the Dulux Colour of the year 2023 this uplifting colour feels fresh and invigorating while remaining hugely versatile.
"Think of 'Limitless' as a fresh and energising take on a neutral," says Ashley McCollum, Glidden's leading colour expert. "Limitless can be your main room colour or act as an invigorating pop against warm or cool tones."
Because this versatile shade pairs equally well with warm and cool tones it lends itself to be used anywhere to welcome a soft, and forgiving tone to act as a blank canvas to layer accent colours.
8. Woodsmoke by Fenwick & Tilbrook
Earthy neutrals and shades of green will continue to be hugely popular in 2024, as people pursue their appreciation of biophilic design to gain a greater sense of wellness from nature.
"These colours take their inspiration from nature and can help evoke a sense of peace and tranquillity into the home," says Anna. "Woodsmoke is one such colour. This versatile shade can be used in a variety of different rooms."
Not too far from the popular shade of sage green, this timeless tone is a pale grey beige with green undertones. We would recommend this as a living room paint colour to welcome a sense of calm to a busy and often multifunctional space.
9. Loving Orange by YesColours
We've seen varying shades of orange dominating fashion colour trends and 70s-inspired home decor trends throughout 2023 but for 2024 it is set to be a key interior paint colour for all styles of decor.
"Orange often has a bad rap but use it wisely and orange really can bring style, joy and sophistication to any home interior," says Emma.
Suggesting how this shade can welcome positive energy into interior spaces Emma continues: "A vibrant, primary orange is fun, playful and bold and is great in nurseries, offices or as part of a creative mural due to boost mood and add cheer."
"On the other hand, shades of terracotta give a cocooning feeling that envelops you in a big warm hug. Its burnt, bronzy richness will immediately make you feel comforted and grounded. This colour would look incredible drenched in our most-used rooms of the home such as the living room, bedroom or kitchen."
Sign up to our free daily email for the latest royal and entertainment news, interesting opinion, expert advice on styling and beauty trends, and no-nonsense guides to the health and wellness questions you want answered.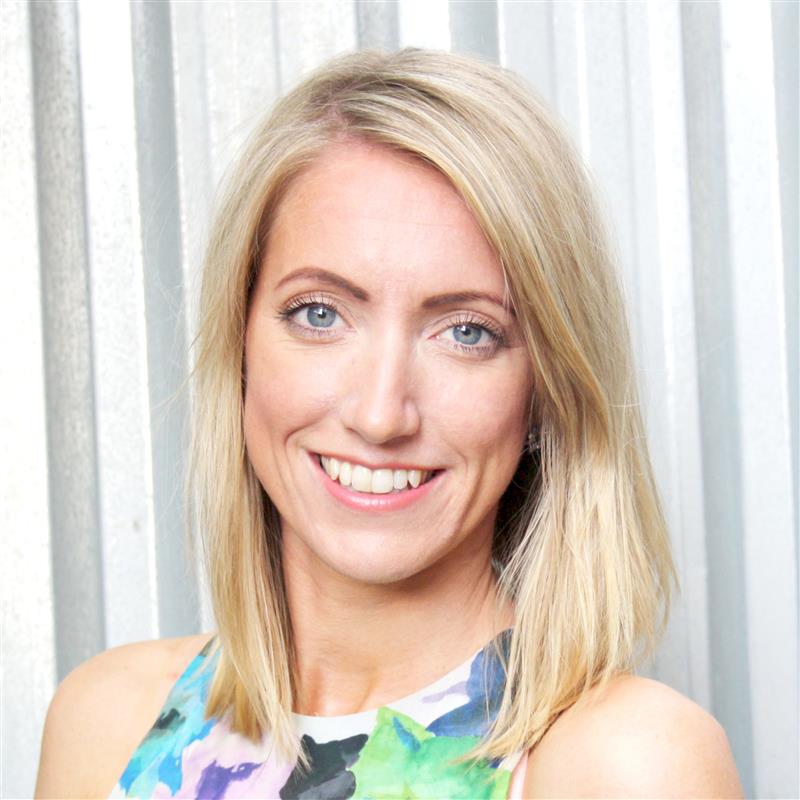 Tamara is a highly experienced homes and interiors journalist, with a career spanning 19 years. Now the Lifestyle Editor of womanandhome.com, she has spent the last 16 years working with the style teams at Country Homes & Interiors and Ideal Home, and it's with these award-winning interiors teams that she gained a wealth of knowledge and honed her skills and passion for shopping, styling and writing about every aspect of lifestyle and interiors.
With a keen eye for the latest interior trends, there's not a lot she doesn't know about home decor – whether it's what colour we should be painting our living rooms next season, or if the latest 'must-have' buys are actually worth investing in.
A true homes and interiors expert, Tamara has served as an ambassador for leading interior brands on multiple occasions, including appearing on Matalan's The Show and presenting at top interiors trend events such as the Autumn Fair and Spring Fair.