How to clean stainless steel for a brilliant shine
Figuring out how to clean stainless steel is simple, and should be an easy job in your daily cleaning routing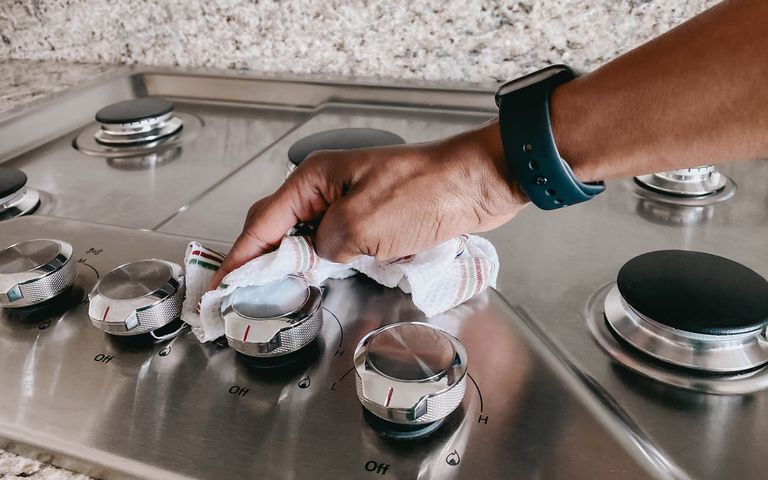 (Image credit: Getty Images)
By Amy Hunt
Working out how to clean stainless steel is pretty straightforward and worry-free. Great news, considering how common a kitchen material it is, and how perfectly it can bring a welcome gleam to the room.
The material is often used for appliances, sinks, range hoods, and even sometimes countertops. It can stand up to tough cooking conditions without damage, which is why it's so popular in our kitchens. 
Stainless steel is a great material that can bring a modern look and hygienic surfaces into the kitchen. It was only invented a little more than a hundred years ago, and it has several useful properties. It's durable, doesn't rust, and is heat resistant up to 1200°C (2192°F). It's also resistant to bacteria too. Since it is hygienic and long-lasting, stainless steel has been used in kitchens and the food industry since the 1920s.
However, despite its obvious benefits, it's a material that is prone to fingerprints and streaks—so it's important to know how to clean it properly for a brilliant shine.
How often should we be cleaning our stainless steel?
Luckily, stainless steel is easy to maintain, although it does take a little time to banish the fingerprints. In order to make sure yours stays looking its best, it's recommended that you do a quick wipe over of your stainless steel daily. 
How to clean stainless steel
1. When doing a quick daily clean
For easy maintenance, wipe stainless steel surfaces daily after washing the dishes as part of your kitchen cleaning routine. So how to clean stainless steel on a daily basis? 
Simply combine one teaspoon of dish soap with one liter of hot water, and add the mixture to a cloth. Simply use the soapy cloth to wipe over the appliance or part of your kitchen, then rinse it with just hot water (not boiling), and finally, buff with a dry towel. Using a microfiber cloth is also a great choice for drying to avoid any watermarks—you may need to rub a bit to get rid of fingerprints and oily marks. This is a great method when working out how to clean a fridge, too.
Be sure to start at the top, if you're cleaning an appliance, and then clean by following the "grain" of the stainless steel. When working out how to clean a stainless steel sink, it's worth noting that they can handle a bit more scrubbing than other stainless steel appliances, so it's fine to wash in a more circular motion.
Make sure to check the owner's manual for any appliances to see what's recommended for cleaning and if any cleansers should be avoided.
2. When doing a deeper clean
You'll likely need to do a deeper cleaning periodically (perhaps every two weeks) to clean off bigger messes. If there's baked-on or greasy food, use liquid dish soap and hot water with a nylon scrubber (which won't leave scratches). If dish soap alone isn't enough, add baking soda to it to create a paste. Use the nylon scrubber or a toothbrush to rub with the grain of the stainless steel. Baking soda with water can also be used to clean the oven.
If that's not quite doing the trick, for even more cleaning power use undiluted cleaning vinegar and a scrubber or toothbrush. Make sure your stainless steel doesn't have an oil-repellent coating before using vinegar, since that could ruin the coating. You can safely set aside some of that vinegar to clean the microwave too. Then, simply rinse and dry after washing with any of these methods, to avoid water spots.
3. Use commercial cleaners if you don't get the results you want with natural methods
There are also commercial cleaners that can be purchased when planning how to clean stainless steel. Make sure to spot the test in a less noticeable location to make sure it's safe for your stainless steel. These products can help bring out the most shine for your appliances, and some are formulated to help minimize smudges and fingerprints.
What products should you avoid when cleaning stainless steel?
There are also cleaning methods to avoid when planning how to clean stainless steel. Some products can cause damage to stainless steel. That includes: 
Abrasive cleaners, such as ones with chlorine bleach or ammonia, and ones meant for ovens
Anything that could leave scratches, like steel wool, steel brushes, or abrasive scrubbing or scouring pads. The same applies when cleaning copper, too
Hard water, if you can—that alone can leave spots on your stainless steel
Also, don't clean stainless steel while hot, as it could damage it and is potentially a danger to you, too.
How to polish your stainless steel for a great shine
After working out how to clean stainless steel, buffing can bring that brilliant shine back to your appliances, such as your favorite induction pans, that we're all after. While it is a very durable material, it does take frequent cleaning to banish those fingerprints and bring back a brilliant shine. But with a few ingredients already in the kitchen, your stainless steel can look as good as new.
Depending on how much a kitchen is used, polishing stainless steel only needs to be done once or twice each month. Use food-grade mineral oil, lemon oil, or stainless steel polish. Don't buff with food-based oils like olive oil or vegetable oil. Using a lint-free cloth, rub the polish onto the stainless steel following its grain. Use a different cloth to buff and dry the surface.
Some commercial stainless steel cleaners also contain a polish. Wax-based sprays for stainless steel can even help prevent fingerprints. Do wear gloves when using these polishes. Spray a light coating on the stainless steel. Let it sit for a minute or two, and then wipe with a clean microfiber cloth in the direction of the grain.
If you just want a quick shine, wipe the stainless steel with a dry cloth sprayed with window cleaner that's free of ammonia. Still follow the grain of the stainless steel, since that helps minimize streaks.
Amy Hunt is Life Channel Editor at womanandhome.com, having been with the brand since 2015. She began as the magazine's features assistant before moving over to digital as a News and Features Writer, before becoming Senior Writer, and now a Channel Editor. She has worked on either women's lifestyle websites previously too—including Woman's Weekly, Goodto.com, Woman, and Woman's Own. In 2019, Amy won the Digital Journalist of the Year award at the AOP Awards, for her work on womanandhome.com. She is passionate about everything from books, to homes, to food and the latest news on the royal family. When she isn't editing or updating articles on cleaning, homewares, the newest home gadgets, or the latest books releases for the website, she's busy burying her nose in a gripping thriller, practising yoga, or buying new homeware of her own.