How to clean stainless steel - six easy ways to keep your appliances sparkling
Simple solutions on how to clean stainless steel to ensure your appliances and surfaces shine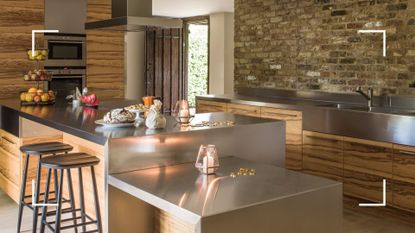 (Image credit: Future)
woman&home newsletter
Sign up to our free daily email for the latest royal and entertainment news, interesting opinion, expert advice on styling and beauty trends, and no-nonsense guides to the health and wellness questions you want answered.
Thank you for signing up to . You will receive a verification email shortly.
There was a problem. Please refresh the page and try again.
Knowing the best methods to clean stainless steel makes keeping your kitchen surfaces sparkling clean an easy job. And knowing the things to avoid while frequently cleaning ensures you preserve your stainless steel surfaces and kitchen appliances.
Stainless steel is a highly durable material, one that features repeatedly in kitchen design trends. It doesn't rust, it's heat resistant up to 1200°C (2192°F) and it is also resistant to bacteria.
Since it is hygienic and long-lasting, stainless steel is a hugely popular kitchen material used for hobs, appliances, sinks, hobs, kitchen splashback ideas, and countertops that can all stand up to tough cooking conditions without damage. However, despite its obvious benefits, it's a material that is prone to fingerprints and streaks, so it's important to know how to clean it properly as part of your kitchen cleaning routine.
How to clean stainless steel: Six easy methods
1. Clean daily with soapy water
In order to ensure your surfaces stay looking their best, it's recommended that you do a quick wipe-over of your stainless steel daily. So how to clean it on a daily basis? Simply combine one teaspoon of dish soap with one liter of hot water, and add the mixture to a cloth.
Use the soapy cloth to wipe over the appliance or part of your kitchen, then rinse it with just hot water (not boiling), and finally, buff with a dry towel. Using a microfiber cloth is also a great choice for drying to avoid any watermarks – you may need to rub a bit to get rid of fingerprints and oily marks. This is a great method when working out how to clean a fridge, too.
Make sure to check the owner's manual for any appliances to see what's recommended for cleaning and if any cleansers should be avoided.
When cleaning a stainless steel hob Ivan Ivanov, at End of Tenancy London (opens in new tab), advises that for ease, 'remove any gratings from the top of the hob. This makes it a lot easier to access all the small angles and areas where dirt can hide. Use a mixture of hot water and soap to clean the surfaces, using the soft side of a sponge to wipe away all of the buildups.
"If a sponge just isn't quite working for you, a microfibre cloth can be applied more firmly to stainless steel and not leave any marks as you clean" advises Ivan. "It's extremely handy for those hard baked-on foodstuffs! If you have very small areas you can't quite clean properly, using either a paintbrush or a spare soft toothbrush will solve your issue."
2. Wash with a mix of water and baking soda
You'll likely need to do a deep cleaning periodically (perhaps every two weeks) to clean off bigger messes. If there's baked-on or greasy food, use liquid dish soap and hot water with a nylon scrubber (which won't leave scratches). If dish soap alone isn't enough, add baking soda to it to create a paste. Use the nylon scrubber or a toothbrush to rub with the grain of the stainless steel. Baking soda with water can also be used to clean the oven.
If that's not quite doing the trick, for even more cleaning power use undiluted cleaning vinegar and a scrubber or toothbrush. Make sure your stainless steel doesn't have an oil-repellent coating before using vinegar, since that could ruin the coating. You can safely set aside some of that vinegar to clean the microwave too. Ensure to thoroughly rinse the vinegar away to avoid it remaining on the surface for too long, then simply dry to avoid water spots.
3. Use a commercial cleaner
Use a more stringent commercial cleaner if you don't get the results you want with natural methods. Just make sure to spot test the product in a less noticeable location to make sure it's safe for your stainless steel. These products can help bring out the most shine for your appliances, and some are formulated to help minimize smudges and fingerprints.
"The best product to use to clean stainless steel would be a multi-use product that works well for both day-to-day cleanings as well as on tougher stains," says Heather Nixon, new product developer at Bio-D (opens in new tab). "Products containing orange oil also work well for degreasing!"
4. Make a wood ash paste
Got a firepit or working fireplace? Explore this surprising free resource to make your own DIY stainless steel cleaning solution. Laura Harnett, founder of green cleaning products company Seep (opens in new tab) offers a natural alternative. "If you have a fireplace or a woodburning stove, you can actually use leftover ash to form a paste (or lye) to remove any dirt stuck to stainless steel," she suggests.
"Believe it or not, the combination of ash and water is a natural disinfectant and is perfect for soaking stainless steel to remove dirt and pathogens as well as naturally polishing your stainless steel." This top tip can also benefit your best garden plants. "When you're done you can even use the ash as a natural fertilizer in your garden," explains Laura.
5. Rub down with olive oil
Olive oil is not just for cooking, it can also be used as an alternative cleaning method. Heather explains, "A tip to help make a stainless steel look like new is to apply a few drops of olive oil to a lint-free cloth to buff until it shines like new." Laura is in agreement with using this natural cleaning method. "After cleaning you can buff with natural oils – I find olive oil works best," she adds.
6. Go with the grain
Whether washing or drying, it is important to respect the grain of the material to preserve its appearance. Ivan advises, "Wipe dry with the grain of the metal, not against it. The grain is the way the metal has been formed and will become apparent to you when you look closely at the surface. Wiping with the grain throughout the cleaning and drying process has two main benefits: minimizing the risk of damage to the surface, and not getting so many pesky streaks."
Be sure to start at the top, if you're cleaning an appliance, and then clean by following the "grain" of the stainless steel. When working out how to clean a stainless steel sink, it's worth noting that they can handle a bit more scrubbing than other stainless steel appliances, so it's fine to wash in a more circular motion.
What should you not use on stainless steel?
There are also methods to avoid when cleaning stainless steel. Some products and cleaning cloths can cause damage to stainless steel. These include:
Abrasive cleaners, such as ones with chlorine bleach or ammonia, and ones meant for ovens
Anything that could leave scratches. "To avoid scratches when cleaning, avoid scourers made from steel mesh or metal" warns Heather. "Instead opt for scourers made from softer materials such as loofah, which is also eco-friendly." Elaborating on why it's important to avoid these abrasive materials Ivan adds, "When you clean with an abrasive cloth or scouring pad, small hairline scratches appear on the surface, thus diminishing the value and the aesthetic qualities of a stainless steel hob."
Hard water, if you can - that alone can leave spots on your stainless steel
Prolonged use of vinegar, while it's a preferred method for some it does come with a caveat of using it sparingly – if at all. "Avoid vinegar when cleaning stainless steel, as long-term exposure can be damaging and corrode stainless steel due to its acidic nature," advises Heather.
Also, don't clean stainless steel while hot, as it could damage it and is potentially a danger to you, too.
How do I keep stainless steel shiny?
After working out how to clean stainless steel, buffing can bring that brilliant shine back to your appliances, such as your favorite induction pans that sit proudly on display in your kitchen. While it is a very durable material, it does take frequent cleaning to banish those fingerprints and bring back a brilliant shine. But with a few ingredients already in the kitchen, your stainless steel can look as good as new.
Depending on how much a kitchen is used, polishing stainless steel only needs to be done once or twice each month. Use food-grade mineral oil, lemon oil, or stainless steel polish. Using a lint-free cloth, rub the polish onto the stainless steel following its grain. Use a different cloth to buff and dry the surface.
If you just want a quick shine, wipe the stainless steel with a dry cloth sprayed with window cleaner that's free of ammonia. Still follow the grain of the stainless steel, since that helps minimize streaks.
Some commercial stainless steel cleaners also contain a polish. Wax-based sprays for stainless steel can even help prevent fingerprints. Do wear gloves when using these polishes. Spray a light coating on the stainless steel. Let it sit for a minute or two, and then wipe with a clean microfiber cloth in the direction of the grain.
Amy Hunt is an experienced digital journalist specialising in homes, interiors and hobbies. She began her career working as the features assistant at woman&home magazine, before moving over to the digital side of the brand where she eventually became the Lifestyle Editor up until January 2022. Amy won the Digital Journalist of the Year award at the AOP Awards in 2019 for her work on womanandhome.com.