Struggling for shoe storage? Here's how to declutter – in one hour
Declutter your hallway and wardrobe for good with the help of our shoe sorting experts - all it takes is one hour!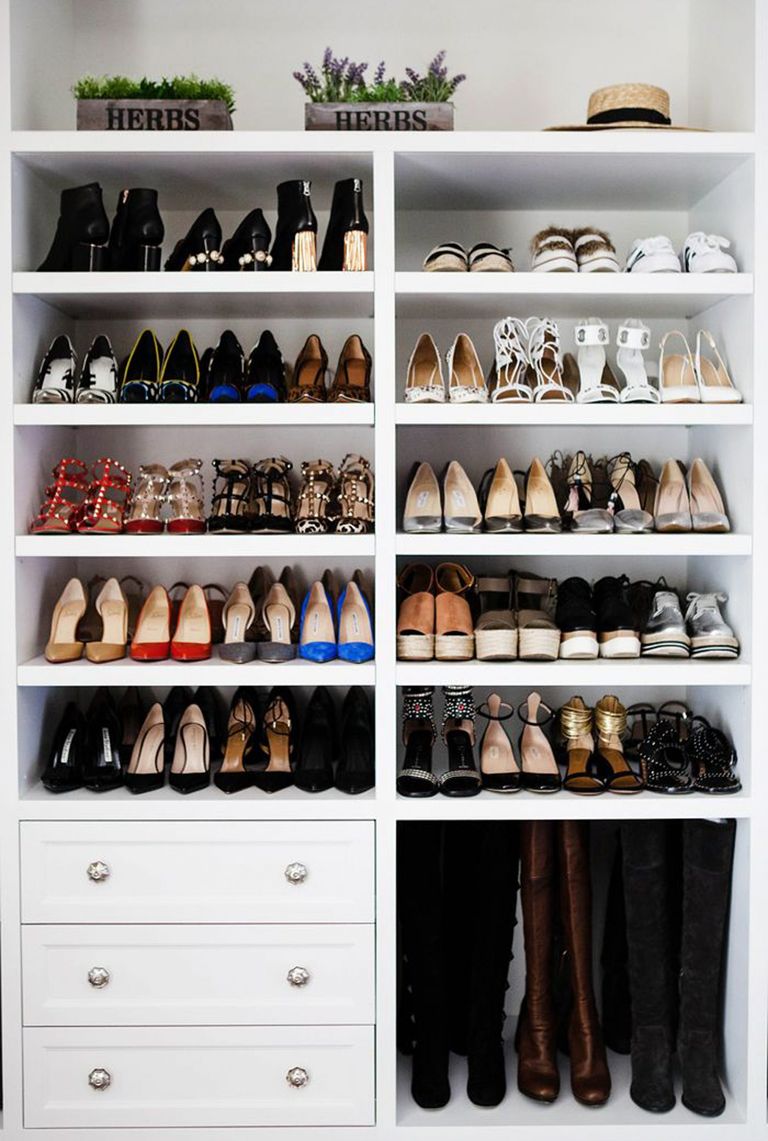 (Image credit: www.fitfabfunmom.com)
There's nothing like spotting that perfect pair of shoes to add to your collection.
Sadly, the lift that you get when you go through the checkout is often replaced by a sinking feeling when you get home, and realise that there's nowhere to put them!
We can't all have an incredible shoe closet like this one (above) by Jane of FitFabFunMom. If shoe storage is a problem for you, you're not alone. Whether you keep them in a pile at the bottom of your wardrobe, or in their original (huge!) boxes taking up space, it's often difficult to know the right way to store your shoes.
But worry no more! We have the perfect tips for decluttering and shoe storage - and it won't take up your whole weekend! In just an hour, you can streamline your footwear so that you'll know exactly where to look for that perfect pair.
So, where to start? Begin by gathering all your shoes together so you face up to just how many pairs you have. If you drill down to absolute basics you really only need four pairs: smart heels, smart pumps, casual lace-ups and boots. Get into the mind set that everything else is extra. Of course you'll keep more than that, but make sure they earn their space.
Then get sorting! Place your shoes in to three categories: Keep, Mend and Out. It won't take long to get things in order...
Here's how to declutter your hallway and shoe storage space - in one hour
Show no mercy!
Be ruthless and chuck shoes you don't like or that are out of fashion, even if you've never worn them. Life's too short to wait until they're vintage. Also get rid of shoes that hurt (no matter how expensive and how much you love them). You won't wear them and you need the space more.
Make some money
With great sites like eBay, selling your old stuff online couldn't be easier. But if you don't want to face the hassle, StuffUSell Ltd will collect junk for £15 from anywhere in the UK, or you can send it to them or drop it off at their London warehouse. They'll sell what they can on eBay for you, then give the rest to Oxfam or a recycling plant. You'll get an inventory of how much they've sold your stuff for, and a cheque, minus their commission (between 10 and 30 per cent), and what they've given to charity. Find out more at stuffusell.co.uk
Stick to the 12 month rule
If you haven't worn a particular pair of shoes for a whole year, why are they in your wardrobe? Make each shoe earn its space. Only keep ones you'd be happy to wear right now, regardless of the occasion. Even shoes that you're saving for a wedding should be able to do double service with jeans or a casual skirt.
Don't duplicate
Got ten pairs of similar black shoes and boots? Choose two or three comfy pairs with different heel heights that you wear the most. Ditch the rest. Also, don't be tempted to keep any for "gardening" or "decorating". One pair of old trainers is adequate.
Opt for versatile colours
When it is time to go and find that new pair of heels, make sure you go for a pair that will work with lots of different outfits and colours, this way you don't need to buy a new pair for each outfit you have. There's a reason that the Duchess of Cambridge is always spotted in the same pair of L.K.Bennet heels! By sticking to neutral tones like tans, beige and black you will get more for your money and save on space.
Fix them up
Broken shoes need to be repaired, so if you aren't throwing them away drop them off to your local cobblers while you are taking a break from sorting. To make heels last longer, why not focus on keeping the heel vertical as you walk. Rolling on to the sides is one of the quickest ways to unevenly wear down heels. It's easier if you shorten your stride.
Store them clearly
Visibility and access are key. The bottom of your wardrobe is a fine home as long as they fit without having to be stacked. If you do stack your shoes, and are feeling ultra organised, sticking a polaroid or digital printed photo of the shoes on the side of each box is a great help. Muji, Ikea and John Lewis have shoe storage systems. Alternatively, you can find boxes at aplaceforeverything.co.uk
Get creative with display cabinets
Re-think your usual display cabinets into your very own shoe closet, and with some creativity you can totally reinvent the traditional method of displaying those dated plates into a modern centrepiece for any bedroom. Remember, organising doesn?t always mean hiding away your prize possessions!