Shoe organization ideas that will help you declutter in just one hour
These shoe organization ideas from decluttering experts will help you streamline your closet in no time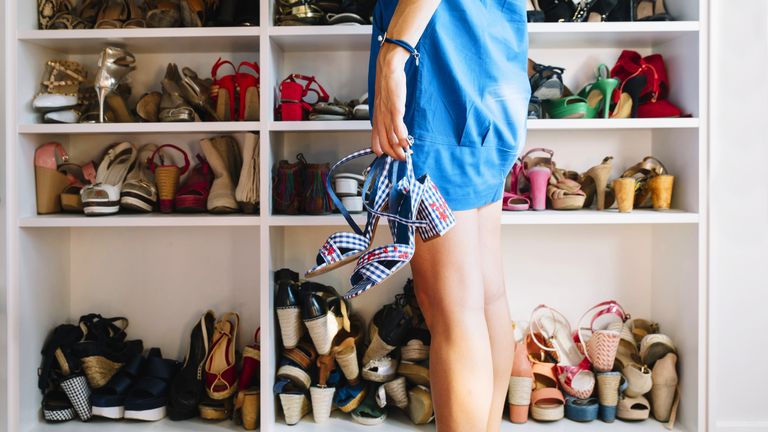 (Image credit: Getty Images )
By Amy Hunt
These shoe organization tips and tricks will help you get your space streamlined. There's nothing like spotting that perfect pair of shoes to add to your collection. Sadly, the lift that you get when you go through the checkout is often replaced by a sinking feeling when you get home, and realize that there's nowhere to put them! Shoe storage can feel difficult, but a little bit of organization can go a long way. 
We can't all have an incredible shoe closet, but if shoe storage is a problem for you, you're not alone. Whether you keep them in a pile at the bottom of your wardrobe, or in their original (huge!) boxes taking up space, it's often difficult to know the right way to store your shoes. But worry no more! We have the perfect tips for decluttering and shoe storage—and it won't take up your whole weekend. In just an hour, you can streamline your footwear so that you'll know exactly where to look for that perfect pair.
So, where to start? Begin by gathering all your shoes together so you face up to just how many pairs you have. If you drill down to absolute basics you really only need four pairs—heels, smart flats, casual lace-ups, and boots. Get into the mindset that everything else is extra. Of course, you'll keep more than that, but make sure they earn their space. And if you're on an organization mission, don't forget to check out our guides on how to organize a kitchen, kitchen cabinets organization ideas, and bathroom storage ideas.
6 easy shoe organization tips to maximize your space
1. Carry out a shoe audit
Place your shoes into three categories—keep, mend, and chuck. It won't take long to get things in order. Sally Budgens, a professional declutterer, argues you need to be ruthless when it comes to what's lurking in the closet. "Don't hold back, if you've not worn your shoes in a year, don't keep them." Be ruthless and chuck shoes you don't like or that are out of fashion, even if you've never worn them. Also, get rid of shoes that hurt (no matter how expensive and how much you love them)—you won't wear them and you need space more.
"I'd go as far as to say even if you've not worn them in six months, will you ever wear them again?" Budgens told us. Anything you love—and wear often—obviously keep! Broken shoes need to be repaired, so if you aren't throwing them away drop them off at your local cobblers while you are taking a break from sorting.
2. Organize by shoe type
"Next, sort your shoes into categories—work shoes, exercise shoes, going out shoes etc," Chris Harvey, Interior design specialist at Stelrad told w&h. "Depending on the size of your closet, assess whether you need to add shelves, wire racks, or clear boxes with lids. Pick a storage system that suits your shoes and space," A top tip of mine is to keep any shoeboxes—this is a simple way to store shoes that you may not wear as often but still want to keep."
Suzanne Spencer, an APDO registered professional organizer trained by Marie Kondo's team, agrees. "It's worth considering the types of things that you do in your everyday life—going to the office, gym, nights out, etc and thinking about when you'd wear the different types of shoes—if you have 10 pairs of work shoes but you only go into the office twice a week, which of those pairs are going to be worn?"
3. Work out the ordering
Visibility and access are key. Chris Harvey told us, "'When organizing a shoe closet always start by removing everything inside, so you can see all of the shoes you own and select your favorite shoes, the shoes that you typically reach for every day, and put these at the front of your closet."
"If you never see your shoes, you'll never wear them," Budgens told us. "If you do stack your shoes and are feeling ultra-organized, sticking a polaroid or digitally printed photo of the shoes on the side of each box is a great help."
4. Don't duplicate on styles you don't love
Got ten pairs of similar black shoes and boots? Choose two or three comfy pairs with different heel heights that you wear the most. Ditch the rest. Also, don't be tempted to keep any shoes for 'gardening' or 'decorating'. One—singular—pair of old trainers is adequate for most household activities. 
5. Favor neautral tones
When it is time to go and find that new pair of heels, make sure you go for a pair that will work with lots of different outfits and colors, this way you don't need to buy a new pair for each outfit you have. By sticking to neutral tones like tans, beige and black—the essential that go with anything—you will get more for your money and save on space.
6. Invest in open display cabinets
Re-think your usual display cabinets into your very own shoe closet, and with some creativity, you can totally reinvent the traditional method of displaying those dated plates into a modern centerpiece for any bedroom. Remember, organizing doesn't always mean hiding away your prized possessions!  It is vital that your favorite and most worn shoes should be easily visible to allow quick and easy accessibility," Chris Harvey told us.  
Amy Hunt is Life Channel Editor at womanandhome.com, having been with the brand since 2015. She began as the magazine's features assistant before moving over to digital as a News and Features Writer, before becoming Senior Writer, and now a Channel Editor. She has worked on either women's lifestyle websites previously too—including Woman's Weekly, Goodto.com, Woman, and Woman's Own. In 2019, Amy won the Digital Journalist of the Year award at the AOP Awards, for her work on womanandhome.com. She is passionate about everything from books, to homes, to food and the latest news on the royal family. When she isn't editing or updating articles on cleaning, homewares, the newest home gadgets, or the latest books releases for the website, she's busy burying her nose in a gripping thriller, practising yoga, or buying new homeware of her own.