How to clean a dishwasher quickly and easily
When you know how to clean a dishwasher properly, it should only take around 10 minutes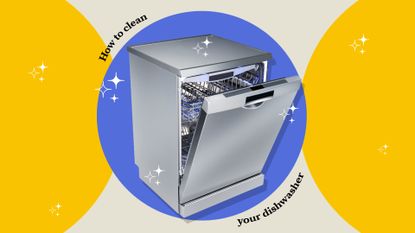 (Image credit: Future)
The unsung hero of many kitchens is the dishwasher—a true god-send for keeping crockery, drinkware, and cutlery gleaming—so how can you ensure your dishwasher itself is in a squeaky-clean condition? Easy. Just follow our three-step guide.
When cleaning a kitchen the dishwasher is an easy element to miss, as many of us might assume that a dishwasher cleans itself. However, the reality is a little different and the dishwasher needs care and attention just as you would clean a fridge or the sink.
After all, build-ups of grease and limescale in your dishwasher can not only result in unpleasant odors but can also potentially damage your machine in the long run. It can also limit your dishwasher's effectiveness, meaning those dirty dishes could actually be far from polished when they emerge.
There's another excellent reason to clean your dishwasher, reveals Heather Barrigan, a cleaning expert at MyJobQuote.co.uk. "Regular cleaning will not only ensure your dishwasher is thoroughly clean but will also allow the machine to last for longer," she said.
How to clean a dishwasher in three simple steps
Want to give your machine a quick once-over? It's easy to do. Done regularly, cleaning your dishwasher shouldn't take you longer than around 10 minutes.
Use dishwasher salt in the funnel. "This should be poured into the funnel until it's filled to the top," advises Heather. "Using dishwasher salt is the perfect hack for a quick clean, as it allows you to wash your dishes at the same time." Dishwasher salt will be available to buy in your local supermarket.
Use baking powder. Simply sprinkle a mug of baking powder along the base of your dishwasher, and then set it to run on a hot cycle. The baking powder's alkaline properties mean it can not only shift residue but can also eliminate odors. If a particularly bad smell plagues your dishwasher, simply repeat the method once or twice more. Baking soda is very versatile and a failsafe kitchen staple if you want to know how to clean a stovetop, or how to clean copper.
Clean the drain trap of the dishwasher. The drain trap and filter area of your machine are likely to unwillingly play host to food waste but removing blockages is relatively straightforward. "Remove the bottom rack and unscrew the drain filter," explains Heather. "You can use a wire hanger to retrieve any sort of clog or blockage. You can then further loosen more stubborn obstructions by pouring a tablespoon of baking soda and two tablespoons of vinegar down the drain. This should be left for 10-15 minutes before rinsing it with hot water and putting the parts back."
How often should I clean my dishwasher?
Generally speaking, you should clean your dishwasher when you clean items in your home like your washing machine or blinds - every one to three months would be sufficient to ensure it remains in good condition. But if it is producing bad odors or simply looks dirty, you'll probably want to act sooner.
Other tell-tale signs that your dishwasher is in desperate need of attention include items coming out with stains or traces of food still on them, as well as a build-up of residue on the inside of the door.
There are a range of reasons why cleaning your dishwasher regularly is important. Unless you thoroughly scrape food off plates before putting them in, waste can all too easily get trapped inside, leading to a range of possible problems. As well as resulting in far-from clean crockery and bad odors, this can also potentially result in the growth of bacteria too, which is the complete opposite of what you want.
Key areas to focus on when washing your dishwasher
When cleaning your dishwasher, it's important to focus on the key areas most likely to attract grease, limescale, and food. Once the dishwasher is completely emptied and switched off at the mains, it's time to clean. Areas to focus on include:
The rubber seals: Detritus can easily gather in the delicate seals around the door of your dishwasher. Be careful when cleaning them; use a soft sponge or an old toothbrush to give them a gentle yet thorough clean.
The filter: This is where food and gunk are most likely to congregate, so regular cleaning is essential to ensure the well-running of your machine as well as limiting the risk of bad smells. Most dishwasher filters are detachable, meaning you can remove the filter from the machine for fuss-free cleaning. Warm soapy water should do the trick.
The spray arms: These can all too easily become obstructed by pieces of food, so paying attention to them is important. If you can easily detach them, take them out and soak them in white vinegar to remove any grease or limescale build-up.
The exterior of the machine: Don't forget to include the front, top, and sides of your machine in your cleaning routine.
Can I use vinegar to clean my dishwasher?
Yes, and it's surprisingly easy and effective. "Simply pour a cup of vinegar into a dishwasher-friendly container," says Heather. "Place this on the top rack and turn the dishwasher on. The vinegar will pour out slowly while the dishwasher is running and disinfect everything."
The hot vinegar should help loosen any grime accumulated within the dishwasher, with its acidic attributes making it a breeze for you to wipe a sponge around the inside of the machine and shift the unwanted debris. "Vinegar is the king of homemade cleaning products due to its versatility and affordability," Heather adds. "The only downside is the smell, which can linger."
If you want to mask the acidic smell, feel free to add in a few drops of essential oil such as orange, or lemon.
Products to avoid cleaning your dishwasher with
Be careful when using bleach products. While they might feel like an obvious choice for helping to limit the growth of bacteria and keep your dishwasher clean, bleach can have a damaging impact on machines with stainless steel interiors. This is the same for other kitchen appliances, too - such as your best blender or your best food processor.
If you're confident that your machine is lined with 100% plastic and has plastic parts, you can use bleach. Otherwise, use an alternative method - and always check with your supplier if you're not certain.
Once you've finished cleaning your dishwasher, leave the door ajar to give it a chance to air. And just like that, clean dishes will be yours once again.
Katie Byrne is a contributor to woman&home and a writer whose interests span everything from homes and interiors, to pop-culture, travel, business and self-development. A former digital editor, her freelance journalism has featured across a wide range of print and online titles, including Raconteur, Digital Spy and more. When she's not writing, she loves reading (and has the groaning bookshelves to prove it...), dreaming up new décor ideas for her flat and devouring Netflix's latest true-crime series with her husband. You can find her on Twitter: @katie_b123.