The 7 best robot vacuums for an effortless cleaning routine
The best robot vacuums will make cleaning your home a doddle—we tested models by Eufy, iRobot, and Dyson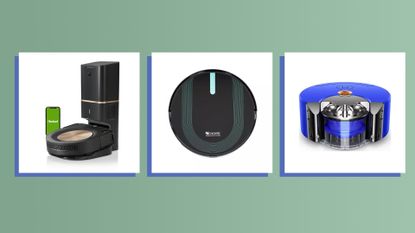 (Image credit: Future)
Using the best robot vacuums is an easy way to keep your home clean—and over the last few years, they have gone from being a gimmick to a popular home maintenance gadget. With many models now featuring better navigation, improved cleaning performance, and the ease of setting schedules from a device or a remote, the question shouldn't be, should I buy a robot vacuum, but which one should I buy?
At their simplest, robot vacuums can be set on a daily schedule to whizz round a room or a floor to get rid of dust in your home before returning to their base, while more advanced models can be set to avoid specific areas, double as a robot mop or will even empty themselves. Many are operated by an app on your phone, so you can easily locate them if they get stuck, or set weekly schedules. And, if you'd like your robot vacuum to clean below furniture, look for a slim or compact model that can fit underneath. But which robot model is best vacuum for you?
We've selected and tested the best robot vacuum cleaners for every budget. Each one has been put through its paces by our expert Homes tester Rachel Ogden, who has 13 years of experience in selecting the very best products to use in your home.
She assessed them for power, weight, functionality, emptying, maintenance and how easy they were to schedule. The Dyson 360 Heurist robot vacuum (opens in new tab) came out as our favorite—while at the pricey end of the spectrum, its compact design and efficient cleaning on both soft and hard floors made it a great all-rounder. We also really liked the fantastic value offered by the double-duty Ecovacs Deebot Ozmo N8+ (opens in new tab) if you'd like your robot to do more than just vacuum the floors.
The best robot vacuum as reviewed by our experts
Why you can trust Woman & Home Our expert reviewers spend hours testing and comparing products and services so you can choose the best for you. Find out more about how we test.
1. Dyson 360 Heurist
Best overall robot vacuum
Specifications
RRP: $1,599 / £799.99
Dimensions: 12 x 24 x 23cm
Capacity: 0.33L
Weight: 2.51kg
Running time: Up to 75 minutes
Warranty: Two years
Reasons to buy
+
Avoids collisions
+
Cleans efficiently
+
App control
Reasons to avoid
-
Loud even on quiet mode
-
May not fit under low furniture
One of the biggest problems with robot vacuums is having them bash into obstacles, especially anything accidentally left on the floor. Fortunately, it's not a problem the Dyson 360 Heurist suffers from. Thanks to its navigation system, we found it to be far more prudent than your average robot vac, avoiding some of the usual collisions, such as pet bowls, piano pedals, and kitchen plinths. It's also not as wide as many on the market, although it is taller, meaning that scooting under low furniture might be more of a challenge. It still managed to clean under our kitchen plinths though, and we liked that its charging base is compact and unobtrusive.
While it can be operated manually to perform a clean on demand, you'll get the most functionality by linking it with its app, which we found easy to set up and intuitive to use. This enables scheduled cleaning over a week, to track where it's cleaned, and switch between its three power modes; quiet, high and max. We found the quiet mode to still be quite loud as we had to shout over it. However, the cleaning performance was excellent, with only one pass required to pick up dust and debris on our hard floor and a few more required on carpet. Maximum power was unbearably noisy however, so much so that it's probably one to opt for when you're out of the house. We only encountered a few issues, such as occasional loss of connectivity, and frustration at being unable to do a quick spot clean. The bin is small but easy to empty, although it lacks the finesse of larger Dyson products that eject the mess. It is quite pricey, so you may want to look out for those Dyson vacuum deals.
2. Eufy RoboVac 15c Max
Best budget robot vacuum
Specifications
RRP: $279.99 / £249.99
Dimensions: 7.25 x 32 x 32cm
Capacity: 0.6L
Weight: 2.7kg
Running time: Up to 100 minutes (on hard floors)
Warranty: One year
Reasons to buy
+
Great value
+
Remote or app control
+
Compact design
Reasons to avoid
-
No floor mapping
-
Some features only on app
For some, the eufy RoboVac 15C Max robot vacuum will be the best of both worlds, in that it's as high-tech or low-tech as you need it to be. For example, it can be controlled using its app or Alexa and Google Assistant, with a weekly schedule for cleaning, or you can simply set it going using its remote control. A slimline design means it can clean below furniture, while an impressively long runtime allows it to handle a large house without needing to return to its base to recharge. In terms of functionality, it has more choice than some, with four cleaning modes (Spot, Edge, Auto and Quick), the ability to steer it manually using direction buttons, and three suction power levels. What it doesn't have is a floor mapping function so although you can locate it using the app, you won't be able to define 'no-go' areas.
Its general performance was good; Standard was all that was needed to pick up dust and debris on hard floors and clean laminate floors efficiently. Standard mode was also good for picking up most of the particles on the carpet. Dust, however, presented more of a challenge on soft flooring—multiple passes were required on the top setting of Max and some residue was still left behind, suggesting that this is a good robot vacuum for keeping on top of clean carpets but that a regular manual vacuum might be in order when you want to deep clean the carpet. The dust box is a reasonable capacity for the size of the machine—it slides out easily but can be a bit messy to shake out.
3. iRobot Roomba S9+ robot vacuum
Best premium robot vacuum
Specifications
RRP: $999.99 / £1,499.99
Dimensions: 9 x 31 x 31cm
Capacity: 0.44L dust box
Weight: 3.7kg
Running time: Up to 120 minutes
Warranty: Two years
Reasons to buy
+
Automatic emptying
+
App controlled
+
Increased suction on carpet
Reasons to avoid
-
Expensive
-
Requires replacement bags
The iRobot Roomba S9+ is larger and pricier than some robot vacuums but it brings a lot to the table; impressive build quality, effective cleaning and efficient automatic emptying that's pretty much mess-free. What sets it apart is the mapping system on the app, allowing it to know where it's cleaned and where it still needs to go, making missed patches a thing of the past. This gives more control over which areas are vacuumed too. For example, rather than vacuum a whole room every day, it can be programmed to just do high-traffic areas daily. Or, as it's Alexa and Google Home compatible, you can ask it to clean a specific room. It comes with a bagged base station so it can empty itself, meaning once you've set everything up, you may only have to think about the robot vacuum once a month or so.
There's a Quiet clean setting and a more powerful Detailed clean that's ideal for carpets. In testing, the Roomba S9+ on Quiet handled dust and debris on hard floors with ease, and also debris on the carpet on the Detailed clean setting. Dust on the carpet was more of a challenge with some ingrained dust left behind but overall, this was the best dust pick-up we'd seen by a robot vac on carpet. Emptying was simple—we just sent the robot back to its charging station where it emptied itself into the larger dust bin with no mess or fuss.
4. Proscenic 850T robot vacuum cleaner
Best wet/dry robot vacuum
Specifications
RRP: £299 (UK only model)
Dimensions: 32.5 x 32.5 x 7.3cm
Capacity: 0.5L
Weight: 2.5kg
Running time: Up to 120 minutes
Warranty: One year (battery), five years (product)
Reasons to buy
+
Water tank and mopping pads
+
Can control via remote or app
+
Voice control compatible
Reasons to avoid
-
Doesn't detect carpet
-
Limited dust capacity
If you have mostly hard floors, a robot vacuum that can mop too will come in handy, and Proscenic's 850T has the added bonus of not being too pricey either. It comes with a combined water tank with reusable mopping pads that you can pop in the wash when they're grubby, and while we found the mopping to be basic (good for fresh mess, not for anything dried on), if you used it on a regular basis, it could reduce the time you spend cleaning. First and foremost, it's a vacuum and this it does comparatively well. It can be controlled by an app or remote control (although the remote limits things like adjusting how much water the mop uses), will map rooms (so you can find it easily) and gives a decent clean. We found that it picked up dust and debris well on hard floors, but left a fair amount behind on carpet. The dust box is easy to slide out and empty but on the small side, especially if it's cleaning daily.
It's not as high-tech as other robots that have app control. For example, you can't use the app to block off areas. Instead, it comes with magnetic tape to fence off where it shouldn't enter, which doesn't look great on floors. You'll have to use this when it's mopping as it doesn't differentiate between hard floors and carpet, although it does when vacuuming as it ramps up the suction. What we did like though is the ease of scheduling cleaning, a compact dock that even has a nook for the remote and the option of voice control, which on a keenly priced product is a bonus.
5. AEG RX9.2 Bagless Robot Vacuum Cleaner
Best quiet robot vacuum
Specifications
RRP: £699.99 (UK only model)
Dimensions: 8.5 x 32.5 x 32.5cm
Capacity: 0.7L
Weight: 2.5kg
Running time: Up to 40 minutes
Warranty: Two years
Reasons to buy
+
Quiet setting
+
Good at navigating
+
App control
Reasons to avoid
-
Much noisier in Smart and High modes
-
Doesn't clean carpet well
Robot vacuums are brilliant, but still have a knack for getting stuck, which is why the RX9.2's laser and camera come in so handy. These stop it from bashing into obstacles as it's cleaning, while mapping the room so it knows where it's been. We found this was particularly useful with pet bowls, which other models often collided with. Another useful feature is its 'trinity' shape, meaning it can reach corners and edges that its round counterparts may not. You'll need to link it with an app to get the most from it—even though there are manual controls for setting it cleaning and returning home, the app allows you to schedule cleaning over a week, and change the power level with a tap.
There are three power levels: Quiet, which creates just 75dB(A) of noise—louder than normal conversation but can still be talked over—High, which is quite loud, and Smart, which adapts to the floor type. The cleaning efficiency on hard floors on Quiet was good for both dust and debris, although the Smart mode did a better job. High gave the best result on carpet but we found that it still had the tendency to spread dust and debris around as much as suck it up. It would have been great if it had a spot cleaning mode to rectify this. The dust bin was easy to detach from the top but emptying it made a mess when tapping out the contents.
6. Ecovas Deebot Ozmo N8+ robot vacuum
Best robot vacuum for large homes
Specifications
RRP: £599.99 (UK only model)
Dimensions: 9.3 x 35.3 x 35.3cm
Capacity: 0.42L dust box / 2.5L emptying station
Weight: 3.6kg
Running time: Up to 110 minutes
Warranty: Two years
Reasons to buy
+
Automatic emptying
+
Mops floors
+
App and voice control
Reasons to avoid
-
Emptying is noisy
-
Limited cleaning on carpet
-
Requires replacement bags
If you have mostly hard floors and a large home, you're sure to love the Ecovas Deebot Ozmo N8+. That's because it also functions as a mop once it's finished sucking up dust – simply fill its onboard 240ml water tank, attach the mopping plate and a reusable or disposable cloth. However, this model goes one step further by eliminating the need to constantly empty its compact dust box, by emptying itself into a larger base station, which can accommodate around a months' worth of mess. The base station is home to a bag that seals up when it needs to be removed too – ensuring that none of the dust is released back into the room. The vacuum's emptying is noisy but quick and effortless.
Like many, the Deebot Ozmo N8+ is app-controlled with the option of voice control via Google Assistant and Alexa. This means you can set a cleaning schedule, see the remaining battery power and adjust its settings. There are four vacuuming levels – Quiet, Standard, Max and Max+ – and, once the areas are mapped, you can specify the whole floor, individual rooms or specific areas to clean. We cleaned our hard floors with the Quiet mode, which picked up dust and debris easily. However, we had to use Standard for debris on carpet and fine dust required Max+ to remove most visible traces. The mopping function was handy – with dirt showing up on the cloths and no need to fence off carpeted areas as the Deebot Ozmo N8+ was able to detect and avoid them.
7. Eufy RoboVac 11S Max
Best low-tech robot vacuum
Specifications
RRP: $249.99 / £189.99
Dimensions: 7.25 x 32 x 32cm
Capacity: 0.6L
Weight: 2.6kg
Running time: Up to 100 minutes
Warranty:
Reasons to buy
+
Affordable
+
Remote control
+
Quiet
Reasons to avoid
-
No alerts
-
Limited features
Proving that an affordable robot vacuum needn't be basic, the Eufy RoboVac 11S is the one to choose if app control and extra features aren't on your shopping list. That's because it's operated by a remote control, allowing you to select from three power levels and four cleaning modes as well as manual control, using directional buttons. Its compact size is the same as the Eufy RoboVac 15C Max reviewed above, which allows it to scoot below furniture, although the suction power is less. Despite lower suction, we found that it still picked up dust and debris with ease from our hard floor on the Standard setting, and also debris from a carpet. It didn't cope with dust as efficiently, with even the Max setting leaving it behind.
Performance on carpet aside, there are a lot of pluses—it's quiet in the Standard mode, generating around 55dB of noise, so you can talk over it. The RoboVac 11S is also easy to empty, with a dust box that slides out, although it can be messy to decant the contents into a bigger bin. However, the lack of app functionality may be a bugbear for those who want it to do more; for example, there are no alerts, only daily scheduling can be set, and if you lose the vacuum around the house or under a bed, you'll have to hunt for it.
How to choose the best robot vacuum for you
Size and weight—while weight is less of an issue with robot vacuum cleaners – it's more relevant if you're carrying one upstairs or downstairs to clean another floor – most are relatively lightweight. The robot's dimensions are often more pertinent, with slimline models able to scoot under furniture where chunky machines struggle to go. Charging stations can be more of a floor space hog – with many needing clearance either side, and to be set against a wall with a power supply nearby. Those with a self-emptying feature can be quite sizable, with, for example, the iRobot Roomba S9+'s charging station measuring 48cm tall and 31cm wide.
Extra parts—many robot vacuums with come with a few spare parts so you can change them to keep it running efficiently. These include the side brushes, which may become easily bent, spare filters and for vacuums that also mop, disposable and reusable cloths. You may also find a tool for keeping the brush bar free from hair clumps.
Emptying—robot vacuum dust boxes tend to be on the small side, with some holding less than 400ml of dirt. It's advisable to empty them after every cleaning cycle to prevent poor pick-up performance. Those with self-emptying charging stations can accommodate much more, so may only need emptying once a month.
Running time—one of the big pluses of robot vacuums is that most have a generous runtime on the lowest power settings. Should that not be sufficient, they'll return to their charging station to power up with some continuing the job afterwards. However, if you have a large house or lots of carpet (which usually involves more power), look out for those with longer runtimes.
Budget—robot vacuums can vary greatly in price, so think about which features are the most important to you. This will help determine how much you might need to spend. More affordable models start at less than £200 but will have limited functionality. For app control, budget at least £250, with high-tech models ranging from £400+.
How we tested the best robot vacuums
To help you find the best robot vacuum, our selection covers models at a range of price points, from a sub-£200 budget model to the more expensive high-tech vacuums. If you're buying at this end of the market, it's a good idea to look for vacuum cleaner deals before you buy.
Each robot vacuum has been assessed on its size/dimensions, weight and design, how easy it was to set up from the box and schedule, ease of maintenance and overall value for money. The more advanced robot vacuums require more attention initially for mapping so you can set exclusion zones but should be as fuss-free as possible afterwards, so we've factored this in too.
We've spent several hours testing the suction and brush power for each model: using both fine dust and larger debris on both hard and soft floors, cleaning in its standard mode or the lowest power level (where available) unless otherwise noted. While most robot vacuum cleaners are designed to tackle both hard floors and carpet, some have dedicated modes for soft flooring, which we've made use of where available.
Are robot vacuums worth it?
Though most don't provide the equivalent cleaning performance of a traditional vacuum cleaner, for little and often cleaning, robot vacs can be brilliant. As they can clean every day (and be programmed to run when you're out and about), they'll help to cut down the amount of time you spend vacuuming and the frequency. Some won't reach the edges or tight corners of a room, so you may still need to whizz round with a crevice tool every so often, but most owners find that a robot vacuum will lighten the load considerably.
How long do robot vacuums last?
Just like any other vacuum cleaner, robot vacs need to be maintained, which means emptying them regularly, cleaning filters, making sure there's no hair wrapped around side brushes and roller bars and replacing worn parts (eg brushes and filters). You may need to replace the battery every two to three years or if it's not holding a charge long enough, and keep the base station clean and dust-free. Properly cared for, they should last anywhere up to five or six years. As with many products, the better the build quality, the longer it should last.
How often should you run a robot vacuum?
A robot vacuum's cleaning schedule is mostly down to personal preference. Opting for a daily clean is a good way to keep on top of everyday dirt, especially if you're a pet owner, with a more thorough clean manually when required. However, for pet-free homes, three or four times a week should suffice. Remember that their dust boxes tend to fill up quickly and only some will alert you when they're full, so it's a good idea to empty on a regular basis or you may notice a drop in cleaning performance.