9 stylish garden party themes for memorable outdoor celebrations
Get the backyard ready for an alfresco get together with a garden party theme that's bursting with character...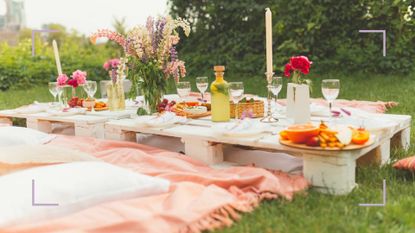 (Image credit: Getty Images/Kate Kilm)
There's a chic garden party theme to suit all kinds of outdoor celebrations, whether you have a small patio or a large backyard complete with a pool.
A garden party theme should cover all aspects of styling, from the decorations you hang in your trees, to the patterned tablecloths used to cover tables. Your chosen theme can also influence other garden party ideas such as the food and drinks you serve, the music you play and even the dress code.
From tropical Tiki bar parties with colorful cocktail glasses, to patriotic celebrations complete stars, stripes, and sparklers, these garden party themes are bursting with outdoor style and character - and are much simpler to pull together than they look.
And if you're looking to make some more permanent changes to your outdoor space, then check our guide to the top garden trends of 2022.
Garden party themes and ideas for all occasions
1. Hawaiian Tropics
High summer is an ideal time to throw a tropical-themed garden party. A sunshine-filled sky and fruity refreshments mean there is plenty of fun to be had.
Use a cocktail bar as a focal point - this can be a ready-made purchase or DIY project to be proud of, made from upcycled wooden pallets. Look for brightly colored outdoor garden furniture or cushions that feature exotic motifs like flamingos or pineapples and fill up your outdoor space with brightly colored bunting and novelty decorations.
Keep the party going into the night with funky colored festoon lights and Tiki torches that stake into the ground.
2. Coastal Charm
Capture the relaxed mood of a holiday at home by creating an outdoor garden party with a touch of coastal chic.
If you already have muted wicker garden furniture, great. If not, you can create a laid-back, Ibiza-style outdoor living room with plenty of jutted seating, floor cushions and rattan storm lanterns.
Choose fabrics in natural linens and seascape tones. Add a touch of accent color with a sea blue table runner and bring in shell and coral accessories to enhance the oceanic atmosphere with style.
Finally, an island beachside-style party is never complete without a chill-out playlist, to sit back and sip cocktails to. Search Spotify or YouTube for pre-compiled playlists or have a go at making your own with all your favorite songs.
3. Summer Solstice
Enjoy your garden party the 'Frilutfstliv' (open-air living) way, with a Scandi Summer Solstice theme. Midsommer is celebrated throughout Scandinavia and mostly outdoors, surrounded by nature and usually with some kind of bonfire.
To get a Scandi-style outdoor backdrop, paint fences, pergolas and furniture with black exterior wood paint. In contrast, set the garden table with pale linens and lanterns made in natural wood tones.
Foliage wreaths full of greenery represent the earth's cycle through seasons and nature, so why not make flower crowns for guests to wear as a headband or crown in their hair? This could be a beautiful way to ensure guests really connect with the celebration.
Up the cozy factor with plenty of fairy lights, storm lanterns and light up the fire pit once it gets chilly.
4. Festival Fun
Festivals are the ultimate summer party, but if you missed out on the ticket sales why not celebrate in your own garden? A festival-inspired garden party theme can be a slightly more civilized affair than a real one - and no one needs to pay hundreds of pounds to get in!
Raise the (canvas) roof on your garden party by swapping a gazebo with a decorated tent to get the summer festival season started. Then, dress the tent entrance with bunting and balloons and paper lanterns. For a woodland vibe, wind real or faux ivy around the frames.
Nail the laid-back looks by surrounding the focal point with textured outdoor rugs, low-level stools and floor cushions. If you're feeling crafty, you could even make your own cushion cover (just remember to use waterproof materials).
As it gets dark, light up the fire pit, serve up s'mores and get the campfire songs flowing.
5. Outdoor movie nights
What could be more fun than hosting an outdoor cinema night for family and friends? New technology is making large-scale film screenings not only easy to achieve in our own gardens but affordable too.
To create a home cinema set up, hang a projector or white flat sheet against an exterior wall. Set up your seating arena around the screen.
Stringing up fairy or festoon lights will add a touch of low-level light that won't affect the show. Finally, provide your guests with cozy cushions and blankets to ensure they don't get cold.
If you're feeling crafty, go one step further by making your own tickets and popcorn cups in advance, too.
6. Rustic farmhouse
Rural living has never been more popular: from rural-styled living rooms to rustic bathroom ideas, we can't get enough of this aesthetic and it's one of the top interior design trends this year. Create this theme by placing hay bales around your garden - they are super authentic and are surprisingly easy to get hold of.
If you are put off by the messy straw, instead go for rustic wooden palette benches or picnic tables and add soft blankets and cushions to the simple surfaces. Finish the look by dressing the garden table in farmhouse favorite fabrics such as gingham or ticking stripes. For refreshments, serve tankers of delicious cloudy lemonade in rustic-style jam jars.
7. Patriotic Colors
Whether it's July 4th, Labor Day, or even the Super Bowl, bring out the stars and stripes to show your true party colors in red white and blue.
Hang patriotic streamers and flags, choose primary coloured tableware and serve themed popsicles to the little ones. Setting up a supervised celebration table offering sparklers, party poppers and fire snaps as another fun touch. Have quests show up in their best July 4th or Memorial Day outfits.
This theme can work just as well in the UK too if you're hosting a garden party for the Queen's Platinum Jubilee - work with a blue, white and red colored palette and incorporate union jack bunting into your decor.
8. Moroccan Exotics
Spice up your garden party by transforming your terrace into an atmospheric, traditional Moroccan Riad-style courtyard, inspired by the beauty of Marrakesh.
To really dial up the atmosphere, choose a low-level table to encourage guests to sit cross-legged on floor pads. Or, cover a low wooden bench with exotic printed and patterned cushions.
Fill Moroccan-inspired style crockery with citrus fruit and add to the courtyard experience using pretty colored candle votives. The best flameless candles also work well if you'd rather avoid any open flames on the table.
9. Vintage Tea Party
If you love cottage garden style then a quintessentially British tea party theme is the perfect idea for injecting a touch of vintage charm into your garden party.
Cover a classic iron garden table with a pretty table cloth made from crisp cotton or lace. Layer up a romantic-looking tablescape with china teapots, cups and saucers to serve cakes and finger sandwiches on a tiered cake stand.
Shade the afternoon tea with a fringed parasol and string floral printed, fabric bunting above trees. You could also rummage in local thrift shops for mix and match vases to display your best garden plants.
Stylist's tips for garden party themes
Decided on a garden party theme but not sure how to style the look for your outdoor space? We asked Interior Stylist, Writer and Presenter Laurie Davidson for her top tips for decorating with a garden party theme.
Blur the boundaries between inside and out by making your table feel just as special as it would at a normal dinner party. Use lovely table linens, napkins and runners – and don't just stop at one, layer them up for a real sense of luxury.
To really give your garden party the wow factor, utilise all aspects of the space. Hang lights in trees and along fences, string a floral chandelier above your table, and use lanterns to light any steps, paths or slopes.
Add to your party, by theming the music, drinks and lighting. For example, for a Hawaiian-style party, you could have tropical music playing, cocktails served in coconut cups and bamboo stake lights dotted about
Rachel Homer has been in the interiors publishing industry for over 15 years. Starting as a Style Assistant on Inspirations Magazine, she has since worked for some of the UK's leading interiors magazines and websites. After starting a family, she moved from being a content editor at Ideal Home to be a digital freelancer and hasn't looked back.