How to make a cushion cover in less than 30 minutes
Learn how to make a cushion cover in just 4 simple steps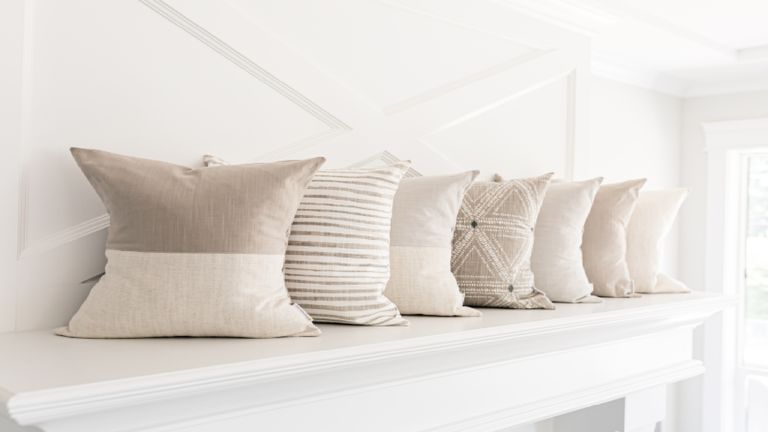 (Image credit: Getty Images )
Follow our step-by-step instructions for how to make a cushion cover or have a go at one of our more decorative designs to add a stylish flourish to any home
Learn how to make a cushion cover with our step-by-step video guide. Whether sewing for yourself, for others or even to sell on, cushion covers add personality to every home and a universally in demand. Once you've mastered this easy design, have a go at sewing our envelope cushion cover too. Need to update your equipment? Read our guide to the best sewing machines.
How to make a cushion cover
Step 1
Measure your cushion pad (or check the size on label) and add 3cm to each measurement to allow for 1.5cm seam allowances. Using a ruler, set square and dressmakers' chalk pencil, mark out this area on your fabric, once for the cushion front and again, for the back. If you want to center a pattern or motif, or cut lots of cushion pieces, make a pattern from tracing paper, position on your fabric and draw round. Cut out pieces and iron.
Step 2
Pin the cushion front and back together with right sides facing and tack 1.5cm in from edges round three sides and four corners, leaving a gap on one side. Machine-stitch close to tacking, reversing for a few stitches to secure thread ends. Remove tacking.
Step 3
On heavier-weight fabrics, such as velvets, clip excess fabric across the corners to remove bulk. Alternatively, to give sharp, slightly padded corners on lightweight fabrics, fold the double seam allowance down on both sides, pressing along the stitching line, then at the top and bottom.
Step 4
Turn cushion cover right side out, press and insert cushion pad. Using a needle and matching thread, slip stitch opening to close.
In the future, if you want to try something a bit more complicated, read our guide about how to make piping for a cushion. Piping will add a pretty design detail to your soft furnishings.
And, if you're eager to create more handmade, special pieces, you can also read our guide to how to make a lavender pillow, and our list of easy sewing projects.
Esme Clemo is the home and craft editor at woman&home. With over seven year's experience working in the publishing industry, she's written for Womanandhome.com, GoodtoKnow, woman&home, Woman's Weekly, Woman, Woman's Own, Chat, Now, Pick Me Up, The Craft Network and Wealden Times magazines and websites, as well as a stint as a columnist for Wedding Ideas.
There's nothing she doesn't know about DIY, weddings and interiors. Everything in her home and wardrobe has a DIY twist and she knows all the tools needed for getting the job done. Be it her trusty sewing machine to update clothing and cushions or her battered collection of power tools to strip her staircase or build raised beds in her garden. She sure has a hands-on approach when it comes to testing out products for our reviews.
Having just completed an interior design course with the University of Arts London, she's now embarking on project managing and designing her own kitchen renovation, ready to share all her tips, tricks and best home buys with you. You can follow her reno journey on Instagram @esmeclemo