The best sewing machines for every budget—including top models from Brother, Pfaff, and Singer
Find the best sewing machine to suit your sewing skill level with our guide, tested by our craft and sewing expert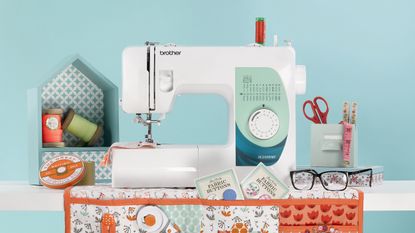 (Image credit: Future)
Our expert guide will help you find the best sewing machine whatever your budget or skill level. With countless options available, knowing the right one for you can feel overwhelming, so we've done all the hard work for you and put popular models from the likes of Brother, Bernina and Janome to the test.
Over the last two years, our Craft Editor Esme Clemo has tested and reviewed all of the very best models of sewing machines, including the latest models from the most popular brands, including Pfaff, Brother and Bernina.
Esme has been using sewing machines for over 25 years, starting off with a hand-crank Singer sewing machine, before working with domestic Janome and Singer models in a professional capacity for live workshops, demonstrations and editorial projects.
Whilst putting the machines for this guide through their paces, Esme assessed a number of factors, such as stitch ranges, design, price (as well as value-for-money), durability, and overall sewing performance. Most of the models below are intended for those who already have some experience with a sewing machine (it is one of the most popular hobbies for women, after all)—bar the Brother model, which is great for beginners. Or, if you are a complete novice, our guide to the best sewing machines for beginners might be better for you.
The best sewing machines at a glance
How we tested the best sewing machines
We put all the models through a rigorous stitch test to check they were compatible with all sewers. From small-scale projects to more robust challenges, we checked their performance in real-world scenarios, to ensure we're only bringing you the best sewing machines.
How well they performed with simple stitching—sometimes it's good to start with the basics. The straight stitch is the most commonly used on a sewing machine, so we tested how easy it was to change the length and checked that the stitches formed neatly whatever the fabric thickness. We expanded this test to include the zigzag stitch, checked stitch width adjustments, too.
The design of each sewing machine—we tested whether the design looked good or whether it felt dated. We also assessed the weight of each model too and whether it was suitable for transporting by checking the carry-handle and the protective casing for each.
How durable they were—we put the machine's through their paces by testing their stitch per minute capabilities on complex stitch settings across a range of fabrics.
Value-for-money—we took a look at all the extra features, like the number of stitches, embroidery options, and included kit, to make sure we found the best sewing machines whatever your budget. We considered longer warranties an added bonus.
The best sewing machines as tested by our expert
For fuss-free sewing at speed, the Janome Sewist 780DC is for you, which is why it's one of our best sewing machine picks. As the newest model to launch from the Sewist series, the Janome Sewist 780DC boasts all the latest gadgetry. Even with these time-saving and high-tech additions, the Janome Sewist 780DC never loses its simplicity of design and ease of use. It's the perfect all-rounder.
Compared with the other models in our best sewing machines guide, you might be thinking that 80 built-in stitches is an uninspiring number. However, unless you're planning on embroidering every sewing project you embark upon with letters, numbers, and names, you honestly don't need any more than what this machine has to offer. So, whether you're a beginner or intermediate sewer, this is a great mid-range model to step up to from a mechanical, especially if some of the more complex computerized sewing machines are putting you off.
Read our full Janome Sewist 780DC sewing machine review
With the Bernina 435, every single detail has been thought about, every function adapted to help the sewing machine perform faster and be easier to use—which is why we've included it in our best sewing machine round-up. For example, if you're a sewer who likes to tackle big projects, the jumbo bobbin leads to fewer interruptions throughout your stitching and the included slide-on extension table provides ample sewing space.
And what about the unrivaled amount of stitch patterns on offer? True, some might find this an overwhelming selection to choose from, but with an in-built memory function to save and store your stitch settings, you can return to your favorites time and again at the click of a button.
If you're still wondering what all the fuss is about, it comes down to the color display and interactive touch screen. Feel like it's a bit too technical for you? The on-screen Sewing Consultant can help you choose the right settings to suit your stitches and your projects, and it's always there at the touch of a button to help guide you through.
Read our full Bernina 435 sewing machine review
The Silver 197, named after the huge range of built-in stitches, is the perfect all-rounder for both beginners and accomplished sewers. The budget-friendly price tag doesn't reflect the comprehensive range of features it has to offer, of which there are plenty.
Speed-saving functions, like the automatic needle threader, start/stop button as a foot pedal alternative and LCD display might not set this machine apart from its competitors. However, the memory mode used to store up your favorite stitch settings, and the stitch range that includes alphabetical and numerical options, place this machine above the rest.
It might not be the quietest machine or have the least vibration, but it makes up for these traits by being the cheapest model and best sewing machine on a budget, that offers the user the most creativity.
Read our full Silver 197 sewing machine review
The Necchi NC-102D ticks all the boxes. The first thing to note about the Necchi NC-102D is the way it looks. Its modern appearance and pop of color make it a standout model among the rest, but you'd be wrong in thinking this model is all style over substance.
With 200 utility and decorative stitches, including an alphanumeric stitch range, this model packs in a lot of features for the mid-level price tag. There's a rare mute button, to keep your stitching schtum, and all the usual gadgetry and automatic functions you'd expect from a computerized machine, along with a memory feature.
If that's not enough, the included nine presser feet are sure to win you over if you want to bag a bargain. Our best sewing machine pick if you want value-for-money.
Read our full Necchi NC-102-D sewing machine review
The Brother Innov-is A60 Special Edition is perfect for beginners and confident stitchers alike. This machine creates high-quality, precision stitching at top speeds of 850 stitches per minute. With a vast range of 60 stitches to choose from, you can sew simple seams with the utility stitches or add decorative topstitching to a project with the embroidery options.
At this affordable price, the Brother Innov-is A60 Special Edition works hard to deliver on a range of practical and time-saving features without sacrificing on simplicity. The modern LCD display screen is so easy to use and the illustrations on the body of the machine help to guide new users around threading techniques.
So, whether you're a beginner or advanced sewer (though we reckon this is the best sewing machine for beginners), this machine is sure to impress.
Read our full Brother Innov-is A60 Special Edition sewing machine review
The Singer Heavy Duty 4423 is a must-have machine for speedy stitchers. Compared with the computerized machines on this list, you might be wondering why we're championing a mechanical model. The Singer Heavy Duty 4423 is in a league of its own when it comes to durability and build. With a metal internal frame, this sewing machine is built to last.
Capable of stitching up to 1,100 stitches per minute, the speed alone makes this sewing machine noteworthy. Plus, it makes very little noise and no vibration, even when pushed to these top speeds. So, if you're looking for an option that can keep up with you, you've found it.
It's easy to operate, too, with dials to select stitch options and a foot pedal to control stitching. The Singer Heavy Duty 4423 goes back to basics, but it does it brilliantly—and in a stylish grey finish, too.
Read our full Singer Heavy Duty 4423 sewing machine review
The Pfaff 1.5 Creative delivers specialized embroidery functions for sewing pros. This modern sewing machine brand is the best on the market for computer-integrated software, so you can completely personalize your stitching experience.
Looks-wise, the Pfaff 1.5 Creative has a sleek and elegant design, which helps it to stand out from the crowd, but this isn't a machine that puts style over substance. It produces high-speed embroideries perfectly, helped by the Original IDT system and the included master hoop attachment.
Admittedly, this is a specialist machine, so if you're an enthusiastic embroiderer or want to use your machine for quilting, it's the perfect model for you, with a large sewing space and 150 beautiful built-in stitches to choose from. The best sewing machine if you're after something a bit more specialist.
Read our full Pfaff 1.5 Creative sewing machine review
What to consider when buying the best sewing machine for you
The technical jargon that comes with choosing the best sewing machine for you can overwhelm even the most experienced of stitchers. To keep it simple, these should be your key considerations when choosing the right machine for your needs:
Your sewing level—mechanical sewing machines are best for newbies. Anything more than this and you'll be best to move into computerized sewing machines. These are perfect for intermediate sewers who want to expand their stitching skills and advance into embroidery, free-motion stitching, quilting, and more.
Budget—sewing machines can be expensive so it's important to set a budget that's right for you and to stick to it. Don't be swayed by fancy features you may not need.
Number of stitches—simple machines will have around 20, but some have hundreds. Work out what stitches you'll actually use and find a model that can sew them.
Extra accessories—some models come with the bare minimum—a presser foot, a fabric cover, and maybe a seam ripper. So shop around for a sewing machine with the extras if you want them—multiple sewing feet (especially a buttonhole foot), a hard cover for storage and an automatic needle threader can be helpful.
How much it costs—when you find the model you want, don't be put off by the price tag. Wait around for a discounted price or consider buying a sewing machine on eBay to save some pennies.
How to use a sewing machine
When you take up a new hobby like sewing, it's difficult to know where to begin. Here are five steps to start with on your sewing journey:
First, buy good quality sewing thread—don't skimp on the price tag, cheap thread will break up on strenuous stitching and won't last a spin through the washing machine.
Learn how to thread your machine—read your instruction booklet to help you but begin by placing your reel of thread on the spool pin, wind it around the thread guides, and onto an empty bobbin on the bobbin winder. Wind the bobbin with thread and then place it in its casing at the bottom of the machine.
Next, thread the needle—wind the thread on the spool pin around the other thread guides on the sewing machine and through the eye of the needle. Use the handwheel to drop the needle and pull up the bobbin thread. Pull the two threads away from the sewing machine and you're ready to start stitching.
Now, start stitching—place your fabric under the presser foot and control your stitching speeds with a foot pedal or a start/stop button.
Need more guidance?—take a look at our in-depth guide on how to use a sewing machine. It covers all the basics to get you started, like how to set up your machine, how to thread a sewing machine, and a deep-dive on all the buttons, sliders, and dials and what they do.
What equipment do I need to sew?
Once you've purchased the best sewing machine for you, it's a good idea to stock up a few items to help you get going. The basics you'll need are:
Thread and fabrics
Pins
A rotary cutter
A cutting mat
Most importantly, you'll need sewing thread and fabrics so you can get going with your sewing projects straight away. Invest in a pair of good fabric shears too (Fiskars has a great range that stays razor-sharp). Don't forget about pins either, you'll need a pot to store them in and a magnet to help collect them up after each project.
You'll also need a rotary cutter and cutting mat if you want to have a go at patchwork or quilting - consider sewing machines for quilting if that's all you want to stitch. Think about purchasing some sewing patterns too, there are lots of simple dress patterns available, even bags and homeware templates.
Fabric-wise, stick to medium-weight cotton fabrics for easy stitching if you're a beginner. Once you're confident with cotton, you can progress to lightweight voile fabrics or thick canvas-like fabric for robust upholstery and furnishings. Mastered that? Have a go at sewing with stretch fabrics, thin jerseys, or thicker knitted styles. Remember, you'll need to refer to your sewing machine manual to select the best stitches for your fabrics.
What are the best, most reliable sewing machine brands?
While every machine we've featured above is a fantastic option, there are some sewing machine brands that truly stand out, which have become firm industry favorites over the decades.
PFAFF—one of the most popular brands out there is PFAFF. Rosie Scott and Hannah Silvani, the duo behind The New Craft House, a sewing company in London, tell us, agree. "Almost all of the PFAFF models have what's called the IDT system, which is basically a built-in walking foot. It makes sewing fine or slippery fabrics, as well as bulky ones, a breeze."
Bernina—many of the sewing experts we spoke to recommended Bernina. "They aren't necessarily entry-level sewing machines as they can be quite expensive, but they are the best on the market. They are long-lasting, very smooth and quiet," says Lisa Comfort, from Sew Over It, a London-based sewing company.
Janome—a staple among keen stitchers. Kate Underdown from The Fold Line, an online sewing pattern shop, says, "my current machine is a Janome M50 QDC—it's a mid-level machine in terms of price and has some great features."
Singer—a household name, many families will have had a Singer machine at some point, be it a vintage hand-crank model passed down through the generations or one of the later (just as dependable) machines.