Brother Innov-is A60 Special Edition sewing machine review
In our Brother Innov-is A60 Special Edition sewing machine review, we discover a machine that truly ticks all the boxes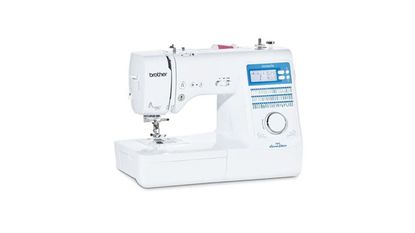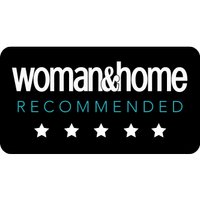 (Image credit: Brother)
The Brother Innov-is A60 Special Edition sewing machine has intuitive features for speedy sewers while keeping things simple for beginners
Reasons to buy
+

Hard and stylish cover for easy storage

+

Simple screen for programming stitches

+

Easy to operate
Reasons to avoid
-

Blue colorway not to everyone's taste

-

May not have enough stitches for every sewing fan
Why you can trust Woman & Home Our expert reviewers spend hours testing and comparing products and services so you can choose the best for you. Find out more about how we test.
In our Brother Innov-is A60 Special Edition sewing machine review, we found it to be an impressive piece of kit that far surpassed our expectations, so it's no wonder that this compact, creative and speedy model has made it into our best sewing machines round-up.
Brother is renowned for creating sewing machines that are affordable without compromising on features, and this model is no different. In terms of value for money, you can't get much better.
When putting the model through our rigorous testing process, we were bowled over by its performance. The Brother Innov-is A60 Special Edition is a sturdy machine that stitches smoothly, with little to no vibration—even at high stitch speeds—when performing intricate stitch settings.
Specs:
Size: W419mm x H307mm x D196mm
Weight: 6.5kg
Built-in stitches 60 (including six buttonholes)
Maximum stitch length: 5mm
Maximum stitch width: 7mm
Arm space: 160mm
Display: LCD monochrome display and LED light
Speed: 850 stitches per minute
Pricing
At £389, this is an affordable model for confident stitchers or those looking to upgrade their cheaper, entry-level machine. It's also worth noting that this sewing machine is sometimes discounted by around £10, if you're keen to snap up a bargain. The manufacturer's three-year warranty covers regular use but if you want to use this machine commercially you'll only get one year of cover.
Design
Design-wise, this machine doesn't look too different from the other white models on the market. The pop of cornflower blue surrounding the display is a welcome hit of color and the floral design under the stitch selector is a pretty touch. However, this color may not be to everyone's taste, which is something worth noting.
With the stitch options clearly labelled on the front of the machine, operating this model couldn't be simpler. The LCD display, buttons and sliders are easy to navigate, too, positioned clearly on the front and top.
There are some handy illustrations for how to use the machine printed on the body as well, some of which are on stickers and can be peeled away once you're confident enough to tackle threading the bobbin by yourself.
The real stand-out feature for this sewing machine is the hard cover, with a sleek shape and gloss white finish. It looks really smart left on display in a crafty corner, or stored safely away on a shelf.
Weight
Small but mighty, this compact machine comes in at the lighter end of the weighing scale. At only 6.5kg, it's perfectly portable for carrying to and from storage areas or even to classes.
The hard case ups the weight but makes it even more convenient for carrying about. There's a neat handle on the top of the machine, which folds down flat when you're set up to sew.
Durability
As part of our Brother Innov-is A60 Special Edition sewing machine review, we also tested the durability of the machine. Despite its overall light weight, the base of the machine is surprisingly heavy. While this might not be ideal for some sewing fans, it does help to create an incredibly sturdy-feeling sewing machine. When sewing at 850 stitches per minute during our test, the height of its stitching speed capabilities, the machine barely vibrated. It's so solid in fact that there's no differentiation in vibration when working with the more intricate stitches this machine has to offer.
Ease of use
With a whole host of expert features, you wouldn't think this machine was beginner-friendly. And yet, that's exactly what makes this model stand out from the rest. It's easy to learn how to use the Brother Innov-is A60 Special Edition, with numbered points all over the machine guiding you through the task of winding the bobbin or threading the needle.
Speaking of which, the automated one-step needle threader is one of the best we've tested so far. It's a smooth device and doesn't show any signs of jamming— something that happens far too regularly with these. It's just another testament to how strong and sturdy this machine is.
The LCD display is uncomplicated too—for a smart feature, it is incredibly straightforward in informing the user what foot to use with the selected stitch, the needle position, and the stitch width and length. A quick glance at the instruction manual is all you'll need to start confidently stitching on the Brother Innov-is A60 Special Edition.
Performance
The Brother Innov-is A60 Special Edition creates high-quality, precision stitching at speed. Take it up a gear to the more intricate stitch patterns and buttonholes, and this machine continues its stellar performance with minimal vibration and noise.
For a model in this price bracket, it out-performed its competitors on speed, stitch formation, and quality, producing flawless stitching every time.
And don't be put off by the thought of an LCD screen if you don't like digital interfaces. Brother has stripped this display back to basics, making it quick and easy to comprehend. In the end, this little screen will become your best friend as it guides you through presser foot choices.
Extra features?
In our Brother Innov-is A60 Special Edition sewing machine review, we also tested any extra features it has—and it has a large amount. Along with the 60 stitches which provide ample opportunity to get creative with your sewing, there is a number of other features that set this sewing machine apart from the rest. With the click of a button, you can reverse stitch, lock stitch to automatically tie off loose threads—and a start/stop button means you can work pedal-free.
If you're a confident stitcher the machine has a twin-needle setting and comes with a twin needle too, perfect for topstitching denim and knit fabrics.
For those short on space, the hidden storage box at the front of the machine is a handy place for storing the seven feet, extra needles, and other maintenance tools that are included.
w&h's overall verdict on the Brother Innov-is A60 Special Edition sewing machine
For beginner stitchers just starting out with a little more cash to spend, or confident sewers looking to upgrade on their first model, our Brother Innov-is A60 Special Edition sewing machine review found that this machine is the way to go.
It works hard to deliver intuitive features for those who want to use them, while keeping things simple to help learners find their feet. In that respect, this machine is the ultimate all-rounder.
The Brother Innov-is A60 Special Edition manages to do all this without compromising on performance. It's provided some of the smoothest stitching we've ever had the pleasure of testing, across a multitude of speeds and stitches—from simple straight stitches to the more complex embroidery stitches.
If we were looking for a flaw, it might be the number of stitches. Sixty seems like a lot until you compare it to the Necchi NC-102D sewing machine. For the same price, this option has a whopping 200 built-in stitches to choose from. But if you're not planning on using too many decorative stitches, the Brother Innov-is A60 Special Edition is the model for you.
Our in-house craft expert, Esme Clemo, has been working within the craft magazine industry for eight years, having turned a sewing hobby into her career. She's adept in a number of crafts, including sewing, papercraft, calligraphy, embroidery and printing and has also completed an interior design course with the University of Arts London,
There's nothing she doesn't know about DIY and interiors. Everything in her home and wardrobe has a DIY twist and she knows all the tools needed for getting the job done - meaning she has a very hands-on approach when it comes to testing out products for our reviews.