Necchi NC-102D sewing machine review
You might not have heard of Necchi before, but it's about time you did – and the Necchi NC-102D is the reason why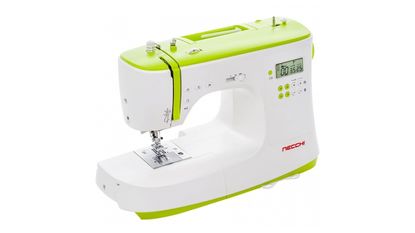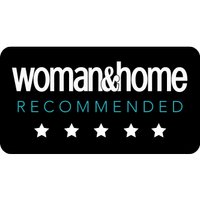 (Image credit: Freemans)
The Necchi NC-102D is everything you could want and need in a sewing machine and more
Reasons to buy
+

200 built-in stitches

+

Memory mode to store favourite stitches

+

Mute button
Why you can trust Woman & Home Our expert reviewers spend hours testing and comparing products and services so you can choose the best for you. Find out more about how we test.
The Necchi NC-102D makes the little-known Italian brand hard to forget – this powerhouse of a sewing machine delivers on performance and on style.
So, if you're not wowed by a lengthy list of functions, just take a look at the machine itself, as it's quickly getting a reputation for being one of the best sewing machines (opens in new tab) you can buy under £500.
The NC series comes in an array of colours and varying features to suit your tastes and skills, making the design the cherry on top with this high-performing piece of machinery.
Pricing
What's so impressive about the Necchi NC-102D sewing machine is what you get for your money. Priced at £399, it's a mid-level cost for a high-end computerised sewing machine. Plus, you won't need to spend a fortune on additional accessories, as most are included.
Warranty-wise, the mechanical parts are covered for three years, while the motor, foot controller and other electrical components are covered for one.
Specs
Size: W450 x H300 x D180mm
Weight: 6.4kg
200 built-in stitches (including eight buttonhole styles and one alphanumeric set of stitches)
Maximum stitch length 4.5mm
Maximum stitch width 7mm
160mm arm space
LCD display
Memory function
Mute function
Design
The Necchi NC-102D is the kind of sewing machine you'd be proud to display in your home. With sleek curves, a matt white finish and a pop of bright citrus green, this model stands out from the traditional crowd with its modern design.
Some might be put off by the lack of buttons for direct stitch selection, but the few buttons positioned next to the simple LCD display and discreet built-in stitch charts at the base give the Necchi NC-102D its fuss-free and streamlined look.
Weight
As one of the lightest models to have been tested in our best sewing machines review process, the Necchi NC-102D manages to combine a featherlight weight with a sturdy base and substantial features. It makes this the ideal model for those intending to move about with their machine or travel to classes and workshops.
The handle, too, feels robust and secure, certainly strong enough to be carried around. The only thing you might want to consider is the cover. A soft cover is included with the Necchi NC-102D, helping to keep the weight down, but offers little protection from anything other than dust.
Durability
Even the durability of this model hasn't been compromised by the stylish design. The chunky base of the Necchi NC-102D makes for a solid structure and there's minimal vibration during low-speed stitching, even with the optional extension table attached.
Some extension tables can feel flimsy and cheap, but the Necchi model looks and feels like it isn't an attachment at all, slotting into place on the free arm and supported by four drop-down legs.
Ease of use
Despite its modern appearance, the Necchi NC-102D is threaded in a similar way to traditional-looking models, making it very easy to pick up how to use this machine. The helpful visual guides printed on to the machine give helpful reminders when threading and winding the bobbin, especially useful if you're a beginner.
There are other familiar features to help get you sewing smarter, too, like the semi-automatic needle threader, the stop/start button as a foot pedal alternative, the automatic stitch lock button, speed control gauge and the reverse stitch button. Once you've had a sewing machine with these automatic functions, you'll find it hard to stitch without them on a mechanical model.
Programming in the stitches on the Necchi NC-102D is quick and simple to do, with a couple of buttons to select the stitch and another couple to change the stitch length and stitch width. Plus, the LCD display will suggest the correct presser foot to use with each stitch.
Admittedly, using the memory function is a little trickier, but the instruction manual takes you through the process with clear steps and diagrams. It's a great way to repeatedly stitch the same names or numbers from the alphanumeric stitch range.
Extra features
For those who intend to stitch through the night – maybe a student working to a deadline or a mum with a last-minute costume to make – the rare mute button that this machine features will become a godsend. Muting the button noises allows this machine to be used at all hours in the quietest of settings.
With the 200 built-in utility and decorative stitches to choose from, you just might be up all night deciding what to stitch up next. The possibilities are almost endless when it comes to the Necchi NC-102D. Beginners will delight in the recognisable utility stitches, while those wishing to embellish their projects will be drawn towards the embroidery ranges.
Move on to the more advanced stitch chart and you'll find the alphanumeric range, including a couple of choice punctuation marks to help your embroidery stand out. For customising garments with a unique label or repeated slogan, the memory function can remember up to 40 alphabet stitches in a row for your stitching speed and ease.
And unlike most models, the presser feet you need to achieve all these stitches are included as accessories. The nine presser feet included are an all-purpose foot, zipper foot, buttonhole foot, satin stitch foot, button sewing foot, overcasting foot, blind hem foot, hemmer foot and gathering foot.
Performance
At a measured pace, the Necchi NC-102D performed exceptionally well, producing perfect basic and decorative stitches with every single rotation of the needle and with minimal noise and vibration.
When pushed to maximum speeds while performing complex stitches, the machine did begin to vibrate a little, but this was quickly reduced with the slightest touch on the speed gauge.
Ultimately, the Necchi NC-102D gives the user complete control, so you can use the machine how you want. If a little vibration puts you off, simply slide the gauge to your preference. If you prefer to stitch in silence, hit the mute button. If you keep forgetting your favourite stitches, programme them into the sewing machine's memory function. The choice is yours.
Tried and tested verdict
At the mid-level price point and with so many accessories included, you're probably wondering what's the catch – and we were, too. But, so far as we've tried and tested this machine, we cannot fault it. It performs well under the fastest and most complex conditions, with only a small amount of vibration.
It looks good, too. The striking colour and shape of the Necchi NC-102D body is so contemporary when compared with its competitors. You could easily be mistaken for thinking this is just a stylish purchase to look good on display, but it ticks all the boxes on design, performance and ease of use.
Those wanting something a little more traditional with reduced vibration should look at the Janome Sewist 780DC, but for a model that looks as good as it performs, the Necchi NC-102D is the best sewing machine on the market.
Our in-house craft expert, Esme Clemo, has been working within the craft magazine industry for eight years, having turned a sewing hobby into her career. She's adept in a number of crafts, including sewing, papercraft, calligraphy, embroidery and printing and has also completed an interior design course with the University of Arts London,
There's nothing she doesn't know about DIY and interiors. Everything in her home and wardrobe has a DIY twist and she knows all the tools needed for getting the job done - meaning she has a very hands-on approach when it comes to testing out products for our reviews.