10 of the best stand mixers—tried and tested to help you bake like a pro
Our guide to the best stand mixers includes top models from Cuisinart, KitchenAid, Kenwood and more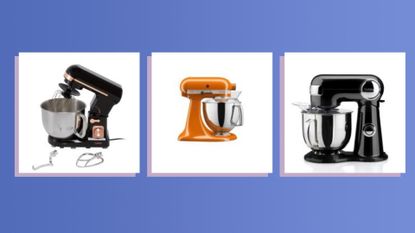 (Image credit: Future)
The best stand mixers are a worthwhile investment, as a great food mixer will make baking and bread-making a breeze for years to come. Our guide features models from stalwarts such as KitchenAid, Smeg, and Kenwood as well as more affordable models. And our expert tester has assessed and tested these models in their own kitchen, so you know when we say these are the best stand mixers—we really mean it.
Stand mixers can do so much more than mix together cake batter—today's models can grate or spiralize veg, whip up egg whites for meringue, knead bread and pizza dough and even mix up coarser ingredients, such as ground meat.
We've picked our top 10 stand mixers based on ease of use, number of settings, extra attachments offered and how easy each model was to store and clean. We used each attachment to prepare food as part of a real recipe—that way, we could discover any shortfalls or niggles. We also judged the mixers on value-for-money, judging whether some were worth the significant investment.
How we chose and tested the best stand mixers
Why you can trust Woman & Home Our expert reviewers spend hours testing and comparing products and services so you can choose the best for you. Find out more about how we test.
In order to bring you an accurate picture of the best stand mixers, for this guide we selected models from both big and small brands, at varying price points. Our tester used them to make a variety of recipes, and assessed them on the following factors:
Number of speeds and attachments—did they have enough speeds for all range of kitchen tasks, and come with enough attachments (e.g a dough whisk) to allow us to make a wide range of recipes?
Power—we assessed each model for how well it performed each food prep task—for example, did it leave our cake batter thoroughly mixed and smooth, or did it miss pockets of ingredients?
How easy they were to store—stand mixers can be bulky, so we also evaluated how easy they would be to stow away after use, including whether they'd fit in a standard cupboard or if they were stylish enough that you'd be happy to display them on your counter.
Ease of cleaning—stand mixers, like even the best blenders, can be very awkward to clean. So we assessed each of the models on how simple it was to dismantle the machine and keep every inch of it mess-free—and also whether it came with dishwasher-safe attachments.
Value-for-money—stand mixers can be pricey, so we evaluated each model on whether it offered great performance for its price.
The best stand mixers as reviewed by our expert
1. Cuisinart SM50BU Precision Master Stand Mixer
Best stand mixer overall
Specifications
RRP: $249.95/£275
Warranty: Three years
Weight: 17lb/7.6kg
Colorways: Six
Wattage: 500W
Speeds : 12
Capacity: 5.5 quarts/5.2 litres
Attachments included: Four
Dishwasher-safe attachments: Yes
Reasons to buy
+
Large capacity
+
Powerful
+
Lots of speed options
Firstly, this mixer looks the part with a shiny gloss finish. While heavy, it's not overly weighty compared to other high-end examples. We found all the attachments easy to put on and take off—simply twist on and click into place—and the feeding tube on the bowl cover was most welcome when we added the wet ingredients to our brownie mix, allowing an easy and non-sticky stir. The option of 12 speeds is higher than any other mixer we've tested which is pretty impressive, and one of the higher speeds made extremely quick work of whisking egg whites. One little gripe is that we'd like a flexi-beater to scrape down the bowl, but it is a very minor gripe. A good-looking, impressively capable stand mixer at a very reasonable price with extra attachments available—that's why it's our pick for best stand mixer overall.
2. Kenwood Titanium Chef Stand Mixer
Best luxury stand mixer
Specifications
RRP: $800/£719.99
Warranty: 10 years (for motor)
Weight: 9.2kg
Colorways: One
Wattage: 1500W
Speeds: variable/no set speeds
Capacity: 4.6 litres
Attachments included:: Four
Dishwasher-safe attachments: Yes
Reasons to buy
+
Powerful
+
Precise speed control
+
Lots of optional extras available
The most powerful and sturdy model we've tested, this one is reserved for avid cooks with deep pockets, because it's certainly pricey (though it's often on offer!) What sets it apart is the speed dial, which allows you to precisely control the speed of your mixing, rather than relying on pre-set speeds, which is a unique feature that would really add to the usefulness of other models. This makes the Kenwood particularly good for recipes that require delicate folding—we tested it by making a souffle, and it was as light as a feather. We also can't help but think there could be more color options to choose from—it only comes in the polished gray you see above. But what it lacks in color options it makes up for in performance. There are also a myriad of optional extras too if you can stomach the cost, such as a pasta shaper and a food mincer.
3. Tower T12033RG Stand Mixer
Best stand mixer for under £100
Specifications
RRP: £99.99
Warranty: Three years
Weight: 5kg
Colorways: One
Wattage: 1000W
Speeds: Six
Capacity: 5 litres
Attachments included: Four
Dishwasher-safe attachments: Yes
Reasons to buy
+
Great price
+
Good looking
+
Large capacity
Reasons to avoid
-
A little unstable at high speed
-
No extras available
We thought this chic black and rose gold stand mixer looked a lot more expensive than its price tag suggests, and the power output was way more than we expected for a more budget model. However, if you put it on its highest speed setting it feels slightly unstable and shakes a little bit now and again—but it's not a major issue and wouldn't put us off buying if we were after a more affordable stand mixer. The Tower has a splashguard, as well as the three basic attachments, and those attachments are sturdy and dishwasher-safe which makes for easy clean-up after use. We also liked the handle on the bowl, which is normally the preserve of more expensive models. An extremely handsome model at a very good price—you won't find a quality stand mixer at a much more affordable price than this.
The Tower T12033RG Stand Mixer was supplied by AO.com (opens in new tab) for this review
4. KitchenAid Artisan 5KSM175PS stand mixer
Best KitchenAid stand mixer
Specifications
RRP: $449.99/£450
Warranty: Five years
Weight: 24.2lb/10.98kg
Colorways: One (this particular model only comes in KitchenAid's Honey color, but other models in the Artisan series are available in 15 shades)
Wattage: 300W
Speeds: 10
Capacity: 5 quarts/4.8 litres and 3 quarts/2.8 litres
Attachments included:: Five
Dishwasher-safe attachments: Some
Reasons to buy
+
Two bowls included
+
Powerful
+
Lots of extra attachments available
Reasons to avoid
-
Very heavy
-
Wire whisk isn't dishwasher-safe
-
Pricey
KitchenAid are one of the titans of the stand mixer industry, and this is the best of their bunch, in our eyes. As well as the three standard attachments, this 10-speed design comes with a flexi-beater, splash guard, and a second handleless 3-quart bowl—essentially, everything you could need for baking and mixing. We found the second 3-quart bowl especially useful for making two batches of dough, allowing us to leave them to prove in each bowl. There are lots of extra attachments available with this model (even an ice-cream maker!), so it's easy (if expensive) to expand the capabilities of this stand mixer if you want to. Lots of attachments mean this model is akin to one of the best food processors and then some. It's slightly annoying that the wire whisk isn't dishwasher safe, but the rest of the model is easy to clean by hand if you don't mind that. At over 24lb, the KitchenAid Artisan is heavy, but it's absolutely and undeniably stylish enough that we'd keep this one on the worktop.
5. Morphy Richards MixStar Compact Stand Mixer
Best stand mixer for small kitchens
Specifications
RRP: $239/£169.99
Warranty: Two years
Weight: 4.7kg
Colorways: One
Wattage: 650W
Speeds : Six
Capacity: 4 litres
Attachments included: Four
Dishwasher-safe attachments: Yes
Reasons to buy
+
Compact
+
Powerful
+
Great price
+
Built-in timer
Reasons to avoid
-
Took a while to whip egg whites
-
One color choice only
Compact yet powerful, this Morphy Richards stand mixer is ideal for storing in smaller kitchens with little to no compromise on performance. One big plus for this model is that we found it so much easier to add ingredients to this open-top stand mixer while it was running, compared to tilt-head models (which make up the majority of other stand mixers on the market). When testing, it took a little longer than usual to whip egg whites, which surprised us considering there are two whisks doing the work. But it still got the job done well. The attachments—of which there are four—can be popped in a stylish bespoke case for easy storage, and the timer is a brilliant addition to this stand mixer, ensuring no over-kneaded dough. It does have just one color option though which is slightly disappointing.
6. Lakeland 2-in-1 Hand and Stand mixer
Best stand mixer for entry-level bakers
Specifications
RRP: $88.58/£64.99
Warranty: Three years
Weight: 2.5kg
Colorways: One
Wattage: 400W
Speeds : Five
Capacity: 3.5 litres
Attachments included: 3
Dishwasher-safe attachments: Yes
Reasons to buy
+
Lightweight
+
2-in-1 gadget
+
Great price
Reasons to avoid
-
No whisk attachment
-
Small capacity
The USP of this nifty model is the detachable mixer, allowing you to turn it into a hand-held appliance if needed, making it also one of the best hand mixers in this guide. When being used as a stand mixer, it has a unique feature where the bowl automatically rotates, in an attempt to incorporate ingredients together better. And while we're not entirely sure if this adds anything or makes mixing easier, it definitely doesn't do any harm. While there's no wire whisk included with this model, the beaters do just as good a job of whipping cream and egg whites as the motor is powerful enough. A good choice if you don't have to cater for a crowd and want a mixer without the bells and whistles.
7. Salter EK4245BLACK Stand Mixer
Best stand mixer for pizza dough
Specifications
RRP: $190.90/£139.99
Warranty: No
Weight: 3.79kg
Colorways: One
Wattage: 1200W
Speeds : Six
Capacity: 5 litres
Attachments included: Four
Dishwasher-safe attachments: Yes
Reasons to buy
+
Large capacity
+
Very powerful
+
Lightweight
Reasons to avoid
-
So-so looks
-
Whisk feels a little flimsy
Another powerful stand mixer with a big bowl, this is a great choice if you want a model that does the basics well. Its biggest draw is its roomy bowl and power output, which allowed us to make big batches of pizza dough easily and quickly, ensuring all the ingredients were properly incorporated. The metal beater and dough hook feel sturdy and well-made. And while the whisk whipped our cream perfectly, it was marginally more flimsy compared to some of the more expensive models. At less than 4kg it's easy to move and very lightweight, so good for those who want to store their stand mixer in a cupboard after use, or those that may struggle with lifting heavy items. Looks-wise, it's perfectly inoffensive, but it won't win any design awards, so it may not be the right option for those after an uber-stylish appliance.
8. KitchenAid Classic K45SSWH stand mixer
Best stand mixer for baking
Specifications
RRP: $299.99/£399.99
Warranty: Two years
Weight: 22lb/10.5kg
Colorways: Two
Wattage: 275W
Speeds: 10
Capacity: 4.5 quarts/4.3 litres
Attachments included: Three
Dishwasher-safe attachments: Some
Reasons to buy
+
Great looks
+
Lots of attachments available
+
Does the basics perfectly
Reasons to avoid
-
Whisk isn't dishwasher safe
-
Very heavy
KitchenAid refers to this as its entry-level model, but it certainly doesn't skimp on quality. It has a nice roomy bowl, feels super sturdy and does all the basics—mixing, whipping and kneading—flawlessly. We do wish the whisk was dishwasher-safe and maybe that it wasn't so heavy, but well-built it most certainly is. It also wouldn't kill KitchenAid to throw in a flexi-beater and a splashguard for this price, but it's not a deal-breaker. The best thing about this stand mixer is the number of additional extras, such as a pasta roller, that you can buy to customize it. It also looks incredibly stylish, so is a great one to display on your countertop, but be warned that it's very heavy to move. It's pricey, but it's worth keeping an eye on KitchenAid deals to see if it's ever on offer.
9. Smeg SMF03CRUS Stand Mixer
Best stand mixer for bread dough
Specifications
RRP: $569.95/£479
Warranty: Two years
Weight: 18.5lb/8.4kg
Colorways: Five
Wattage: 600W
Speeds: 10
Capacity: 5 quarts/4.8 litres
Attachments included: Five
Dishwasher-safe attachements: Some
Reasons to buy
+
Great capacity
+
Good-looking
+
Choice of colors
+
Powerful
Reasons to avoid
-
Splashguard and whisk aren't dishwasher-safe
-
Pricey
-
Heavy
As well as the usual three attachments, this retro-style Smeg stand mixer comes with a splashguard and flexi-beater. It also claims to make 4lb of dough in one batch, so we put that to the test and found it coped admirably, making it an excellent choice if you make a lot of bread at home. The bowl was squeaky clean when we turned the dough out and the motor didn't struggle kneading such quantities, making it a pretty powerful model. It's also undeniably the best looking of all the stand mixers we've tested, and we were so impressed with it that it probably would have taken the top spot in our guide were it not for the high price.
10. Russell Hobbs 25931 Stand Mixer
Best stand mixer for a style statement
Specifications
RRP: : £189.99
Warranty: Two years (extended to three years when the mixer is registered online)
Weight: 6.1kg
Colorways: One
Wattage: 1000W
Speeds: 10
Capacity: 5 litres
Attachments included: Four
Dishwasher-safe attachments: Yes
Reasons to buy
+
Iconic design
+
Large capacity
+
Powerful
Reasons to avoid
-
No extra attachments available
This Emma Bridgewater-design mixer brightened up our kitchen no end, so it's our best choice for those who want their stand mixer to make a statement in their kitchen. The Russell Hobbs mixer feels weighty without being too heavy, and is very powerful—we gave it the task of incorporating the ingredients to make meatloaf and it coped brilliantly, with an even distribution. There's also a splashguard thrown in and the bowl is really roomy, so it's ideal for big-batch food prep. The chrome controls somehow manage to make it look a little cheaper than if they were brushed steel, and there are no extra attachments provided, but we're being extremely picky. A great model that cannot be accused of putting form over function.
Shop the Russell Hobbs 25931 Stand Mixer (opens in new tab) from Emma Bridgewater and browse woman&home's Emma Bridgewater discount codes for money off.
What to consider when choosing the best stand mixer
Before making your purchase, there are a few things you should keep in mind to ensure you choose the very best stand mixer for you and your needs:
Capacity—if you're an avid bread baker, a model with a small bowl and a lackluster motor is not going to cut it, so make sure you get one with a big bowl capacity. Similarly, if you only cook for two people, you're not going to need a design with a huge bowl. In terms of volume, a 4.5-quart bowl is enough for a family of four and will handle most food prep tasks with ease. Those that are 5 quarts and above are ideal for those who cook in large quantities or very often.
Size and weight—stand mixers are bulky. So the question is, which space is more precious to you, worktop or cabinet? If your cupboards are full to bursting, keep it on the worktop and vice versa. If you are planning to put your stand mixer in a cabinet, make sure it's a comfortable weight to lift; some are made of solid metal and can be very heavy. Check the dimensions of the mixer you're keen on and measure the space you plan to keep it.
Attachments—almost all stand mixers come with three standard attachments: a flat beater, wire whisk and dough hook, and splash guards are commonly included. The standard three attachments will be enough for most people to carry out a lot of food prep tasks, so ask if yourself if you honestly need paid-for extras like a food mincer of a spaghetti shaper.
Your budget—Stand mixers start from as little as £75/$75 but can rise to around £1000/$1000. How often you plan to use a stand mixer should dictate how much you're willing to spend. If you're certain you'd use a £500/$500 stand mixer a couple of times a week, this of course reprexsents greater value for money than if you used a £250/$250 model once a month. Additional attachments can bump up the price considerably too, so think about what you'd genuinely make use of. For a good all-rounder with great build quality and the capability to add extra attachments, anything from £250-350/$250-350 is a good ballpark.
Is a stand mixer worth buying?
Stand mixers are pricey, but if you cook from scratch frequently—and especially if you are a keen baker—a stand mixer is definitely worth buying. They help to make doughs, batters, whip egg whites, cream or mashed potatoes, in a way that no other appliance can.
Ultimately, a stand mixer is designed to take the legwork out of laborious, time-consuming food prep tasks, saving you the effort. They can also be customized into other kitchen gadgets with a seemingly endless array of attachments, meaning their price tag often offers great value-for-money too.
Overall, a stand mixer is well worth buying if you are a regular cook/baker and feel you could benefit from help in the kitchen.
What functions and attachments are essential in a stand mixer?
A roomy bowl is a good place to start, and a mixer that has six speed settings or more will cover all bases when prepping food. Look for a design that has a motor of 300W or more to make sure it's delivering enough power, and if you can find a model with a flexi-beater (or add it as an optional extra), so much the better.
We'd generally hold off buying every attachment that catches your eye right away— use the mixer for a while first to see if you really need any of them. But if you do want to use attachments, there are a myriad that you can buy to turn your stand mixer into a multi-functional appliance. Some particularly useful attachments are:
A blender attachment—if you don't already have a separate blender for making smoothies, purées, soups and baby food, this handy attachment is worth considering.
A food processor attachment—the addition of a food processor can widen the scope of a stand mixer no end. If you don't have a standalone food processor and your knife skills leave a lot to be desired, this is a time-saving godsend.
A meat grinder attachment—dedicated carnivores can experiment with the cuts of meat used to make ground meat, as well as the coarseness, with a grinder attachment. This gadget can stuff sausages too.
As an interior stylist and writer with a penchant for way too many vases and cushions, Laurie Davidson eats, sleeps, and breaths interiors. She's lucky enough to have been in the industry for over 20 years, working across TV and magazines, and alongside some of the top UK brands and names.

If Laurie isn't knee-deep in boxes for a shoot or preparing mood boards, you'll most likely find her testing appliances and accessories for buyer's guides. With a wealth of experience, features, and shoots under her (stylist's) belt, Laurie has become a much-called upon expert.