The best hand mixers to help you whip, beat and mix your baking recipes in minutes
Our guide to the best hand mixers includes top models from Cuisinart, KitchenAid, and Dualit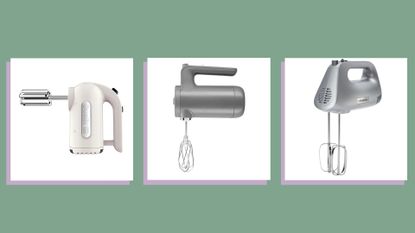 (Image credit: Future)
Hand mixers will help you to whizz up a huge array of recipes such as cakes, bread, biscuits, and other sweet treats—whether you're an occasional baker or a seasoned pro. See our guide to the best hand mixers on the market, to help you decide which one is the right fit for your home.
A hand mixer will help you with so many of the baking basics. For example, it'll make light work of kneading dough, beating eggs, and mixing batter. A hand mixer is always a popular choice for bakers, as it can be stored away easily, and is by far the cheaper option, too. Plus, hand mixers take up far less space than a countertop mixer—in short, they're great value for money and incredibly useful kitchen gadgets (if you're in the market for a bigger kitchen appliance upgrade, you could also check out our guides to the best blenders and best food processors, too)
Although not all hand mixers have the power for heavier doughs as a stand mixer would, there are many benefits to using one. You can use any bowl with a hand mixer, and the detachable metal beaters can usually be popped into the dishwasher for easy cleaning. Retractable cords, and space for the attachments to clip on so they stay stored with your mixer, are both handy features too.
What to consider when buying a hand mixer
Why you can trust Woman & Home Our expert reviewers spend hours testing and comparing products and services so you can choose the best for you. Find out more about how we test.
There are a few things to consider when deciding on the best hand mixer for your needs, to determine which one is the best option.
Attachments—before you part with your cash, you'll want to consider which attachments you'll need. Some hand mixers don't come with a whisk (so you might want a separate electric whisk, ideal for whipping egg whites and light sponge batters). But, most models do include two beaters (used for medium to heavy mixtures, such as creaming butter), while others will offer a dough hook for kneading. Decide which ones you absolutely want/need.
Size—you'll want to keep in mind where you are going to be storing your hand mixer before buying one, as some models are more compact than others, making it easier for those short on space. Also, some have detachable mixing wands, while others don't, which makes storage harder.
Weight—if you're going to be whipping up batters regularly or having the kids help, you might want a lighter model with a comfortable, easy grip, which will make the whole experience more pleasant and less tough on your hands and arms.
Wattage—contrary to popular belief, the higher the wattage isn't always the best indicator of a mixer's power, as it refers to the power going into the machine rather than what comes out. So while you should probably aim for a hand mixer with at least 85W (all of our below models meet this requirement), assessing the speeds and capabilities of the mixer is a little more important.
Speed—the more speed settings you have, the easier the mixer will be to adjust and control. You don't want a model that's too powerful for lighter ingredients, for example. Most models will have two to three options, with two being more basic and anything over three geared towards regular bakers. Decide which one is right for your needs.
Ease of cleaning—cleaning a kitchen is always a pain after a big baking session, but many of these hand mixers have dishwasher-safe parts—although not all of them do. Decide whether this is important to you before purchasing.
Budget—hand mixers vary greatly in price, with some of the higher-end brands, such as KitchenAid, coming in at over $99/£99. You often get what you pay for when it comes to hand mixers—however, that's not to say that the mixers at the cheaper end of the spectrum aren't proficient, too. You'll just want to ensure that the hand mixer's attachments are of decent quality if you're going for one of the more affordable options.
The best hand mixers as reviewed by our expert
1. Kenwood Handmix Lite HMP30
Best hand mixer overall
Specifications
RRP: £25.99
Speeds: 5
Tools: 2 x beaters, 2 x dough hooks
Wattage : 450
Reasons to buy
+
Powerful
+
Soft-grip handle
+
Compact for storage
+
Good for heavy-duty baking
For those heavy-duty baking tasks, this mixer gets the job done quickly and efficiently. We certainly felt the difference in power with this machine as opposed to some of the other lower-budget models, so if you're looking for one to get through those hard dough mixes, then we'd absolutely recommend the HMP30. Design-wise, its silver colorway is modern-looking, but it's also available in white if you prefer that. Another big plus of this model is that it is light and compact enough for those that don't have lots of room to store a larger model, so a fantastic option for smaller kitchens. We found the whisks slightly on the short side for our large bowl, and it definitely wasn't the quietest model, but on the plus side, it has a great slow start that didn't send our lighter ingredients flying. A great all-rounder.
2. Russell Hobbs Desire 24672 Hand Mixer
Best budget hand mixer
Specifications
RRP: £27
Speeds: 5
Tools: 2 x beaters, 2 x dough hooks
Wattage: 350
Reasons to buy
+
5 speeds plus turbo function
+
Stylish matte black colourway
+
Stand up design
Reasons to avoid
-
No whisk attachment
-
Lack of color choices
Considering its ultra-low price (a big tick), this mixer was a pleasure to use and surprisingly quick. Although it's not an all-singing, all-dancing model, what it lacks in cutting-edge design, it makes up for in functionality at a good-value price point. The black colorway is fairly unassuming (and their only color option), but it's arguably stylish and would match well with almost all kitchens. Plus, it has shiny ends to it that make for very easy cleaning. But one of the best features for us was the five speeds, along with the turbo boost, that mopped up all the residue in our bowl. It's a comfortable hold, and lightweight enough that our tester's arm didn't ache despite constant mixing of cake batter, even when on the higher speeds.
Our only very picky point? The eject button for the attachments doubles up as the speed setting, which was a tiny bit confusing. Would we choose it for looks alone? No. Is it the most sturdy, heavy-duty choice? No—but if you're after a budget-friendly option that works well for baking recipes, and won't leave you with arm ache, then this one is high up on our list.
The Russell Hobbs Desire 24672 Hand Mixer was supplied by AO.com (opens in new tab) for this review
3. KitchenAid 9-Speed Hand Mixer KHM926ER
Best luxury hand mixer
Specifications
RRP: £72.72
Speeds: 9
Tools: 2 x beaters, 2 x dough hooks, whisk, blending rod, storage bag
Wattage: 85
Reasons to buy
+
Great range of accessories
+
Lots of speeds with soft start
+
Lockable swivel cord
+
Good power
Looking for an all-singing, all-dancing design? Then this is the model to invest in, with big results and a whopping nine speeds. You'll be spoilt for choice with attachments too, as it comes with two beaters, two dough hooks, a whisk, and a blending rod (ideal for smoothies and sauces), plus a soft-start feature that we found helped ingredients stay in our bowl with no messy splashes when going up a speed or two. The stainless-steel Turbo Beaters are great for mixing heavy doughs or big bowls of ingredients, and while the soft-grip handle makes it easy to hold with one hand, it did make our arm ache a little when on the top speed when we mixed for a while. The LED display is easy to see, though, and it has a soft-grip handle and lockable swivel cord as per the five-speed model. Want to take it with you when you're away? Then the cotton storage bag will come in useful. Now, it's not cheap, but you do get a top-notch model for your money. And if it feels too pricey, see our regularly updated guide to the best KitchenAid deals, where you might be able to bag a bargain.
4. Cuisinart Cordless Power Hand Mixer
Best hand mixer for style
Specifications
RRP: £90
Speeds : 5
Tools: 2 x beaters, USB charging adaptor
Wattage: N/A
Reasons to buy
+
Cordless
+
Easy to store
+
Compact
+
Stand up design
Reasons to avoid
-
No whisk or dough hook
-
Needs charging
Prepare to fall in love with this little beauty's sleek good looks and no-fuss style. What Cuisinart's cordless power hand mixer lacks in additional tools (it only includes beaters, a small downside), it makes up for in ease of use. We liked the five-speed settings, which were super powerful when needed and light as a feather for finer ingredients—and the fact that it stands up by itself on the benchtop means much less mess. It's also easy to store, with a cordless, sleek stainless-steel design that makes it super-flexible. The lithium ion battery is charged by USB and you get around 20 minutes of continuous use, which was easily enough for us to make one lot of batter—it takes 130 minutes to charge. Also included in the box is a little recipe booklet and the beaters are fine to pop in the dishwasher. Budget-wise, it's at the top end of the spectrum, working hard for its price—but for us, it was well worth a place in our guide to the best hand mixers.
5. KitchenAid Cordless Hand Mixer 5KHMB732
Best cordless hand mixer
Specifications
RRP: £72.72
Speeds: 7
Tools : 2 x beaters, electric charger
Volts: 110
Reasons to buy
+
Cordless
+
Easy to store
+
Compact
+
Stand up design
Reasons to avoid
-
No whisk or dough hook
-
Needs charging
-
Not lightweight
Another cordless design, this one from KitchenAid is one of the best Kitchenaid mixers for 2021 and just like the Cuisinart, it's cordless, and so gives you the freedom to use it anywhere, rather than simply where your power point is situated. One thing to keep in mind with these cordless models, however, is that if your battery is low and you haven't remembered to charge it, you may be waiting a while to start your mixing. Plus the charge point is only accessible when the mixer is off, meaning you can't plug it in while still using it. This shouldn't be an issue with this model though, as KitchenAid says that it should be able to make a whopping 200 cookies in four batches on a full charge—an impressive run time. Available in Black, Empire Red, and White, it's ideal for matching up with KitchenAid's other appliances should you wish. This mixer has a rounded shape with a curvy handle that makes it almost retro in design, which is very appealing. Power-wise we couldn't fault it, as the seven speeds adjust smoothly without splattering ingredients everywhere. Plus, it was lightweight a simple to use. Could we have done with a whisk for the egg whites? Yes. But that was a minor drawback. And given how compact it is to store, how easy it is to use, and how ideal it is if you have few power points, it's still made our list of the best hand mixers out there right now.
6. Bosch Styline Hand Mixer MFQ4020GB
Best quiet hand mixer
Specifications
RRP: £50
Speeds : 5
Tools: 2 x 'Fine Creamers', 2 x dough hooks
Wattage: 450
Reasons to buy
+
Extra lightweight
+
Pulse function
+
Silent motor
+
Good power
Reasons to avoid
-
Can splash on whisking tasks
After a no-frills mixer at a good price, that does the job efficiently? Then this 450W model may be the one. Simple and reliable, it comes with Bosch's 'fine creamer' tools, which have little balls on the end (to add more air to your ingredient mix) and two dough hooks. On first inspection, the tools didn't look the most sturdy, but we can't deny they gave us good results and we found the mixer one of the lightest to use out of them all. However, there was a bit of splashing during whisking tasks, but not enough to put us off completely. The Styline has a good range of speeds and we particularly liked the pulse function, but the winning aspect for us was just how quiet this model was—you could hear yourself talking over it, which surprised us in a good way.
Looks-wise, it's not the sleekest or stylish out of the bunch, with its simple monochrome design, and it's certainly not the most high-tech mixer, but you can be confident it's also not basic and it falls middle of the row for us—a good design with an even better price.
The Bosch Styline Hand Mixer MFQ4020GB was supplied by AO.com (opens in new tab) for this review
7. Dualit Hand Mixer 89303
Best retro-looking hand mixer
Specifications
RRP: £69.99
Speeds: 4
Tools: 2 x beaters, 2 x dough hooks, whisk
Wattage: 400
Reasons to buy
+
Retractable cord
+
Gorgeous retro design
+
Good attachment choice
Reasons to avoid
-
One of the noisier models
-
Limited color choice
Sometimes it's easy to underestimate how much the looks of an appliance can really sell it to you, and when we unpacked this mixer from the box it was a clear case of love at first sight. The smooth cream colorway and rounded design are similar to that of the retro-look KitchenAid but have a much more chic appearance. But looks aside, in our tests, the 400W motor performed well—although it is one of the noisier models—and we found the four-speed settings easy to control even at a slow speed. One of the winning features for us is its retractable cord and integral plug storage, which means when it's not in use you can wind the cord up and keep it tangle-free. Comfortable to hold, it's quite a long mixer with an open-ended handle and not the lightest, but it definitely makes up for that in design and reliability—plus, we like the number of tools that are included in the price.
The Dualit Hand Mixer 89303 was supplied by Lakeland (opens in new tab) for this review.
8. Progress EK4255P Ombre Hand Mixer
Best introductory hand mixer
Specifications
RRP: £26.99
Speeds: 5
Tools: 2 x beaters, 2 x dough hooks
Wattage : 250
Reasons to avoid
-
Not the most high-tech model
If you're buying your first mixer, and want something simple but competent, then this model by Progress is for you. At 250W and with five-speed settings, it performed well, was easy to use, and comes at an amazing price. Plus, there's a turbo setting to give your mixing an added boost when you need it. Yes, it's slightly more basic-looking in design than some of the others, and if we had to be picky, the left-to-right speed setting was a little more clunky. The tools are all stainless steel though (no plastic) and it's smaller than some of the others, which means it's a good model if you have children that will be involved with the baking, too. Overall, this is a cute, functional little mixer that's easy to use if you're a newbie to hand mixers, at a price you really can't go wrong with.
9. Salter Cosmos Hand Mixer
Best hand mixer for mixing batter
Specifications
RRP: £25.20
Speeds: 5
Tools: 2 x beaters, 2 x dough hooks
Wattage: 300
Reasons to buy
+
Sleek looks
+
Good size
+
Value price
Reasons to avoid
-
Higher tech models available
Not everyone wants to shell out a lot on a hand mixer, especially if you're only going to be using it now and again, which is where a more budget-friendly option comes in—and you won't do much better than this little beauty from Salter. As well as the great price, it's also a nice compact model, which makes it a doddle to transport should you want to take it away with you. Great for whisking, beating, and mixing, this 300W mixer features five-speed settings, with an extra turbo function and a gunmetal-grey curvy design. Again, it's not the showiest model, but it performed better than average in our tests, making short work of mixing cake batter. Granted, it's not the quietest mixer out there, but for its great price, we were more than happy with how it looks, feels, and performs.
How we selected and tested the best hand mixers
In order to bring you the very best hand mixers on the market, we selected our range below based on the following criteria.
How we selected our hand mixers:
A range of models—when deciding on the models to test, we opted for the most popular options from a range of brands. We included some of the more well-known brands like KitchenAid and Cuisinart, along with some lesser-known names that offer great quality for money.
A range of prices and functions—we've made sure to include a range of different price points, sizes, and speeds too, in our selection. This way we can be confident we've covered all bases and there should be a hand mixer for everyone, whatever your budget or requirements.
How we tested our hand mixers:
In order to put the hand mixers, we selected to the test, we looked at:
Functions each machine offered
Ease of use, power
How easy each mixer was to clean
Overall value-for-money
We then put them through two different performance tests:
Whisking egg whites with the beaters and whisk attachments.
Beating a standard cake batter, to assess how well they combine dry and wet ingredients.
Is a hand mixer worth buying?
Let's face it, mixing ingredients and dough from scratch can be hard graft, not to mention time-consuming. So if that's something you do regularly, then a hand mixer can make the job easier. It can help to make things like cookies, cakes and bread both faster and easier—and so for us it's a kitchen essential.
A hand mixer is also a good option if you're short on space, because they are normally small and compact, particularly in comparison to stand mixers. Many bakers have hand mixers if they don't have room on their worktops for a stand mixer—although many keen bakers will have both.
As an interior stylist and writer with a penchant for way too many vases and cushions, Laurie Davidson eats, sleeps, and breaths interiors. She's lucky enough to have been in the industry for over 20 years, working across TV and magazines, and alongside some of the top UK brands and names.

If Laurie isn't knee-deep in boxes for a shoot or preparing mood boards, you'll most likely find her testing appliances and accessories for buyer's guides. With a wealth of experience, features, and shoots under her (stylist's) belt, Laurie has become a much-called upon expert.