Silver 197 sewing machine review
For an all-rounder sewing machine, it doesn't get much better than the Silver 197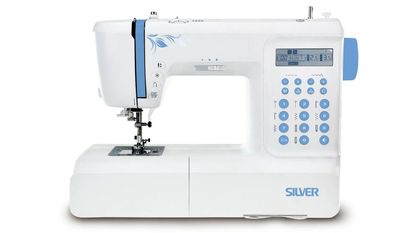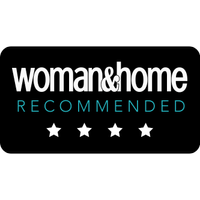 (Image credit: Silver Viscount)
The budget-friendly Silver 197 delivers on more than just price
Reasons to buy
+

LCD display

+

197 stitch patterns including alphabet and numbers

+

Memory mode to store favourite stitch settings

+

Mirror pattern sewing
Reasons to avoid
-

Complex function buttons
Why you can trust Woman & Home Our expert reviewers spend hours testing and comparing products and services so you can choose the best for you. Find out more about how we test.
If you're looking to buy one of the best sewing machines (opens in new tab), the Silver 197 takes being an all-rounder to new levels of perfection. It's easy to use for beginner sewers, while the array of stitches available would suit anyone with years of experience.
While the complex function buttons and LCD display might seem daunting to new sewers, the comprehensive instruction manual provides thorough guidance with detailed step-by-step imagery.
Pricing
For £350, the Silver 197 comes in at an entry-level price for a computerised sewing machine. It's an affordable option for those looking for one of the best sewing machines (opens in new tab) to last a lifetime, to keep up with an expanding skill set year after year.
The two-year warranty that comes with the machine will stand you in good stead before the sewing machine needs a service – a regular check-up should be performed on all sewing machines to keep them running to a high standard.
Specs
Size: W380 x H280 x D170mm
Weight: 10kg
197 built-in stitches (including seven buttonholes)
Maximum stitch length 4.5mm
Maximum stitch width 7mm
160mm arm space
LCD display
Memory function
Design
A matt white finish with blue detailing and a small floral pattern gives the Silver 197 a feminine look. It has curved edges teamed with a chunky base, which undoes any misconception that this machine puts style over substance.
Of course, the LCD display screen could be more streamlined, but the easy-to-programme buttons make up for it. The large buttons with clear graphics are designed with simplicity in mind. Similarly, the built-in stitch guides are just as effortless to decipher. They're positioned at the front of this model for quick access and readability, without detracting from the overall look of the machine.
Weight
With only a soft dust cover for storage, the Silver 197 is a sturdy 10kg, an average weight for a computerised machine. A carry handle makes this sewing machine ideal for carrying to and from your workspace, but the weight might make you reconsider this model if you need to travel far with it.
The handy storage section at the front of the sewing machine can be filled with all your accessories, various feet and cleaning tools. Admittedly, this adds to the overall weight but creates a compact solution if you're short on storage space in your home or studio.
Durability
The machine itself appears very sturdy, helped by the large base and well-built buttons, switches and sliders.
With a company like Silver Viscount creating a wide range of high-quality textile industry machines, you can trust that this market leader will only produce reliable and durable models.
Ease of use
On first impressions, the Silver 197 is quite a technical sewing machine to learn to use, but after 10 minutes with the instruction manual and some test fabric, learning to sew with this model is actually very simple.
Should you have the need to refer to the instruction manual again, be sure to check the threading and bobbin-winding guides that are stickered to the machine as helpful hints before you reach for the booklet.
Once you've grasped the basics of programming in the stitches, the machine does the rest of the work for you, even suggesting what presser foot to use with each stitch type.
The other features included on the Silver 197 are all in place to make your sewing experience easier, with an automatic needle threader, a start/stop switch as a foot pedal alternative and an auto-lock button to tie off thread ends.
It has all the basics, too: a reverse button, foot pedal and sliding speed gauge. So, if this is your first sewing machine or you're a beginner sewer, the settings can be changed to suit your skills and slow the pace.
Extra features
Those with more confidence can really put their stitching knowledge to the test with the range of added extras on the Silver 197 computerised sewing machine. Once you advance beyond the basic stitches on offer, the plethora of decorative sewing possibilities are endless.
Start with the buttonhole stitches, of which there are seven, before moving on to eyelet stitch, darning stitch, cording, quilting, scallop stitching – a major trend at the moment that can transform any garment into a fashionable piece of clothing – gathering, smocking, fagoting, patchwork stitching, free-motion embroidery and monogramming. It's a long list to get through on your sewing journey.
If you still want to experiment with the stitches on offer, hit the mirror button to reproduce the exact reflection of the stitch selected. It's a great technique for embroidery samplers.
Once you've discovered your favourite stitches, the Silver 197 can remember your stitch, length and width preferences with the memory function, so you can store your selections for future use, even if the machine is turned off and on again. If you want to embroider letters, this is particularly useful for popular names or words.
Performance
Having put the Silver 197 through its paces, it performs exceptionally well through the basics and technical functions.
At speed and on the more complex stitches, the high sewing standard continues. While a little loud and prone to slight vibration when pushed to top speeds, the overall performance is hard to criticise.
Some sewing machines feel like they're running away from you, especially at speed, but the Silver 197 gives the user complete control, even down to the memory function, which enables the sewer to recall their favourite stitches at the click of a button. After following the manual's instructions to set up, it was easy to store stitch selections and return to them time and again during testing.
Tried and tested verdict
The Silver 197, so named because of the impressive amount of stitches this model can produce, is the ultimate all-rounder, from beginner settings that are easy to use to the more complex features that make it an attractive purchase to experienced sewers.
The budget-friendly price might put off sewers who are used to higher price points for good-quality machines, but don't be fooled by the entry-level price tag. It performed just as well as – if not better than – its competitors when put through our rigorous testing process.
To experience the full range of features the Silver 197 has to offer, you have to invest in additional accessories, mainly specialist presser feet. Sure, the basics will keep you occupied for a couple of years, but when you have the confidence to start exploring all the stitches on offer, you'll need to purchase the works eventually. So, you might want to factor in these extra costs to get a better idea of the total spend.
If an all-inclusive machine is what you're after, take a look at the Pfaff Creative 1.5, but for an all-rounder that won't break the bank, nothing beats the Silver 197.
Our in-house craft expert, Esme Clemo, has been working within the craft magazine industry for eight years, having turned a sewing hobby into her career. She's adept in a number of crafts, including sewing, papercraft, calligraphy, embroidery and printing and has also completed an interior design course with the University of Arts London,
There's nothing she doesn't know about DIY and interiors. Everything in her home and wardrobe has a DIY twist and she knows all the tools needed for getting the job done - meaning she has a very hands-on approach when it comes to testing out products for our reviews.