10 laundry room organization ideas recommended by experts
From 'folding stations' to labels, these expert tips and tricks will transform your laundry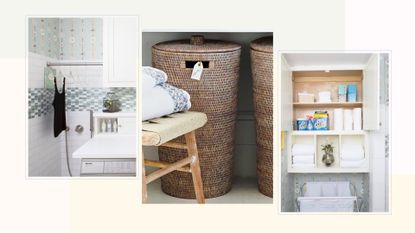 (Image credit: Future | @abundanceorganizer | Kieran Wagner)
When it comes to organizing the home, the laundry room can end up being a forgotten project that is often neglected. Left to its own devices, the space can pile up with washing and make your home look more cluttered than it actually is.
Giving one of the most hardworking spaces in a family home a bit of organizational love and attention can pay big dividends in the future to living a more organized life.
We have spoken to organizing experts who offer their tips on how to apply key home organization ideas to transform any sized laundry space into a functional area, that can restore calm and order to the rest of the home, which will benefit all the family
From creating practical folding stations to labeling storage, these simple ideas for organizing a laundry room offer easy ways of creating order when doing chores.
10 Laundry room organization ideas
Thoughtful laundry room organization ideas are all you need to maintain order when tending to household chores.
Whether you are a daily washer, or have a designated washing day, being overwhelmed by piles of laundry in a busy family home, is a common occurrence. These small-space organization solutions can help to keep laundry rooms looking chic rather than chaotic.
1. Keep it simple
One error that can easily be made when trying to be super efficient and organized is trying to make a small space too multi-functional by cramming lots into it. Just keep it simple. Decluttering is key to any successfully organized space.
A laundry room should be used for just that and nothing else, according to Marie Mandeville from Tailor My Space, an Atlanta-based professional organizing company.
"Only keep laundry room-related items in the laundry room," says Marie. "If you don't have the space, don't try and create it. For example, if your laundry room is not large enough to fold clothes once they are dry go ahead and take them out of the space."
2. Get into a good routine
Whether washing your bed sheets or washing your towels setting alarms to remind you when the laundry is done being washed and then dried, will set your focus on finishing the job at hand. Folding the laundry right then and there in your laundry room and putting it straight away, prevents letting it gather in neverending piles that make the space feel less organized.
"When you go to start a load of laundry, aim to be committed to the task until it is finished – meaning all the clothes are put away," says Christina Colas from professional organizing company Abundant Organizing.
"Having a routine for your laundry and a system for doing it from start to finish - with all the clothes being put away in their place - is what gets you to the finish line and keeps your laundry room organized."
3. Label laundry essentials
Labels are the unsung hero of any organized laundry room, similar to an organized pantry, whether it be for the laundry bins or the laundry detergent jars. Making it clear about what goes where means that everyone in the household knows where their laundry is supposed to be deposited. Then the organization becomes a shared responsibility, rather than the onus landing on one person's shoulders.
"Clearly label the bins that are designated for sorting so everyone who brings laundry to the laundry room can sort dirty laundry," says Michele Vig from full-service organizational solution company Neat Little Nest. "This also means that anyone in the family can throw in a load of laundry when a sorting bin gets full."
4. Choose a laundry solution with compartments
Separating the white clothes from colors or delicates from the everyday cotton before they even reach the machine should be the first step in keeping the laundry organized.
"Choose a location for dirty laundry and start the sorting process before you even start the laundry washing process," says Christina. "A four-section laundry sorter is a great option allowing you to sort darks, lights, towels, and delicates. Then it can be rolled up to the washer when it's time to wash."
5. Designate an area for folding
Carve out room for a dedicated 'folding station'. Adding a shelf to your space or designating a surface specifically for folding laundry can be a game-changer when it comes to keeping a laundry organized according to Christina.
"The best way to keep a laundry room organized is to follow through with a routine which involves folding any laundry that needs to be folded and then putting all away," Christina explains.
"If you have a designated area for folding laundry in your laundry room, then you can immediately fold it as soon as you take clothes out of the dryer or off a clothes rack. If you tend to hang a lot of your clothes, then have extra hangers so that you can quickly transition the clothes from the laundry room to the closet."
6. Introduce a zone for ironing
As an incentive to get the job done from start to finish, one of the first rules of keeping a laundry tidy and organized, then consider keeping an iron and ironing board close to hand. It means clothes can be taken straight from the dryer or airer and can be pressed ready to be transferred into your closet, rather than hanging around the laundry waiting for the magical ironing fairy to come along and sort it out.
"Storing the iron and ironing board in the laundry room is always a good idea," says Christina. "Find a spot to hang it that is easily accessible but frees up space when not in use." Vertical wall space can also be used to hang lint rollers, scissors, and all those other utility/cleaning items. Using a pegboard for versatility or a good command hook always gets the job done.
7. Add storage cabinets
No matter how organized you can try to be in a laundry room, if all your dirty washing and boxes of detergent are literally on display it can look like a cluttered space again very quickly. The same applies to even the most organized of kitchens. "I like plenty of cabinets because it is a great way to not see what's in the space," says Marie.
Not only can they hide detergents, soap, and personal items such as underwear that you would rather your granny didn't have to see but if your laundry machines are in an open space such as your kitchen, it is perfect for hiding them away and creating a mess-free, functional zone.
8. Incorporate a drying rack
Incorporating a fold-away drying rack directly with the room means that freshly washed laundry doesn't spill out into other rooms. Laundry is contained in one dedicated space to ensure the rest of the house isn't left looking untidy while you dry clothes indoors.
Having a wall-mounted rack or a clothes maid that is elevated out of the way ensures that once the laundry is dry you can minimize the impact of the drying rack on the concise organization levels of your laundry room.
9. Cut out the clutter
More 'stuff' means more work for you to do in the laundry to keep it looking organized. Trying to put an organization plan into place when you can't see the wood for the trees – or the washing basket for the laundry in this case – is tough. Use the time you are spending on clothes washing and sorting to regularly declutter clothes items and throw away anything that no longer serves you.
"Don't forget to part ways with anything that is stained or tattered. This allows you to make room for what you actually will use,' says Christina. "The less you have to maintain, the easier it is to maintain. By simplifying your spaces, it means you are therefore simplifying your life."
10. Install a laundry chute
If there's budget then consider reconfiguring your whole approach to your existing laundry room. By building a laundry chute from a bathroom or landing area, clothes, and linens can be sent down and landed straight in the laundry room.
It cuts out the time and helps everyone keep on top of their dirty items, rather than finding odd socks under the bed. "My ideal laundry would be two sets of washers and dryers, a counter for folding, and a laundry chute from the hallway," says Marie.
How do you maximize space in a laundry room?
Taking on board organizational tips to make your space work smarter and harder for you, and staying on top of the washing workload, means you don't necessarily need to have a huge laundry to make it work.
"The best way to maximize your laundry space is to have clear zones for sorting, washing, drying and to do your laundry on a regular basis so it doesn't pile up and become overwhelming," suggests Michele.
"Having too much dirty laundry in the laundry room or having clean clothes in baskets, but not putting away leads to a lot of the clutter that is found in laundry rooms today." Incorporate your laundry into daily habits to keep your house clean and tidy.
How can I make my laundry room more functional?
There are hundreds of products on the market that promise to offer the perfect transformational solution to help you organize your space. But Michele says instead of spending money on fancy new items, keep it simple and instead consider where you are locating things to make the space work better for you.
"The top things to improve function in a laundry room are a counter for folding, sorting bins to put dirty laundry, a shelf/cabinet near the washer and dryer to store laundry care items, and a place to hang clean clothes," Michele suggests.
How do you organize towels in a laundry room?
Making your laundry and linen closet look hotel ready can be deeply satisfying, same as making your bedroom feel like a luxury hotel. And there is a simple special knack to organizing bundles of fresh fluffy towels straight out of the dryer, that can help you achieve this, says professional organizer Marie Mandeville from Tailor My Space.
"Find one fold and fold them all the same way," she says. Thankfully you don't have to be perfect at this to get the desired result, there is another way; "Think bins. This is a great way to store linens that are not perfectly folded."
Danielle Lawler is an editor, journalist and copywriter of over twenty years covering home stories, lifestyle and entertainment across national newspapers, magazines, online and in trade press.
Aside from women & home, most recently her work has appeared in Tatler Magazine, The Telegraph, Homes and Gardens and Royal Ascot Magazine.
She can often been found writing 'at home' stories with influential business people and celebrities, covering cultural events and writing about new lifestyle trends in interiors, beauty and travel.