10 ways to make a bedroom feel like a luxury hotel
Knowing how to make your bedroom feel like a luxury hotel is easy when you have insider and expert advice...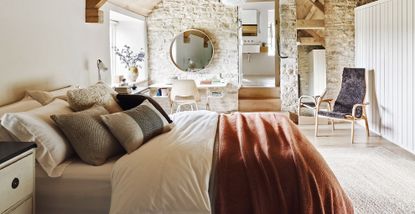 (Image credit: Future | Adam Carter Photography)
Transform any space by following these expert tips for how to make a bedroom feel like a luxury hotel. From simple tricks like adding extra pillows to clever buys such as oversized bedding.
Aside from buying hotel pillow brands and learning how to make a bed like a hotel housekeeper, there are other simple ways that can make your home feel expensive on a budget and give your sleep space a plush makeover.
According to interior experts and bedding specialists, these are the simple steps to take if you want to give your bedroom an upgrade that will make the space look and feel more luxurious like a five-star hotel room.
How to make your bedroom feel like a luxury hotel
1. Opt for oversized bedding
No matter what type of duvet you choose, whether a feather option or a modern hollow-fiber design, the key to making it feel hotel-worthy is the size that you choose.
As potentially one of the most important elements of a bedroom, Georgia Metcalfe, founder of French Bedroom explains how 'size matters' when it comes to duvets, "Using a duvet that is a size bigger than your mattress – for example, a super king duvet on a king size bed – will create a hotel feel and instantly make the room more luxurious."
2. Seek the softest sheets
There's no better feeling than sliding into a hotel bed with the softest sheets, so to make your bed feel like a hotel bed opt for the best sheets to dress it in luxury – white bed sheets in either silk or a high Egyptian cotton thread count like 400.
"Often five-star hotel rooms are centered around creating a moment of luxury for guests, so when it comes to bedding they tend to invest in high-quality sheets," explains bedding expert, James Higgins at Ethical Bedding.
"Thread count is important too as it's normal to think the higher the better, but that's not the case, you need to look out for single ply too. Opt for bedding with a single-ply thread count of 300-400 for that hotel bedding feel - single-ply is higher quality than double-ply."
3. Pile on the pillows
No luxury hotel is complete without the best pillows and the key is to dress beds with plenty of comforts.
Pair your generous duvet with down pillows and stack two pairs upright against the bed head, followed by velvet or silk scatter cushions that compliment the color of the room.
"Pull the duvet up to the pillows, fold it back on itself, creating what's called an 'apron effect', then tuck the duvet under the mattress, for that true 'hotel tucked' bed style," advises Georgia.
Ensure you cater to a better night's sleep with tailored pillows for specific sleep needs, from the best thin pillows to the Simba hybrid pillow or Emma memory foam pillow. "Hotels offer a range of pillows which is a nice touch, as some prefer a firm pillow, while some prefer soft," adds Richard.
4. Seek ambient lighting
Choose a mix of lighting to create different moods in the bedroom and give it a more considered, luxury feel – the same way as you would when looking to make a home feel cozy.
Georgia reveals, "Hotels put a lot of thought into the lighting in their rooms, so layer your bedroom lighting with low-level table lights on the bedside tables, as well as a central ceiling chandelier, and also include wall lights and large mirrors to add a cozy, inviting feel that works both day and night."
5. Streamline the layout
Styling the room can take it from homely, to a beautiful bedroom that feels more like a luxury hotel. Decluttering and streamlining the space makes for a more luxe approach to the layout. "Don't overcrowd the room," warns Georgia.
"One of the simplest, yet most effective ways of adding a luxurious, hotel look to your bedroom is avoiding clutter," says interiors expert Laura Burnett from Feather & Black.
"Having numerous, often mismatched items around the room can be distracting. Keeping a clean and clear space can convey luxury with very little effort. Large storage options can help you achieve this look, whether you opt for a statement chest of drawers or an ottoman storage-style bed."
Arranging your bedroom using the principles of Feng Shui works well to create a luxury layout – with the bed being the focal point of the room, to signify that it's a place of rest and restoration first and foremost.
"Things to pay special attention to are practicalities like positioning your bedside tables near power points. Less is more when it comes to decoration and trinkets, choose books instead of ornaments and large mirrors instead of multiple small ones."
6. Create a calming color palette
Bold interior paint color trends are not off-limits, but when looking to create a luxury hotel-style bedroom, cohesive color is the key. Georgia advises, "One of the most notable elements of luxury rooms is the color scheme, as it defines all choices for the rest of the room."
She believes bedding, curtains, flooring, and artwork should all be aligned with this, and try to stick to something simple and continued. "To create a calming, luxury feel, either choose neutral colors like fawn, taupe, and creams or go dark with navy blues and deep greens."
Meanwhile, to transform your bedroom like a hotel, Feng Shui specialist Marites Allen advises: "A bedroom is a place of rest and therefore two of the best colors to use are blue and green – because psychologically when we look at these two colors, it creates electronic waves in our brains to feel more settled, and healed or calm." Sage green is a great calming shade if you're looking to create a serene space.
7. Make considered furniture choices
To create a cohesive, inviting room, the experts say we should avoid picking 'suite' style bedroom sets.
Georgia explained, "Start with the bed first, something that draws the eye like a modern four-poster, a statement emperor bed, or silk upholstered bed head. Then choose minimal, practical furniture that works in harmony and doesn't clutter the room."
To help a bedroom feel like a boutique hotel she suggests choosing a velvet bed head in gray, or for something more opulent look for French-style upholstered beds with ornate detailing. Try painting or reupholstering items you already own to save on buying lots of new pieces.
"Classic hardware including chairs, vanity sets, and wardrobes can set the tone for your bedroom," says Laura, "Wooden furniture pieces can significantly increase a room's luxurious feel."
8. Dress the windows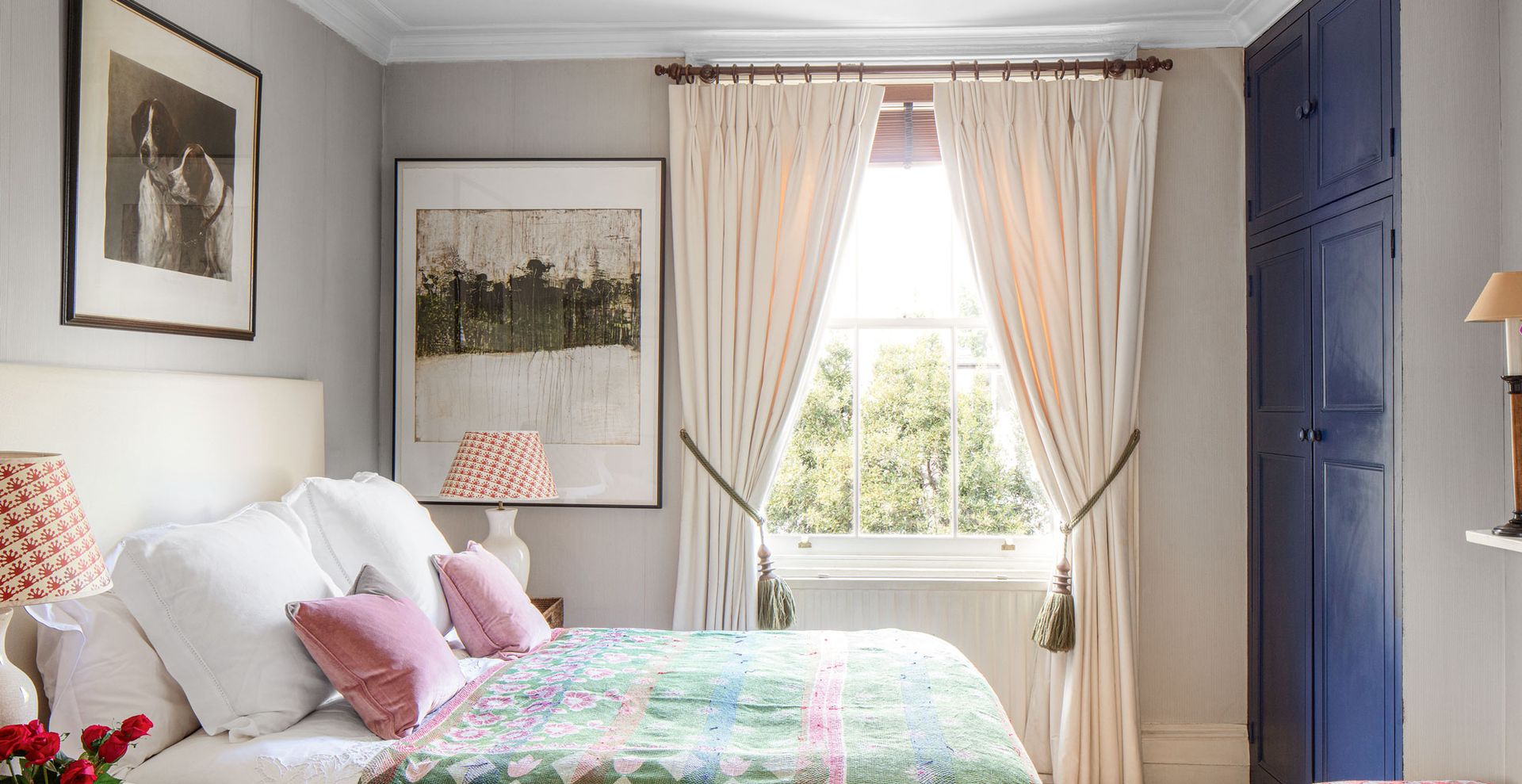 When looking to make your bedroom feel like a luxury hotel it's important to layer window treatments to ensure your bedroom delivers a good night's sleep but also looks well-dressed.
"Dress your windows with long drapes to make them a feature," advises Georgia.
"Using blackout curtains is a quick and simple way to add an element of luxury to your bedroom, as well as being incredibly practical," adds Lucy. "Not only do they darken your room to give you a better night's sleep, but they also provide a highly luxurious feel to your bedroom with a hotel-room finish you'll love coming home to."
9. Add stylish finishing touches
A well-dressed bedroom instantly feels more worthy of five-star status, because the devil is in the detail for adding a touch of opulence.
"For anyone hesitant to incorporate a bright color scheme into the bedroom, a decorative throw or blanket can be the ideal way to add a pop of color to a neutral-toned hotel-style room," says Lucy. "A throw or blanket at the end of the bed can tie the room together and make the bed the focal point of the room, adding a luxurious feel."
"If adding a throw or blanket isn't quite to your taste, investing in other statement pieces, such as wall art can be one of the easiest ways to make your bedroom feel luxurious," adds Lucy. "Focus on a few key pieces rather than filling your walls – the larger the wall art, the more impactful and luxurious the finish."
10. Upgrade the mattress
For mattresses, Georgia added, "That well-rested feeling you get after a night in a hotel is down to the plush luxury mattress. Choose extra support from pocket springs, breathability from natural materials, and quality hand-craftsmanship."
If your budget doesn't stretch to a new mattress the addition of one of the best mattress toppers can still prove transformative.
If a topper simply won't cut it and you need to change your mattress look for a seasonal discount on one of the best mattresses, to make the long-term investment more affordable.
For a quality choice that won't set you back too much, hit up Emma during one of their Emma mattress sales that take place throughout the course of the year, or look out for Simba mattress sales too.
How can I make my bedroom feel more luxurious?
"It's important to decide which aspect of your bedroom is most important to you before you start designing it," explains Rhiannon Johns, interior designer at Piglet in Bed. "If, for example, your bedroom is purely a place of relaxation with your bed at the core, focusing on creating a luxurious bed that you can't wait to dive into at the end of the day will be the key to success."
"Opt for super-soft bedding such as 100% linen in calming neutrals. Not only does linen look super luxurious, but its temperature-regulating abilities will see you ease into a wonderful deep sleep."
"If, on the other hand, your bedroom doubles as a dressing room, your focus can instead be on creating zones using rugs, different color walls, or wallpaper to mark the dressing room side of the bedroom."
Sign up to our free daily email for the latest royal and entertainment news, interesting opinion, expert advice on styling and beauty trends, and no-nonsense guides to the health and wellness questions you want answered.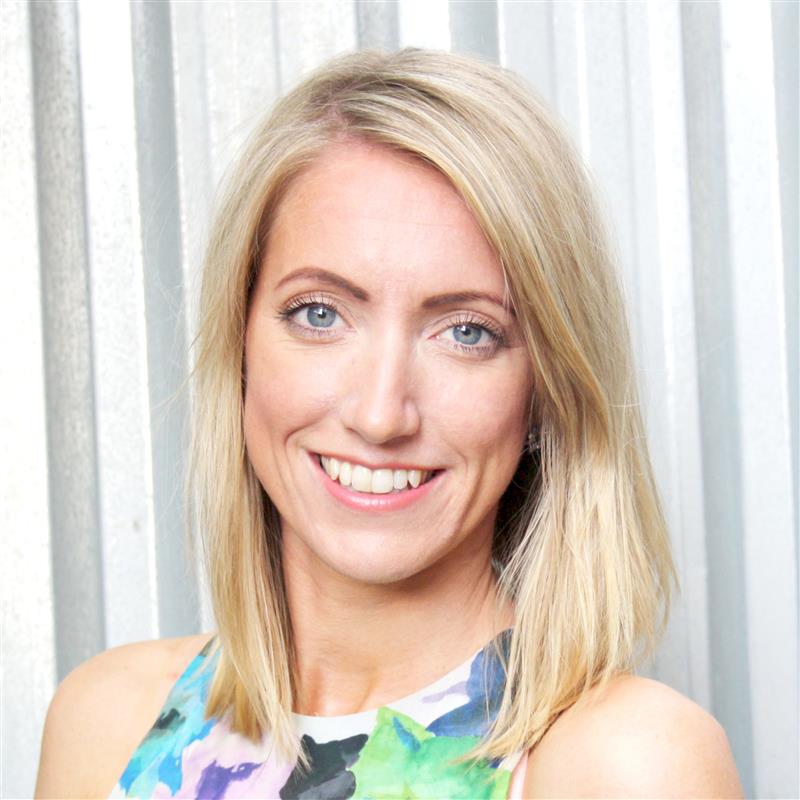 Tamara is a highly experienced homes and interiors journalist, with a career spanning 20 years. Now the Lifestyle Editor of womanandhome.com, she has spent the last 17 years working with the style teams at Country Homes & Interiors and Ideal Home, and it's with these award-winning interiors teams that she gained a wealth of knowledge and honed her skills and passion for shopping, styling and writing about every aspect of lifestyle and interiors.
With a keen eye for the latest interior trends, there's not a lot she doesn't know about home decor – whether it's what colour we should be painting our living rooms next season, or if the latest 'must-have' buys are actually worth investing in.
A true homes and interiors expert, Tamara has served as an ambassador for leading interior brands on multiple occasions, including appearing on Matalan's The Show and presenting at top interior trends events such as the Autumn Fair and Spring Fair.

With contributions from