8 hotel pillows anyone can buy from to enjoy a luxury sleep experience at home
Hotel pillows are a dream to sleep on—so how can we recreate the experience in our own homes?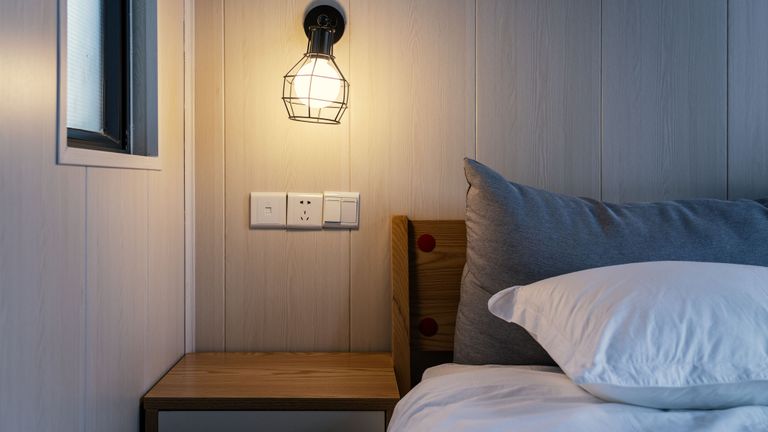 (Image credit: Getty Images)
By Amy Hunt , Aleesha Badkar
We can probably all agree that hotel pillows are among the most luxurious we've ever experienced. In fact, how many times have you wished you had those fluffy hotel pillows on your own bed? It can be one of the trickiest things about returning from a break or holiday—coming back to a bed that isn't anywhere near as comfy as your hotel bed.
So if you have a favorite hotel pillow you've been longing to have in your home, and you're desperate to recreate the luxurious hotel snoozing experience in the comfort of your own four walls, there is good news—you can actually buy one of those luxe hotel pillows for yourself.
Many of the most popular hotels across the globe actually sell the pillows they use in their hotel rooms online—so it's easier than ever to have the comfy, fluffy bed of dreams in your very own bedroom.
Why are hotel pillows so comfortable?
We all know the feeling of sinking into a dreamy king-size bed, with the plushest bedding you've ever felt at your hotel, after a long few hours of traveling. Is there really a better feeling?
But there's a reason why the best pillows (and the best mattresses) are often to be found at hotels, rather than in our homes. Put simply, the reason that hotel pillows are so wonderfully comfortable is that hotel owners and management put a lot of thought (and money) into choosing the best options for their room. They want guests to have an excellent night's sleep, to enjoy their hotel experience, and of course, to return. And having a comfortable, soft pillow is a huge part of that experience, so they spend a lot of time choosing the right ones.
And of course, hotels are likely to change their pillows far more often than we are at home. How often should you change your pillows? Experts recommend replacing it every one to two years—but many of us keep our pillows for far longer than that. Hotels, on the other hand, replace their pillows at a much more frequent rate, so it's no surprise that they feel plumper and in better condition than our own. Hotels will generally wash pillows more often too, so they are fresher and feel crisper.
So if you're desperate to enjoy that hotel experience at home, here are eight of the most coveted hotel pillow brands and the pillows they offer, and where to get them for yourself.
Eight hotel pillow brands anyone can buy
1. The Ritz-Carlton
Specifications
How many pillows do they sell: Five
Machine washable: No
Allergen free option: Yes
Reasons to buy
+The ultimate luxury +Range of sizes+Good for those who suffer with allergies
The Ritz-Carlton hotels are known for their luxury decor, and their bedding is no exception. The Ritz-Carlton Pillow is the hotel's signature pillow, filled with a blend of down, duck feathers, and Lyocell fibres, for an innovative alternative to traditional down pillows. And never fear if you suffer with allergies—the 100% down-proof cover on the popular pillow also offers an allergen-free sleeping experience. You can order the pillow in King, Queen, and Standard sizes.
For an eco-friendly choice, the fiberfill in the Down Alternative Pillow is made from recycled bottles, and is supremely comfortable. It comes in King, Queen, and Standard sizes so that you can tailor it to the size of your bed.
And if you're looking to really treat yourself, choose The Ritz-Carlton Down Pillow, which has been carefully crafted and filled with 100% white duck down to cradle your head throughout the night. This pillow will take high-end sleeping to a whole new level.
---
2. Marriott
Specifications
How many pillows do they sell: 13 (including throw pillows)
Machine washable : Yes
Allergen-free option: Yes
Reasons to buy
+Super soft+Great for light sleepers
With many popular hotel names as part of its group, Marriott is one hotel that we've probably all frequented at some point. They offer a wide selection of pillows and cushions for sale, so that their guests can recreate the comfortable experience in their own homes.
The classic Marriott Pillow is one of several pillows available at the Shop Marriott website. Guests love the 70% goose down and 30% Lyocell fiber filling, which makes up the outer layer of the pillow. Meanwhile, the pillow's inner layer features duck feathers. Allergen-free with support even when you're wiggling about in bed, it's a brilliant option for all sleepers. Plus, these machine-washable pillows come in King, Queen, and Standard sizes, too.
Marriott is one of the few hotel bedding shops that also offers a cotton-covered Body Pillow, filled with 100% polyester fiber. If you're a side sleeper, this body pillow works great to keep your spine aligned when you use it between your knees. Or, if you like to watch TV in bed, use this for some extra back support.
---
3. Waldorf Astoria
Specifications
How many pillows do they sell: Three
Machine washable: Unknown
Allergen free option: Yes
Reasons to buy
+Firm and soft options available +100% cotton cover
The Waldorf Astoria hotel chain offers a carefully chosen, bespoke selection of just three pillows for sale. The premium feathers and down in the Feather and Down Pillow are sealed in a 100% cotton cover. Exclusive to Waldorf Astoria, this pillow comes in firm and soft versions, so that you can tailor it to what's most comfortable for you. We'd suggest you go for the firm choice if you sleep on your side or back, while the soft version works well for front sleepers. You also have a choice of King or Queen sizes. The hotel brand also offers a solely Down Pillow if you'd prefer to sleep without the feather filling.
If you prefer to go completely down and feather-free, there is also a synthetic option in the Down Alternative Pillow which is filled with lightweight and allergen-free clusters of fiber and wrapped in a soft, cotton-blend pillow casing.
When guests stay at these hotels, for the most comfortable experience the beds are adorned with two of the three different types of pillow. You may want to do the same for a luxurious experience at home every night.
---
4. Fairmont
Specifications
How many pillows do they sell: Two
Machine washable: Unknown
Allergen free option: Yes
Reasons to buy
+Firmer support+Anti-allergen and anti-bacterial options available
The Fairmont offers just two types of pillow. First, there's a Feather & Down Pillow, which is made up of 80% feathers and 20% down. It provides firmer support than you may find from other feather/down blend pillows, so is great for those who tend to sleep on their back or side. The pillow also boasts a 240-thread count cotton cover for a super-luxurious feel—and comes in King and Queen sizes to fit different bed types.
But if you're not into feather pillows, the brand's anti-microbial Synthetic Gel Fibre Pillow is the one to go for. With down-like support, this anti-bacterial and anti-allergen pillow has a 290-thread count white cotton cover, which is a real treat. You can choose firm or medium support, and the pillow comes in King and Queen sizes.
---
5. Sofitel
Specifications
How many pillows do they sell: Three
Machine washable: No
Allergen free option: Yes
Reasons to buy
+Extra soft+Down alternatives available
If you've ever enjoyed an overnight stay at an airport, in preparation for an early-morning flight, you'll likely be familiar with Sofitel Hotels. They have three pillow offerings for customers to buy—why not take one along with you on the plane as a travel pillow?
Designed exclusively for Sofitel Hotels, their Feather and Down Pillow features a generous fill with a blend of feathers and down. Extra soft and covered in cotton, it's also machine-washable and allergen-free. The pillow comes in King, Queen, and Standard sizes and is best for back and stomach sleepers.
If you want an extra luxurious, super-soft feel, Sofitel has gone better with their Goose Down Pillow. It offers something a bit more deluxe, with its 90% goose-down fill, topped up with only 10% feathers. It will set you back a little more than other pillows, but the supreme comfort is worth it if you can afford to splurge.
Sofitel also offers a Down Alternative Pillow stuffed with a microfibre fill for a warm, cozy night's rest.
---
6. Westin
Specifications
How many pillows do they sell: Four
Machine washable: No
Allergen free option: Yes
Reasons to buy
+Popular for back, stomach, and side sleepers+Machine-washable
There are four pillows in Westin's catalog. For us, the best is the Feather & Down Pillow, and the Fibre Pillow. Westin's Feather & Down Pillow offers cloud-like softness with a blend of 70% feather and 30% down for firmer support, making it a popular choice for back, stomach, and side sleepers alike. The antimicrobial treatment also helps those with allergies to have a more comfortable sleep.
If you like to avoid feathers then the down alternative Fibre Pillow will work well and features an antimicrobial finish. Both choices are machine-washable for easy care, and while the Feather & Down Pillow is available in two sizes, the Westin offers the Fibre Pillow in three different sizes.
---
7. Four Seasons
Specifications
How many pillows do they sell: Four
Machine washable: No
Allergen free option: Yes
Reasons to buy
+Super luxurious +Oeko-Tex® certified
The Four Seasons hotels are some of the most luxurious in the world. And their hotel pillow offering is just as good.
The Down Alternative Pillow from Four Seasons Hotels is antimicrobial, anti-bacterial, and made of 100% polyester. Double-stitched with a 240-thread count cotton cover and piped edges, this elegant pillow is a total luxury for those who prefer a synthetic pillow, and comes in three different sizes, handy for every bed. One downside though, is that this pillow isn't machine-washable (see our guide on how to wash pillows—whatever the filling type—here). It needs to be dry-cleaned only. So, you may want to extend the time between cleanings with a pillow protector.
The brand's Down and Feather Pillow is 25% down, 75% feathers, and is also dry-clean only, so each pillow is a little bit more high-maintenance. All Four Seasons pillows are Oeko-Tex® certified though, meaning they have been tested and found to be free of any potentially harmful substances.
---
8. Sheraton
Specifications
How many pillows do they sell: Three
Machine washable: Yes, some are
Allergen free option: Yes
Reasons to buy
+Good for couples +Machine washable
The Sheraton's Down Pillow offers supreme softness and unparalleled resilience to compression, making it easy to adapt to your sleeping style. It's machine-washable and available in King and Queen sizes.
The Feather & Down option is a 50/50 blend with medium support that suits all types of sleepers. Meanwhile, the Down Alternative Pillow has an anti-microbial finish and comes in King, Queen, and Euro sizes.
Unlike many of the other hotel pillows brands (aside from Marriott), the Sheraton also offers a plush polyester Body Pillow to help you keep your spine aligned if you're a side sleeper and also offers an extra layer of comfortable support for couples who like to sit together in bed.
---
It's worth noting that if your favorite hotel brand is missing from this list, that not all hotels have exclusive pillows and other bedding for sale. Many brands procure high-quality pillows from top bedding manufacturers and distributors, instead. But you can still purchase directly from those pillow-makers, too. Sferra, for example, provides pillows and bedding for many of the world's most prestigious hotels, including AKA and Rosewood.
Downlite and Pacific Coast are also brands that make hotel-quality bedding, and they offer a wide range of pillows to suit individual sleeping styles and preferences. These pillow manufacturers don't just produce the world's most comfy pillows though—they also offer a diverse selection of mattresses, sheets, bedding, and other bedroom accessories, many of them exclusively made for your favorite luxury hotels. So if you're craving a little luxury at home, it could be fun to recreate the entire hotel sleeping experience by buying from these brands. Or, you could choose one of the best silk pillowcases from our guide, to create a luxurious sleep too.
However, it's important to remember that a lot of the above pillows may not be great for those who suffer from pain while sleeping—see our best pillows for neck pain guide for the right pillows for those specific concerns.