The best mattress deals and sales to shop in February 2023
Discover the best mattress deals to shop now, including discounts on mattresses from Simba, Nectar, Caspar, Helix and more...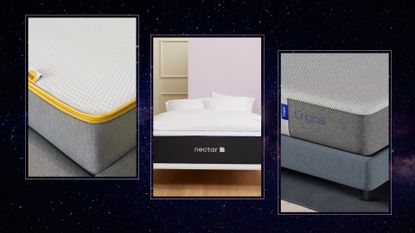 (Image credit: Future / Eve / Nectar / Caspar)
The best mattress deals are a fantastic way to save money on what can be one of the most important but most expensive home purchases you will ever make. To help you shop, we've hand-picked the best bargains and biggest savings available to buy this month.
A good mattress, coupled with the best pillows, will help you achieve proper spinal alignment, alleviate pressure points, help you sleep better and improve overall health. Because of this, the best mattresses aren't cheap and can be one of the most expensive purchases in your home.
Find our curated list of all the best mattress deals right now below available in the US and UK, including low prices from popular brands such as Nectar, Emma, Simba and more.
Where to find the best mattress deals in the US
The best mattress deals in the US
Where to find the best mattress deals in the UK
The best mattress deals in the UK
How to find the best mattress deals
As you explore the discounts on offer, keep these practical shopping tips in mind:
Know what you're looking for in a mattress: Purchasing a top-rated mattress at a super low price will be for naught if it's the wrong bed for your body type and sleep style. Have a good understanding of what you need to sleep comfortably, then narrow your selection to models that match your criteria.
Look for a guarantee: Shop at a retailer that'll guarantee the price of your mattress. Many sellers may refund you the difference if the mattress you purchase goes on sale within a certain amount of time after your purchase.
Don't buy without a trial: Buying a mattress online always carries the risk that it won't be quite right when it arrives on your doorstep. Fortunately, it's standard practice among online mattress retailers to offer a risk-free trial of at least 30 days, which is approximately how long it takes for your body to adjust to a brand new bed. Trial periods of 100 nights are fairly common, and some brands even grant a full year to test your mattress — which will give you a sense of how it performs throughout the seasons.
Understand the return policy: Many companies offer trial periods with free return shipping, sans penalty fees. It's important to review this information carefully because beyond preliminary research, finding the perfect mattress requires testing and evaluation. If you'll be on the hook for return fees, knowing that ahead of time will allow you to budget wisely.
Freelance writer and editor
Alison Barretta is a freelance writer and editor from Philadelphia, USA who specializes in home and lifestyle, skincare, and tech. For the last 15 years, she has been sharing buying advice and product reviews with curious, cost-conscious shoppers from around the world. Alison's work has been featured in Forbes, Business Insider, Tom's Guide, TechRadar, and Creative Bloq.
When she's not reviewing mattresses or waxing poetic about her favorite face cleansers, Alison can be found teaching/training in martial arts, streaming underrated TV series, trying new recipes, and singing karaoke until her throat is hoarse.