How to clean your room, fast: 9 tips to transform your space in under 30 minutes
Don't have much time and wondering how to clean your room fast? We've got all the tips from the pros for getting the job done in less than half an hour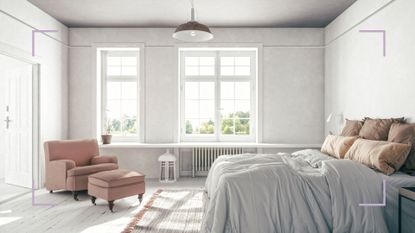 (Image credit: Getty Images)
Bedrooms can get messy incredibly quickly as they're the base for so many things - getting ready, relaxing, sleeping, and sometimes even eating. So knowing how to clean your room fast is essential if you want to maintain a peaceful, functional space.
At the end of a long day, it can be hard to find the energy and time to clean, so you wouldn't be alone if your sleeping space is currently feeling anything but serene. However, the good news is that a mere 30-minute clean can make a huge impact.
We chatted to cleaning and decluttering professionals who shared the tasks you should prioritize if you just have half an hour (or less) to spare.
Of course, cleaning your room will always be a little less painful if you keep it organized on a day-to-day basis. So if you have more time to spare, check out our guides on how to declutter a bedroom in a day and how to organize a small bedroom.
How to clean your room fast – in 30 minutes or less
The key to achieving a clean room, fast, is to spend a short time on a small number of focused tasks. The below steps are simple, low-energy and quick, but will make a significant impact on the overall feel of your space.
"Quick sprints of cleaning and tidying will keep you on task, focused, and making progress," Amelia Pleasant Kennedy, a professional organizer and clutter coach, said. "This isn't the time to dwell on decluttering decisions (such as how to declutter your bedroom, or how to declutter your home in general), but instead to reset your bedroom to a minimum standard that promotes relaxation and rest."
1. Clear up the clutter
The best place to start when you're looking to achieve a clean bedroom is to get rid of anything that doesn't belong in that room. That might be dirty mugs or cups, toys from kids rooms, or beauty bits that normally live in your bathroom.
Amelia suggested a trick that should help if you're feeling overwhelmed by the amount of 'stuff' you have to clear away. "It may be helpful to grab a basket or a bin and use it as a catch-all. Pick up wayward pieces of clothing, personal care items, reading materials; any items that don't belong in the bedroom. Place them in the 'bin' and set the bin aside so that items can be re-housed later."
Why might this be helpful? "When you're trying to move through a space quickly, you'll want to start with the task that makes the biggest impact. That's why I suggest using a catch-all basket to gather what doesn't belong. This will create early success and build motivation, as well as help you to avoid cleaning 'around' items of clutter."
2. Throw away any trash
After this, it's time to pick up any items that are destined for the trash - be it packaging from recently delivered items, food packets, or disposable bottles. In the spirit of getting the job done in less than 30 minutes, simply grab a new trash bag and throw all of your garbage into it, before placing it in a different room to deal with, or fill up, later.
After only five or 10 minutes, you should now be left with a tidy space, with only items that belong in your bedroom to sort out.
3. Sort remaining items into piles
To address the leftover items that do belong in your bedroom as fast as possible, Laura Price, founder and director at The Home Organisation suggests sorting them into piles of "similar items".
"Once you've cleared any rubbish, use the bed or the floor to sort what's left and deal with each category as a group," she said. This could look be piles of dresses, underwear or jewelry. Laura explains that this is the best way to tackle these leftover items, in order to stay focused.
"The same way a chef will peel all the potatoes before slicing them, work on one task at a time for optimum efficiency. Shifting between tasks like folding a t-shirt then putting away some socks, then back again, will slow things down, as your focus has to keep adjusting."
4. Put away clean clothes – and deal with dirty clothes
Now that your clothing items are sorted, you'll know which ones need to be added to the laundry hamper to be dealt with at a later date, and which clean clothes can be hung back up in wardrobes, or folded back up in drawers.
While organizing a small closet or a large closet is a task that you can tackle at a later date, putting all your clothes away in the relevant space is an essential part of achieving a clean room fast.
5. Give surfaces a quick wipe
When planning how to clean your room fast, getting rid of any excess dust and dirt is going to make a huge difference to the overall feel of your space. Cleaning expert and 'cleanfluencer' Laura Mountford explained, "Dust can build up very quickly in our bedrooms, and too much dust can cause breathing problems and prevent you from sleeping properly."
And getting rid of dust doesn't need to take long. Simply glide over your surfaces – such as windowsills, chests of drawers, or bedside tables – with a microfiber cloth, using a bit of polish or antibacterial spray, if it suits your surfaces. If you have blinds or curtains, give them a quick dust or shake too.
6. Do a quick declutter of your nightstand
Your bedside table is likely a bit of a dumping ground – but it's also one of the easiest tasks to tackle if you want a clean room, fast.
Amelia said, "Clear off your nightstand of excess visual clutter and plug-in devices that are ready to be charged. Remember: less items equals more calm."
Plus, doing this should help you to sleep easier, given that you won't be staring at lots of clutter as you try to drift off.
7. Vacuum or mop your floors
The above has likely taken you around 15/20 minutes. For the next 10 minutes or so, all you'll need to do is tackle your floors and your bed for a clean bedroom.
First, address the floors. Laura Mountford explains that, "I find that doing this makes a huge difference, as it creates a feeling of space, and also forces me to move items that still should not be on the floor."
There's no need to suddenly learn how to deep clean carpet, or how best to clean hard floors, though. Whatever flooring you have, all you need to do for this 30-minute speed clean is to give it a quick vacuum; maneuver swiftly around furniture and don't bother with skirting boards or walls. If you have hard floors, follow this with a quick mop around the space.
8. Make your bed
"The biggest impact on a bedroom is often the bed. If you can do nothing else with the time that you have, make the bed," Laura Price advised.
While we'd love to spend time making our bedroom feel like a luxury hotel, this doesn't need to take long. With the final five minutes of your cleaning, Laura suggests, "clear everything off of your bed, straighten the covers and fluff the pillows, for an instant uplift."
Even better – if you have time to spare – why not switch out your pillow covers for a lovely fresh feel? Top tip: choosing white covers is a great way to make your bedroom look expensive on a budget.
9. Open a window
Finally, freshen up your space even further by opening all windows in the bedroom – as long as it isn't freezing outside! The crisp air will help to clear out any remaining dust and dirt, and will give your bed sheets a lovely clean scent, making it even more satisfying to crawl into bed come nighttime. This is one of our recommended daily habits to keep your home feeling fresh and clean generally.
And there you have it – how to clean your room fast without breaking too much of a sweat.
How long should it take to tidy a dirty room?
As with any cleaning task, the length of time it 'should' take to clean your bedroom is entirely dependent on the general state it's in. Julianna Poplin, professional declutterer and owner of The Simplicity Habit explained, "How long a tidy takes really depends on how long it's been since it (your bedroom) was last cleaned, and how full the room is."
But if you want to know how to clean your room fast, you'll likely be relieved to know that "most bedrooms can realistically be cleaned in under 20 or 30 minutes, as long as they aren't crammed full of excess stuff," according to Julianna.
The idea of 'dirty' is also pretty subjective. For some, a bedroom may feel dirty after just a few days without cleaning. But if your room for any reason hasn't been cleaned in a long time – and there's lots of built-up dust or dirt – it will of course take longer for it to be returned to a clean state; likely a couple of hours, at the least.
The length of time it takes to tidy a dirty room will also depend on whether you plan on doing a deep clean, or a surface clean.
For surface cleans, 30 minutes (as above) should be plenty. But for those planning a
less regular deep clean, it's best to set aside at least a few hours - perhaps a weekend morning, or afternoon.
Laura Mountford urged though that 30 minutes is usually a great amount of time for the average bedroom. "Set yourself a timer, put on some music or a podcast, and you will be surprised at just how much you can get done. Just remember the essential areas - bed, surfaces, floors," she advises.
How often should you clean your bedroom?
Similar to the answer to how often you should clean your house, everyone needs to find a cleaning schedule that works for them (this spring cleaning checklist might help), so whether you want to know how often to do a deep clean, or a speed clean as above, it's important to tweak any suggestions to your requirements.
However, if you want to keep your bedroom as sanitary and comfortable as possible, experts agree that a quick clean should take place almost daily – while a 30-minute clean, as above, should be done on a weekly basis.
Paulo Filho, owner of Celestial Cleaning Service, said, "Realistically you should clean/tidy every day. For example, as you wake up, make your bed. As you put on makeup, place your makeup equipment back in its place. When changing, place your dirty clothes directly inside the laundry basket."
Julianna agreed, explaining that frequent cleaning means that deep cleans will be much easier to tackle. "By adopting the daily habits of making your bed and decluttering items that don't belong, your bedroom can be cleaned quickly and easily with minimal effort."
So how often should we deep clean our bedrooms? Thankfully, this is something you can leave for a little while longer.
"For deep cleans, it is advised you do it every 2 to 3 weeks. But depending on whether you leave your window open on a daily basis, which will cause more dust to settle, you may need a deep clean more frequently, perhaps every 1-2 weeks," Paulo said.
Feeling motivated to clean more areas of your house after that sprint clean? Then head to our guide on how to clean your kitchen in under one hour.
Amy Hunt is an experienced digital journalist specialising in homes, interiors and hobbies. She began her career working as the features assistant at woman&home magazine, before moving over to the digital side of the brand where she eventually became the Lifestyle Editor up until January 2022. Amy won the Digital Journalist of the Year award at the AOP Awards in 2019 for her work on womanandhome.com.