The best cordless vacuum for hardwood floors in your home
From Shark to VAX and Dyson, discover the best cordless vacuum cleaners for hardwood floors in your home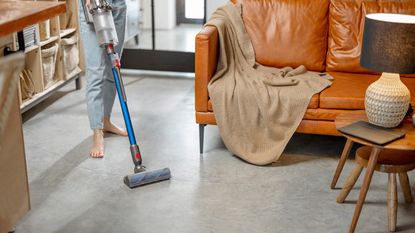 (Image credit: RossHelen/Getty Images)
woman&home newsletter
Sign up to our free daily email for the latest royal and entertainment news, interesting opinion, expert advice on styling and beauty trends, and no-nonsense guides to the health and wellness questions you want answered.
Thank you for signing up to . You will receive a verification email shortly.
There was a problem. Please refresh the page and try again.
Picking the best cordless vacuum for hardwood floors is crucial if your home boasts beautiful flooring. After all, just like regular carpets, stylish hardwood floors require TLC and careful maintenance to ensure they stay clean and free from dirt and dust.
And of course, the beauty of going cordless with your vacuum cleaner is that you don't have to rely on plug points to enable you to clean your flooring. Many of the best vacuum cleaners in 2022 will typically be cable-free, and most cordless vacuum cleaners now also offer impressive battery charge times and strong suction power as standard. Some models are also now designed with built-in LED lights, which can make spotting even the tiniest dust particles easy.
Of course, with cordless vacuums becoming increasingly popular, there are a lot of choices out there. But which are the best cordless vacuums for hardwood floors? To make your decision that bit easier, we've done the research for you.
Here are our tried and tested cordless picks for your hardwood floors—from the best Shark vacuum to a genius robot design.
How we tested the best cordless vacuum for hardwood floors
Why you can trust Woman & Home Our expert reviewers spend hours testing and comparing products and services so you can choose the best for you. Find out more about how we test.
To bring you the most accurate insight, we carefully tested a range of cordless vacuums on hardwood flooring in a real-life home. Factors that were considered included:
The vacuum's design: How does it measure up in terms of size and weight, and how easy is it to store and move around the home?
Ease of use: Is the vacuum cleaner easy to set up, and how simple is the user experience?
Tools and attachments: Does it come with any additional heads or tools and, if so, how useful are they?
Performance: How well does the cordless vacuum clean hardwood floors?
Value for money: Does the vacuum cleaner justify its price tag?
The best cordless vacuum for hardwood floors, as tested by our expert
1. Beko PowerClean™ Pro Cordless Vacuum Cleaner
Best overall cordless vacuum cleaner
Specifications
RRP: £399
Power: 550W
Weight: 2.8kg
Dust capacity: 0.9l
Standard run time: 60 minutes
Full charge time: 6 hours
Reasons to buy
+
Strong suction power
+
LCD screen displays battery level clearly
+
Magnetic power dock for accessories
With its huge dust capacity, the Beko PowerClean Pro makes a great choice for busy homes. We found it worked brilliantly on hardwood floors, sucking up everything from food and dried mud to pet hair and dust. Its powerful suction can last up to 60 minutes, making it ideal for a top-to-toe clean.
We did find the battery drained quicker if the vacuum was used in Turbo mode, although the mode is so powerful that it works harder and faster anyway. We liked that the battery level was clearly displayed on the LCD screen, sparing the frustration of an unexpected mid-clean battery drain. (The screen will also let you know if the vacuum has any blockages or if the filter needs changing.)
We also liked the versatility of the vacuum: while it's amazing on hardwood floors, it also performed well on carpets. The ActiFlex function (shown in the photo above on the left) is also brilliant for getting into those tight spaces. The range of attachments that the vacuum came with was handy too, as well as the fact they can stick to the magnetic docking station with zero fuss. All in all, this vacuum cleaner is a deserved winner of our "Best Overall" award.
2. Beldray Airgility Cordless Handheld Vacuum Cleaner
Best budget cordless vacuum for hardwood floors
Specifications
RRP: £79.99
Power: 100W
Weight: 3.4kg
Dust capacity: 1.2l
Standard run time: 40 minutes
Full charge time: 5 hours
Reasons to buy
+
Great price point
+
Amazing dust capacity
+
Easy to store
Reasons to avoid
-
Great for hardwood flooring more than carpet
-
Can struggle with hair
The first impressive thing about Beldray's Airgility model is its dust capacity. Able to hold 1.2 liters of dirt, it can comfortably clean a typical house in its entirety without the need for emptying along the way. The huge dirt container is also really easy to empty, requiring a simple push of a button. Just make sure you position it correctly over your dustbin when emptying, as otherwise the contents will land on the floor.
Its motorised floor brush dealt with crumbs, dust and other types of dirt with minimal fuss, although it did seem to struggle a bit with longer hairs. We loved how easy it was to use in a range of settings—including on a flight of stairs and in a tightly-spaced bathroom—and also liked that it featured LED lights. (Although with their central position, we did wonder if these were as smartly positioned as they are on other cordless vacuums, which tend to have them spaced out across the whole width of the vacuum head.)
While it's fantastic for hardwood flooring, we found it struggled to perform as well on carpet. If you're looking for a vacuum cleaner that can flit between both types of floor, it's possibly not for you. However, for a budget-friendly option that's suitable for hardwood flooring, look no further.
(opens in new tab)
3. iRobot Roomba i7+
Best premium cordless vacuum for hardwood floors
Specifications
RRP: £799.99
Weight: 3.4kg
Dust capacity: Holds the equivalent of 30 bins-worth of dirt
Standard run time: Self-charging on its Home Base
Reasons to buy
+
Automated cleaning
+
Can be operated remotely
+
Great for smart-tech fans
Reasons to avoid
-
Top end of the price spectrum
-
Loud at the start and finish of cleaning
Love tech, and have more budget to play with? Then we recommend considering iRobot's Roomba 7+ for your home. This smart vacuum connects to your WiFi and learns its way around your home, with an accompanying app allowing you to dictate remotely what rooms or "zones" you'd like it to clean.
You can also easily set-up a cleaning schedule, which means the Roomba will automatically clean your home at certain times on particular days. It's as genius as it sounds, and the accompanying app means that everything from setting up a cleaning rota for your device to getting tips for making the most of your shiny new vacuum is just a click away.
We found the Roomba got more efficient with every use, as it learned more and more about the layout it was working in. For example, the floor plan updates itself if furniture moves around. It also made us consider what was on the floor more—because as clever as it is, even the Roomba is unable to navigate a mountain of washing that needs putting away—which made the home feel tidier, as well as cleaner. Once it's finished, the device simply rolls back to its home base charging dock, where it silently self-charges.
On a couple of occasions, it got "stuck" on items (such as a stray sock), which resulted in it sending us a message via the app so we could rescue it. The app is very simple to use and allows you to set-up cleaning schedules and helps you work out how to fix any issues. It also allows you to operate the device even when you're out and about, meaning you can come home to spotless floors.
It offers a very thorough clean and in a fortnight of consistent use, the main hopper didn't need emptying once. We did, however, need to manually remove some clumps of hair from the Roomba's rollers but this was easy to do. The best robot vacuum will also be very gentle by design: we found the Roomba was totally safe around both a baby and a (very inquisitive) dog. It's worth noting that the Roomba can get pretty loud when it's emptying dirt into the hopper at the end of a clean, so it's probably best used during the day rather than when you're trying to unwind at night.
(opens in new tab)
4. Shark Cordless Vacuum Cleaner with Anti Hair Wrap IZ201UK
Best cordless vacuum cleaner for pets
Specifications
RRP: £349.99 (UK only)
Power: 450 watts
Weight: 4.1kg
Dust capacity: 0.7l
Standard run time: 40 minutes
Reasons to buy
+
Great choice for homes prone to loose hair
+
Built-in LED lights to highlight hair and dust
+
Works well on carpet
Reasons to avoid
-
Heavy when in full form
-
Can be a struggle to get into corners
Shark is known for its range of powerful vacuum cleaners, and this model is no different. While our testing focused mainly on hard flooring, we were impressed with how well it worked on carpet, too. We liked how easy it was to manoeuvre, and could easily be navigated from high to low, reaching the trickiest spaces.
This particular model boasts Anti-Hair Wrap technology, which is designed for homes that are fighting a constant battle against loose hair, be it of the human or pet variety. Tested in a home that features not only post-pregnancy hair loss but also a long-haired spaniel, it worked brilliantly.
It picked up an impressive amount, almost too impressive, as it left us feeling slightly nauseated by how dirty our seemingly clean kitchen floor actually was. One definite downside of the vacuum, however, is its weight: at 4.1kg in its full form, it might not be one that you want to carry up and down the stairs too often. However, it can be used as a handheld vacuum, which makes it a lot lighter for transporting around the home.
This sample was provided for our testing by Very.co.uk (opens in new tab).
(opens in new tab)
5. Hoover H-Free 500 Cordless Vacuum Cleaner
Best compact cordless vacuum for hardwood floors
Specifications
RRP: £199
Power: 22V
Weight: 2.2kg
Dust capacity: 0.45l
Standard run time: 40 minutes
Full charge time: 6 hours
Reasons to buy
+
Compact design
+
Great for use in small spaces, including cars
+
Ideal for tackling high-up areas
Reasons to avoid
-
Best suited for quick cleans
-
Smaller dust capacity than other models
The first thing that impressed us about Hoover's H-Free 500 was its size. Delivered in a knee-height box, the vacuum itself is just as neat and self-contained, making it a great choice for a smaller home or a property with less in the way of storage.
It stands at just 69cm tall when not in use, meaning it can fit in a cupboard with minimal fuss. It's delivered with a wall mount, so you have that option, too. It's also relatively lightweight, at just 1.7kg when in handheld mode. Of course, its smaller design means it can hold less in the way of dirt before it needs emptying. If you need to clean your whole home on a regular basis, it's probably not the best choice for you.
Dainty design aside, we were impressed with the H-Free 500's suction power: it managed to pick up an array of grime (ranging from dog hairs to biscuit crumbs) with ease. We also thought the LED nozzle lights were a practical and stylish touch, and they made spotting dust and dirt that bit easier, especially in dimly-lit areas. It also works really nicely in handheld mode and comes with a 2-in-1 tool that we found made tackling everything from the sides of armchairs to the corners of ceilings pretty straightforward.
(opens in new tab)
6. Vax ONEPWR Blade 4 CLSV-B4KS Cordless Vacuum Cleaner
Best durable cordless vacuum for hardwood floors
Specifications
RRP: £219
Power: 1W
Weight: 3.1kg
Dust capacity: 0.6l
Standard run time: 45 minutes
Full charge time: 3 hours
Reasons to buy
+
Great for allergies due to HEPA filter
+
Tool included for awkward spaces
+
Also performs brilliantly on carpet
Reasons to avoid
-
Lacks 'swivel' of other models
-
Can struggle with edges
VAX is renowned around the globe for its floor-cleaning solutions, and if you're looking for a vacuum cleaner that will last and last, search no further.
Solid, sturdy and delivered with tools to suit any vacuuming requirement—including a soft-bristle dusting brush and an on-board crevice tool—the ONEPWR Blade 4 is an impressive option. We loved its smart design and found it wonderfully simple to put together.
It was easy to glide from room-to-room, and we were impressed (or perhaps that should read 'horrified') by how much dust and debris it sucked up in our testing period. The brushless motor is incredibly powerful and it's worth noting that it can be switched off when cleaning delicate floors. We liked the flexibility of the vacuum when it came to getting down low but it seemed to lack the gracefulness of other cordless vacuums when it came to turns and tight spaces. It was lightweight and easy to use in handheld mode, with the attachments easy to swap over.
The vacuum lasts for about 10 minutes in boost mode and 45 minutes when used in standard mode, with a full battery charge taking three hours. The removable battery means you can charge it without having to have the vacuum on display—handy if space limitations mean you don't have room for a wall mount, for example—with additional batteries available to purchase from VAX.
This sample was provided for our testing by AO.com (opens in new tab).
(opens in new tab)
7. AEG QX9 Cordless Vacuum Cleaner
Best low-volume cordless vacuum for hardwood floors
Specifications
RRP: £289.99
Power: 30W
Weight: 3.49kg
Dust capacity: 0.3l
Standard run time: 55 minutes
Full charge time: 4 hours
Reasons to buy
+
Operates quietly
+
Comes with tools
+
Stylish design
Reasons to avoid
-
Small dust tank
-
Can struggle with hair
If you can't stand the racket associated with the typical vacuum cleaner, consider investing in AEG's QX9 model, which has been designed with sound in mind. When used in handheld mode, especially, it promises to be significantly quieter, with AEG claiming the sound power is reduced by half. A tad sceptical, we tested the theory and were impressed. The proof? It didn't wake a sleeping baby...
Volume aside, this is an impressive all-rounder vacuum that can also be used in handheld form. Like several of the other models on this list, it features LED lights in the head to make spotting dirt and dust that bit easier, and it also boasts a great run-time, too.
One definite downside is its small dust capacity: at just 0.3L, it's one of the smallest on this list. It needed emptying after just two uses, which is as much testament to our filthy floors as it is to the vacuum's diminutive dust capacity; though that said, we did find emptying it very simple.
From an aesthetics perspective, the AEG QX9 looks great, and would add a stylish touch to any home. With pops of shimmering copper and navy, this isn't a vacuum that you'd want to store away in a cupboard. In fact, we'd say it's got the balance just right when it comes to fusing style with substance.
Is it better to sweep or vacuum hardwood floors?
Sweeping a hardwood floor is a quick-fix option to get rid of obvious dirt and debris. However, for a more hygienic clean that will remove dust and other particles that aren't visible to the naked eye, using a vacuum cleaner is a must.
Why? A good vacuum cleaner will be able to remove fine particles that have got caught in the crevices of your hardwood flooring. Using the appropriate attachment will also allow you to get into all the nooks and crannies of your space: for example, you'll be able to get close-up to skirting boards in a way that a traditional vacuum or broom just wouldn't.
What vacuum cleaner attachments do I need?
Many cordless vacuum cleaners—particularly those for hardwood floors—are sold with a range of attachments and accessories included. Some are also available to purchase separately.
Useful attachments to keep your eyes peeled for include:
A crevice tool—ideal for getting into tricky spaces, the angled head of the crevice tool will allow you access to tight corners, backs of radiators, underneaths of appliances and more.
An upholstery tool—this is perfect for use on sofas and soft chairs, as well as in cars. It will allow you to suck-up all the hairs and debris that lurk between cushions.
An extension tool—this long, pointed head will attach to your vacuum's nozzle and allow you to clean the tops of windows, the edges of ceilings and more.
The best cordless vacuum models for hardwood floors are also now capable of reaching low, previously hard-to-access spaces, such as underneath the couch, thanks to completely flexible attachment heads.
Cordless vacuum cleaners are typically sold with a docking station for charging the product. These docking areas will usually also double-up as storage for your vacuum's attachments, with some designed to clip into places and others attaching magnetically.
Are stick vacuums good for hardwood floors?
An upright stick vacuum cleaner is typically cordless, lightweight and easy to move around the home. Often sold with a range of attachments, they're compact by design and easy to store, taking up far less space than a traditional vacuum cleaner.
A key benefit of using a stick vacuum cleaner on your hardwood floor is that it's unlikely to damage your hardwood flooring, due to its lightweight design. With many stick vacuums able to clean both hardwood floors and carpet, make sure your chosen model has rubber wheels to minimize the risk of it scratching the hardwood flooring in your home.
Do vacuums scratch hardwood floors?
If you aren't careful, they can do. Bristly brush rollers can potentially cause scratches on hardwood floors, so be sure to avoid those when choosing your new vacuum cleaner.
Traditionally-designed vacuum cleaners also tend to feature plastic wheels. These can scratch wooden floors, so be mindful of this when choosing your new vacuum: make sure you choose a model with rubber wheels.
Katie Byrne is a contributor to woman&home and a writer whose interests span everything from homes and interiors, to pop-culture, travel, business and self-development. A former digital editor, her freelance journalism has featured across a wide range of print and online titles, including Raconteur, Digital Spy and more. When she's not writing, she loves reading (and has the groaning bookshelves to prove it...), dreaming up new décor ideas for her flat and devouring Netflix's latest true-crime series with her husband. You can find her on Twitter: @katie_b123 (opens in new tab).