The best kitchen bin for your home—from classic garbage cans to sensor bins
The best kitchen bin for you will depend on the space you have in your home and your budget—see our expert-approved guide to the most viable options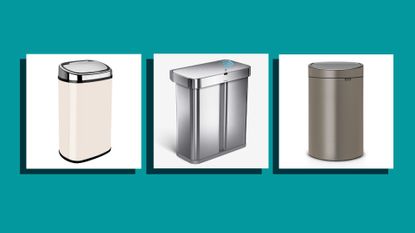 (Image credit: Future)
Choosing the best kitchen bin for your home might not sound like a big deal, but it's actually an important purchase that can impact everything from how you cook to the way you recycle–and how organized and streamlined your kitchen is.
Whether your kitchen is large or small, the ideal bin—or trash can—should seamlessly slot into your home without causing disruption to the layout. It should make garbage disposal as simple as possible and should be big enough that you don't need to empty it every day, or even every other day. And, now more than ever, bins that can help us recycle easily are just as important too.
With that in mind, we've tested some of the best kitchen bins currently available—with our expert assessing every option from sensor-operated models to odor-eliminating technology.
We've evaluated which of the best kitchen bins in our guide make garbage disposal easiest, which ones keep unwanted odors at bay and banish fruit flies the best, and which simply look the most stylish. You'll find choices for every budget and every size kitchen too, to help maximize your kitchen storage ideas.
How we tested the best kitchen bins
Why you can trust Woman & Home Our expert reviewers spend hours testing and comparing products and services so you can choose the best for you. Find out more about how we test.
In the spirit of offering you the most honest and impartial advice, we didn't just head online and research kitchen bins. Rather, we've been busy testing out all the bins you read about below in real life, putting them through rigorous testing in a busy family kitchen to see exactly how they perform during daily use.
Factors assessed included:
Ease of use—including how simple the technology elements were to operate, because, like the best vacuums, the best kitchen bins should be super easy to use. We also evaluated how easy the bin was to clean between uses, as this is an important consideration for most of us.
Odor control—an important factor in choosing the best kitchen bin is how easily smells stay contained within it, so we specifically took note.
Design and size—our tester assessed which bins would be best for smaller kitchens and which would work well in bigger spaces, and also evaluated how stylish each bin was, and what sort of decor it would match well with.
Value for money—believe it or not, bins can be expensive, especially if they come with extra features. We looked at whether pricier options were worth the investment, or if more affordable models provided you with an equally good piece of equipment.
Impartiality has been key to the testing process to ensure we provide only the most truthful of reviews for each product.
The best kitchen bin: Tried and tesed
1. Brabantia 40L Platinum Touch Bin
Best kitchen bin overall
Specifications
RRP: £170
Capacity: 40 liters
Dimensions: 73cm x 44cm x 30cm (H x W x D)
Primary material: Metal
Colorways: Platinum only
Warranty: 10 years
Reasons to buy
+
Space-efficient
+
Looks good
+
Long guarantee period
Brabantia is renowned for its stylish and high-quality kitchen bin designs, and this sleek option will make a fantastic addition to any home. With a flat-backed design that has been created to sit flush against a wall—minimizing the amount of space the bin takes up—it's as much a style statement as it is a practical choice for a hardworking kitchen.
The champagne-esque colorway not only looks great but also minimizes the appearance of streaky fingerprints on the touchpad. The touch-activated lid opens silently and the bin's generous size means it should work for most homes comfortably between trash collections—though if you really are a huge family, it might not be quite enough.
The bin is designed with ease of use in mind: we found the inner bucket slips out effortlessly for cleaning purposes, while the sturdy handle on the bin's back makes moving it around the kitchen simple, even when full. It also boasts an eco-friendly twist: the bin is made from 54% recycled material and is 97% recyclable.
The Brabantia 40L Platinum Touch Bin was supplied by Dunelm (opens in new tab) for this review.
2. Simplehuman 58L Voice & Motion Rectangular Sensor Bin
Best luxury kitchen bin
Specifications
RRP: £299.95
Capacity: 58 liters
Dimensions: 64cm x 57cm x 33cm (H x W x D)
Primary materials: Steel
Colorways: Brushed stainless steel only
Warranty: Five years
Reasons to buy
+
A must for tech fans
+
Clever liner pocket feature
+
Operational via battery or mains
Reasons to avoid
-
Pricey
-
Can miss spoken commands
Calling all tech fans: this is the kitchen bin for you. With its slick touch-free sensor mechanism and the additional option to use voice control, Simplehuman's 58L Voice & Motion Rectangular Sensor Bin is leading the way when it comes to impressive bin gadgetry. While the touch-free sensor element of the bin is flawless (and silent, for that matter—the bin lid does close without making a sound), the voice control perhaps requires a little more honing. With two of us testing, only one could get the bin to follow the 'open can' and 'close can' commands that the product responds to—although with more practice, this would probably become easier to navigate.
The bin also features a liner pocket, meaning you can stowaway a pack of Simplehuman's bin bags within the can, dispensing a fresh one with ease each time you need one—an incredibly handy feature for those of us who hate grappling with bin bags in the middle of kitchen cleaning. As well as that, this impressive garbage can is designed with a germ-resistant silver ion coating that makes it a more hygienic choice and also promises to keep fingerprints under control, too.
Yes, it's pricey but with its impressive features and carefully considered design (as well as that five-year guarantee), we'd say it's worth every penny for bringing a bit of luxe-cool to any kitchen. Plus, given that it can be used with batteries or plugged into the mains, this bin would suit both a conventional kitchen or a more remote power-free space, such as a garage or pantry.
3. Addis 7L Composter & Recycler
Best budget kitchen bin
Specifications
RRP: £34.99
Capacity: 7 litres
Dimensions: 14.5cm x 26cm x 29 cm (H x W x D)
Primary material: Brushed stainless steel
Colorways: Black and steel only
Warranty: Three years
Reasons to buy
+
Space-saving
+
Sleek aesthetic
+
No drilling needed to install
Reasons to avoid
-
Has potential to get in the way if correct space not available
If your current kitchen compost bin takes up too much counter space, the stylish Addis 7L Composter & Recycler is the ideal solution. Designed with minimalism in mind, you simply attach it to the front of a cupboard door or the end of a worktop and you're good to go. We'd advise that an end-of-counter location is probably best if possible, as you don't want it to get in the way when you're cooking. If this isn't an option (for example, if you are in an apartment), consider what cupboard it would be best attached to. And there's no need for a drill, because it comes delivered with adhesive pads that promise to hold it in place without nails.
We tested it on the interior of a cupboard next to the oven, where it was ideally positioned for disposing of peelings. On testing, we found the bin secure, slimline, but more than big enough for a day's worth of food waste. Most pleasingly of all, the inner compartment of the bin can be removed, meaning the tell-tale edges of a caddy bag can be neatly folded within it rather than slipping over from beneath the lid. Our best kitchen bin option if your on a budget by miles.
4. Dihl 58L Motion Sensor Rubbish Bin
Best sensor kitchen bin
Specifications
RRP: £63.99
Capacity: 58 liters
Dimensions: 58cm x 37.5cm x 27.5cm (H x W x D)
Primary material: Steel
Colorways: Cream, black, chrome, red
Warranty: One year
Reasons to buy
+
Stylish aesthetic
+
Large capacity
+
Neat dimensions—doesn't take up a lot of space
Reasons to avoid
-
Batteries required (but can be operated manually)
Sensor bins are having a serious moment and with options as chic and practical as Dihl's 58 Litre Motion Sensor Rubbish Bin on the market, it's not hard to see why. Available in a range of retro colors (that will work perfectly with other similarly themed kitchen appliances), it can hold close to 60 liters of trash (which is impressive) and is perfectly sized for nestling under a worktop. But if you can't do that, it's also compact enough to fit neatly into an open space.
The bin's in-built sensor technology offers a hygienic touch to any kitchen, minimizing the need for direct contact with the bin's surface as well as the potential for smears and fingerprints. And the sensor works well—during testing we were never left waiting for the lid to flip up. But it is pretty sensitive, so don't be surprised if the bin pings open without you intending it to—it will close again after about five seconds. Be warned that a bin of such dimensions requires the right-sized bin bags (not supplied with the bin). It's also worth noting that the bin requires six AAA batteries for the sensor to operate, although the lid can be activated by touch, too, if you don't have any to hand.
The Dihl 58 Litre Motion Sensor Rubbish Bin was supplied by Wayfair (opens in new tab) for this review.
5. Joseph Joseph Totem Max 60L Bin
Best kitchen bin for odor prevention
Specifications
RRP: £199
Capacity: 2 x 30 liters
Dimensions: 81.4cm x 39cm x 36.6cm (H x W x D)
Primary material(s): Metal
Colorways: Stone, graphite, steel
Warranty: N/A
Reasons to buy
+
Makes separating recycling from trash simple
+
Great minimalist design
+
Good odor prevention
Reasons to avoid
-
Pricey
-
Lower drawer can get stuck
Sorting waste has never been more efficient than with Joseph Joseph's Totem Max 60L Bin—a kitchen bin so organized that it resembles a filing cabinet. In truth, it makes separating waste and recycling so simple that there's no reason for you to not do it. The bin comprises three compartments—two 30-liter 'drawers', with a small easy-remove food caddy built-in (which offers a neat alternative to a worktop food caddy), and the main big compartment. It helpfully comes with two black sacks for the two main compartments as well as caddy bags, to make sorting your trash easy.
The trash can also boasts an integrated odor control system. It comes with carbon filters, which promise to minimize any smells, and which will last for around three months before requiring replacement. It is worth noting that there is a slight gap between the two compartments, meaning storing smell-free recycling in the lower lid-free section is probably wise.
Very simple to set up, the Totem Max is definitely on the heavier side for moving around (though that's what you might expect from a bin that can hold 60L), so make sure you know where you want to position it. With its touch-activated lid, we'd say it's best stored away from worktops or cupboards to ensure the upper compartment has the room required to open fully without obstruction.
The Joseph Joseph Totem Max 60L Bin was supplied by Dunelm (opens in new tab) for this review.
6. X Cube Recycling Bin 20+20L
Best recycling kitchen bin
Specifications
RRP: £164.99
Capacity: 2 x 20 liters
Dimensions: 65cm x 43cm x 33cm (H x W x D)
Primary material: Stainless steel, with a PP inner bucket
Colorways: Cream, stainless steel, copper, titanium blue
Warranty: 10 years
Reasons to buy
+
Great way to separate recycling
+
Super stylish
+
Contains odors well
Reasons to avoid
-
Expensive
-
Odor control filters and capsules require replacing
Featuring two 20 liter color-coded buckets, EKO's X Cube is designed to make recycling as easy as possible—whether you personally choose to use the compartments for plastic, paper, tins, or glass. Each of the two buckets within are designed to hold a bag or sack, meaning it couldn't be easier to empty when it comes to disposing of your recycling. That's why this is the best kitchen bin if recycling is imperative in your household.
With this bin, another major plus is that unwanted smells are kept under control well by the deodorizer compartment, which works hand-in-hand with the silicone seal that locks in unsavory scents. Available in four eye-catching colors, there's an option for any kitchen color scheme, ranging from the timeless to the bold and modern. Don't be deterred by the larger size either: the bin's flat-back design means it can sit firmly against any wall or even within a pantry space. Although who would want to hide away a recycling bin this sleek?
Yes, the price for this bin is high but it's arguably worth every penny if it matches your requirements—and even more so when you consider that the bin's pedal can be used over 100,000 times before expiring. That should see you through at least 10 years, if you open your bin multiple times a day...
7. Simplehuman Under Counter Pull Out Waste Bin 30L
Best bin for small kitchens
Specifications
RRP: £69.99
Capacity: 30 litres
Dimensions: 45.5cm x 26cm x 50cm (H x W x D)
Primary material: Plastic and all-steel frame
Colorways: Black only
Warranty: 5 years
Reasons to buy
+
Fantastic option for smaller kitchens
+
Easy to install
+
Spacious despite space-saving design
Reasons to avoid
-
Minimal odor control
-
Additional recycling space could be required
If your kitchen is on the smaller side, Simplehuman's Under Counter Pull Out Waste Bin is a real space-saver. It has an easy-install system that means the bin will sit inside any kitchen cupboard for an out-of-sight, out-of-mind approach. But, make sure you measure your cupboard space before ordering to ensure it's the perfect fit for your home. If you don't have appropriate storage space available, this might not be the kitchen bin for you—due to its lidless design, it definitely requires some element of concealment to ensure odors are kept under control, especially during the warmer months.
Despite its potential limitations, the bin is pleasingly minimalist in its design and comes pre-assembled, meaning all you need to do is position it in the place of your choosing. We tested it in an under-sink cupboard, with the bin's ball-bearing tracks meaning it glided out effortlessly every time its handle was pulled. In terms of capacity, there is plenty of space for a few days of rubbish, and its sleek design means it should blend into most kitchens whatever your design. Just be careful not to overfill it, as it can quickly look untidy.
The Simplehuman Under Counter Pull Out Waste Bin 30L was supplied by Lakeland (opens in new tab) for this review.
8. Tower 75L Sensor Bin in Copper
Best copper kitchen bin
Specifications
RRP: £75
Capacity: 75 liters
Dimensions: 67.5cm x 30cm x 42cm (H x W x D)
Primary material: Stainless steel
Colorways: Copper
Warranty: One year
Reasons to buy
+
Stylish
+
Non-corrosive steel body
+
Odor control
Copper is one of those finishes that will never go out of style—and if you're looking for a dustbin that will enable you to add a zing of the warm metallic to your kitchen, search no further. Considering it can hold 75L of garbage, Tower's Sensor Bin doesn't feel all that heavy, nor does it look particularly cumbersome. The shimmering copper finish means that the lid stays free of marks, while the motion sensor technology is neatly contained within the rim around the lid.
We did find the sensor to be a little over-sensitive and respond even when you're not trying to open the bin. However, it closes again after five seconds of non-use, with the lid gliding back into position almost silently, so its oversensitivity isn't all that disturbing. The bin requires four AA batteries, which aren't included with your purchase; it can also be operated by hand. What is included, however, is an odor management compartment that allows you to control any off-putting smells by simply popping an air freshener inside, which is a unique perk and worked well. All in all, it's an impressive statement bin that offers neat function as well as a stylish aesthetic.
The Tower 75L Sensor Bin in Copper was supplied by Asda (opens in new tab) for this review.
9. Swan Gatsby 30 Litre Pedal Bin
Best kitchen bin for narrow spaces
Specifications
RRP: £49.99
Capacity: 30 liters
Dimensions: 64cm x 30.5cm x 29.2cm (H x W x D)
Primary material: Carbon steel
Colorways: Black/gold
Warranty: N/A
Reasons to buy
+
Stylish design
+
Great for smaller spaces
+
Simple foot pedal operation
You just know that a kitchen bin is going to be rather fabulous when it's named after the mysterious main character in F. Scott Fitzgerald's The Great Gatsby, and inspired by the achingly cool style of the roaring '20s. Coming in a black and gold color combination, Swan's Gatsby bin is perfect for bringing a touch of elegance to even the smallest of kitchens.
While that glimmering golden lid looks like it could be partial to a streaky fingerprint or two, its traditional foot pedal design means there's minimal need to touch it. Easy to operate and with zero requirement for batteries, the bin's slimline dimensions mean it can slot effortlessly into a kitchen that's either wide or narrow. While it admittedly boasts a smaller capacity compared to some of the other bins we tested, it's a small price to pay for making the garbage so glamorous—and it still holds a neat 30 liters, no less. With an RRP of under £50, it's also brilliant value for money.
The Swan Gatsby 30 Litre Pedal Bin was supplied by Very.co.uk (opens in new tab) for this review.
What to consider when choosing the best kitchen bin for you
The requirements of every kitchen are different and it's important to have a garbage solution that matches all of your criteria. The best kitchen bin for your home will tick all the boxes that matter most to you, with considerations including:
Who will use the bin? How many people will be using the bin, and how much waste do you typically generate per week? For example: if you're a family of five that struggles with rubbish overload already, you might want to size up; whereas if you live on your own and often find your bin is half-empty, it might be time to look for something a little more compact.
How much space can you give it? In the same way that we need room to store our best cookware and best induction pans in the kitchen, we also need to make sure we choose the right bin for our space. Give consideration to where the bin will go and how much room you can afford for it to take up. Is your kitchen wide or narrow; large or small? Will a bin fit under a worktop, or have you got more space to play with?
What do you require the bin for? Decide whether you're looking for a simple waste bin, a food compost bin, or a design that can help you control recycling.
How do you want it to look? How design-oriented do you want your kitchen bin to be? How crucial to you is it that it ties in with the existing aesthetic in your kitchen? This is more important to some people than others—decide whether it matters to you before buying.
How much do you plan to spend? We've covered everything from budget to luxury models in our best kitchen bin guide—but knowing exactly how much you want to spend on your perfect garbage can will help you choose the product that best suits you.
Are sensor bins any good?
While it varies from model to model, the consensus on sensor bins is that they're a great development on the traditional kitchen bin. After all, they eliminate the need for hand (or foot) operation, meaning that disposing of rubbish is a lot easier. Sensor bins can also reduce the need for direct contact, in turn making them a more hygienic solution when compared to classic kitchen bins that need to be pressed or lifted to open.
While they typically rely on batteries to operate—which can be frustrating if said batteries run out of power—many sensor bins can still be operated manually, too. Battery power aside, another common complaint with sensor bins is that their lids can on occasion get stuck, though this is rare. If this happens and you can't fix it, consult your supplier who should be able to advise you or replace the product, depending on the warranty. So it's worth weighing up the pros and cons of sensor bins before deciding whether or not they are right for your home.
What is a good size kitchen bin?
This varies from home to home, and will depend on a handful of factors. These include:
How much space does your kitchen have for a bin?
How much rubbish do you typically generate per week or fortnight?
How much do you plan to spend on your kitchen bin?
Without considering these factors, you might find yourself buying a kitchen waste can that's too big or too small for the space and actual requirements of your household.
Bins with flat backs (as opposed to rounded bins) work better for homes where space is a bit more limited. But of course, bins that can be placed inside cupboards or can clip onto worktops (such as the Simplehuman and Addis options above), are also ideal for smaller kitchens—though be aware of the more limited capacity. Generally when it comes to capacity, you should look for a bin that can store at least 30 liters, to ensure you're not needing to empty your bin every day (unless you want to!). But for large families, you'll want to try and aim for a capacity of at least 50 liters, to ensure there's space for all your garbage.
Where should I keep my kitchen bin?
Again, this varies according to the individual household and will depend very much on the amount and type of space you have available. Storage options for your kitchen bin could include:
Underneath worktops
At the end of a kitchen island
Inside a cupboard or pantry
In an unused corner of the room
Knowing where you will keep your bin is crucial to deciding on the type of bin you plan to purchase.
If you are someone who prefers for their bin to be hidden away, storing it underneath worktops or inside a cupboard could be ideal—you'll just need to make sure that you have enough space, so be sure to take measurements before purchasing your new bin. It's also worth noting that you may need to sacrifice capacity a little if you want your bin to be hidden away—often the largest kitchen bins won't fit in spaces like these.
But if you are happy to keep your bin out on display, you may wish to choose a slightly more stylish option (such as the Swan Gatsby bin!) to ensure it doesn't let the rest of your kitchen down. It's also imperative to note that if you are going to keep your kitchen bin out, that you should choose an option that matches the rest of the kitchen decor, to avoid it clashing.
And, if your bin will be displayed in your kitchen, you'll want to make sure it has a lid. While the best kitchen bins can be lidless if they are to be stored inside a cupboard, if it isn't, a lid is vital for avoiding household pests, such as fruit flies.
Katie Byrne is a contributor to woman&home and a writer whose interests span everything from homes and interiors, to pop-culture, travel, business and self-development. A former digital editor, her freelance journalism has featured across a wide range of print and online titles, including Raconteur, Digital Spy and more. When she's not writing, she loves reading (and has the groaning bookshelves to prove it...), dreaming up new décor ideas for her flat and devouring Netflix's latest true-crime series with her husband. You can find her on Twitter: @katie_b123 (opens in new tab).