How to make your house smell good – 9 inexpensive ways to make any room smell amazing
From scented candles to homemade herb displays, these are nine of the easiest ways to make your house smell good at all times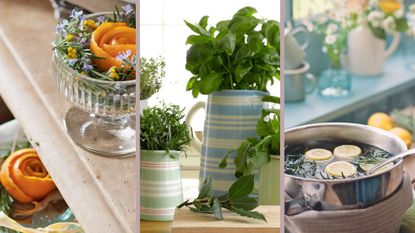 (Image credit: Future)
woman&home newsletter
Sign up to our free daily email for the latest royal and entertainment news, interesting opinion, expert advice on styling and beauty trends, and no-nonsense guides to the health and wellness questions you want answered.
Thank you for signing up to . You will receive a verification email shortly.
There was a problem. Please refresh the page and try again.
Every home has its own homely smell, but no one wants that signature scent to be anything but delightful. Thankfully mastering how to make your house smell good can be an easy task with a few simple and affordable fragrance hacks.
Similar to mastering how to make your home look expensive or how to keep your house warm, there are simple solutions for all rooms that can make a huge difference when it comes to how good it smells. From cooking up a seasonal cocktail of perfumed ingredients to making your own candles at home, there's a home fragrance idea for all budgets.
Whether you have pets that could contribute or simply a busy household fraught with potentially bad odors arising from bins or drains, knowing how to make your home smell good at all times is a must.
How to make a house smell good: 9 budget ideas
Fragrance plays such an important role within our homes because it becomes our associated signature scent, one that enhances the decor by delighting the senses. Try these affordable hacks to ensure your house smells divine at all times...
1. Make your own scented centerpieces
Create your own fresh pots of fragrance by filling ramekins or small glass bowls with freshly peeled orange peel and fresh rosemary and a scattering of lavender from the garden to create a heady mix of fresh herbs and citrus scents that add both fragrance and color to your home.
Display the fragranced arrangement on a console by the entrance to welcome guests with the alluring fresh scent or on a coffee table to act as a mini centerpiece as a simple decorative touch to delight the senses.
You could also use these fragrant bowls to scent inside drawers and laundry cupboards, but just be mindful that they will need replacing after a few days as the fresh ingredients will start to turn.
2. Display diffusers
Like scented candles, room diffusers offer a great way to welcome exquisite scent to your home that offers a consistent scent that lasts for months – and there's a diffuser scent for all budgets. The best essential oil diffusers are some of the most popular for the modern home because the electronic devices can be refilled and therefore last a lifetime.
Adding a fragrant diffuser gives the room a sense of purpose and feeling before you've even opened your eyes. The glass vessel of a reed diffuser is ideally placed on display to enhance the surrounding decor too, but can also be placed safely out of sight if you prefer.
For a cheaper alternative you could buy a packet of diffuser reed sticks and place them in a bottle of your favorite essential oil to make your own improvised room diffuser at very little cost.
3. Use plug in air fresheners
"Plug-in air fresheners are a great way to circulate fresh-smelling air throughout the home without being too overpowering, and they are also cost-effective," says Polly Shearer, interiors expert at Drench (opens in new tab).
Available in an array of different scents, to suit all seasons and all tastes, you simply plug one of these handy devices into any electrical point to get the scent flowing around your entire house.
4. Plant herbs
Welcome fragrant garden herbs into your home to offer a strong natural scent to any room. In addition to smelling lush if you plant your chosen herbs in decorative jugs and ceramic pots to add to the decor too.
The most fragrance herbs include mint, lemon balm, lavender, rosemary, and basil – all of which are easy to grow and look after which makes this DIY scent idea low maintenance too.
5. Simmer seasonal ingredients
As we know when preparing culinary delights when you're cooking in your kitchen the scent can travel around your home – which may not always be a welcome one. To ensure the scent is intentional you can prepare easy DIY cocktails to cook up and fill your home with a waft of seasonal fragrance.
For a festive aroma simmer a concoction of cinnamon sticks, cloves, and oranges to create a strong scent to travel around your home. In summer you can choose to fill your best induction pan with fragrant garden herbs and citrus fruits for a fresh and invigorating scent for your home. All of these are inexpensive to do, you simply add a few key ingredients to a pan of boiling water and reduce it to a simmer.
Polly explains, "cinnamon is one of the most popular air freshener scents this year that we have discovered, so by making your own you'll be saving money by using something you might already have in the cupboard."
"Boil a few sticks of cinnamon for around 5 minutes and then leave to cool. You can leave this on your kitchen counter all day to help combat any food smells."
6. Make your own potpourri
Popular in the 90s, potpourri has been somewhat overshadowed by the popularity of scented candles and all the latest fragrance gadgets in more recent years - but we still champion it as one of the best ways to make a house smell good on a budget.
You can make your own with very little effort because it's essentially just dried petals and spices placed in a bowl to look pretty and perfume a room. You can dehydrate citrus fruits by cooking them at a low temperature for a few hours, this dries them out but retains the fragrance.
Hang roses or lavender bundles upside down in a warm setting (an airing cupboard or above a radiator is a good idea) to dry and preserve them to pop into the mix of your homemade potpourri.
Around the festive season add cinnamon sticks and dried star anise to upgrade the scent for the holidays.
7. Light scented candles
A scented candle is a must-have to invite fragrance and ambiance to make a home feel cozy. And not all of the best-scented candles come with premium price tags. While the best-selling home scents from The White Company and the most popular Jo Malone candles are more of an investment (a worthwhile investment we might add) you can get cheaper alternatives from the likes of Marks & Spencer, IKEA, and a firm favorite for inexpensive scents, Yankee Candle.
"Candles can change the atmosphere and ambiance of a room instantly," says interior designer, and founder of Seaforde Interiors (opens in new tab). Jaqueline Hamilton. "Not only the glow of a beautifully lit candle can cast a lovely feeling of coziness to a room but also the scent can do that too.
To make it all the more meaningful, not to mention cheaper, try making your own scented candle to create a gorgeous smell in any room and evoke a feeling of warmth and well-being.
8. Prevent bin odors with essential oils
As a part of keeping on top of kitchen cleaning chores, it's important to ensure the trash can doesn't become an overpowering source of scent within your home.
There are a few simple kitchen cleaning hacks that are great for neutralizing potential bad bin odors. The first is to soak a few cotton wool balls in your favorite essential oil and pop them into the base of your trash can for a fuss-free way to cover and dispel any unwelcome bin smells.
9. Deodorize drains with disinfectant
Drains are a common source of unpleasant smells that can instantly ruin your hard work to create an otherwise beautifully scented home. A scented disinfectant is a great way to minimize any unwanted smells coming out of household sinks, and it will do a good job of disinfecting the basins too.
Polly says "once you've finished doing the dishes and your sink is empty, pour a couple of neat capfuls down the drain and a lovely festive scent will fill the air."
A concentrated multipurpose disinfectant is a good one to use, to kill bacteria whilst eliminating odors and filling spaces with beautiful fragrances for up to 24 hours.
Tamara is a highly experienced homes and interiors journalist, with a career spanning 19 years. Now the Lifestyle Editor of womanandhome.com, she has spent the last 16 years working with the style teams at Country Homes & Interiors and Ideal Home, and it's with these award-winning interiors teams that she gained a wealth of knowledge and honed her skills and passion for shopping, styling and writing about every aspect of lifestyle and interiors.
With a keen eye for the latest interior trends, there's not a lot she doesn't know about home decor – whether it's what colour we should be painting our living rooms next season, or if the latest 'must-have' buys are actually worth investing in.
A true homes and interiors expert, Tamara has served as an ambassador for leading interior brands on multiple occasions, including appearing on Matalan's The Show and presenting at top interiors trend events such as the Autumn Fair and Spring Fair.