The best Yankee Candle deals and sales to shop right now
Your one-stop destination for the best Yankee Candle deals in the US and UK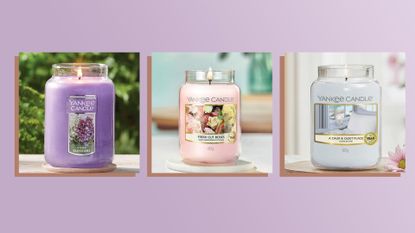 (Image credit: Future)
Save on the best Yankee Candle deals so your home can smell divine all year round. We'll regularly update this list with the best new discounts and sales as they come.
Yankee Candle has amassed a global fandom, rightfully earning its title as a cult-status brand. The pioneer-turned-category-leader is home to some of the best scented candles, with fragrances for every season, as well as themed collections that create a delectable aromatic experience. It also specializes in non-candle fragrances like air fresheners and diffusers for anyone who wants to infuse their room with a scent but without the constant flickering of an open flame.
Here, you'll find the best Yankee Candle deals ongoing in the US and the UK. On either side of the pond, Yankee Candle direct is guaranteed to yield some choice offers, along with Yankee Candle's Amazon storefront. Other merchants to check out in the US for great Yankee Candle deals are Macy's and Bed Bath & Beyond. Keep scrolling for quick links to the best Yankee Candle sales plus our picks for standout deals.
The best Yankee Candle deals in the US
The best Yankee Candle deals US: Quick links
The best Yankee Candle deals right now in the US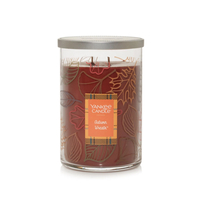 Autumn Wreath Large Tumbler: $31 $15 | Yankee Candle
Sure, we're just entering spring but buying off-season Yankee Candles is a fantastic way to save money and stock up for the rest of the year ahead. Autumn Wreath has top notes of green leaf and apple — which will surely put you in the mood to hit the orchards on a crisp October day. Pick this dual-wick candle up now at half-off to have on hand as soon as sweater weather hits.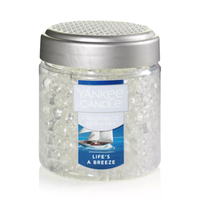 Life's A Breeze Fragrance Spheres: $6.25 $3.50 | Yankee Candle
Yankee Candle fragrance spheres emit room-filling scent for up to 30 days. Add this one to your home and you'll feel as if you're chilling at the beach on a breezy day. It has top notes of bergamot and sea air accord, with a middle of lavender and oakmoss plus a patchouli base.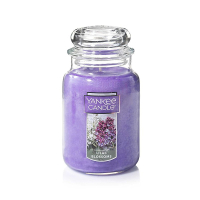 Lilac Blossoms Large Classic Jar Candle: $27.99 $16.88 | Amazon
Here's a fitting springtime scent, now 40% off at Amazon. It's infused with lavender, white, and deep purple lilacs. Light it up when you need to relax after a long day at work or school for instant calming relief. It has a burn time of up to 150 hours.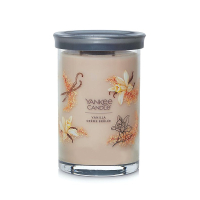 Vanilla Crème Brulee Signature Collection Large Tumbler Candle: $30.99 $22.99 | Bed Bath & Beyond
Perfect for summertime, this rich candle is saturated in a creamy vanilla custard scent. Premium soy wax delivers a clean burn and multiple cotton wicks provide a consistent burn. The included tin lid can also be used as a base. Nab it from Bed Bath & Beyond, where it's $8 off.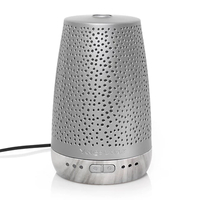 Sleep Diffuser Kit: $49.99 $39.99 | Bed Bath & Beyond
Save $10 on the Yankee Candle Sleep Diffuser kit, which comes with a waterless diffuser plus a vile of Calm Night fragrance oil. You can program the diffuser for 2-, 4-, or 8-hour use, with automatic shutoff so you can sleep easier. Use it as a natural cure for insomnia.
Ultrasonic Aroma Diffuser: $39.99 $31.99 | Yankee Candle
If you can't (or don't want to) light a scented candle, pick up the Yankee Candle Ultrasonic Aroma Diffuser instead. It sprays mist for four consecutive hours and features a 10-color LED so you can enjoy an at-home light show. Use the money you save to pick up a bottle of fragrance oil, since none is included.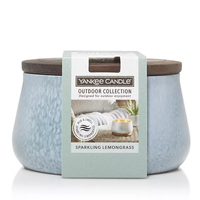 Sparkling Lemongrass Large Outdoor Candle: $29.99 $20.98 | Home Depot
Give your garden parties an extra special touch with this Yankee Candle Sparkling Lemongrass outdoor candle, now 30% off at Home Depot. It has notes of crisp apple, rose and rosemary — sure to conjure visions of a post-late summer storm in your head. This dual-wick candle will burn for up to 45 hours and is made from higher melt-point wax.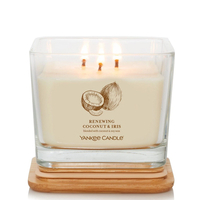 Renewing Coconut Iris Medium Jar Candle: $22.99 $16.09 via code 'FRIEND' | Macy's
Practice some self care by lighting up this Yankee Candle Med Well candle. This one has a blend of iris and fresh coconut with light notes of cotton flower and blonde woods. Pair it with one of the best bubble baths for a super relaxing soak after a stressful week. Use the code at Macy's to cut 30% off.
The best Yankee Candle deals in the UK
The best Yankee Candle deals UK: Quick links
The best Yankee Candle deals right now in the UK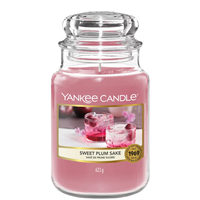 Sweet Plum Sake Large Jar Candle: £26.99 £18.89 | Yankee Candle
We'll raise a toast to 30% off the Yankee Candle Sweet Plum Sake candle. It boasts top notes of Japanese plum and Fuji apple, paired with red currant and rice wine (sake) in the middle. End your springtime evenings blissfully with this fruity fragrance.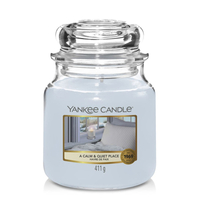 A Calm & Quiet Place Medium Jar Candle: £21.99 £15.39 | Yankee Candle
What does a Calm & Quiet Place smell like? According to Yankee Candle, it's a balanced blend of jasmine, amber musk and a 'whisper of patchouli.' Bring it home during Yankee Candle's latest sale for $8 off.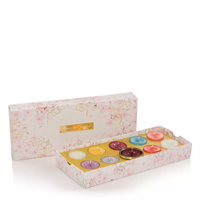 Tea Light and Holder Gift Set: £9.99 £7.99 | Yankee Candle
Need quick and easy housewarming or thank you gifts for a special someone who loves scented candles? Pick up this set from Yankee Candle, which contains 10 scented tea light candles meant to invoke the image of the famous cherry blossom festivals in Japan. A clear glass tea light holder is also included.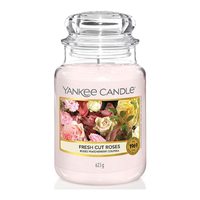 Fresh Cut Roses Large Jar Candle: £34.01 £21.19 | Amazon
What's more luxurious than the scent of heirloom roses? Save this one for special events, or simply burn it on those spring nights when you could use a little extra self care. You'll get plenty of use from it, anyway, with a max burn time of 150 hours.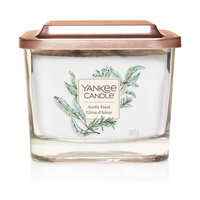 Arctic Frost Elevation Collection Medium 3-Wick Square Candle: £21.99 £11.98 | Amazon
When you want to escape the summertime heat, just light up this Arctic Frost 3-wick candle and you'll feel like you're in a winter wonderland. This refreshing scented candle smells like eucalyptus and a peppermint, with hints of lavender, rosemary and vanilla. Get it for almost half-off from Amazon.
How to find the best Yankee Candle deals
Yankee Candle regularly unveils great deals—you just have to be on top of them. In the US the brand typically hosts semi-annual sales between in June, then once more between December and January. Shoppers can score incredible markdowns up to 75% off candles, diffusers, air fresheners, and much more.
The discounts don't end there though. You can subscribe to Yankee Candle's email list for the best Yankee Candle deals, sales, and updates all year long. Or, sign up for Fragrance Family Rewards to receive perks like $5 off vouchers and a free gift on your birthday.
Yankee Candle also offers BOGO and B2G2 deals and sweepstakes, which sprinkle some of the best Yankee Candle deals you don't really hear about.
Yankee Candle has a specific sale page, which is routinely updated with the latest discounts and best Yankee Candle deals. There, you'll have no problem finding the best Yankee candle sales.
You can also make sure to bookmark our page of the best Yankee Candle deals, which we'll be updating regularly so you don't miss a trick.
Sign up to our free daily email for the latest royal and entertainment news, interesting opinion, expert advice on styling and beauty trends, and no-nonsense guides to the health and wellness questions you want answered.
Dominique worked as a shopping writer at Woman & Home and while with the brand she covered products, sales and deals, and market news across categories. Before joining the team, she penned stories as an editorial fellow at Insider Reviews, the affiliate commerce team at Insider Inc./Business Insider. The bespectacled NJ transplant specializes in commerce journalism, women's lifestyle content, and hoarding makeup—much to her mother's dismay.