30 of the best self-help books for self-improvement and personal development
The best self-help books can help you address sticking points in your life and help you to work out what it is you really want for a more positive future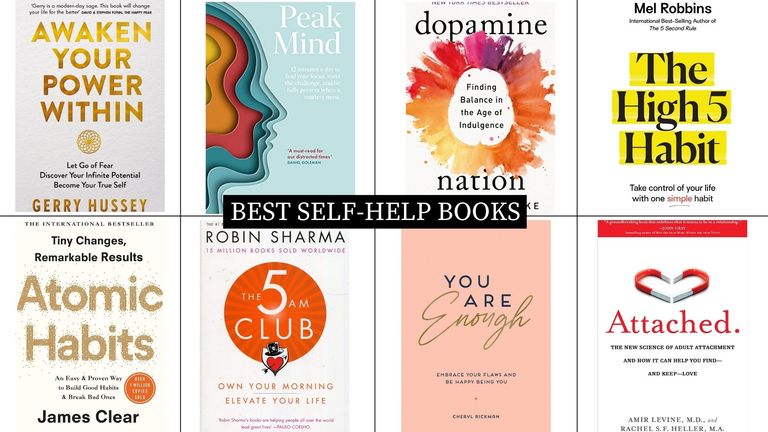 (Image credit: Future/Amazon)
By Angelica Malin , Isabelle Broom published
Self-improvement is a trend that's here to stay and reading the best self-help books has never been more important. With all the unexpected twists and turns that life can bring, taking care of ourselves is more vital than ever. There's never been a better time to dive into non-fiction that helps you feel grounded and supported.
The New Year is a great time to press reset and reevaluate our lives—whether you want to explore meditation, achieve your goals, build self-compassion, create more time for things you love, or understand your personal style of attachment. And the best self-help books will help to put you on the path towards a brighter, more self-aware year. Sure, getting into self-help books can feel like a switch of gear for readers more attuned to fiction, such as the best thrillers or the best romance books. But taking the time to read something that can really benefit your mental wellbeing is a self-care act your future self will thank you for.
Filled with the latest research and compelling first-person accounts, these gripping reads expertly chosen by Books Editors represent some of the best books of 2021 and can help you achieve your goals and become a better version of yourself.
The best self-help books to read in 2022
Whether you prefer to read on one of the best eReaders or pick up a paper copy, there's a book for every qualm in our round-up.
There are options from notable self-help authors including Mel Robbins and Oliver Burkeman, as well as choices from lesser-known writers, ranging from an exploration of the relationship between mind and body, to the key to being more productive.
---
---
---
---
---
---
---
---
---
---
---
---
---
---
---
---
---
---
---
---
---
---
---
---
---
---
---
---
---
---
Angelica Malin is a journalist, entrepreneur, and founder and Editor-in-Chief of About Time magazine. She has written a book (her first) called She Made It, a toolkit for female founders in the digital age, which was published by Kogan Page in January 2021. Angelica was shortlisted for BSME's Editors' Editor of the Year and has featured in campaigns for brands such as NatWest, Asto and Courier Media. She also helps aspiring entrepreneurs through her platform, events and #SheStartedIt podcast.