30 of the best self-help books for self-improvement and personal development
The best self-help books can help you address sticking points in your life and help you to work out what it is you really want for a more positive future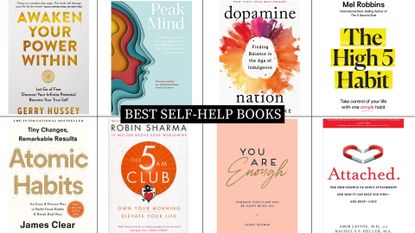 (Image credit: Future/Amazon)
Having access to the best self-help books has never been more important. With everything happening around the world at the moment, taking care of ourselves is more vital than ever. There's never been a better time to dive into non-fiction that helps you feel grounded and supported.
It is never too late to press reset and reevaluate our lives—whether you want to explore meditation, achieve your goals, build self-compassion, create more time for things you love, help ease anxiety, deal with stress or understand your personal style of attachment.
The best self-help books will help to put you on the path towards a brighter, more self-aware year. Sure, getting into self-help books can feel like a switch of gear for readers more attuned to reading the best fiction books, but taking the time to read something that can really benefit your mental wellbeing is a self-care act your future self will thank you for.
Filled with the latest research and compelling first-person accounts, these gripping reads expertly chosen by Books Editors represent some of the best books of 2022 and can help you achieve your goals and become a better version of yourself.
The best self-help books to read in 2022
Whether you prefer to read on one of the best eReaders or pick up a paper copy, there's a book for every qualm in our round-up.
There are options from notable self-help authors including Mel Robbins and Oliver Burkeman, as well as choices from lesser-known writers, ranging from an exploration of the relationship between mind and body, to the key to being more productive.
Read it because: It will help you to make simple yet profound changes to your outlook and behavior – and keep you laughing along the way.
A line we love: "When you change how you see yourself and treat yourself, a whole new possibility opens up for your future self."
---
Read it because: Developing new and positive habits will help you overcome the things holding you back from being happy.
A line we love: "Some people spend their entire lives waiting for the time to be right to make an improvement."
---
Read it because: To understand the strain that stress places our bodies under is the first step towards making sure it doesn't continue to do us harm.
A line we love: "Shame is the deepest of the 'negative emotions', a feeling we will do almost anything to avoid. Unfortunately, our abiding fear of shame impairs our ability to see reality."
---
Read it because: You may be surprised to discover what it is that is blocking you from feeling content, and how by making just a few small changes, you can remove them.
A line we love: "Accept the purpose of love, and your life will radically change this instant."
---
Read it because: It will instruct you on how to switch off the nagging demands of the future and focus instead on the present moment.
A line we love: "The problem with trying to make time for everything that feels important – or just for enough of what feels important – is that you definitely never will."
---
Read it because: If you want to make positive changes to your life but require structure in which to do so, this book will give you the tools you need to create that framework.
A line we love: "You need to remember that your excuses are seducers, your fears are liars, and your doubts are thieves."
---
Read it because: When it comes to self-help books, this is perhaps the most iconic.
A line we love: "Think thoughts that make you happy. Do things that make you feel good. Be with people who make you feel good. Eat things that make your body feel good. Go at a pace that makes you feel good."
---
Read it because: The things you think you desire to be happy may be leading you down the wrong path.
A line we love: "The illusion of fear is the only limitation we have."
---
Read it because: Humans have evolved to become lazy – this book will teach you how to push back against the constraints placed upon us by the deep-rooted compulsion to do as little as possible.
A line we love: "You're on a journey with no defined beginning, middle or end. There are no wrong twists and turns. There is just being. And your job is to be as you as you can be. This is why you're here. To shy away from who you truly are would leave the world you-less. You are the only you there is and ever will be."
---
Read it because: Much of Jay Shetty's advice is based on his own experiences, while the ancient wisdom he imparts is genuinely fascinating.
A line we love: "When we tune out the opinions, expectations, and obligations of the world around us, we begin to hear ourselves."
---
Read it because: To thrive in a romantic relationship, you must first understand what it is you need from a significant other, and what you can offer them.
A line we love: "When our partner acts as our secure base and emotional anchor, we derive strength and encouragement to go out into the world and make the most of ourselves. He or she is there to help us become the best person we can be, as we are for them."
---
Read it because: Learning to distinguish your rational "human" thoughts from your emotional "chimpish" responses will help you to make better decisions and achieve a greater understanding of your behavior.
A line we love: "Don't be disheartened if you have setbacks; instead learn from them and always celebrate any successes. Remember: you always have a choice."
---
Read it because: You can never be too encouraged in the practice of self-love, as it unlocks so much of what holds us back from true happiness.
A line we love: "True Self Love is about releasing negative energy, forgiving the past, and raising your vibration so that you feel amazing from the inside."
---
Read it because: Enlightenment is not simply for those in touch with their more spiritual side, it can be reached by everyone.
A line we love: "Accept – then act. Whatever the present moment contains, accept it as if you had chosen it. Always work with it, not against it. Make it your friend and ally, not your enemy. This will miraculously transform your whole life."
---
Read it because: It sounds simple yet treating ourselves like a person we care about does not always come naturally. Plus, Kate Moss is a big fan – the model said she wanted to give this book to everyone she knows.
A line we love: "Learning self-care is like building your own lifeboat, plank by plank. Once you've got your boat, you'll still be rocked by the same waves, but you'll have a feeling of safety, and stability that means you can pick other people up on your way."
---
Read it because: Learning to let go of the past is the first step towards achieving the future that you want and deserve.
A line we love: "Your life is in your hands. No matter where you are now, no matter what has happened in your life, you can begin to consciously choose your thoughts, and you can change your life. There is no such thing as a hopeless situation. Every single circumstance of your life can change."
---
Read it because: Reaching your full potential, whether that is creatively or not, begins with self-belief.
A line we love: "It seems to me that the less I fight my fear, the less it fights back. If I can relax, fear relaxes, too."
---
Read it because: There is a grounding of science behind the advice offered that lends it authenticity, and the instruction towards developing willpower is straightforward to follow.
A line we love: "Change might not be fast, and it isn't always easy. But with time and effort, almost any habit can be reshaped."
---
Read it because: With over 1 million subscribers to his YouTube channel, where he delivers unflinchingly honest lectures about human psychology, Jordan B Peterson is renowned for good reason. In simple terms, believe the hype.
A line we love: "You must determine where you are going in your life because you cannot get there unless you move in that direction. Random wandering will not move you forward."
---
Read it because: Falling into the trap of pleasure-seeking has never been easier to do, and it could be the reason you're struggling in other facets of your life.
A line we love: "I urge you to find a way to immerse yourself fully in the life that you've been given. To stop running from whatever you're trying to escape, and instead to stop, and turn, and face whatever it is."
---
Read it because: No matter how chaotic your schedule, 12 minutes is an achievable segment of time to set aside each day – and doing so may just change your life.
A line we love: "A peak mind is not one in which we never experience fear, grief, sadness, uncertainty, or even ambiguity about a situation, but training the mind so that we can maneuver through those difficult circumstances with more ease instead of working against ourselves."
---
Read it because: It will show you how to live your best life at any and every age.
A line we love: "Grit is the mix of effort, determination, hard graft, and stamina that's necessary to keep going in the face of frustrations, setbacks, and failure. Lowest in your twenties, it rises gradually in young adulthood and middle age and reaches its peak in your sixties."
---
Read it because: Women encounter burnout differently from men, and it's important that we choose a self-help book tailored to our own experience.
A line we love: "Relax your belly. It's supposed to be round. The Bikini Industrial Complex has been gaslighting you."
---
Read it because: Along the way, there are regular Take a Moment exercises—mediations, affirmations and prompts to help you find the answers to questions you may not even realize you needed to ask yourself.
A line we love: Sometimes, says Hussey, we need to change the record to hear a new song.
---
Read it because: Every now and then a self-help book comes along that genuinely stays with you—and this is one such book.
---
Read it because: If you want to know more about positive affirmations and how to ask the universe to manifest your aspirations, this read is neatly set up with info and practical actions you can take to start realizing your dreams.
---
Read it because: It's packed with sensible, easy-to-digest guidance and advice to help you show yourself some love.
---
Read it because: The book is backed by research from the Medical Research Council but presents all of the information clearly, in a way that is easy to understand and process.
A line we love: Drawing on her own experience of denying trauma, Dr Woodhouse points out, 'the greater the resistance, the greater the transformation'.
---
Read it because: Did you know that walking backwards can help unlock memories? Of course, you didn't—and that's why this should be on your bookshelf.
---
Read it because: If you're stuck in a work rut and fascinated to know more about how career coaching works, this book will give you a fly-on-the-wall insight.
Angelica Malin is a journalist, entrepreneur, and founder and Editor-in-Chief of About Time magazine. She has written a book (her first) called She Made It, a toolkit for female founders in the digital age, which was published by Kogan Page in January 2021. Angelica was shortlisted for BSME's Editors' Editor of the Year and has featured in campaigns for brands such as NatWest, Asto and Courier Media. She also helps aspiring entrepreneurs through her platform, events and #SheStartedIt podcast.