25 of the best fantasy books for endless hours of escapism
These are the best fantasy books to read this year—from hugely popular classics to captivating new releases...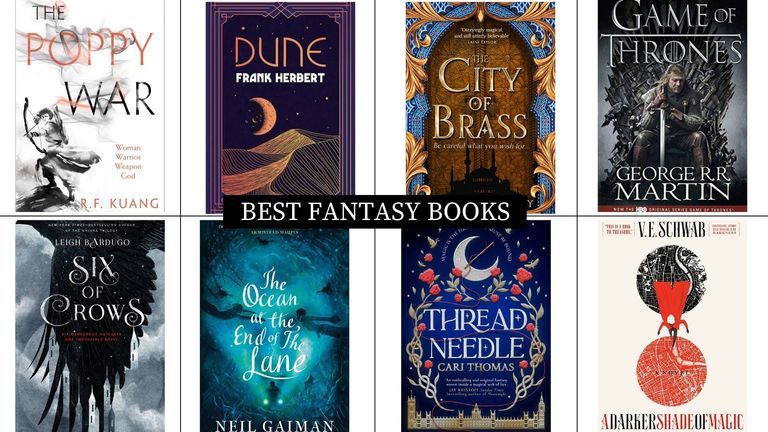 (Image credit: Future/Amazon)
The best fantasy books provide windows into imagined worlds—from medieval kingdoms to immense life on other planets—and diving into one can allow all of us to lose ourselves in a different reality, at least for a little while.
Fantasy fiction is fun without a doubt—it's original, inventive, and thrilling, and it can be incredible to discover the places that authors dream up in their minds. Yes, we all love a story that mirrors our real lives (at least somewhat). After all, the best thriller books, the best romance books, and the best historical fiction books all provide a reflection of our reality in some way. But the best fantasy books offer something quite different. Swapping the world we know for another where magic really does happen can be incredibly soothing, especially in a world where reality can be difficult and confronting.
So if it's a literary adventure you seek, then we'd recommend fantasy becoming your new genre of choice. After all, some of these picks below are the best books of 2021. In this list curated by an expert Books Editor, you'll find options for every reading palette—with tales of wizard police constables to roaming magicians and dragons, angry Gods and much more. So whether you prefer reading on one of the best Readers, or you favor print books, take a look at why you should add one of these best fantasy books to your must-read list…
The best fantasy books to read in 2021
---
---
---
---
---
---
---
---
---
---
---
---
---
---
---
---
---
---
---
---
---
---
---
---
---
---
Isabelle Broom is the author of eight escapist fiction novels. She won the Romantic Novelist's Association Best Contemporary Romance Novel award in 2019 and The Great British Write Off short story competition in 2015, with her winning entry, The Wedding Speech, later being adapted into a short film.
Following a degree in Media Arts from the University of West London, she spent an eventful summer working in a bar on a Greek island, became an avid traveller, and vowed to one day write stories set in all her favourite locations around the world. Before this dream became a reality, Isabelle spent a gloriously fun 11 years working at heat magazine,
As well as heading off on adventures abroad—a pastime she now gets to call 'research'—Isabelle is lucky enough to write book reviews and travel features on a freelance basis. To find out more about her novels—and her mildly chaotic Suffolk-based life—you can visit isabellebroom.com, follow her on Twitter and Instagram (@isabelle_broom) or search for Isabelle Broom Author on Facebook.